Turning a Life's Work into a Book — An Interview with Sallyann Della Casa
Literary pursuits and social action come together naturally in Sallyann Della Casa's world. Being a pioneer in using the written word to draw attention to her entrepreneurial work, she has unique lessons to share. We were very excited to find out more about her decision to work with Reedsy editors while being associated with a traditional publishing house. Whether you're a writer or a business leader looking for interesting ways to talk about what you do, there's a lot here for everyone. 
Hi Sallyann, thanks for being with us today! You are the author of Who Will I Become, and the founder of the Growing Leaders Foundation. Can you tell us a bit about the book, and its link to the foundation?
The book, WHO WILL I BECOME, is a visual roadmap of the Foundation's leadership work to date. This first edition focuses on the Caribbean region where the Foundation started (my place of birth). The 2nd edition will focus on the Middle East region. The photography and inspiring words are meant to incite storytelling between youths and adults as they explore instances where the directed and thought provoking words may apply or could apply to their own lives, past and future.
The concept of the book has existed since 2010 when I created the Foundation. I wrote the Love Letter to a Leader of Tomorrow back then, and it has never changed, meaning the entire book is designed around this love letter we all deserve to receive in our lifetime.
Books have always been my most reliable, consistent mentor. I wanted to create one that could give the wisdom of generations to youths and adults who may have lost their way, from all cultures. This is why there will be 7 versions of the book to represent various regions of the world as I explore their cultures and what leadership feels and looks like for each.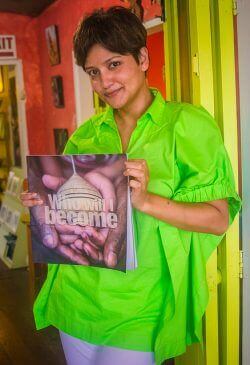 Coming from a tiny Caribbean island, Trinidad and Tobago, with only 1.3 million people and a limited budget, a book is a terrific way to create a legacy for the Foundation, secure an income stream (we are a social enterprise and not donor dependent) and also continue our impact — each book gives the reader access to our leadership lessons through a unique code which they can utilize on their own to help us grow leaders in their own communities.
You've embraced the concept of a "book as a business card", how did it work out for you? What impact has the book had so far on your foundation?
I recently wrote an article about this in Arabian Business, i.e. a book being the new business card. I think in the world we live in today, we are super keen to learn more about the texture of others; their worldview, their value system, etc. It is for this reason that we have such a huge infatuation with each other's content through social media, blogs and all. There is no better way to transfer your knowledge, experiences and/or diverse content other than through a book. There is just something about a book that gives roots to what you need to say to the world, how you feel, who you are and what you stand for. I think everyone is a biography and a book waiting to happen and if we live our lives knowing this... just imagine the possibilities for each and every one of us.
With regards to me personally, the fact that I am now a published author is rewarding on so many levels. As a lover of books, having my own is mind boggling. I also get photos and emails from all over the world about how my book has changed someone's life or impacted someone else. You cannot even imagine what that feels like to read one of those emails.
Recently, I went on a book tour and visited classrooms in the Caribbean using the book and the kids went berzerk, asking me for autographs not only on their books, but all over their clothing and school bags, sweaters etc. It truly is the most powerful feeling ever to spark something deep within another that awakens their potential. How blessed am I really to be the chosen vehicle for a book that does this really magical thing?
In terms of the Foundation, the book not only generated steady income but I have literally now allowed anyone who purchases the book to access our leadership lessons for youths and adults. This allows them to light their own candles in the world and allows the Foundation to increase the outcome of our work tenfold by empowering others with our tools.
What would be your top tips for other business or foundation owners when it comes to writing a book (or having it ghostwritten) and publishing it?
We all have something to teach and/or a story to tell... so share it out loud in a book. I say this especially to those of us in the area of making this world a better place. You simply do not know how what you are doing or what you know can lift up another, give knowledge or inspire courage.
The traditional publishing way of needing an agent and a publisher has been turned on its head There are so many resources to help you do it right.
I am now working on my second book, a 50,000+ word full manuscript which is very different from my first book. To say it is hard, especially given I have no writing experience whatsoever, would be an understatement. But I was really fortunate in that a publisher, Jaico Books, noticed my work and approached me to write an adult audience leadership book. So I encourage you to keep writing and putting your content out there in the world since you never know who may notice.
So you're with a traditional publisher, but you still came to Reedsy to find an independent editor to work with. What was the reason for that?
Yes, normally a traditional publisher does all the editorial reviews for a book; especially if they approached you to write it. In my case I came to Reedsy for three reasons.
First I wanted a different perspective on my book. My publisher is focused on the Indian market but I want my book to have international appeal, so I was looking for diverse feedback. Also, I have to admit I was a bit insecure about some of my writing. Before submitting some chapters to my publisher, I chose to get a lot of help and feedback from my Reedsy editors. It was super affordable and I figured I had nothing to lose to get a next set of eyes on my work.
I was very open to my publisher about having outside editors looking at my work. And they actually noticed and complimented me on the huge difference in the chapters being submitted; so it really worked out for me.
Most importantly, my confidence is up and I have found my mojo and grit to keep writing away to complete this second book within the next month so we can see it on bookshelves in 2017.
You've hired two editors through Reedsy: Maria D'Marco and Dick Hill: did you notice any differences in their methods, or in the things they picked up?
Dick and Maria are both wonderful and different as night and day in their approaches. Dick is very methodical doing word­-for-word editing. He does not touch the shape of the work but he cleans up the grammar so it all makes perfect sense i.e. he has been super helpful in clearing up what I want to say without disturbing my work. He is also very professor-­like and I almost feel like I have a babysitter that keeps me writing.
Maria is extremely different in that she confidently pokes holes in the work and makes suggestions or asks questions. She causes you to wonder if the shape of your work is correct or if it should be round or square in certain parts. She forces you to think through what you are writing or meaning to say. This is super helpful to me since she adds light and allows air into the work. I am saving a lot of her comments for my final manuscript where I will have the full editorial review from my publisher. I have a feeling this is where I will get a full appreciation of how brilliant Maria actually is. Maria is also so positive and encouraging... she actually made me feel like I am writing a bestseller of sorts!
---
We know you cannot wait, get yourself a copy of Who Will I Become here.
Did Sallyann's experiences seem familiar to you? Let her know, join the conversation by leaving your thoughts, comments, or questions below.