Last updated on Dec 28, 2022
20 Amazing Children's Book Illustrators (and How to Hire Them)
We all had our favorite children's book illustrators growing up. From Quentin Blake, who illustrated for Roald Dahl, to Julia Donaldson of The Gruffalo, the best illustrators not only helped us visualize stories, but also made us fall in love with the sheer possibility of imagination.
If you're writing a children's book, then you too may one day arrive at the point where you need a children's book illustrator to do the job and bring your story to life. So which illustrator should you hire to create the perfect marriage between your words and their images?
In this post, we list 20 of the best professional children's book illustrators in the industry who you can hire today. (For more details on how to choose the best artist for you, visit our guide on how to find an illustrator for your book.) If you're short on time and would like to cut to the chase, we recommend taking this quick quiz to get a headstart on finding the right illustrator for your style. 
🎨
Which children's book illustrator is the best fit for your book?
It'll only take a minute!
And if you'd like a bird's eye view of this world of childlike wonder and infinite creativity, let's start!
1. Laura Watson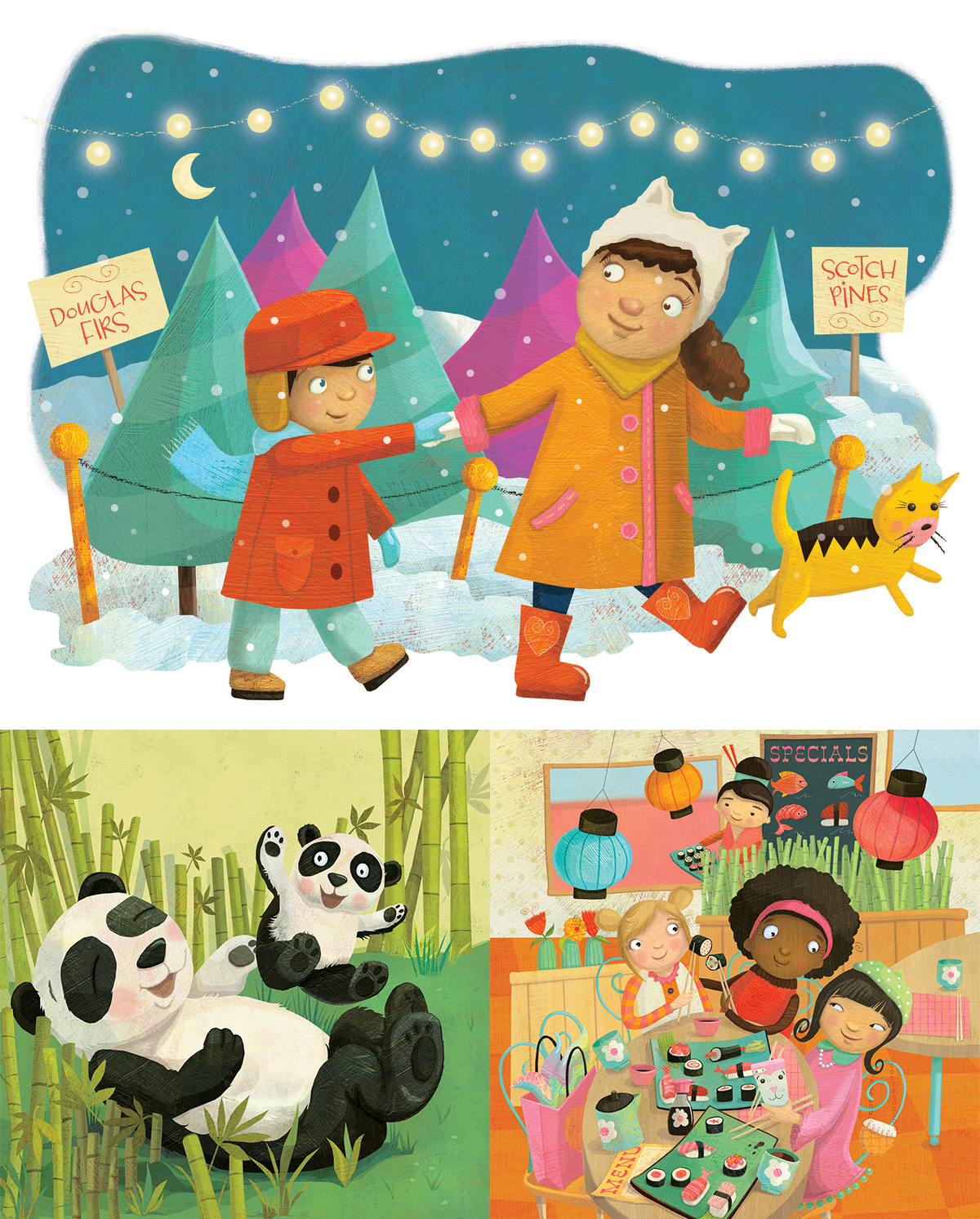 Laura Watson has a particular talent for depicting the wonders of childhood. Her illustrations are windows into the world as a kid sees it: bright colors and an innocent sense of fun bring each piece to life before our very eyes. Her talents lend sensitivity to each illustration, fully expressing the intended mood, whether that be tranquility or boundless energy — just like children themselves.
Looking for heartwarming children's book illustrations with a fun feel? Check out Laura Watson's full portfolio here.
2. Mai Kemble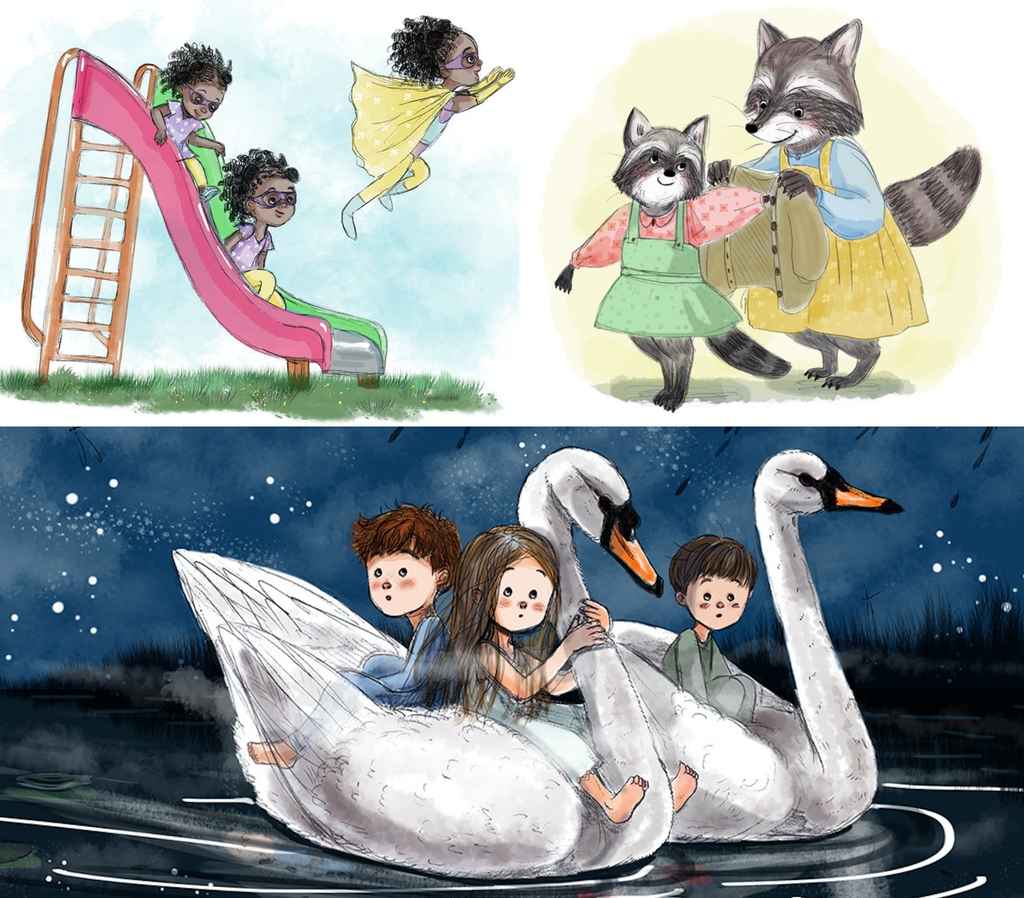 There's something so magical about Mai Kemble's illustrations — and not just because her young subjects take flight from playground slides and climb aboard swans for a startlit ride! Kemble favors a light touch with color and texture, yet each aspect is flawlessly calibrated to bring her scenes to life. Whether a child dreams of becoming a superhero or befriending a family of talking animals, Kemble's art will help them feel like anything is possible.
Looking for wondrous illustrations to bring out the dreamer in all of us?  Check out Mai Kemble's full portfolio here.
3. Penny Weber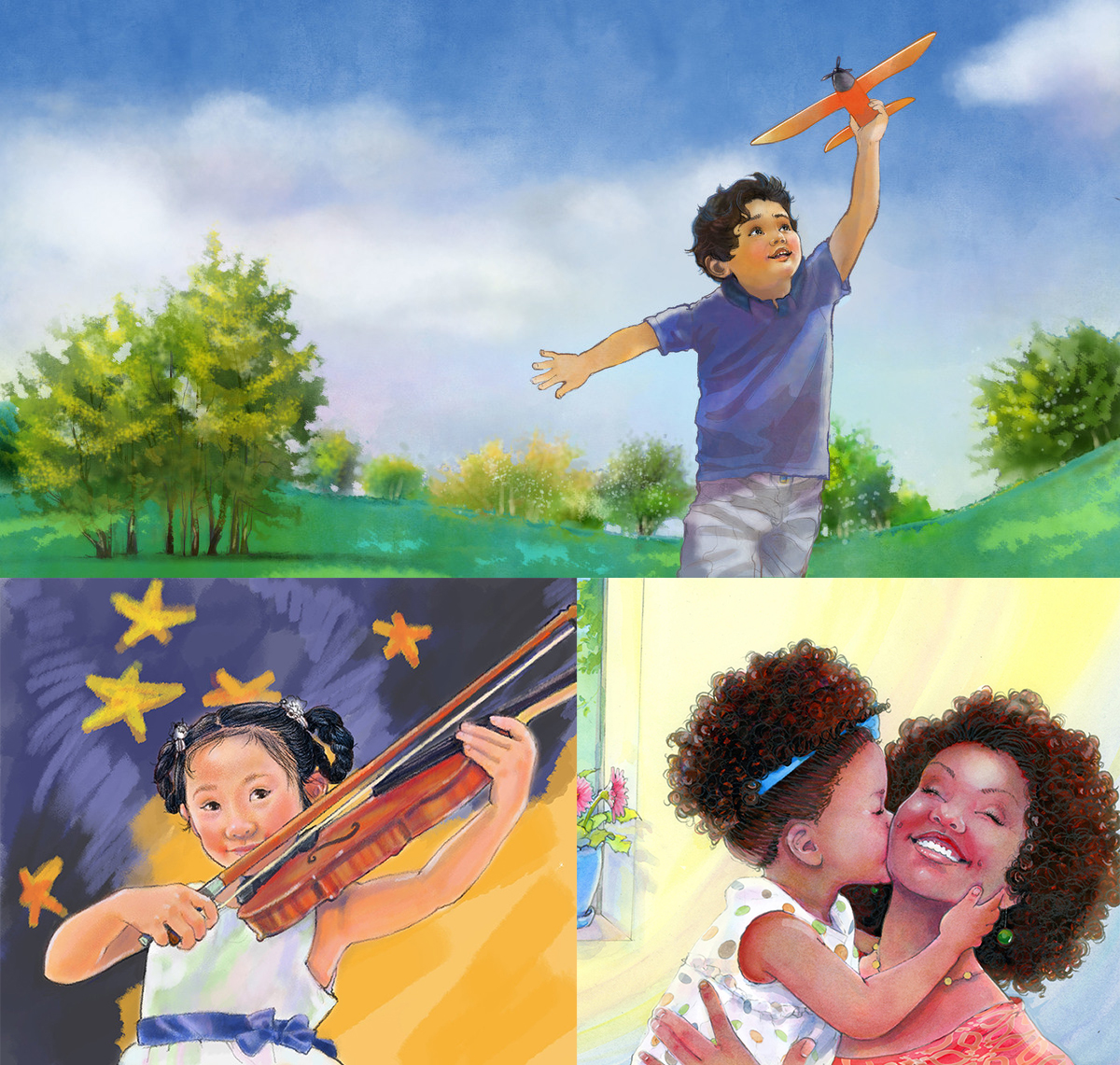 The illustrator of acclaimed children's works such as Jennifer Vassel's I Am Unique, Carol McCloud's Will You Fill My Bucket?, and Marta Arroyo's Jorge and the Lost Cookie Jar, Penny Weber has a rare knack for imbuing true feeling into her creations. Look at any one of her stunning pieces and you'll be able to viscerally sense the emotion playing over the character's face, whether that's joy, newfound confidence, or grief — a reflection of ourselves that speaks to all children.
Looking for realistic children's illustrations with a soulful touch? Check out Penny Weber's full portfolio here.
🖊️
Which famous children's author do you write like?
Find out which literary luminary is your stylistic soulmate. Takes 30 seconds!
4. Andy Catling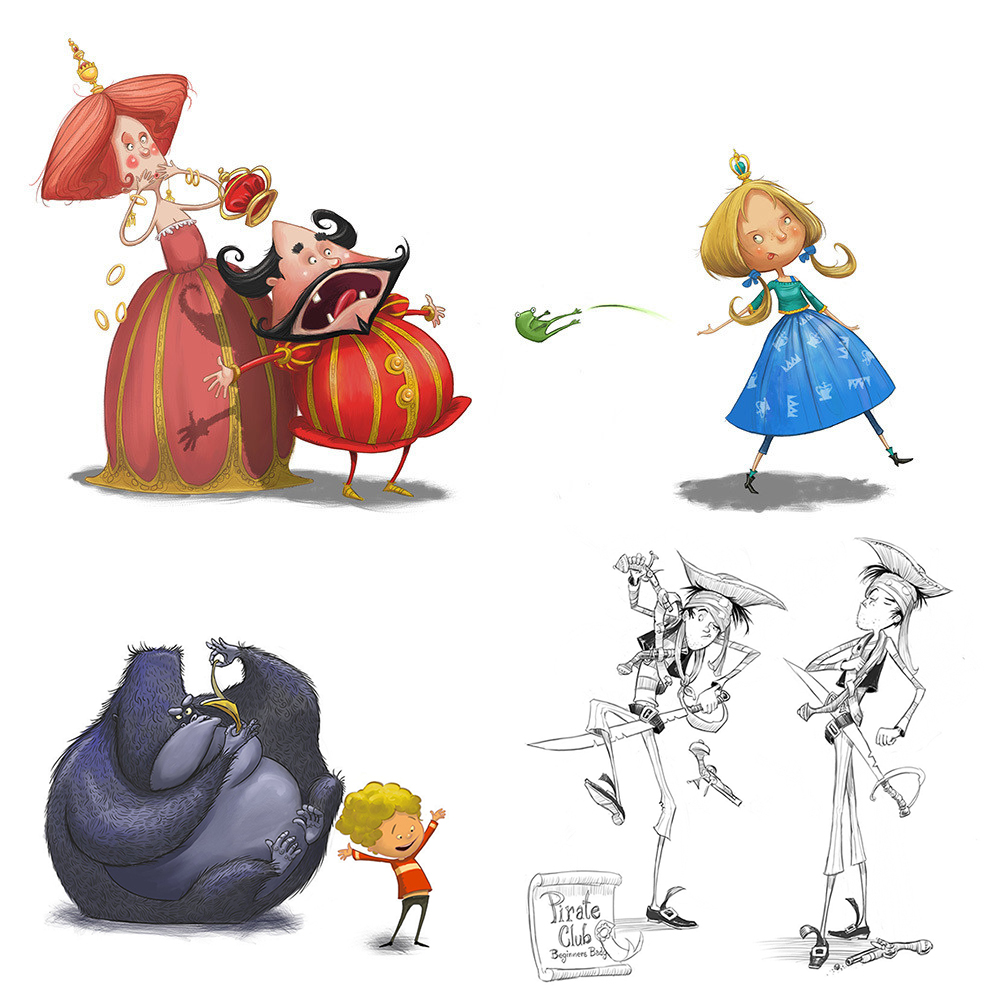 Children love Andy Catling's endearing, emotive characters. And Catling clearly loves creating them as well! His precise, intricate linework manages to be incredibly expressive, and he especially enjoys experimenting with exaggerated shapes to make them vividly unforgettable. The end result is a portfolio of lighthearted illustrations that urge you to join in on the fun.
Looking for fun character designs that pop with personality? Check out Andy Catling's full portfolio here.
5. Katie Risor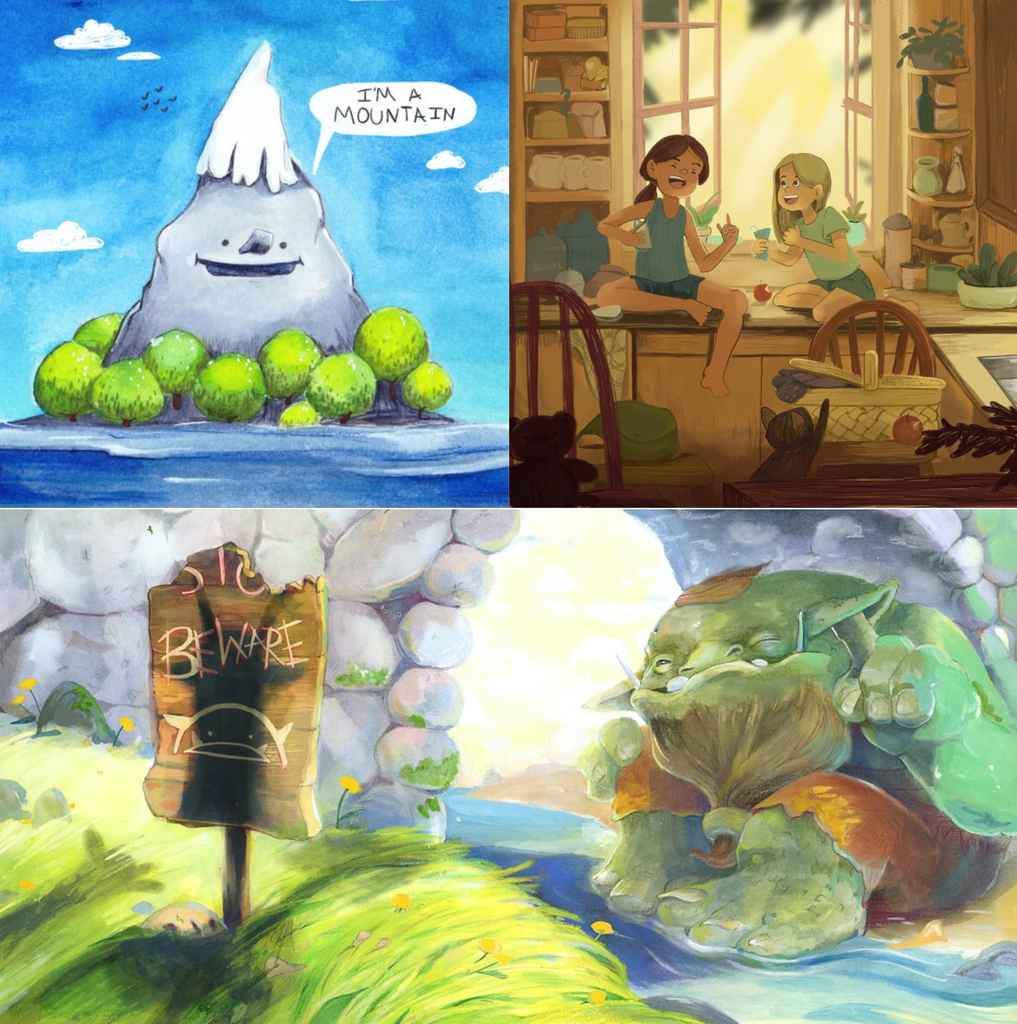 Katie Risor's work is nothing short of enchanting. From chatty mountains to slumbering trolls, her art would fit nicely in a collection of fairytales. Yet she also adds smart details to keep each world feeling authentic, with a focus on lighting and perspective; see how the shadows fall in the scene above, and how every object is so carefully positioned in the upper-right piece.
And while Risor is quite adept at drawing imaginary creatures, she's no slouch at people either — each of her human characters emits a certain sparkle, like they could practically dance off the page.
Looking for the some of the most enchanting, immersive children's book illustrations around? Check out Katie Risor's full portfolio here.
6. Nate Fakes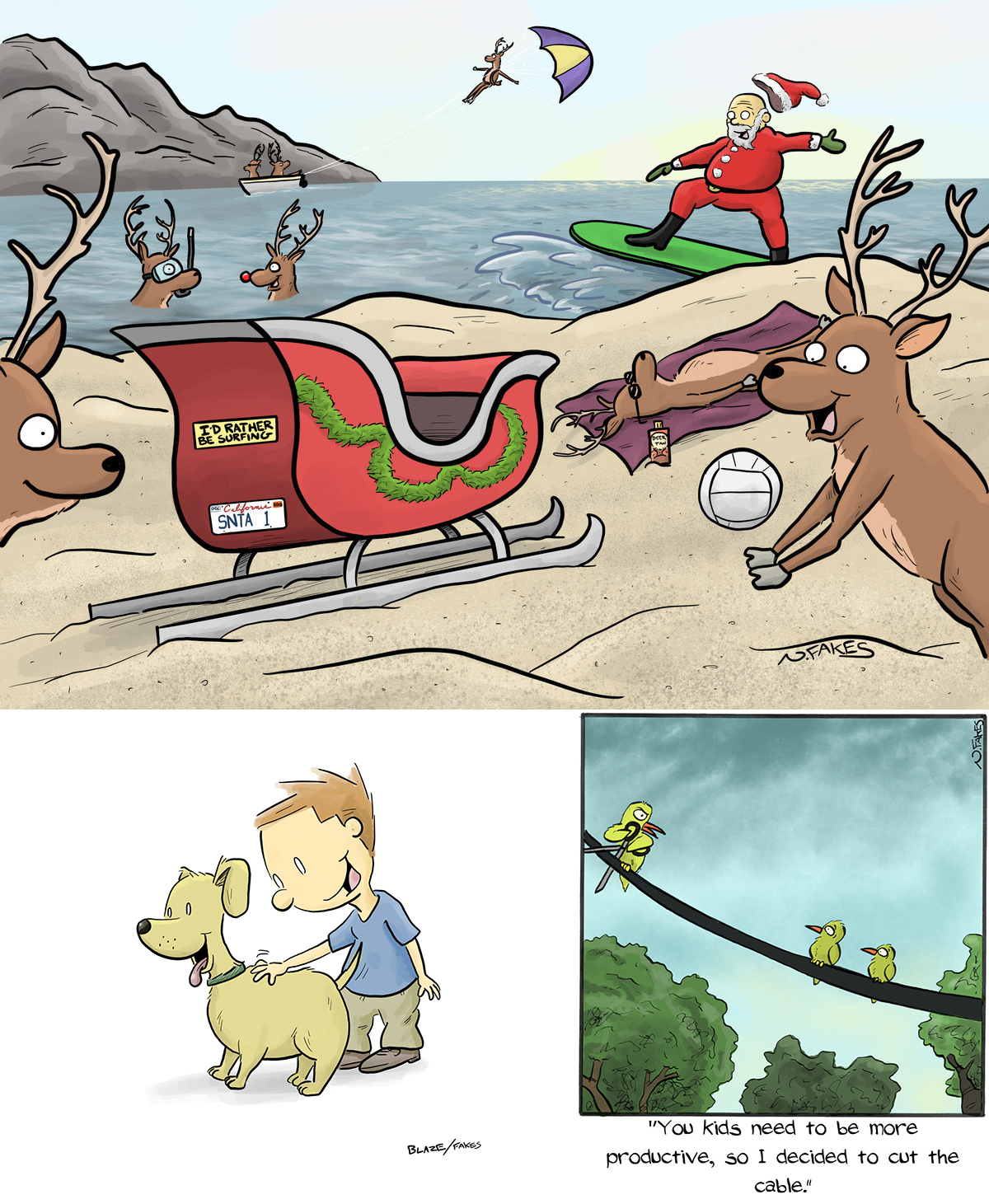 Meet Nate Fakes — who is anything but fake! His delightfully witty art has drawn the attention of outlets like the New York Times, and he counts the likes of Disney, Scholastic, and Warner Bros. among his regular clients.
It's not hard to see why. Rollicking and bursting with character, his art invites its viewers into the exuberant world of childhood. But Fakes' true gift is his good-natured humor, which comes across in every stroke of his pen. When you unite that with his artistic talent, it's a formidable combination indeed: one that renders any character exceptional, whether that be a young boy or an adorably misbehaving reindeer.
Looking for witty illustrations with a professional polish? Check out Nate Fakes' full portfolio here.
7. Claudia Gadotti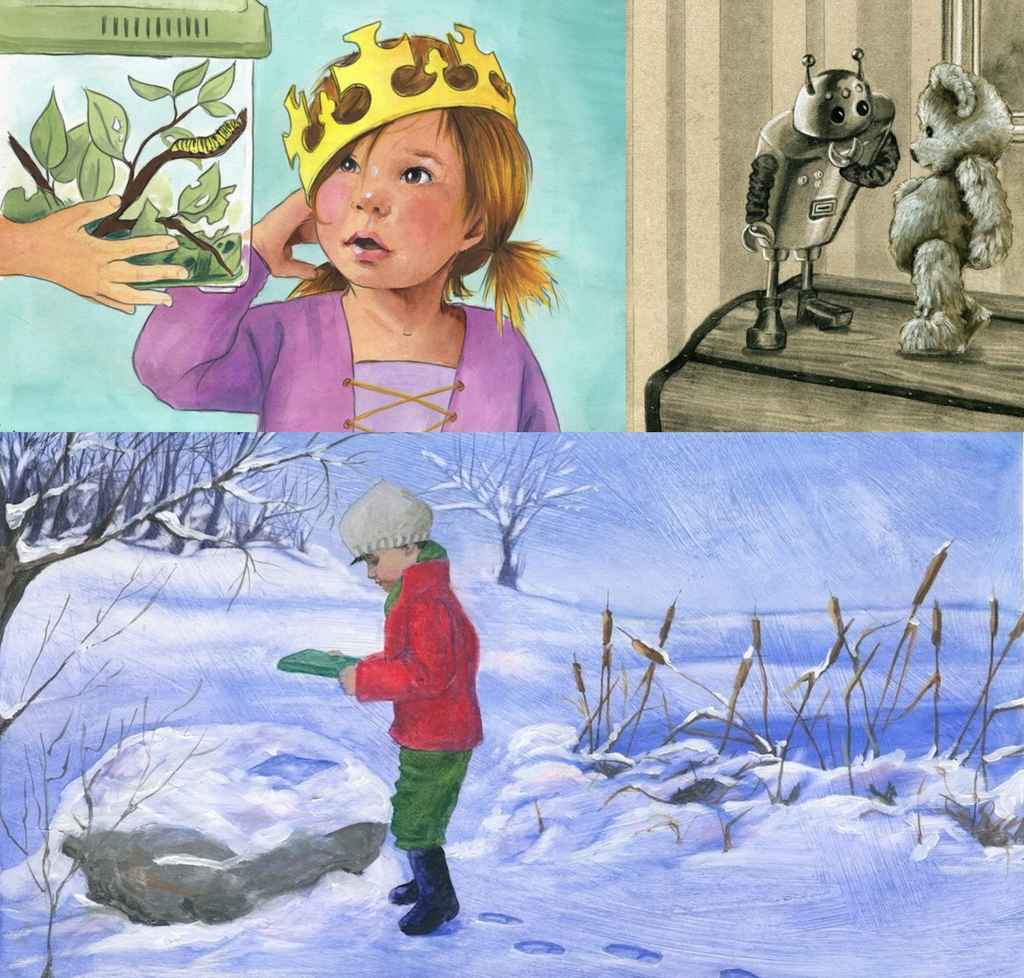 Claudia Gadotti's art is breathtaking on both a technical and aesthetic level, lush colors combining with perfectly weighted brushstrokes to create indelible, realistic scenes. The devil, as always, is in the details here. Notice the subtle differences in texture between the robot toy and the teddy bear — not to mention the sheer number of colors that go into painting Trudeau the dog. Indeed, if a picture is worth a thousand words, one of Gadotti's pieces might be worth a million.
Looking for an authentic, traditional style that children will love? Check out Claudia Gadotti's full portfolio here.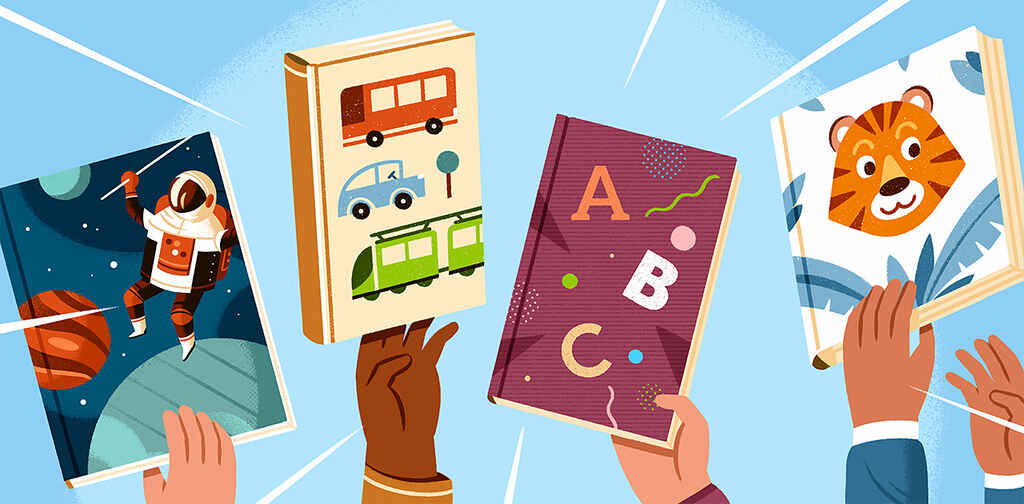 Dazzle children with design
Enchant kids and their caregivers with a professionally designed book.
8. Evgenia Malina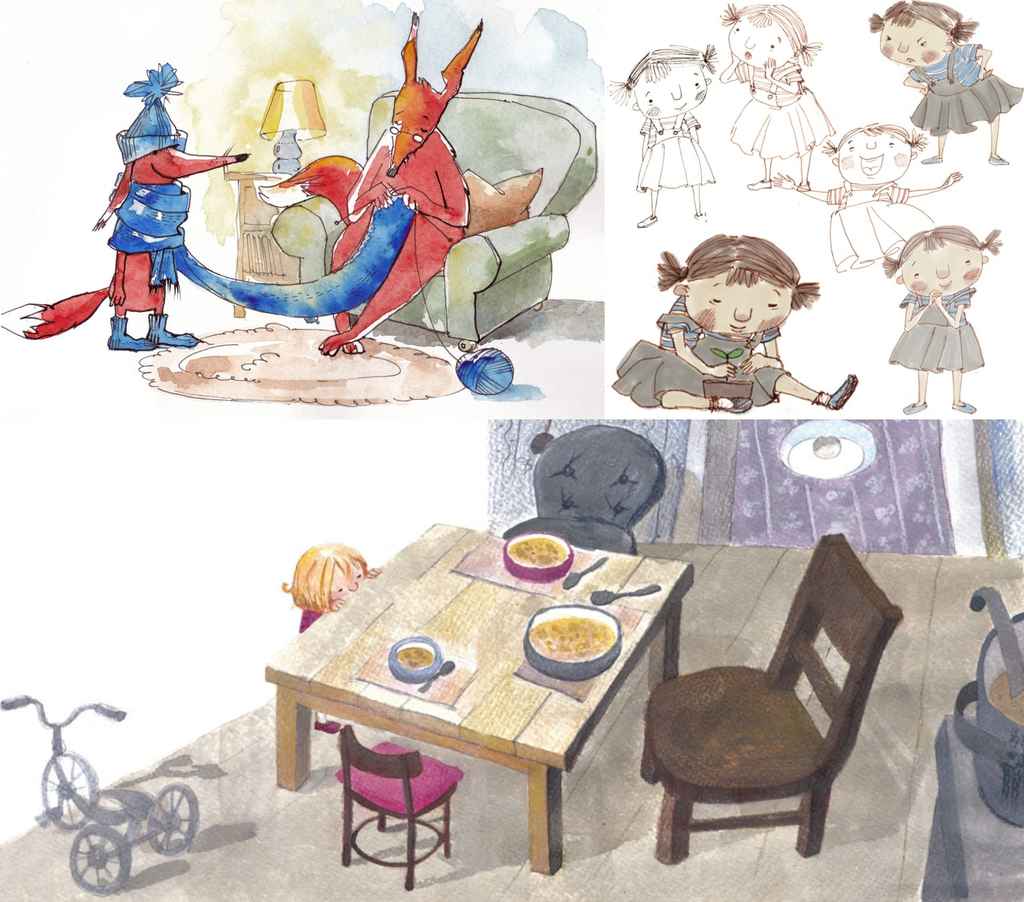 If you grew up loving Quentin Blake's illustrations for Roald Dahl (and let's be honest, who among us didn't?), then you'll absolutely adore Evgenia Malina's work. In her illustrations, you'll spot traces of Blake merged with her wholly original imagination. Malina's scratchy linework lends raw, real elegance and levity to each piece, while her perfectly chosen colors spotlight what matters the most: the characters.
Looking for quirky illustrations in the style of Quentin Blake? Check out Evgenia Malina's full portfolio here.
9. Francesca Filomena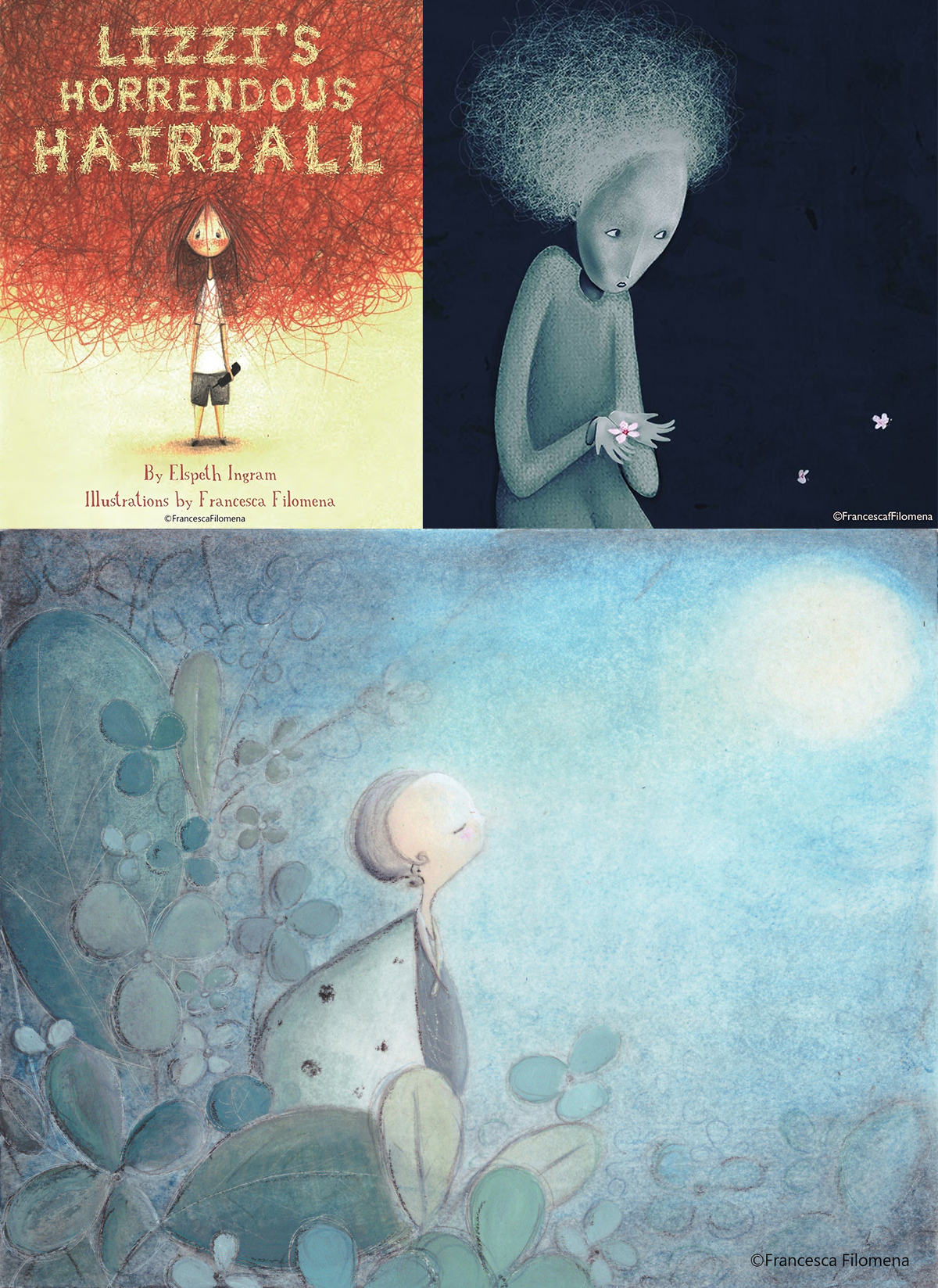 Ready to float into a wondrous world that you could have never imagined? Francesca Filomena's inimitable style will submerge you headfirst into a dreamy, surreal realm that's brimming with surprises. Her use of color is perhaps most impressive, inviting viewers into the fabric of the work and imparting emotion without saying a single word. Atmospheric and thought-provoking, Filomena's portfolio builds a strong case for art being the best medium for children to explore the limits of their imaginations.
Looking for dreamy illustrations with an otherworldly ambience? Check out Francesca Filomena's full portfolio here.
10. YoungJu Kim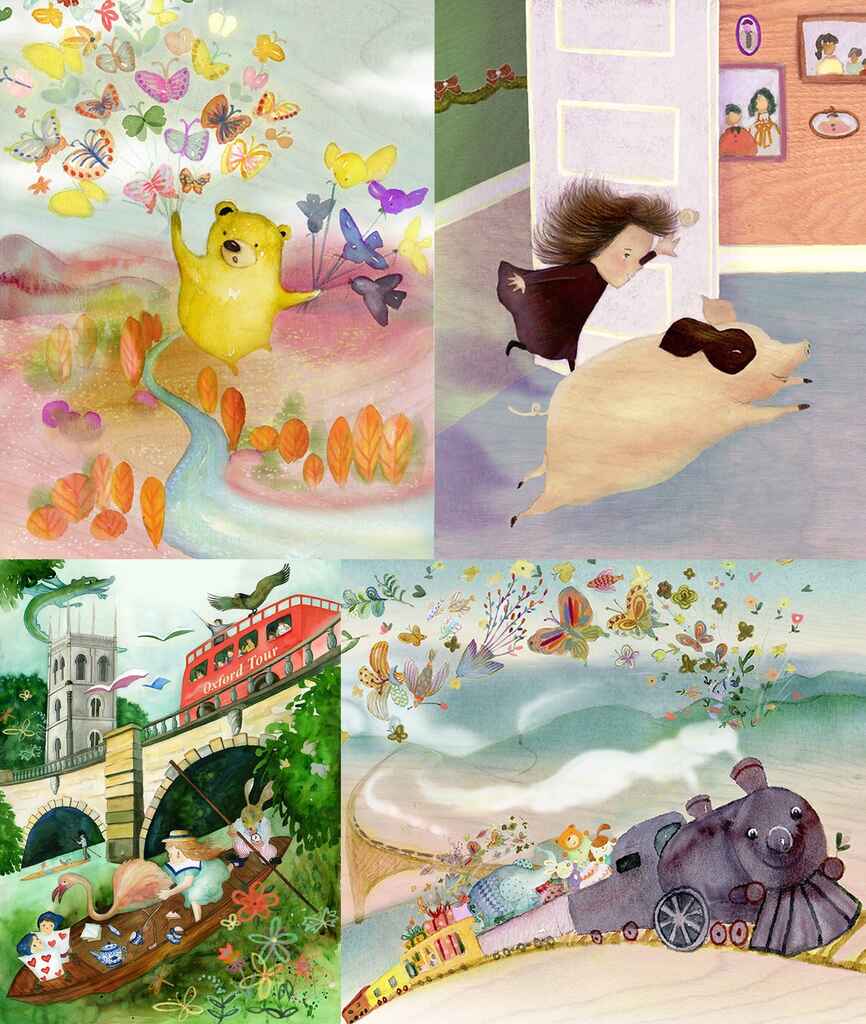 YoungJu Kim's stunning illustrations can be spotted from a mile off. With their acute sense of location and whimsy and signature use of wood grain, YoungJu's designs can be relied on to transport young readers into a world of wonder. Her character designs are equally immaculate, as shown by her work on titles like The Little Coach Engine That Could Because It Stopped Sabotaging Itself and Maggie Vaults Over the Moon.
Looking for distinctive and ethereal illustrations for your picture book? Check out YoungJu's profile.
11. Talitha Shipman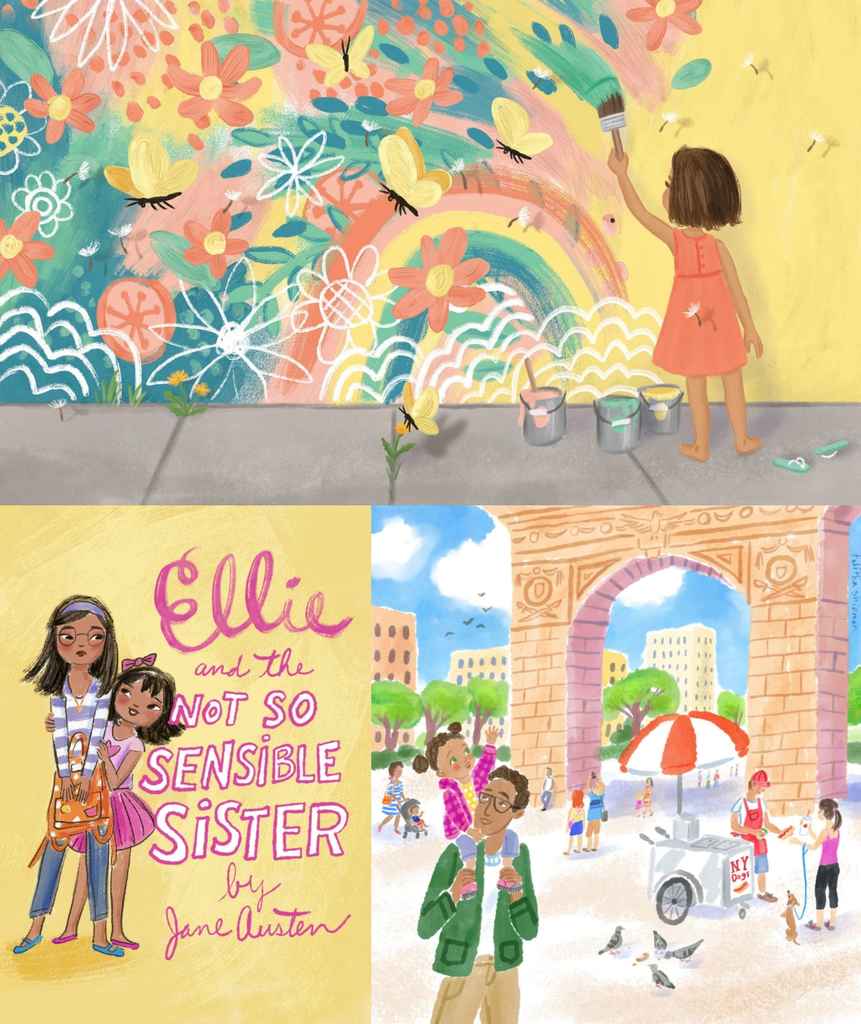 No matter what season we're in, Talitha Shipman's illustrations are sure to bring the sunshine. Her warm, playful style is just the thing to win over younger readers — especially those who like to see kids going on everyday-yet-exciting adventures! Fans of classic literature will be especially tickled by the children's book cover shown here. The rest of Shipman's gallery is full of similarly unique surprises; definitely check it out if you get the chance!
Looking for warm, bright illustrations with a side of gentle fun? Check out Talitha Shipman's full portfolio here.
12. Nicholas Child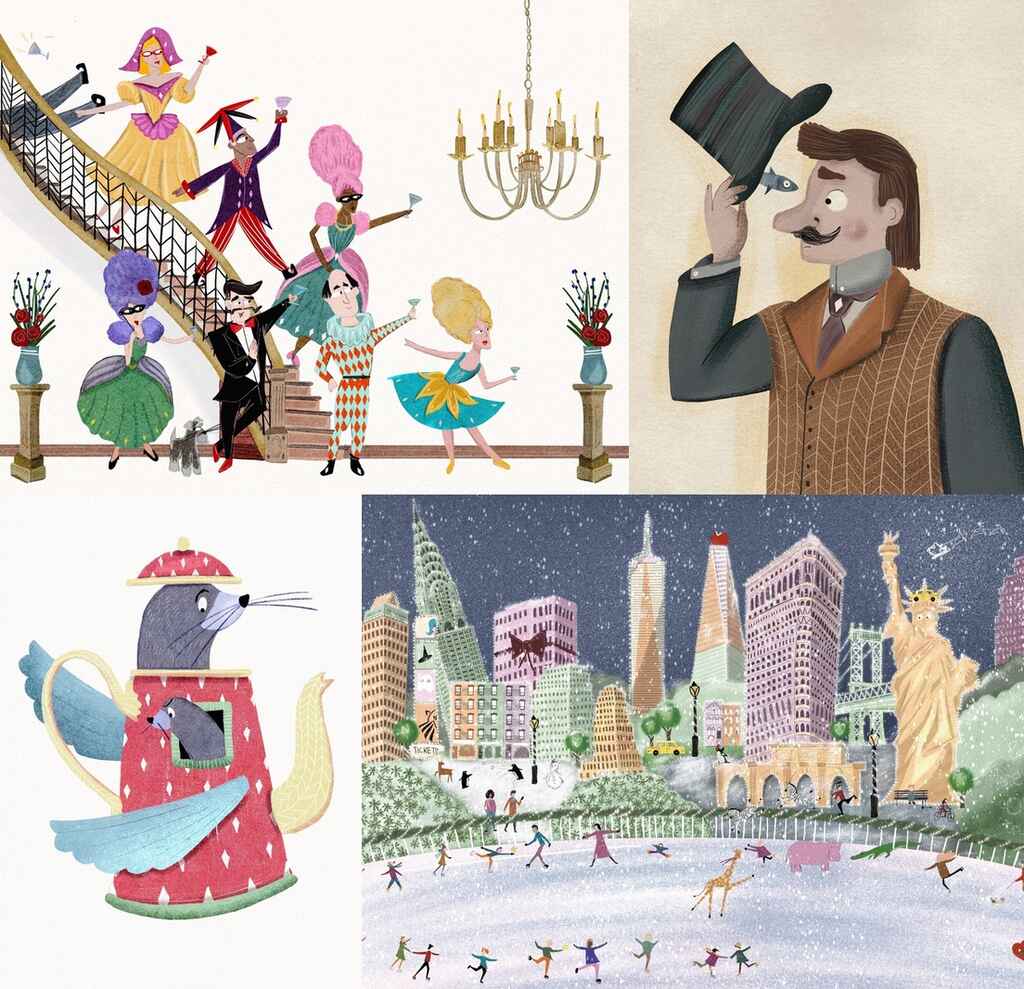 With his wonkily wonderful designs, Nicholas Child brings an explosive sense of fun to every project he turns his hand to. Flip to any page on Noah, Blue, and the Scooter That Flew or Just Henry, and you'll find yourself stepping into a hand-crafted wonderland.
If you need to inject 50ccs of distilled visual imagination into your book, take a look at Nicholas's portfolio.
13. Kseniia Kudriavtseva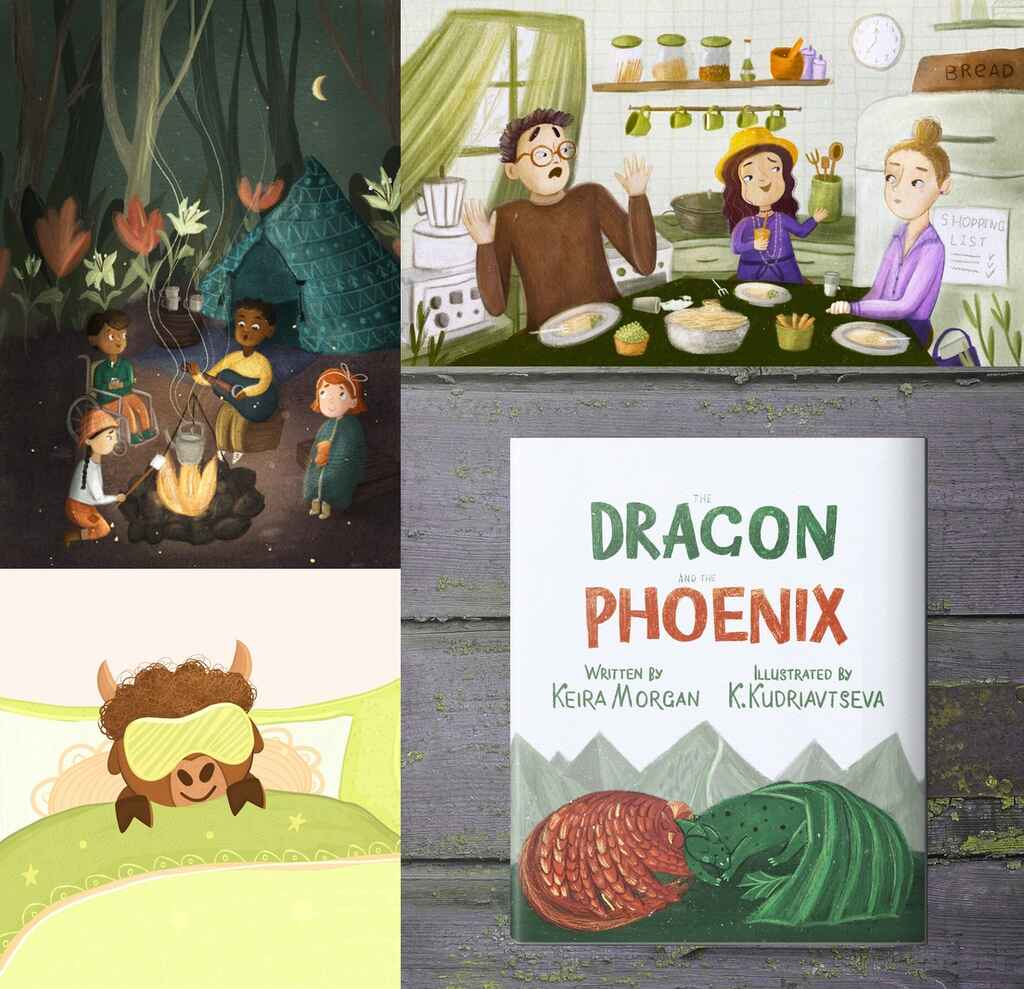 With her flair for cozy, magical scenarios, Georgia-based illustrator Kseniia Kudriavtseva treats every one of her projects like a mini-masterpiece — and the results are always worthy of belonging in an art gallery. With oodles of experience working for traditional publishers and indie clients alike, perhaps her best-known work can be found in the "Courageous Kids" series of picture books, with their cameos from historical figures like Louis Armstrong and Abraham Lincoln.
Need to ground your book in a sense of sweet, joyful innocence? Check out Kseniia's portfolio.
14. Dana Regan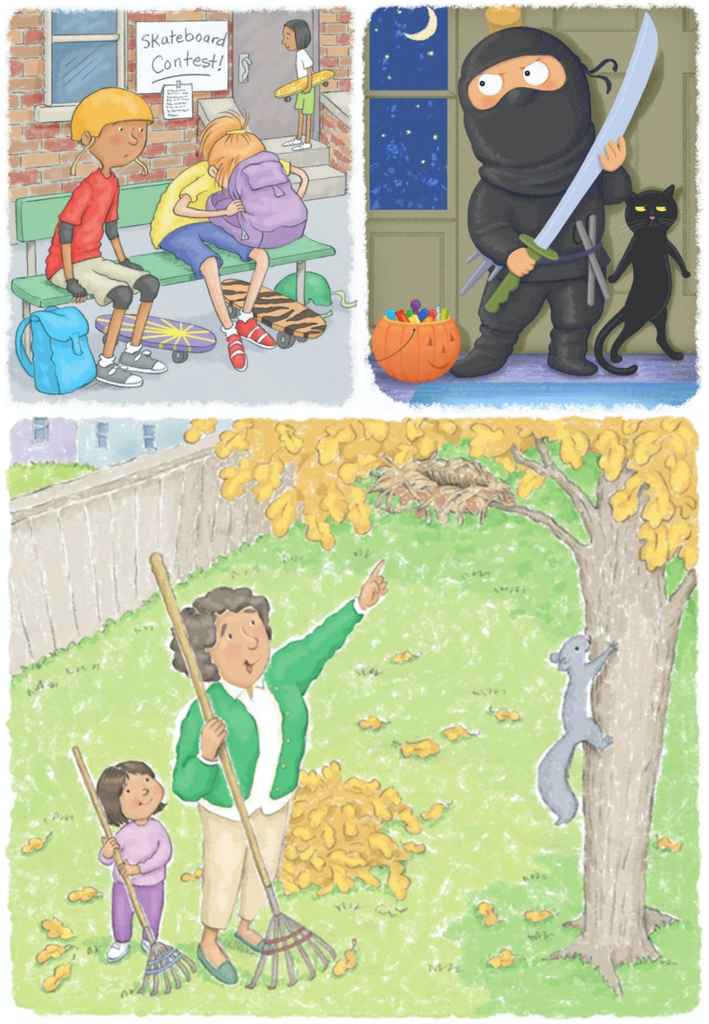 Dana Regan's clients include Scholastic, Random House, Penguin, Grosset & Dunlap, HarperCollins and Simon & Schuster — and no wonder! Brimming with sweet, wholesome pictures, her portfolio is a visual playground for children of all ages. Notably, her artwork celebrates the value of diversity and how we have many things to learn from one another.
Searching for sweet, cozy artwork for children of all backgrounds? Check out Dana Regan's full portfolio here.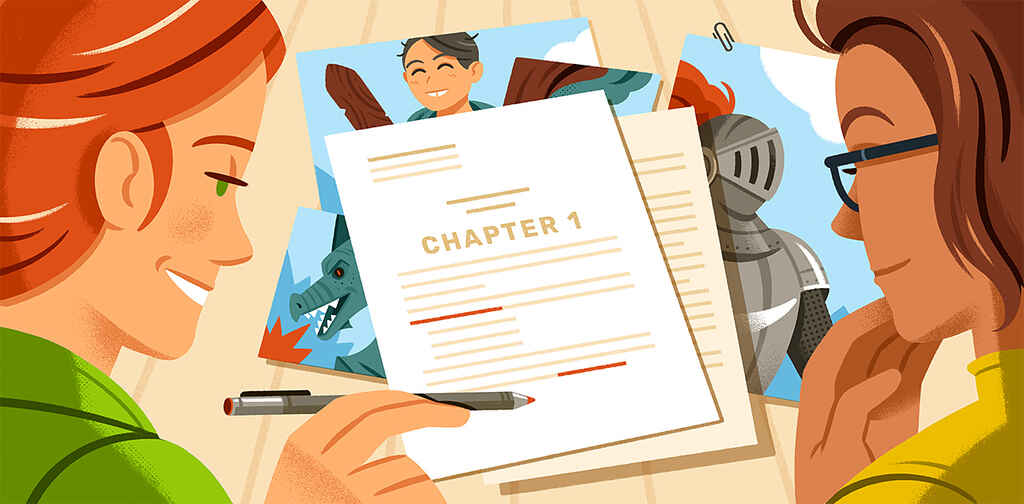 Make your story sing
Work with a professional children's book editor to take your book to the next level.
15. Taylor Barron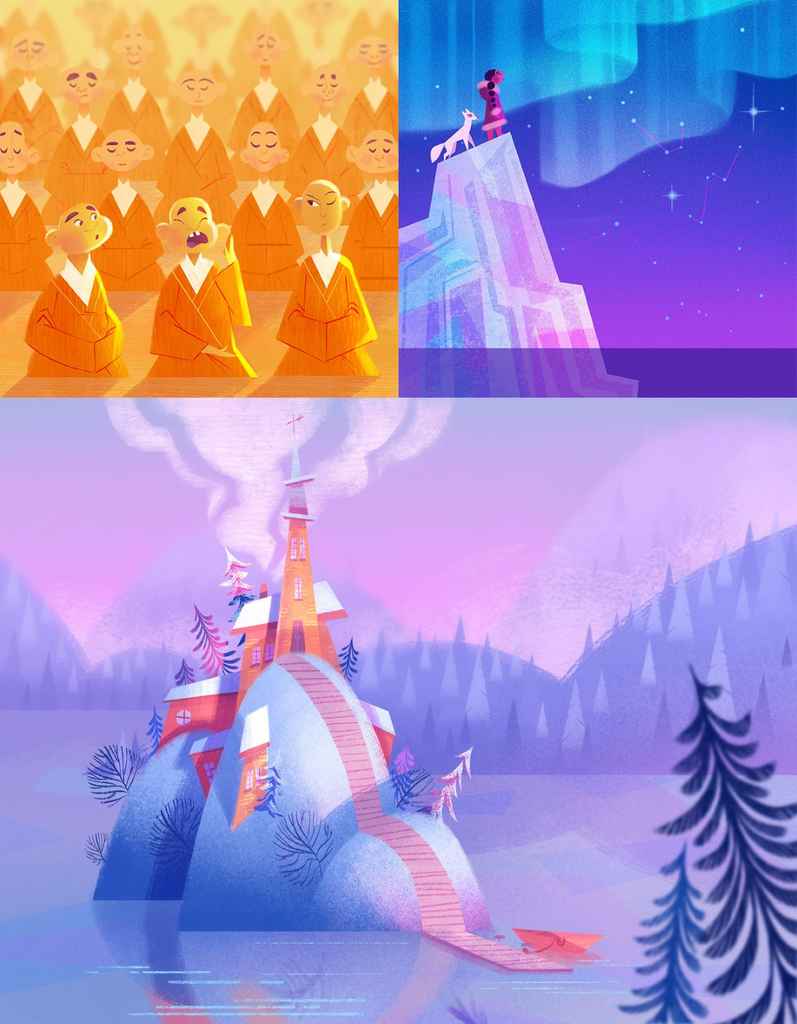 Taylor Barron's art truly exemplifies the axiom, "Life is like a box of crayons." Her bright hues rise, ripple, and reverberate across the page — always in wonderful harmony with the mood of the scene. Perhaps that's fitting, given her background in the motion graphics and animation industry. One glance at her portfolio is all it takes to understand her humor, grace, and attention to detail — from her gap-toothed monk-in-training to the red umbrella floating on an idyllic, wintry lake.
Looking for ethereal illustrations with plenty of charm to spare? Check out Taylor Barron's full portfolio here.
16. Sandie Sonke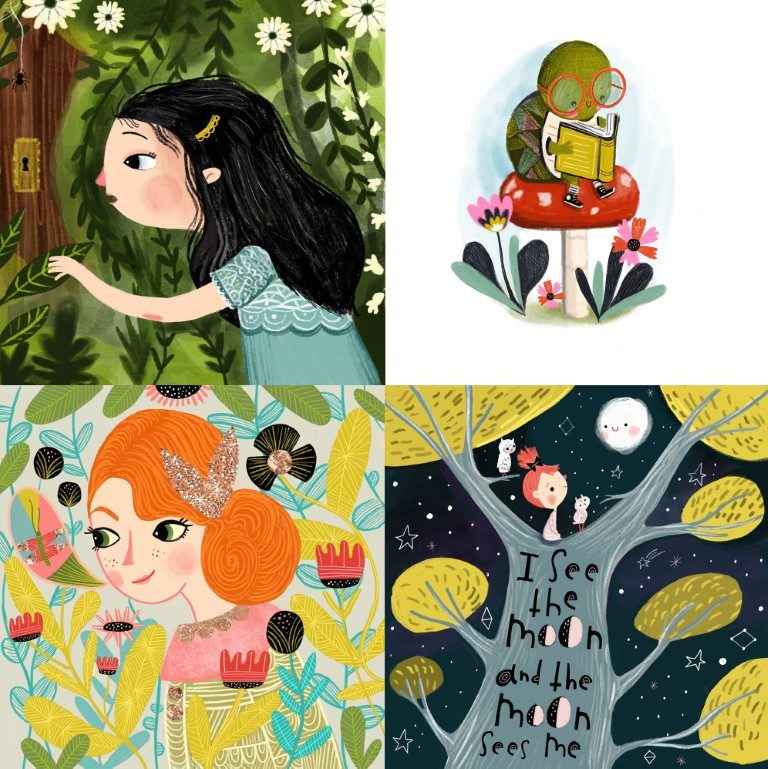 Sandie Sonke's portfolio will draw the eye of anybody who loves cheerful, appealing art, with its clean lines and limitless personality. Scrolling through her art is the equivalent of drinking a steaming mug of hot chocolate, or viewing a YouTube clip of golden retriever puppies. It will leave you feeling warm and fuzzy on the inside, and your day will brighten for having experienced it!
Looking for feel-good illustrations to warm you up on a winter day? Check out Sandie Sonke's full portfolio here.
17. Basia Tran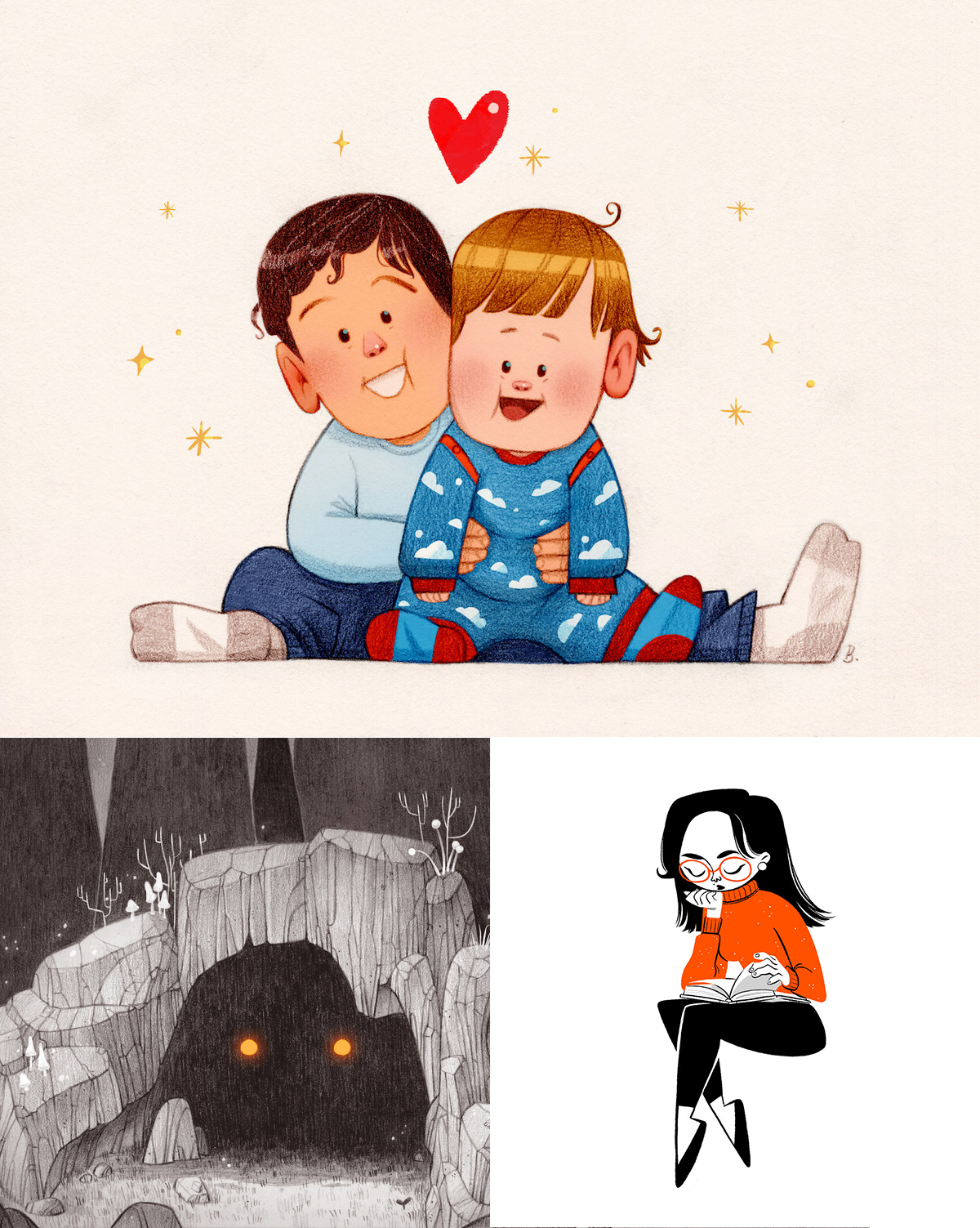 At first glance, what stands out most about Basia Tran's portfolio is the sheer diversity of style. Digital art, colored pencil, realism, fantasy: Tran creates magic out of it all, so subtly that you might not realize the spell she's cast until you've been staring at one of her pieces for a beat too long.
And though their styles may vary, one common theme ties all her pieces together. As Tran herself says, her art is all connected by one thread: her "desire to tell stories that could make you laugh, teach you something new, or even bring you some peace. Best of all, if they could be all of the above."
Looking for thoughtfully rendered illustrations that will make you laugh and think? Check out Basia Tran's full portfolio here.
18. Nathalie Kranich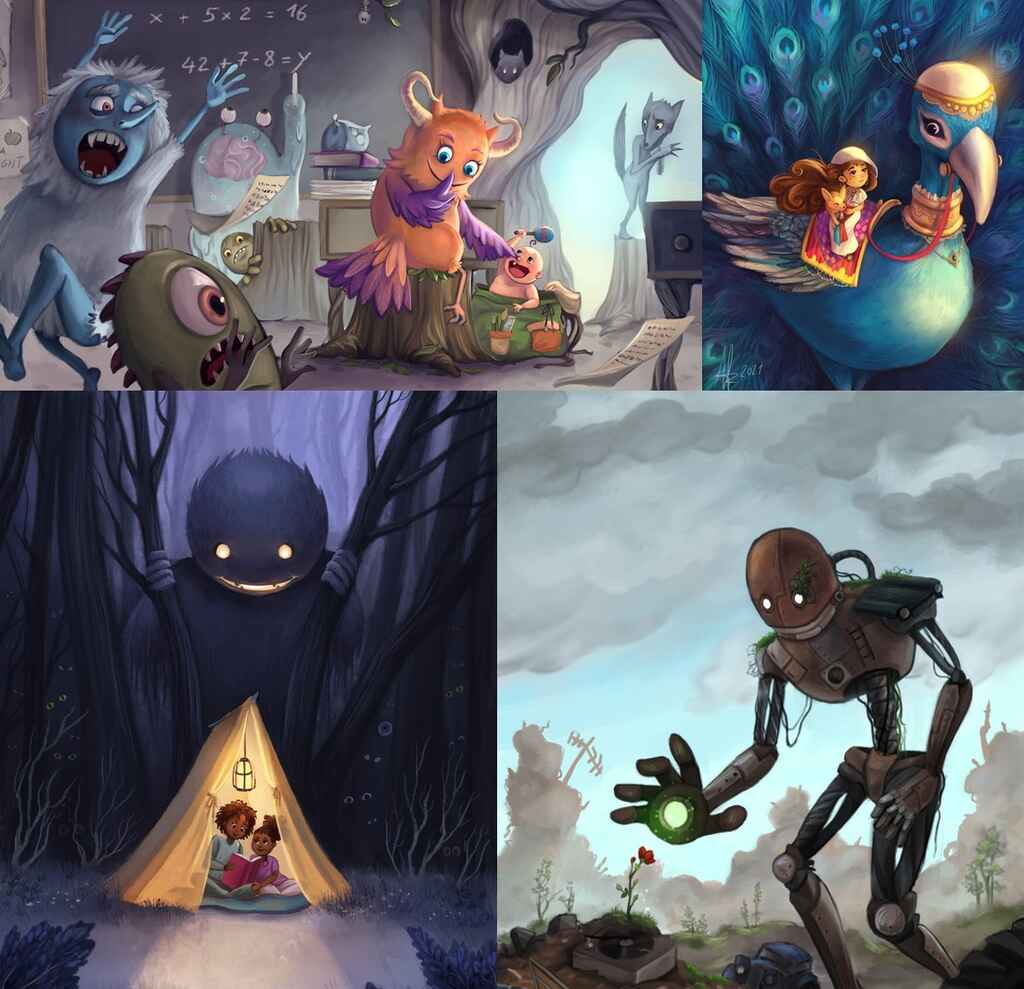 With skills honed in the mobile games industry, German-born illustrator Nathalie Kranich has helped countless indie authors render their stories in evocative detail. Though her aesthetic may look darker than some of her contemporaries, Nathalie's focus on the sweetness and humor of her characters allows her to balance out the look and create incredibly alluring illustrations.  
To see more of Nathalie's work, be sure to check out her profile on Reedsy.
19. Martina Terzi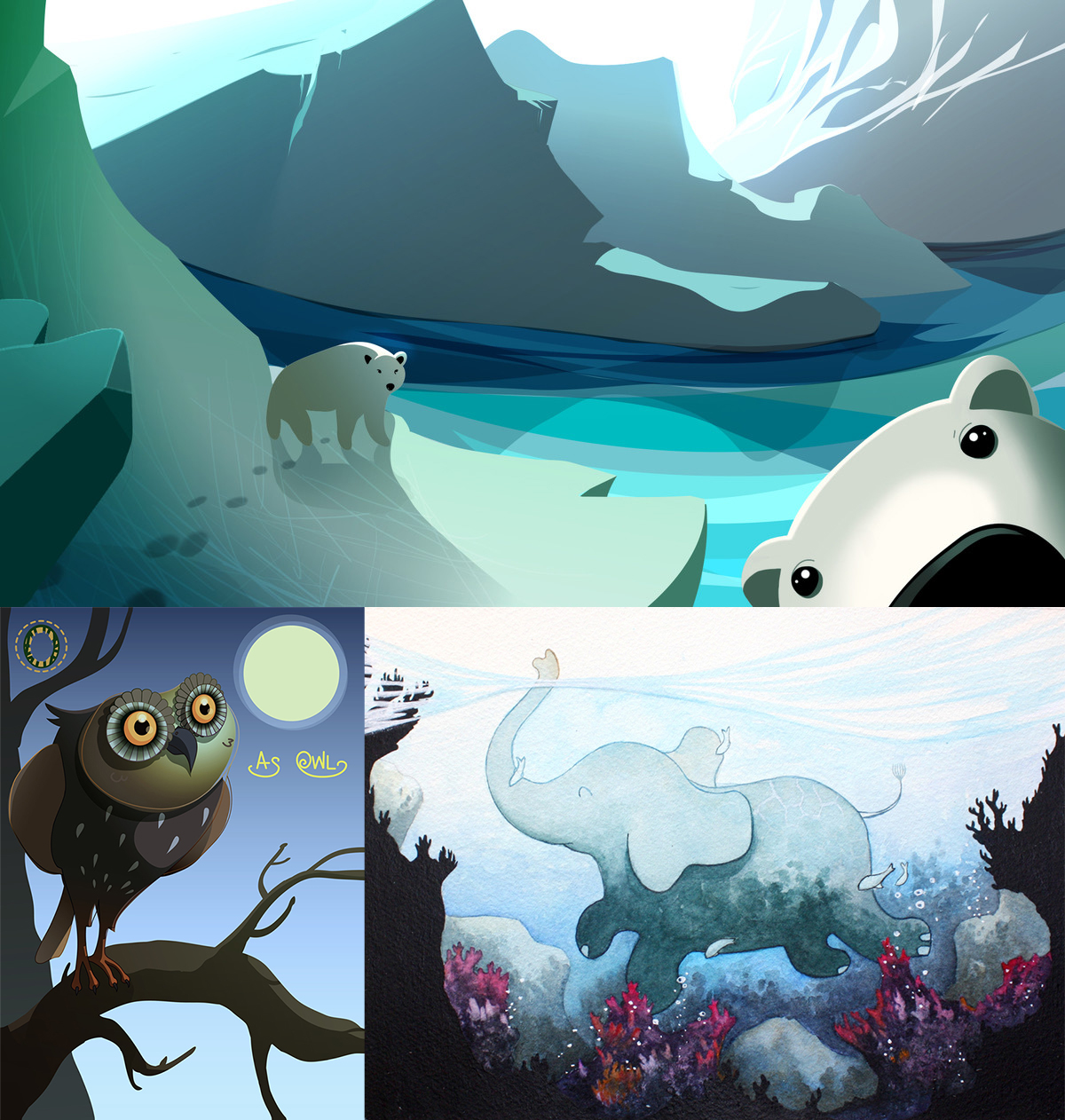 Martina Terzi's gallery clearly demonstrates her uncanny ability to humanize any animal — and better yet, give them distinct emotions. Inquisitive owl? Done! Smug alligator? No need to see you later — here's the 'gator. But what's even more impressive is her composition: the natural color palettes and simple shapes effortlessly harmonize character and environment. Needless to say, younger audiences will particularly enjoy her art.
Looking for children's book illustrations with some of the cutest critters you'll ever meet? Check out Martina Terzi's full portfolio here.
20. Devin Mawdsley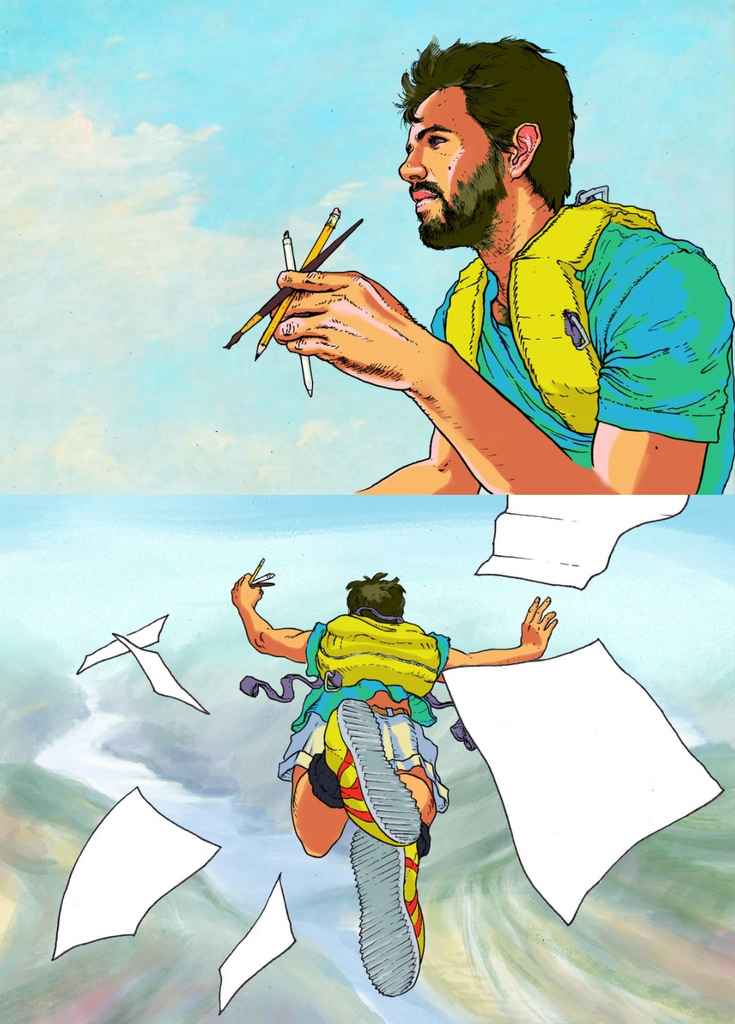 Let's end on an illustrator with a slightly different, more mature style. Both the Atlantic and the New Yorker have come calling in the past for Devin Mawdsley's services, and he always delivers with vivid shades, skillfully drawn characters, and expertly layered composition. Ideal for that children's graphic novel you have in mind!
Looking for stylized illustrations with a "cool" factor? Check out Devin Mawdsley's full portfolio here.