How to Format Your Children's Book Manuscript ( + Cheeky Template)
Proper formatting is extremely important when you're sharing your children's book manuscript with literary agents or children's publishers. They review hundreds of submissions every week — so a clean, professional manuscript that's easier on their weary eyes will make an excellent first impression.
Inspired by editor Jennifer Rees's Reedsy Live webinar on writing children's books, we've created this post and template to help you impeccably format a children's book manuscript that won't stand out for the wrong reasons.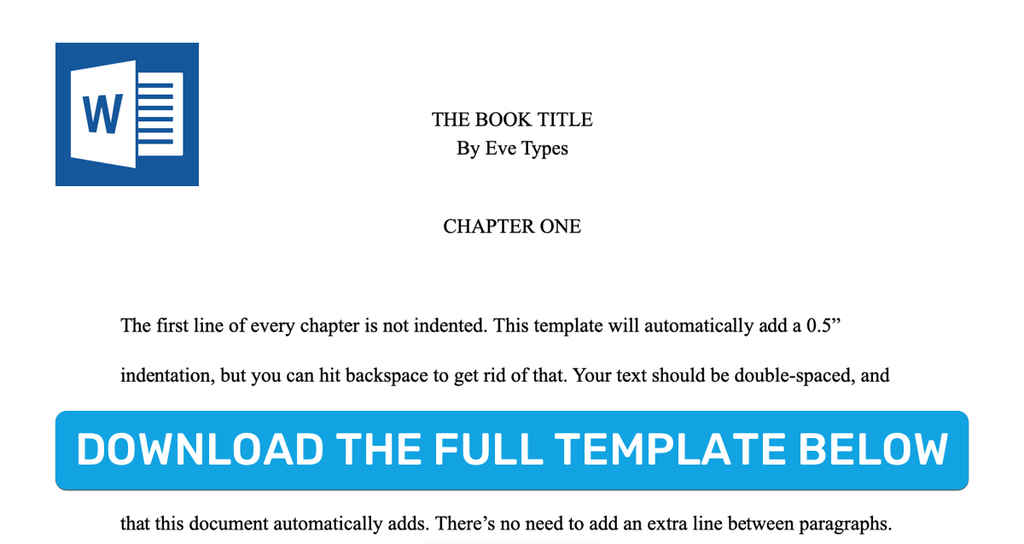 Download our children's book manuscript template
Enter your email address and get your copy right away.
For more detailed instructions on how to format your children's book manuscript using MS Word or Google Docs, just keep on reading.
⚠️  Though this guide follows industry formatting conventions, some agents and publishers will have their own submission guidelines, which you should follow to a T — even if they stray from the generally accepted rules outlined in this post.
1. Save and name your file
Before you do literally anything else, save your file. Save your file. Save your file. Even if you trust yourself not to accidentally delete your work, you never know when a pesky visitor might get their paws on it. Right, Wilbur?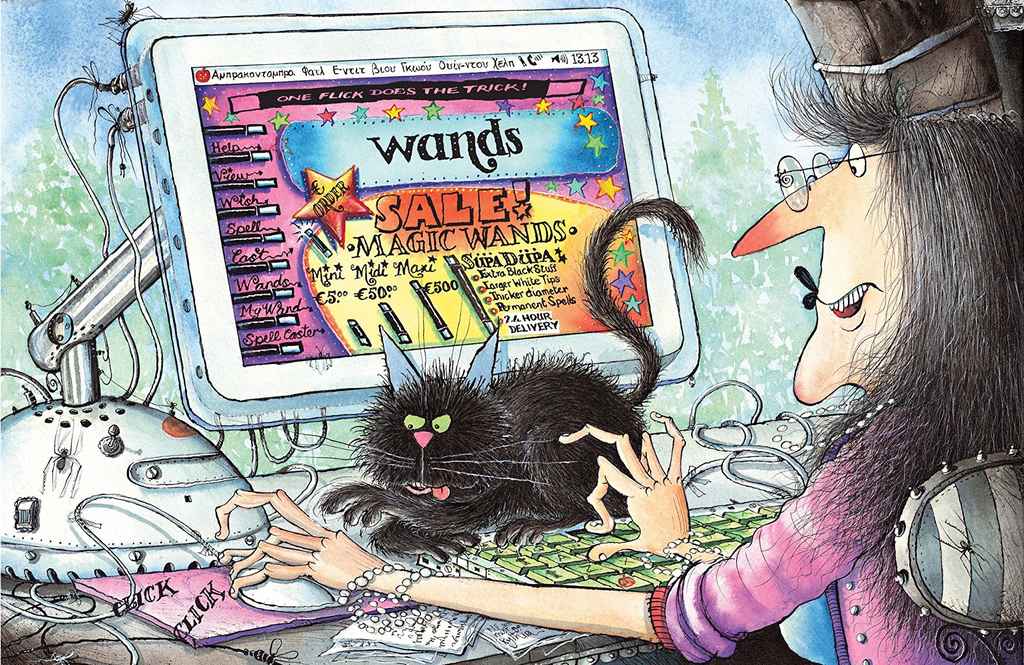 If you're working in MS Word, you absolutely need to do this or your work won't be stored and might float off to Neverland. Our reliable friend Google Docs is pretty good at taking care of this step for you, but you'll want to double-check that everything is being automatically saved to the drive. Your future self will thank you. 

In order to save it, you'll need to give your file a name.
We know how tempting it is to call it "draft1" or "hello", and tell yourself you'll "change it later" — but name it something professional and searchable. We suggest going with "Lastname_TITLE" (as in, "White_CHARLOTTES_WEB") and leaving it at that.
2. Check your page setup
Our blank page now has its name badge, so it isn't going anywhere. Now let's get our page setup in order. Unless the submission guidelines explicitly state otherwise, the dimensions of your page should be: 
Letter Size (8.5" x 11") for the US and Canada; and 
A4 (210 × 297mm) for any other territory. 
You should also have one-inch margins on all four sides of the page. Don't tinker with the margins to hide your book's word count — this isn't high school, after all. Publishers will spot this, so just go conventional.
In most cases, this layout will be the default settings on your word processor. If not — or if you just want to check — here's where to go:
In MS Word: Layout → Size → More Paper Sizes, then Layout → Margins
In Google Docs: File → Page Setup
Polish your manuscript pre-query
Give your manuscript the best chance at success by working with a professional editor before querying!
Learn how Reedsy can help you craft a beautiful book.
3. Adjust your font settings
Times New Roman (12pt, black) is as close to a universal standard as you get in publishing. Use this unless the agency or publisher guidelines state otherwise.
Even if you see your final book being written in handwriting (like Jeff Kinney's Diary of a Wimpy Kid series), your manuscript should still be very down-the-line. Don't fall into the trap of writing with a whimsical font like Comic Sans: any agent who sees that will likely turn into the Grinch.
These settings apply even if you're writing a picture book. All the fun typography and typesetting that you see in finished books by the likes of Lauren Child, for example, will be added after your manuscript has been accepted, when page designers and art directors work their magic. So don't sentence your manuscript to the scrap pile by doing it now.
🖊️
Which famous children's author do you write like?
Find out which literary luminary is your stylistic soulmate. Takes 30 seconds!
Simply focus on readability and the quality of your writing.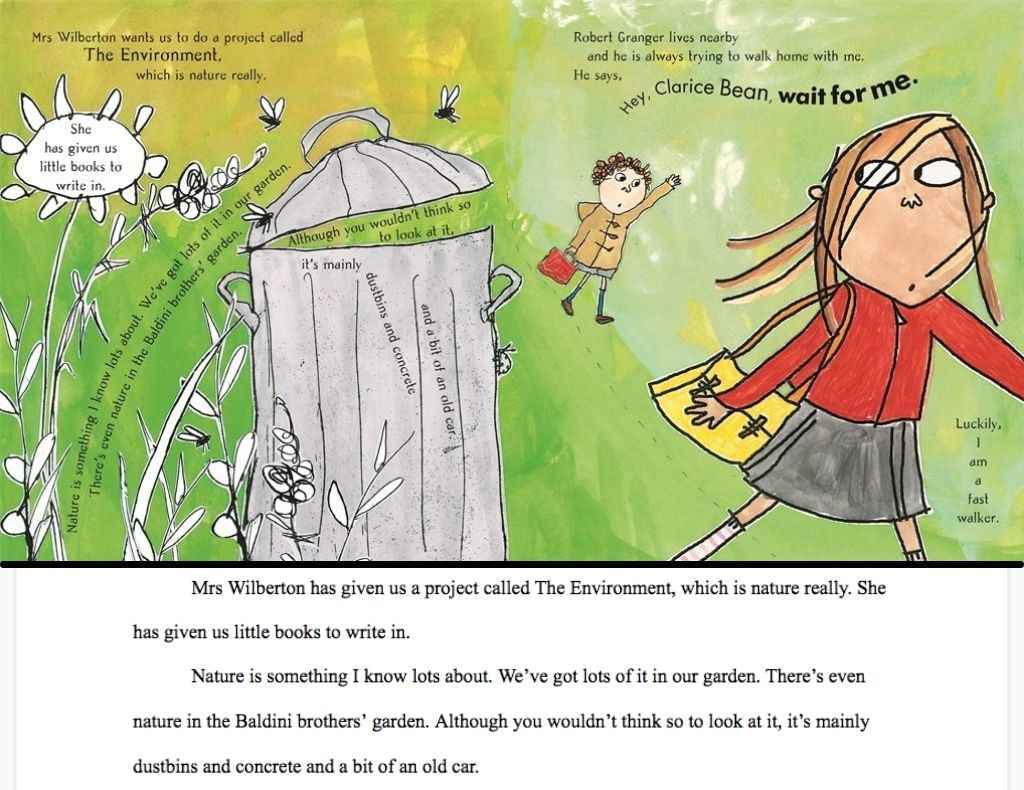 4. Include the important information on the first page
Now you're ready to go with page one! Before you start your story, in the top left-hand corner, you need to list:
Your name;
Your address;
Your email address; and 
Your phone number. 
If you already have an agent and they're submitting the manuscript to a publisher, they will use their name, address, email, and phone number. 
The top right-hand corner is where you put your manuscript's word count. Picture books should be rounded to the nearest ten, and anything with a larger word count should be rounded to the nearest thousand. 

Some people will tell you to then state your target reader, or what kind of manuscript you've written (for example, "Chapter book, age 7-9"). But as long as you've researched the children's market, and your book is the right length — very important! — a professional will immediately know that information from the word count. 
5. Give it a title (the right way)
Now you want to get yourself into the center of the page, and shimmy down about three inches — which is roughly six lines below your details, by our calculations. This is where you'll type out your title.
Type your title in ALL CAPS and center it. Maybe treat yourself and whack up the font size up to 14pt or 16pt. Then beneath it, also centered, add your byline. This can be a pen name so long as you've included your legal name at the top of the document (see Step 4).
Here's an example of what that might look like:
GOODNIGHT, MOON
by Margaret Wise Brown
Tempted by the idea of a pen name? Gve our Pen Name Generator a spin and see if you can come up with a fun new nom de plume.
6. Format the body text like a pro
Everything you've typed so far should have been single-spaced.
As we head into the main text of your story, you'll want to move into double-spacing — which you can do by heading to:
'Format' then 'Line spacing' in Google Docs, or
'Home' and then the 'Line and Paragraph Spacing' key in Word.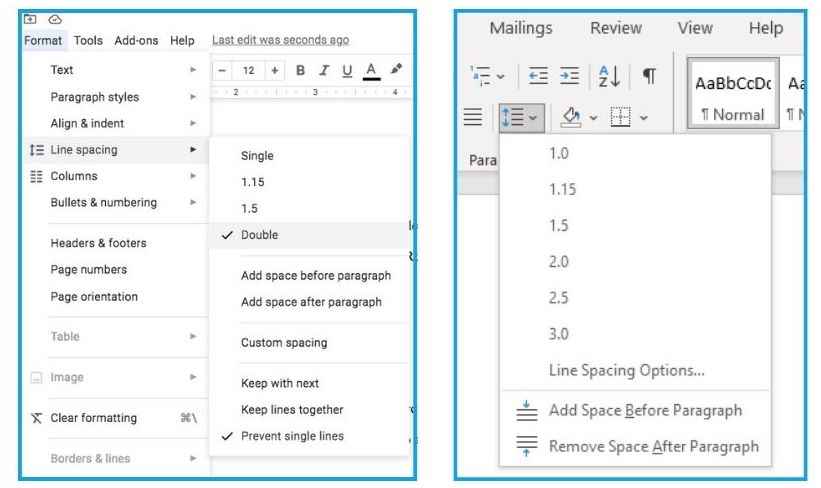 To be an agent or publisher's Perfect Peter (and not their Horrid Henry), you just need to adhere to the following children's book manuscript conventions:
Leave two line spaces or one double space between the byline and the main text.
Left-align the first line of the text, no indent.
Thereafter, indent the first line of every new paragraph by 0.5".
Do not leave extra lines between paragraphs.
Do not justify your text — it should be aligned on the left and ragged on the right.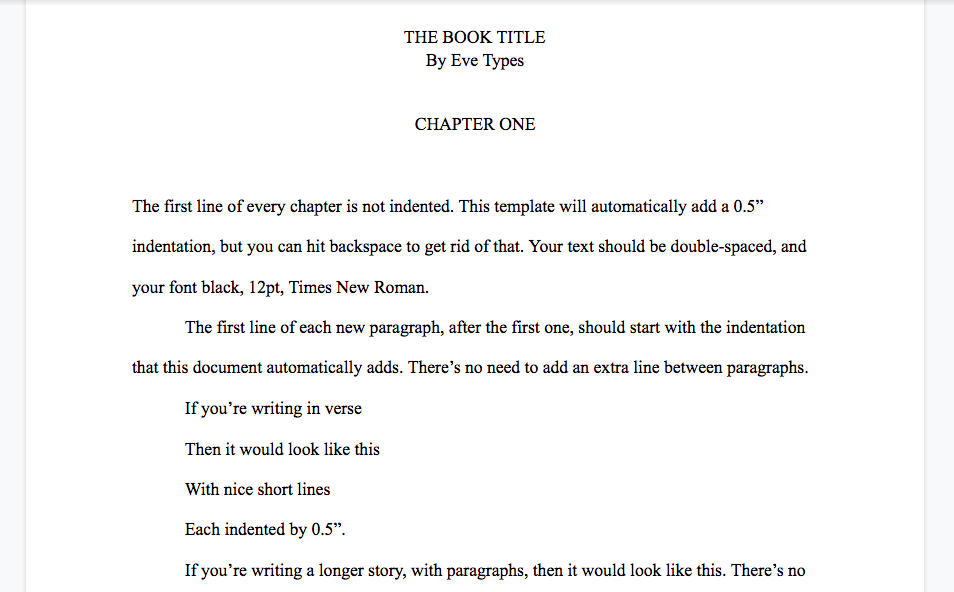 To get those publisher-ready indents at the start of each paragraph, you can just hit the 'Tab' key every time (never use the spacebar!), or you can set this up as your default:
In MS Word: Home → right-click the Normal style  → Modify → Format → Paragraph → under Indentation → Left: 0.5" → Special: First line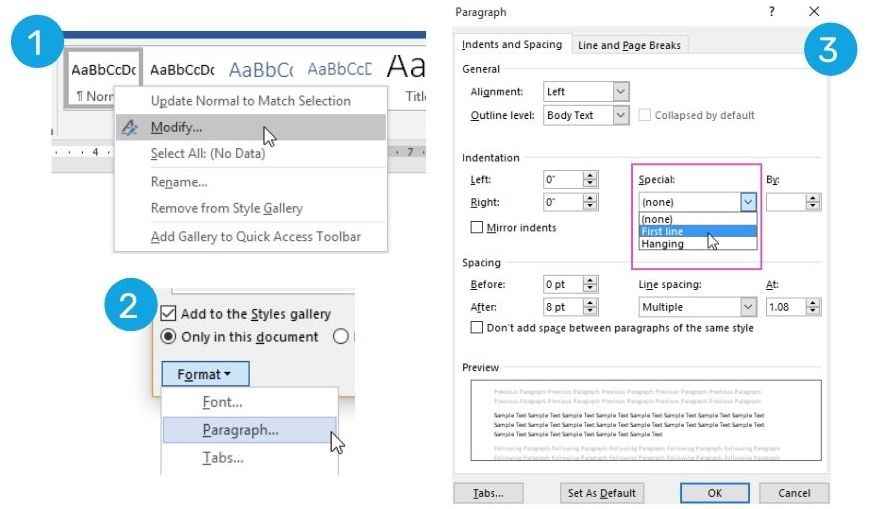 In Google Docs: Format → Align & indent → Indentation options → Special: First Line → 0.5"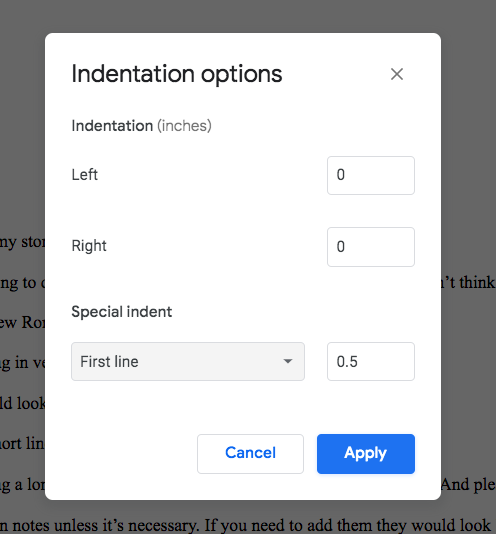 If you're a 21st century Dr. Seuss and you've decided to write in verse, you'll need to indent every new line, including the first one. You can set this as your default, too — just don't select the special 'first line' option!
7. Automate your headers
Your page headers should include the title of your book and your last name on the left, and the page number on the right. Basically, all the information a tired editor might want if they lose a page of your manuscript on their desk and need to find its home.
Page numbers also come in handy when that publisher or agent calls you to discuss the delightful children's book manuscript they've just read!
This section is very technical and can be confusing if you're not super tech-savvy. If you're not sure how to do this, just download our template and it'll be taken care of for you.
To add a header, double click at the top of the page and type in your book's title and your last name, like this: TITLE/ Lastname. 
In Google Docs you'll notice an 'Options' button, where you can remove the header from your first page by selecting 'Different first page' under 'Header format'. In Word, the same option is available under the 'Header and Footer' tab in the toolbar. You don't need a header on the first page because all the same information is already there.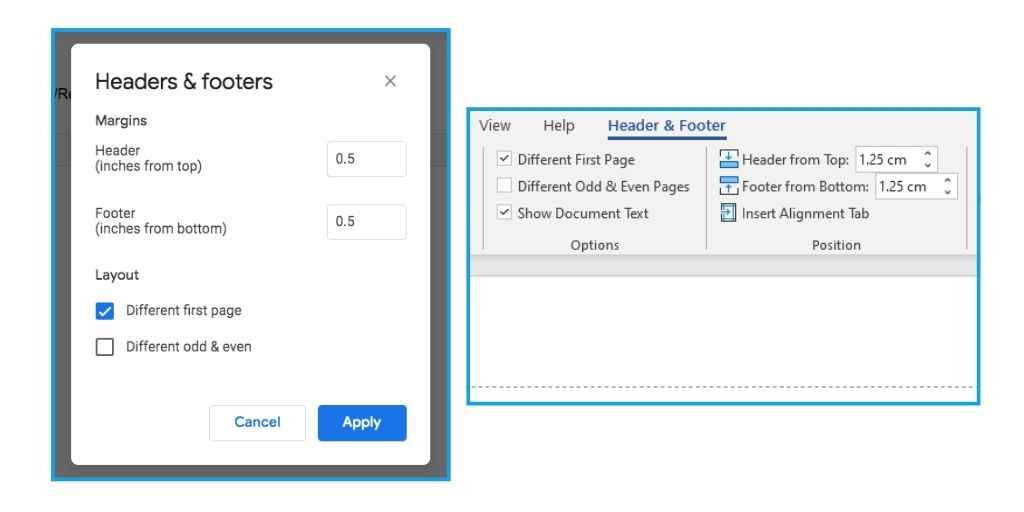 From that 'Options' list on Google Docs, you can also add page numbers. You'll want to make sure that 'Show on first page' is not selected, then start your numbers at either '0' or '1' — that part's up to you. Keeping your name and title on the left, press the tab key to move the page number to the far right and you're done!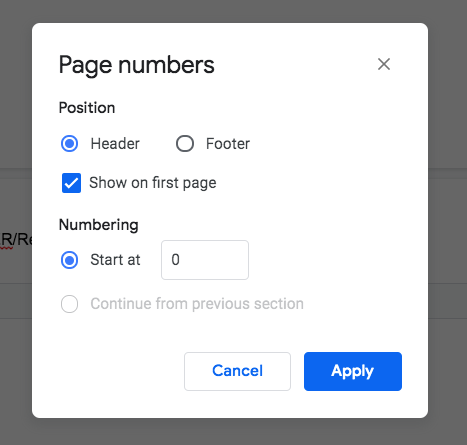 MS Word users need to head to 'Insert' and then 'Page Number'. To remove the number from your front page, select 'Different first page'. And if you want the page numbers to start at '1' on the second page, go to 'Format Page Numbers' and set 'Start' to '0'. Otherwise, leave it as is!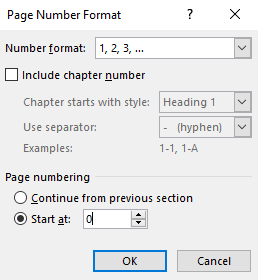 8. Start each chapter on a fresh page
When you're signaling chapter breaks in your children's book manuscript is that consistency is key. That said, there are a few things that usually make an agent smile. 
Your first chapter header should be centered underneath the title and byline on your first manuscript page.
We recommend entering it in ALL CAPS, 12pt font, and leaving one double space between the chapter header and the byline. Then the same again between the header and the body of the text. This isn't a hard and fast rule, but it keeps things nice and clean. 
From there on out, whenever you kick off a new chapter, you'll need to start on a fresh page. To insert a page break on both Google Docs and MS Word you just need to click 'Insert' then 'Page break' — which makes sense. 
Then hit the enter key 4 times (with double-spaced lines) so that you're about a third of the way down the page. Now you can enter your chapter header just like you did before: centered, ALL CAPS, 12pt font!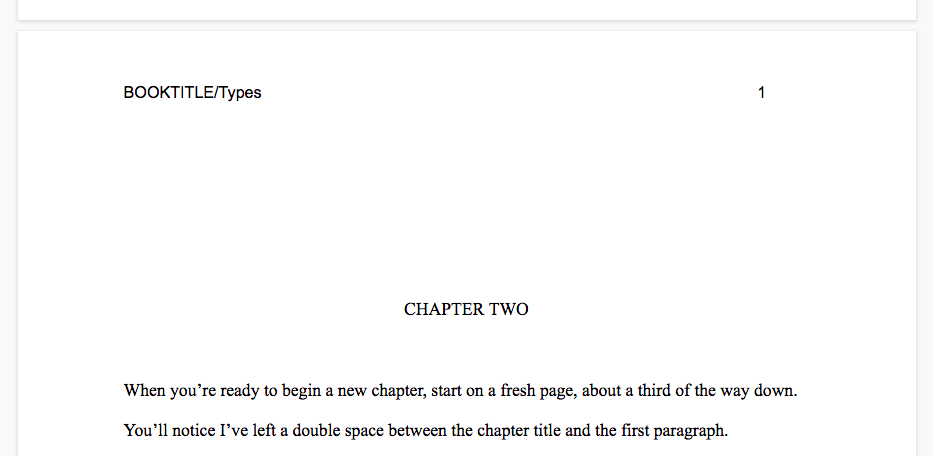 Whatever your instincts are telling you, you do not need to include a table of contents in your manuscript — it'll only distract from your story.
9. If essential, add illustration notes
Illustrations are half the magic when it comes to children's picture books. It can be tempting to pepper your manuscript with ideas on what the illustrations might look like (There's a massive tree, and behind it, a golden castle with dragons poking out of each window!).
However, publishers prefer to let their chosen illustrator interpret the text — so most agents and editors would advise you to go light on the illustration notes. They should only be used in those rare cases when something happens that is essential to the plot, but not present in the text.
Here's how to add illustration notes — just in case it's utterly essential:
[Illustration note: Aligned to the right, inside square brackets. Be concise.]
Again, unless you're the next Jon Klassen and planning to write and illustrate a book where the story is told through the images, there should really be no need to include illustration notes to help the agent or editor visualize what's happening while they read.
Your words need to stand on their own — so if you feel the need to explain further, you might want to revisit the 'Show, don't tell' rule. 
If you're writing Middle Grade fiction or a chapter book, you definitely don't need to worry about illustration notes — even if you plan to adorn your pages with doodles, like David Walliams. Just focus on crafting a compelling story.
And that's it! Once you've let the reader know you're finished by typing out 'THE END', your manuscript is complete. 
---
If you follow these steps (or download our children's book manuscript template) we're confident that agents and publishers will find no flaws in the formatting of your submission. But while a professional-looking manuscript will make a great first impression on literary agents, you still need to wow them with your query letter — so be sure to check out the next post in this guide before you submit!