5 Places to Find Children's Book Illustrator Jobs
If you're in the process of breaking into the children's illustration market, one of the most important things to know is where to look for children's book illustrator jobs. Because while there are tons of opportunities out there, it's not always clear how to find them!
Fortunately, this article should take obscurity out of the equation and make it much easier to track down great illustration jobs. Not to mention that through these jobs, you'll gain experience, shore up your portfolio, and create valuable connections in the industry that will lead to even more jobs. Read on for the top five places to find children's book illustrator jobs — and what you need to attract clients on each platform.
1. Reedsy
For those who don't know, Reedsy is a resource hub and professional marketplace catering specifically to authors. So if you want to reach a pool of highly relevant clients, you've come to the right place! Since 2014, we've cultivated a reputation as one of the top platforms for authors to hire amazing editors, marketers, designers, and illustrators. And because illustration is such a niche skill, quality children's book illustrators are always in high demand.
As a children's book illustrator on Reedsy, you'll create a detailed profile with an overview of your career and experience, the specific services you provide, and a gallery to show off your work. (You can really home in on a niche, e.g. Christian fiction.) Clients seeking children's book illustrations can then request quotes through the marketplace. This ensures you're only contacted by people who are serious about collaborating.
These clients will mainly find your profile through the search function on our marketplace (see below), but you're welcome to post your custom Reedsy URL on other platforms as well.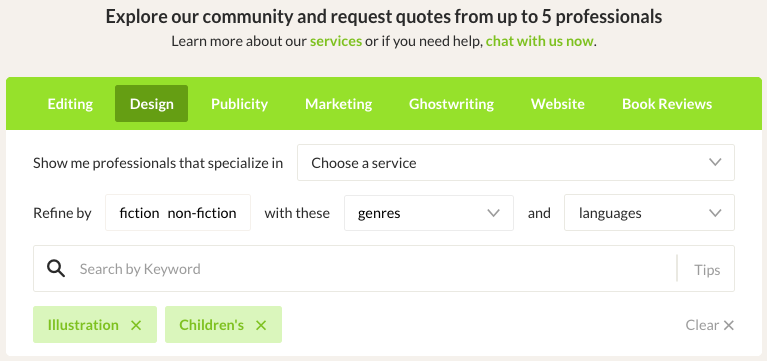 To become a Reedsy professional, you'll first need a pretty extensive portfolio to demonstrate your skills and experience. Ideally, you'll already be a full-time illustrator with several children's books under your belt. If you have experience working for a major publisher, all the better. You can read more about our selection criteria right here, and check out some of our current illustrators' profiles here to get a concrete idea of who's already on our team.
If all this sounds doable and you're eager to get moving on new projects, great news! You can create an account with Reedsy and start today.
Create your Reedsy freelancer account
We have some great projects already lined up for you to work on.
2. Indeed
Indeed is another great place to look for children's book illustrator jobs because it aggregates listings from all over the web. (As most illustrators will know, illustration jobs tend to be listed privately and/or in small quantities. This makes it difficult to access a decent pool of opportunities on non-aggregate sites like LinkedIn.) Indeed also focuses on long-term positions with publishers and other relevant companies, rather than individual gigs.
In that sense, Indeed is the best job-search platform for freelance illustrators looking to shift into an in-house position. It's far more effective than LinkedIn at identifying companies that are actually hiring — not just offering unpaid internships, or worse yet, volunteer positions. Indeed also turns up a greater quantity of results than other job sites like Monster and ZipRecruiter.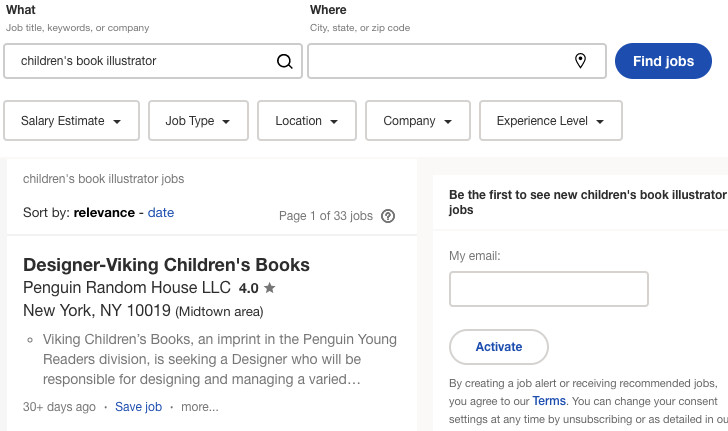 That said, not all of the illustration positions advertised on Indeed are 100% relevant, especially as you sort through the results. (Page three of this particular search, for example, includes a listing for a life coaching mentor.) Though it may help to think "out of the box" and consider alternative positions you'd be willing to take, it can also be frustrating to find that, out of dozens of results, only a few match your intentions.
Illustrators seeking work through Indeed should also know that many of these positions are more managerial than hands-on. That is to say, the illustrative work itself will likely be minimal. For instance, the position displayed above — Designer at Viking Children's Books — looks pretty sweet at first glance. However, the full description clarifies that you'd mainly be working with other illustrators to facilitate the production of their books.
Of course, if you're tired of the gig economy grind and ready to take on a manager's role, Indeed could be the perfect place to find it! But if creating your own unique illustrations is your life's passion, you won't find what you're looking for on this platform.
3. Upwork
When it comes to procuring short-term freelance gigs, Upwork is one of the biggest names in the game. Clients can post listings for individual jobs, then pick and choose from the applicants they receive. As a result, clients on Upwork tend to have the upper hand over freelancers. Still, there's no denying that if you're looking for lots of short-term opportunities, Upwork is a real goldmine.
Without a doubt, the primary advantage of Upwork is this abundance of desirable, discoverable jobs. As you can see below, a simple search for "children's book illustrator" yields 7x as many results as the exact same search on Indeed, and the listings are much more relevant to actual illustrators. You can also use filters to customize your Upwork searches based on experience level, budget, hours required per week, and other important factors.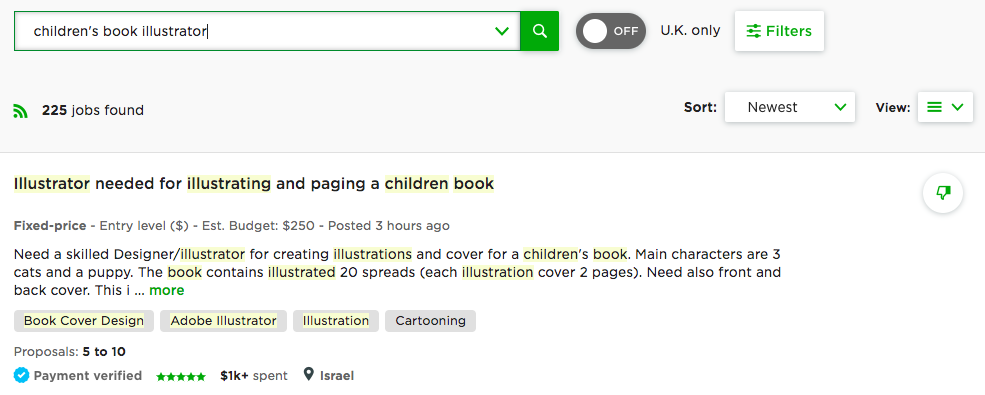 But the flip side of all this is that so many freelancers use Upwork to find jobs, there's quite a bit of competition on the platform, especially in terms of pricing. As a children's book illustrator, you'll have a professional edge over less experienced and/or less specialized freelancers, but you may have to compromise on your rates in order to actually land gigs.
Still, it's not impossible to find Upwork clients who don't mind paying fair rates for high-quality work. If you're willing to be patient and seek them out — or if you don't mind taking a temporary pay cut for the sake of building out your portfolio — Upwork is exactly where you want to be.
Upwork is also an option if you're looking for general book design jobs.
4. SimplyHired
SimplyHired is another job aggregator that operates similarly to Indeed, not least because they're owned by the same people. As a result, the children's illustration listings on SimplyHired overlap somewhat with the listings on Indeed; these, too, are largely in-house positions with big-name publishers.
In fact, the top result on SimplyHired for "children's book illustrator" (as of January 2020) is the same position featured first on Indeed: Designer at Viking Children's Books. Diligent observers will note, however, that the SimplyHired listing also includes a salary estimate and more upfront info about the specific skills you need — information that's buried in the Indeed listing of the same position. This might make SimplyHired the preferable platform for detail-oriented job-seekers who like to know what they're getting into straight away.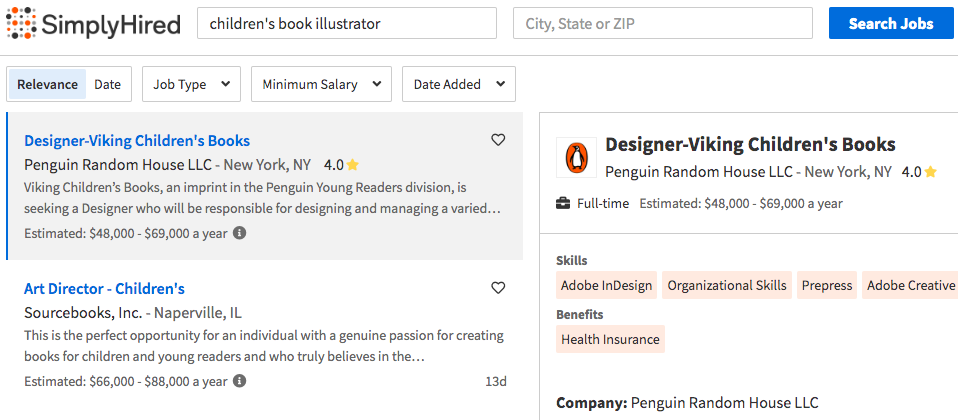 SimplyHired also seems to have a better search algorithm than Indeed, as nearly every listing on their first page of results is connected to an actual publisher. Perhaps most impressively, SimplyHired appears to refresh its listings fairly frequently, more in the spirit of Upwork and other gig-based platforms.
In other words, it's a fresh take on classic job-search portals like Indeed and LinkedIn. So what's the downside of using SimplyHired to find illustration jobs?
Well, for one thing, it shares Indeed's model of mostly featuring managerial positions — so if you find a job through SimplyHired, you can kiss your own illustration days goodbye. Smaller companies have also reported issues posting their job vacancies through SimplyHired. It's possible the platform not only highlights high-level positions at major companies, but intentionally excludes small businesses (and therefore indie presses).
All that said, SimplyHired still offers a greater variety of long-term positions for children's book illustrators than similar sites, and presents them in a more relevant order. Indeed may be the more established platform, but we'd recommend that aspiring in-house illustrators start with SimplyHired — just be wary of those potential small business exclusions.
5. Fiverr
Founded on the intriguing premise of five-dollar individual jobs, Fiverr has since come into its own as one of the premier platforms of the gig economy. The five-dollar rate is no longer the standard, but a baseline that freelancers can adjust to their own skill and experience levels. (Though as one might suspect, a platform predicated on cheap, easy gigs will inevitably have a hard time shaking that ethos.)
Fiverr turns the tables on Upwork in that freelancers create their own profiles and allow clients to come to them — not dissimilar to how Reedsy works, in fact. However, it's clear from Fiverr's "book illustration" landing page that clients still have a massive advantage on the platform. Just look at those baseline prices!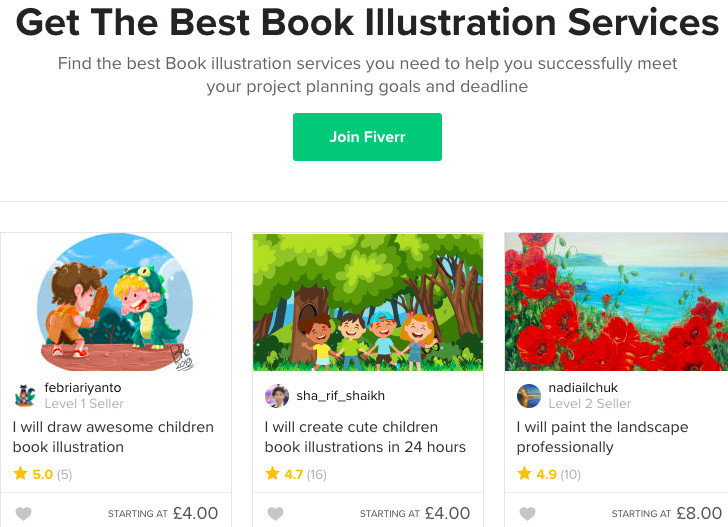 Luckily, closer inspection reveals that each of these ridiculously low figures corresponds to an extremely basic illustration. For example, a client would pay £4 for a black-and-white character sketch with no background, and an elaborate, full-color illustration would (rightfully) cost a lot more. But it's still alarming that illustrators have to advertise in this misleading way in order to attract clients.
As with Upwork, that doesn't mean it's impossible to find children's authors who will pay reasonable rates for good illustrations. Again, you'll likely have to slash your usual prices, at least at first. But it's also possible to advertise your services as ONLY available for full projects — setting your base rate at hundreds of dollars — and still have success with Fiverr clients. (As you'll see, their "book illustration" landing page features a handful of thriving illustrators who do this.)
Yes, it might take some time to get the clients you want. But if your illustrations are good enough, you'll eventually rise to the top! Fiverr is a brutal economic landscape, but with illustrators' work on clear display, it's more of a meritocracy than other platforms — clients can immediately tell who's genuinely skilled vs. who's just cheap.
But seriously, which one should I choose?
A quick summary of where you should look for children's illustration jobs, depending on your qualifications and priorities:
⬆️ If you're just starting out and want to build your portfolio, choose Upwork.
✋ If you're a skilled illustrator who can depend on your work to attract clients, choose Fiverr.
🌾 If you want complete control over your rates and hours, plus highly relevant clients (all authors), choose Reedsy.
🏠 If you're seeking a managerial role at a publishing house, choose SimplyHired.
🤔 If you didn't find what you were looking for on SimplyHired, try Indeed.
---
Any more questions about where to find children's book illustrator jobs? Feel free to shoot us an email at freelancer@reedsy.com.