Last updated on Jun 16, 2021
6 Places to Find Children's Book Illustrator Jobs
If you're in the process of becoming a children's book illustrator, one of the most important things to know is where to look for children's book illustrator jobs. Because while plenty of generic illustration opportunities are out there, work specific to children's literature can be a bit hard to find.
Fortunately, this article should take obscurity out of the equation and make it much easier to track down great illustration jobs. Read on for the top six places to find children's book illustrator jobs — and what you need to attract clients on each platform.
1. Reedsy
Reedsy is a resource hub and professional marketplace catering specifically to authors. So if you want to reach a pool of highly relevant clients, you've come to the right place! With over 500,000 authors on-site, looking for amazing editors, marketers, designers, and illustrators to hire, there's never a shortage of projects. And because illustration is such a niche skill, quality children's book illustrators are always in high demand.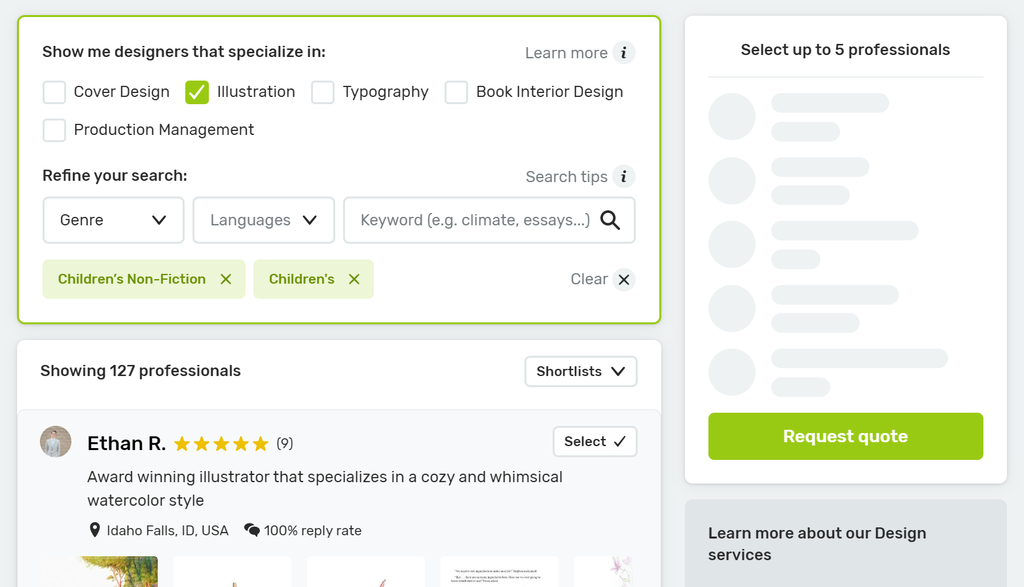 To become a Reedsy professional, you'll first need a pretty extensive portfolio to demonstrate your skills and experience. Ideally, you'll already be a full-time illustrator with several children's books under your belt. If you have experience working for a major publisher, all the better. You can read more about our selection criteria, and check out some of our current illustrators' profiles to get a concrete idea of who's already on our team.
Once you've been approved as a children's book illustrator on Reedsy, you can create a detailed profile which details your experiences, the specific services you provide, and a gallery to show off your character design and other illustration work. (You can really home in on a niche, e.g. Christian fiction.) We'll then deliver this profile to any client who's searching for an illustrator like you, and they can send a request to you. This ensures you get offers for children's book illustrator jobs from people who are serious about collaborating.
If you want to learn more about what it's like working as a freelance illustrator through Reedsy, check out this interview with Caitlin B. Alexander.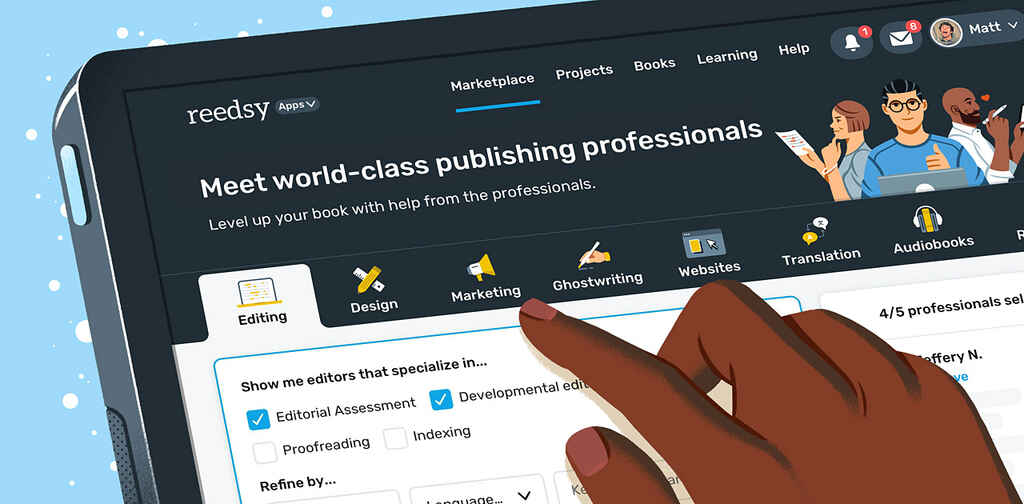 Grow your business on Reedsy
Submit your application to join our curated network and connect with clients.
2. SimplyHired
SimplyHired is another great place to look for children's book illustrator jobs because it aggregates listings from all over the web. Illustrator job listings tend to be of small quantity and scattered across the internet, which is why a tool like this can be quite handy. SimplyHired tends to go for the long-term vacancies advertised by publishers, rather than individual gigs. In that sense, it's the best job-search platform for experienced freelance illustrators looking to shift into an in-house position.
SimplyHired also includes a salary estimate and upfront info about the specific skills you need, so you can quickly take note of in-house positions you're actually willing to go for as you scan the search results.

On the other hand, the job listings on SimplyHired are not always super relevant, as you can see above. As such, you'd still be required to go through and narrow down the search yourself, rather than get the appropriate vacancies handed to you, as with Reedsy. 
That said, SimplyHired is still a great place to find reliable, in-house illustration work at publishing houses. You can even subscribe to the "children's book illustration" keyword to get the latest vacancy updates sent directly to your inbox! 
3. Indeed
Indeed is also a job aggregator that operates just like SimplyHired (not least because they're owned by the same people). While it's been on the job marketplace scene longer than its brother, Indeed has a couple of drawbacks that makes us rank it a little lower than SimplyHired. 
Firstly, Indeed's suggestions appear to be updated less frequently, and so are not as plentiful as SimplyHired. They're also fallible and may recommend slightly irrelevant vacancies to you (as is the case with the Production Editor position below).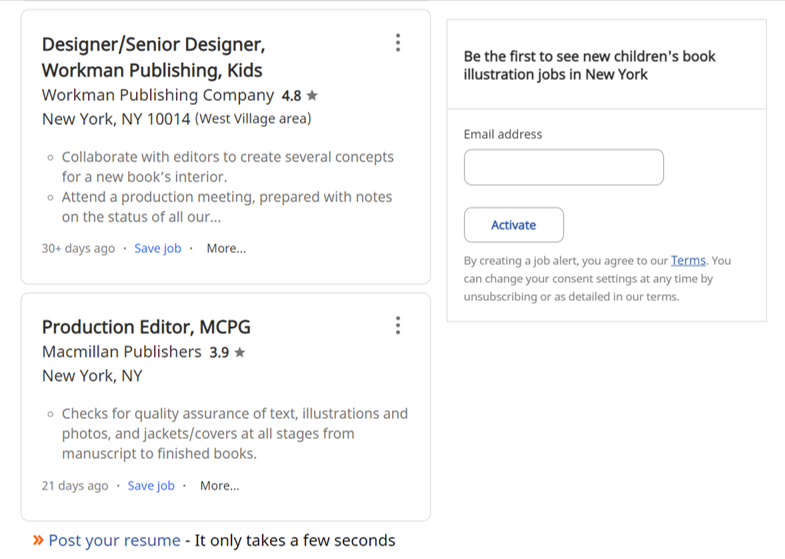 Secondly, you might've noticed also that the interface of Indeed is a little bit less convenient — crucial information about the job isn't available right away like with SimplyHired. 
That said, there's one important perk of using Indeed: its listings might be small in number but it tends to be high in quality. Most jobs here are senior, managerial positions pay more and also ask for more than just artistic abilities. The full description of the Senior Designer at Workman Publishing shown above clarifies that you'd mainly be working with other illustrators and early reader editors to facilitate the production of new books. It's not the most appropriate for new illustrators, but if you're tired of the gig economy grind and ready to take on a manager's role, Indeed could be the perfect place to find it! 
4. Upwork
When it comes to procuring short-term freelance gigs, Upwork is one of the biggest names in the game. Clients can post listings for individual jobs, then pick and choose from the applicants they receive. As a result, clients on Upwork tend to have the upper hand over freelancers. 
Still, there's no denying that if you're looking for lots of short-term opportunities, Upwork is a real goldmine. A simple search for "children's book illustrator" on Upwork can instantly yield over a hundred job postings, many times more than most other platforms. You can also use filters to customize your Upwork searches based on experience level, budget, hours required per week, and other important factors.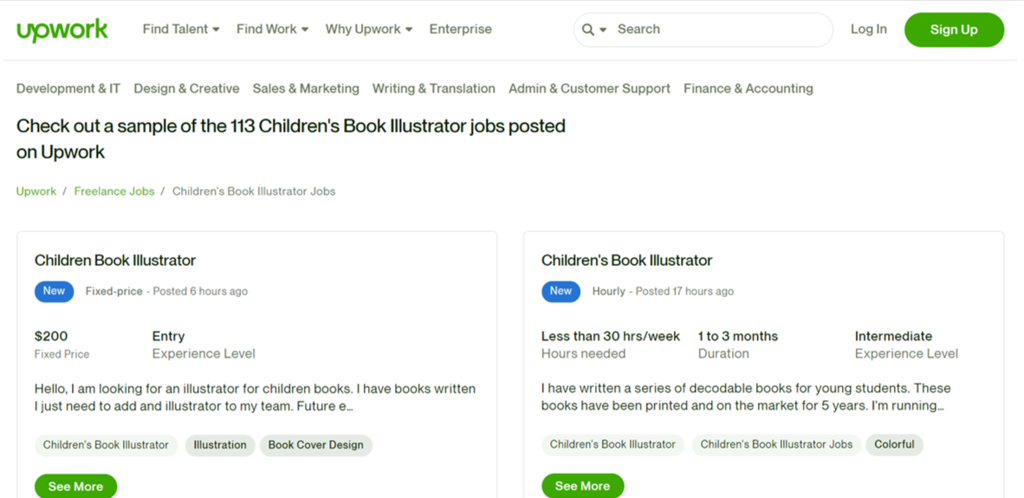 But the flip side of all this is that there's quite a bit of competition on the platform, especially in terms of pricing. As a children's book illustrator, you'll have a professional edge over less experienced and/or less specialized freelancers, but you may have to compromise on your rates in order to actually land gigs.
Still, it's possible to find Upwork clients who don't mind paying fair designer rates for high-quality work. If you're willing to be patient and seek them out — or if you don't mind taking a temporary pay cut for the sake of building out your portfolio — Upwork is exactly where you want to be.
Upwork is also an option if you're looking for general book design jobs.
5. Fiverr
Founded on the intriguing premise of five-dollar individual jobs, Fiverr has since come into its own as one of the premier platforms of the gig economy. The five-dollar rate is no longer the standard, but a baseline that freelancers can adjust to their own skill and experience levels. (Though as one might suspect, a platform predicated on cheap, easy gigs will inevitably have a hard time shaking that ethos.)
Fiverr turns the tables on Upwork in that freelancers create their own profiles and allow clients to come to them — not dissimilar to how Reedsy works, in fact. However, it's clear from Fiverr's "book illustration" landing page that clients still have a massive advantage on the platform: the baseline rate can be quite low.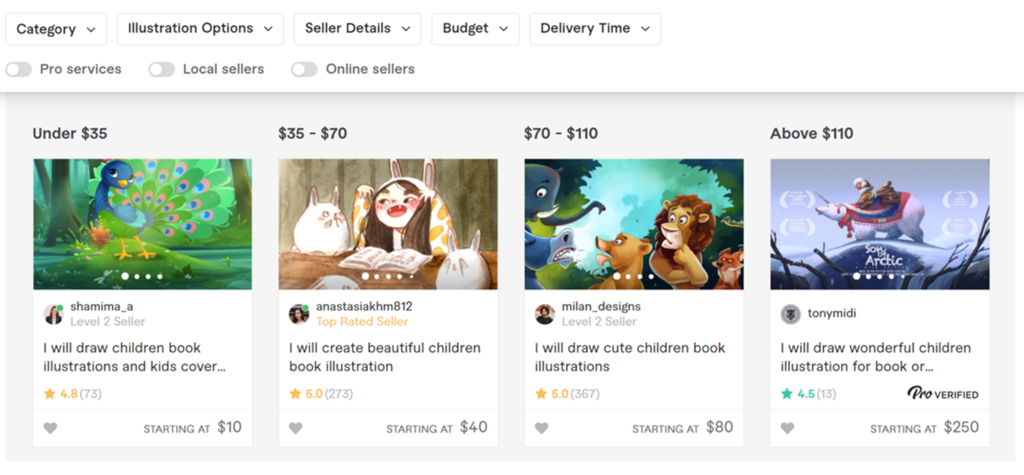 The good news is that there appears to be a range of prices which you can quote, and if you apply to be a Fiverr Pro freelancer, you're justified to list a higher rate. Jobs available here also include quite minimal tasks like coming up with a character sketch, which would logically call for a much lower price point. Nonetheless, it's still alarming that illustrators have to advertise in this misleading way in order to attract clients.
As with Upwork, that doesn't mean it's impossible to find children's authors who will pay reasonable rates for good illustrations. It really depends on how you advertise yourself on your profile — if you let potential clients know that you're committed to full projects rather than sketches, and you've got good experience, then a higher advertised rate could still bring in good gigs. 
6. Twitter 
And finally, we have social media. It's difficult to escape the inevitability of maintaining a social platform like Instagram or Twitter these days, since they are incredible sources for finding job opportunities. Why is that the case? Well, marketing your business isn't just about promoting your work far and wide, it's about promoting yourself to the right people — in this case, writers. And where do a lot of writers hang out? On Twitter, on Pinterest, on Instagram. 
The social media game for children's book illustrators used to be dominated by Instagram, which is a photo-based network, but with Twitter's recent update which allows for images of bigger sizes, there's no doubt a lot of potential here, too. In the #writingcommunity tag of Twitter, you'll find plenty of authors of various genres sharing their thoughts, concerns, and call for professional help. You can follow authors who'd write books you're interested in illustrating, and you can post your own artwork to attract those writers. The community on Twitter is usually very uplifting, and your art might be shared by other creatives so that the right client would come along and approach you! 
Of course, social media marketing can be a bit of work, but it could be well worth the effort! 
---
And with that, we have a list of six places through which you can find good, reliable illustration jobs for children's books. We wish you the best of luck in finding new gigs, and perhaps we'll get to see your work one day! If you have any question for us, feel free to shoot us an email at freelancer@reedsy.com.