How to Become a Freelance Illustrator: 6 Tips to Get You Started
Going freelance is the talk of the town in 2021, but it's much easier said than done. For a lot of artists, working as a freelance illustrator offers the creative freedom they so desire. At the same time, it comes with a range of responsibilities that can make aspiring independent artists hesitate.
If you're wondering how to become a freelance illustrator, we're here to help you get started on the right foot. Going freelance is no easy feat, but bear these tips in mind, and you'll be well on your way to success.
1. Research the scope of the job
As with any profession, the first step toward success is understanding what the job entails.
While illustration sounds pretty straightforward, you should still be aware of the types of jobs this industry offers. According to Ben the Illustrator, the most popular kinds of illustrating projects in 2020, in order, were:
Publishing and editorial projects
Private commissions and exhibited artworks
Advertising materials
Product design
Animation and motion graphic projects
Unless you have a strong reputation in a niche market, you probably will find yourself handling a combo of tasks (e.g. running an Etsy shop while also accepting commissions). This is not out of the ordinary if you're a freelancer — since you won't necessarily have constant work in any given segment, one source of income can cover for another if need be.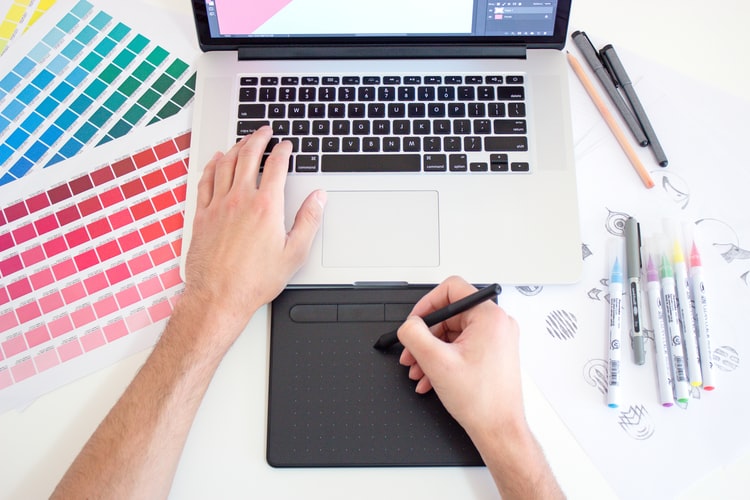 Can you be an illustrator without qualifications?
The simple answer is: yes! You can become a freelance illustrator without an illustration degree. A lot of artists in the industry aren't illustration graduates, and most clients will judge you by the quality of the work in your portfolio — not by the degree or diploma that you might or might not have on paper.
Save up before freelancing full-time!
We've already mentioned that freelance jobs can be sporadic at the best of times, and dried up at the worst. What you should also know is that the pay can really vary. There are projects that can bring in $1,000-$2,000 — and then there are $10-$20 projects. Typically, the pay will depend on a number of factors, including:
The intended purpose of the illustration (advertising gigs tend to make more),
Whether you're selling the copyright or licensing the artwork,
Your experience level, and
How long it would take for you to complete it (which varies with each artist).
When  you're starting out as a full-time freelance illustrator, you generally won't have the luxury of a substantial regular income. This is why you should have savings to last you at least six months without additional earnings. If you're not planning to go into freelancing full-time, prepare manage your time well and juggle another day job on top of your illustration gigs on the side.
Top tip: keep yourself organized with a freelance time tracker app! 
2. Build a strong portfolio
Now that you've got an overview of the freelance illustration trade, let's get down to business and curate a notable portfolio.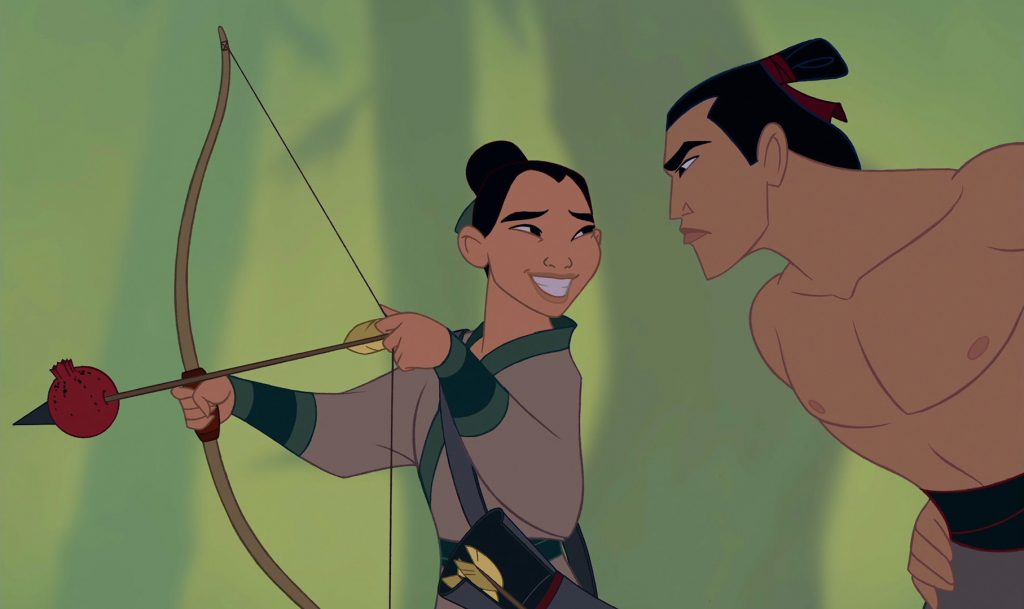 It goes without saying that a professional, user-friendly website that sleekly displays your past endeavors and skills is key to earning the interest and trust of potential clients. This means getting your own domain name (no "yourname.wordpress.com," please!) and possibly even an email address with that domain name. Wordpress, Wix, and Squarespace all have appropriately priced plans to easily set this up.
Pick and organize relevant samples
When it comes to the content of your portfolio, always go for quality over quantity. While an aspiring illustrator may be tempted to upload as many samples of their work as possible, it's actually wiser to choose the ones that best resemble what you want to be hired for. Say you're hoping to become a children's book illustrator, and you've previously worked on some bookmarks featuring cartoon characters, as well as some unrelated business card designs. In this scenario, it's best to showcase the former, so as to grab the attention of a children's book author.
Top tip: Fill your portfolio with works that resemble what you want to be hired for.
If you have a range of works to show, make sure to organize them into separate tabs to keep your website navigable. Potential clients should know exactly where to find testimonials of your skills. Needless to say, it's crucial to have a "Contact Me" tab that's always visible — not tucked into a scroll down list that's barely findable. (You'd be surprised to know how many websites do this!)
Focus on a brand image
As a freelancer, you should have a website that reflects your artist brand, which means that you'll want to design a profile that's aesthetically coherent. What's the distinct style of your art and specialty? In other words, what's your unique selling point?
All your work samples should demonstrate this point, and they should be presented in a way that highlights your uniqueness. How your portfolio looks will also inform potential customers of your ability — check out Anna Woodbine's clean-cut website for some inspiration! Her book covers are laid upon colored backgrounds that enhance the delicacy and beauty of her illustrations — just what you need to wow clients!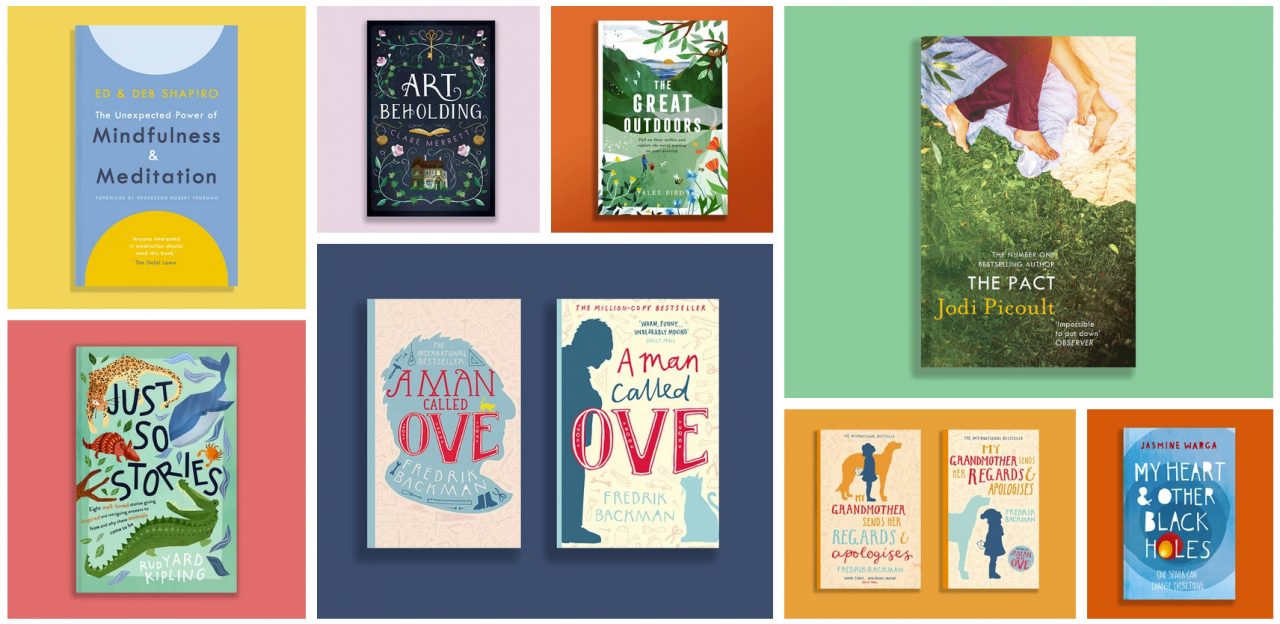 3. Scout marketplaces for jobs
Once your website is up and running, it's time to start the job search! There are many ways to find freelance illustration jobs, but illustration marketplaces are a good place to begin. Sites like Behance, Dribbble, and Coroflot are teeming with art and creative directors searching for new talent. And if you're interested in working in the publishing sector, there are thousands of indie authors on Reedsy who are looking for designers and illustrators to bring their books to life.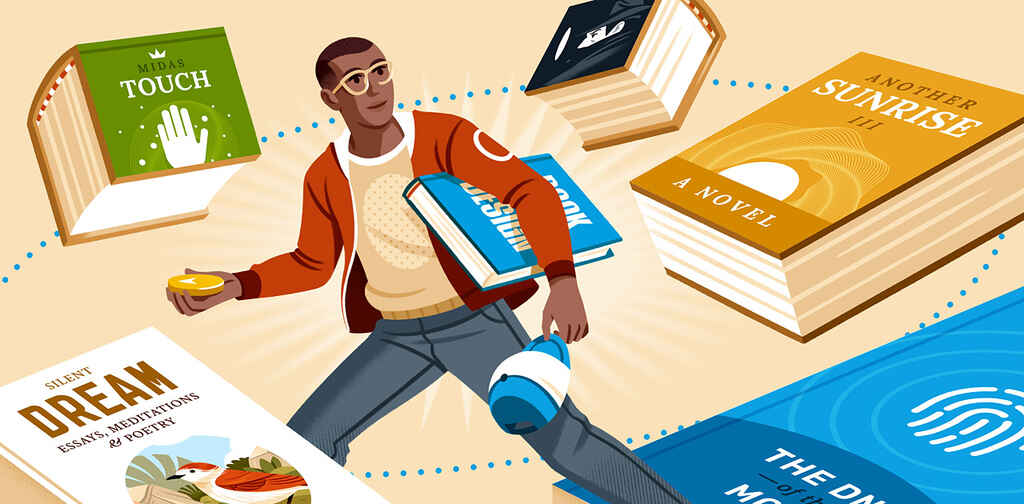 Find exciting new projects
We connect publishing professionals with our community of 1,500,000 authors.
These sites will bring you straight to the right target audience — people who really need good illustrators — for you. The downside is that the competition can be quite intense, and some sites do require previous experience or qualifications.
This does mean that if you may find it challenging to find jobs here if you're just starting to freelance. (Beware also of freelance scams that take advantage of beginners.) Still, you can learn a lot from browsing job boards and others' profiles while you build up your own profile. When you do get a gig from marketplaces, the task and its pay will justify all that hard work.
4. Be active on social media
Spoiler alert: being a freelancer also means constantly marketing yourself, and there's no better place to do that in our media-saturated lives than social platforms.
For illustrators, image-based sites such as Instagram are essential. When used correctly, they can be a gold mine. How? Well, people who aren't savvy about the industry but still need illustrators — e.g. restaurateurs who need their menu designed, or someone looking for a customized gift for a friend — typically don't browse marketplaces. They're more likely to be scrolling through Instagram, which means you can be there to catch their eye and offer them your services!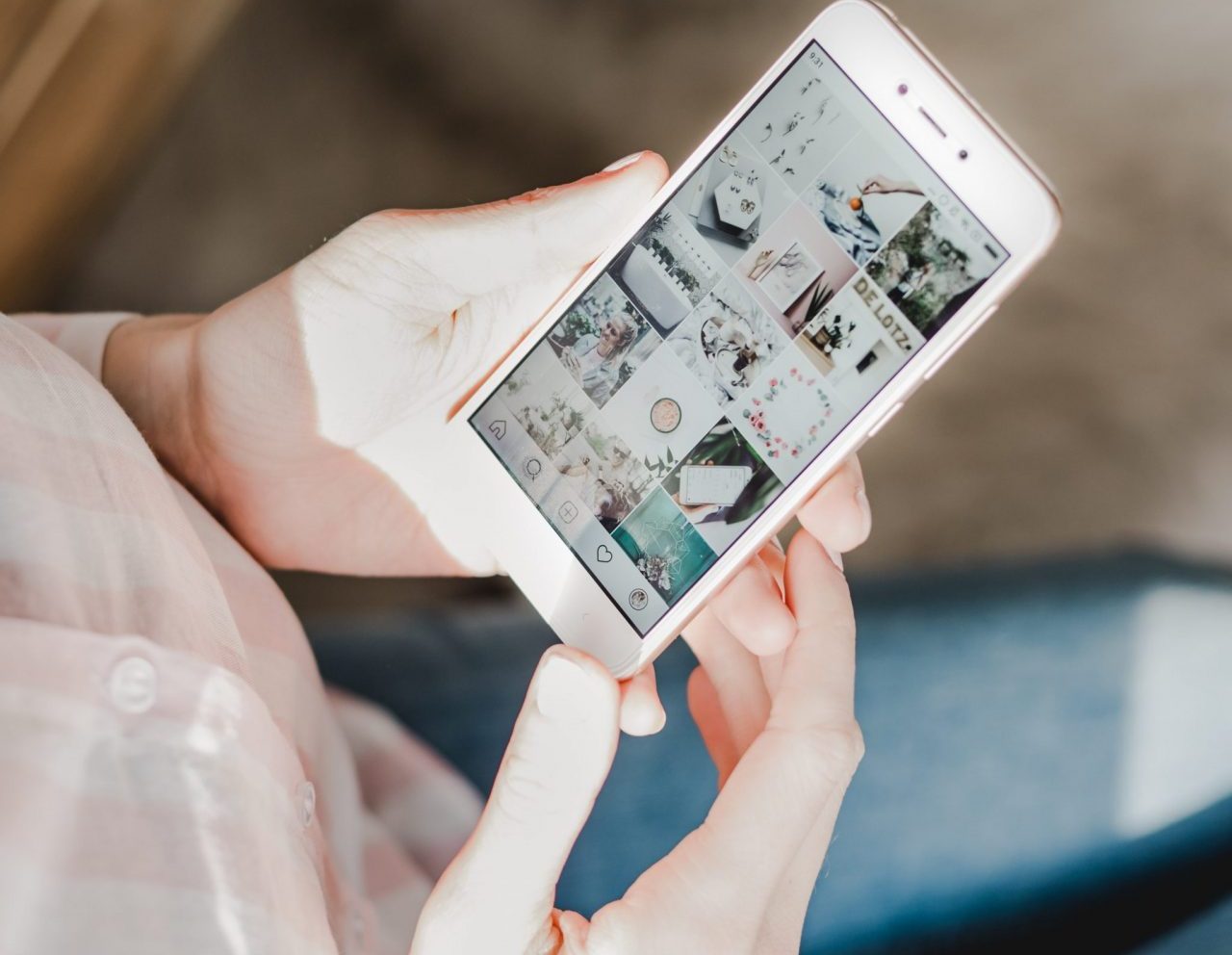 You can also share your processes and projects — commissioned and self-initiated — on social media to stay engaged with the illustration community. If you stay connected with other experienced artists, they'll share their own nuggets of wisdom with you. Illustrators have their own ever-growing and supportive network, and fellow creatives are often happy to give job recommendations, so be sure to interact with them!
Join an illustrator community
If social media isn't enough for you, consider joining a community like the Association of Illustrators. Becoming a member means receiving newsletters that keep you up to date, getting access to guides and resources about the illustration trade, and being invited to offline networking events. It's helpful for newcomers and can add some social connection to a somewhat lonely occupation.
5. Develop good relationships with clients
While we're on the topic of marketing, let's discuss customer loyalty. When starting out, you're likely going to be more concerned about attracting new customers than getting repeat customers. However, repeated clients and referrals are responsible for a good proportion of a freelance illustrator's work, so it's important to keep customer loyalty in mind early on.
Pitch creatively and personally
Most of the time, a strong worker-client relationship begins the moment you introduce yourself. A good pitch not only shows your intuition and proactivity, it also conveys your genuine interest in a potential client's work.
To start off on the right foot, research your client's products and services first and use what you find. Ultimately, art directors look for illustrators who want to help them create the best product. By showing that you care, you score a point.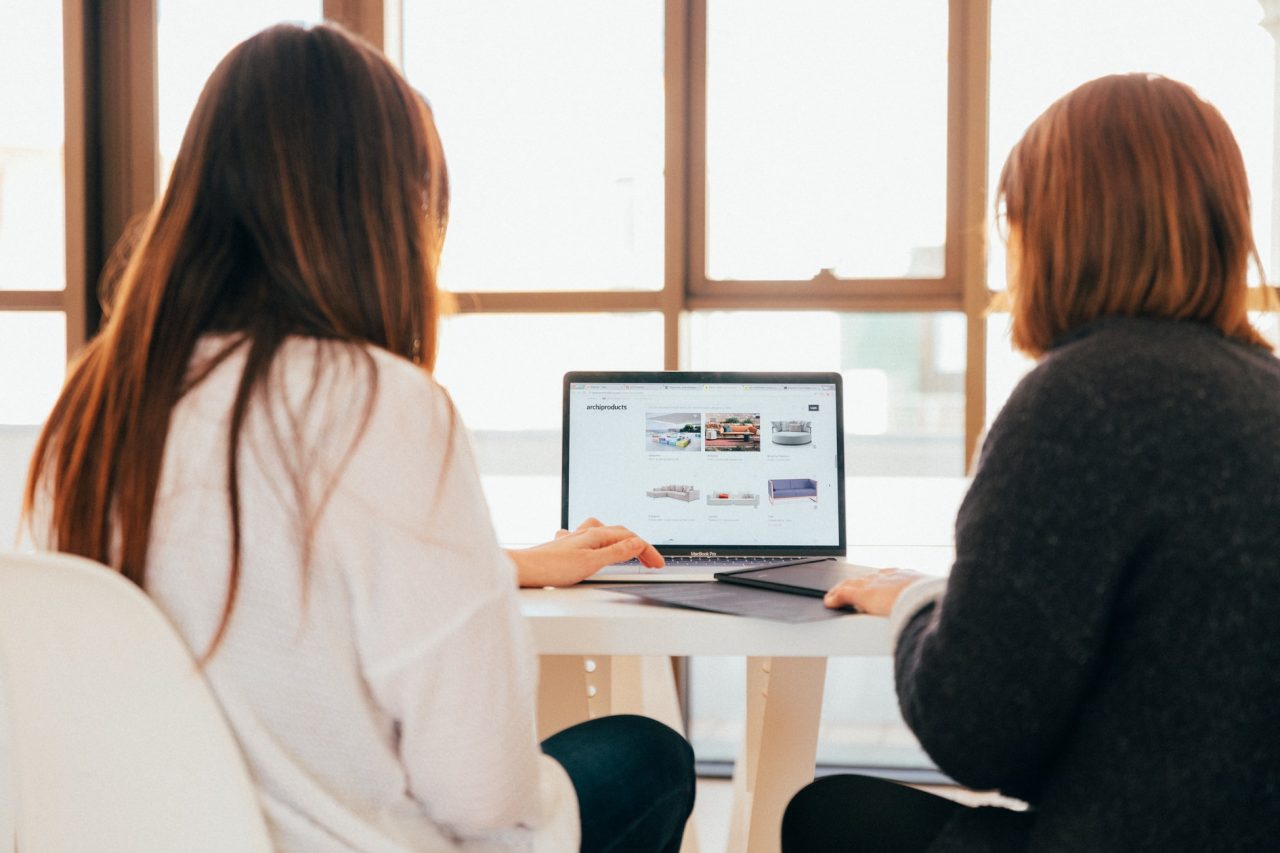 If you follow up on that interest and create wonderful art for them, clients will no doubt preserve your name on the list of trustworthy and enthusiastic freelancers that they can contact when the need arises again.
And remember to also try creative approaches when pitching. Sending physical postcards or brochures to local companies, for instance, could be a good way to stand out from other illustrators who rely solely on their online presence.
Write a thorough contract
If you get a request or offer, the next step toward building a good working relationship is to provide a clear agreement or contract. Make sure you both understand the terms of the collaboration to avoid misunderstandings. Below are a couple crucial aspects you must cover.
© Matters of copyright and licensing. If you grant them the copyright, you should charge them more.
💰 Deposit, kill-fee, and late fee. Depending on the scope of the project, you should ask your client either for a deposit, a fee in case the project is cancelled, and a fee for late payment. Short gigs can probably go without these.
Before starting the collaboration, you may want to set up a video call with your client to establish a workflow (from approving the rough concept to making final adjustments) and set the tone of your communication. Let them know that they can (and should) trust your artistic expertise, and that you'd contact them should you have questions regarding their brief.
Keep in touch after the project is completed
If everything goes smoothly, by the end of the project, customers will be happy to give you a testimonial when you ask. They might even recommend you, of their own accord, to other potential clients. Of course, you can also take a more proactive approach and politely ask them  whether they're aware of anyone in need of illustration services.
On top of that, don't hesitate to email old customers every now and then to see if they have an upcoming project suited to your skills. Again, try to personalize such emails by asking how they're doing before moving onto business matters.
6. Manage your finances
Finally, capping our list of tips on how to become a freelance illustrator, is a practical piece of advice for a rather tedious task — financial management. You can hire an accountant to help you, although most beginners don't make enough to either warrant or fund an accountant's services.
Alternatively, you may wish to apply to agencies and representatives — they'll take some of the administrative burden off your shoulder in exchange for commission. Beyond connecting you with clients, they'll take over the tasks of issuing invoices, drafting contracts, and chasing payments.
Note: Steer clear of agents who ask you to pay fees upfront.
Still, as unexciting as numbers may be for an illustrator, these management tasks are not difficult to complete on your own. All you need to do is:
Open a separate bank account for your freelance business,
Create a format for invoices,
Keep track of all income and expenses using a spreadsheet or accounting software, and
Register as a self-employed worker when you earn enough (the threshold depends on your country).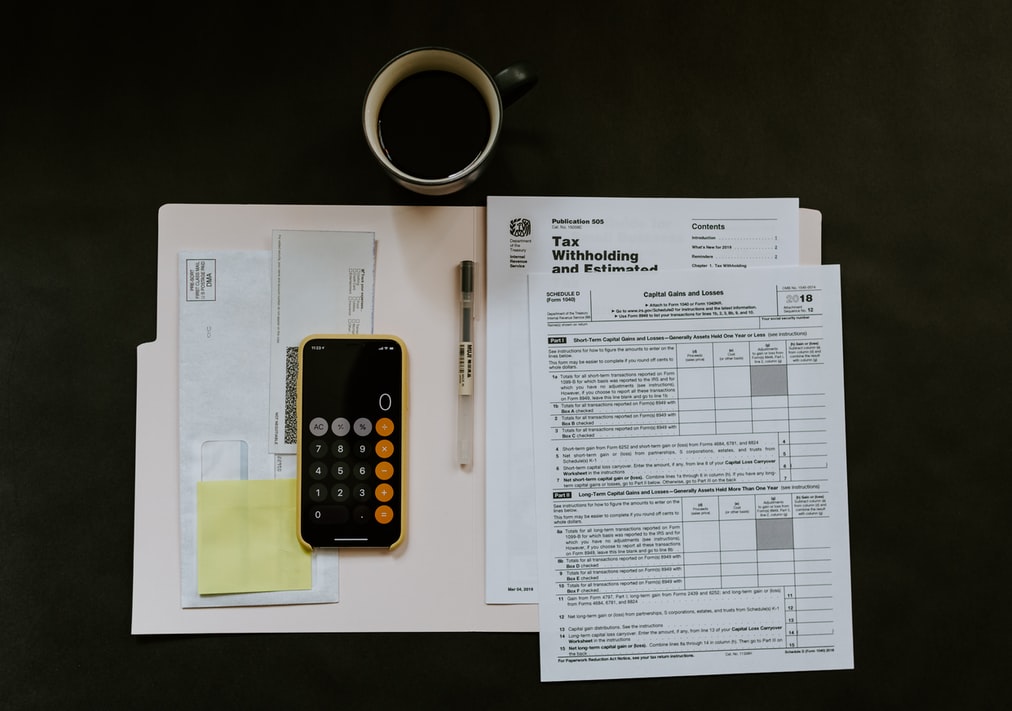 Consistently tracking your finances helps you budget and prepare yourself for the worst situations. It also makes noticing overdue payments from clients easier, so you'll know when to chase them up. Once you make enough from freelance projects to have to pay tax, remember to register as a self-employed worker, since you'll be entitled to tax deductions on things that help build your home office (e.g. utility bills, computers and stationary that you buy, etc).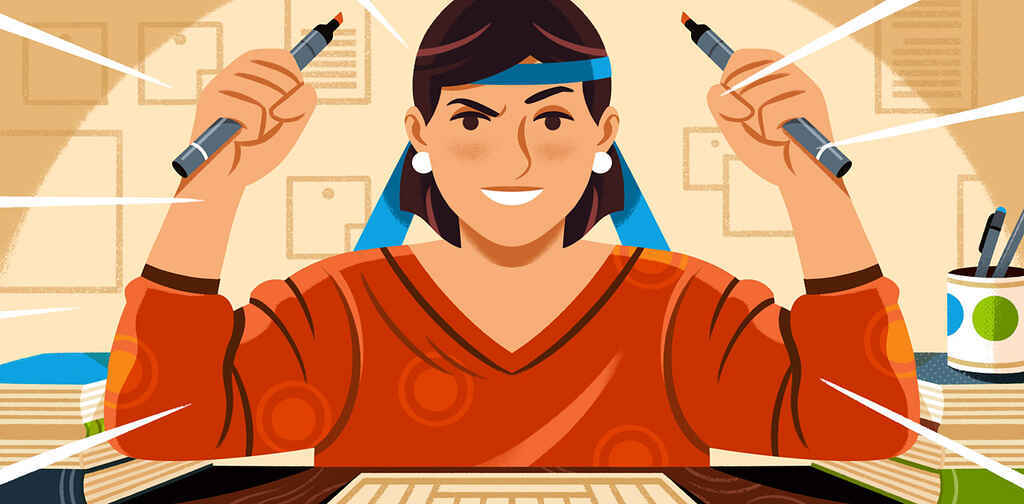 Invoice Template
Provide billing and payment details with this professional template.
Of course, the road ahead won't be easy, and you may have to juggle several different jobs for a while. But at the end of the day, the creative freedom you get will be the reward to trump all hardship. Good luck!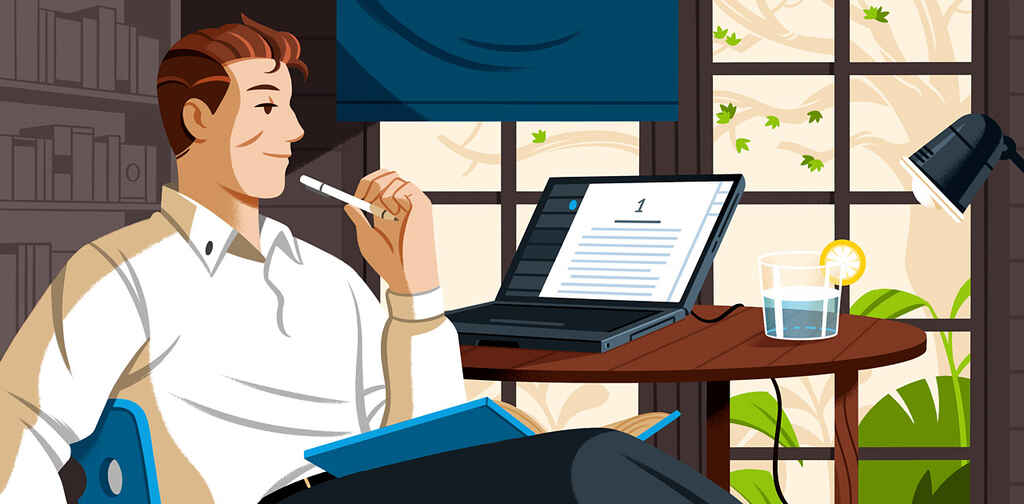 The Full-Time Freelancer's Checklist
Get our guide to financial and logistical planning. Then, claim your independence.