4 Pro Tips for Choosing Your Freelance Designer Rates
Whether you design logos, graphics, book covers, or websites, knowing how to price your services is a big part of having a freelance design business. But in such a saturated market, it's not always easy to decide — how do you balance being competitive with making a sustainable living? With the help of some of Reedsy's experienced designers, we'll give you some tips on how to choose your freelance designer rates. 
Average freelance designer rates 
To give you a general idea of where to start, here are some average rates charged for design. 
Hourly rates 
A freelance designer can expect to get paid between $15 and $150 per hour, depending on type of design work and the designer's experience. While hourly rates are often used as an indication of wages in general, designers don't usually use them in their quotes. You'll more likely find designers who charge a total fee for each project. 
Per project rates 
Most designers will come up with a rate to charge per project after considering a brief, or discussing the client's requirements for the project. Below are some common types of design projects and the average rates freelance designers set for them. 
Books 
According to data from Reedsy's marketplace, these are the average rates professionals charge for various aspects of book design:  
Book cover: $730 
Interior Design: $650 
Book Cover + Interior Design: $1,039 
These rates can vary depending on the book's genre, the designer's experience in said genre, and the book's format (print book or ebook). There are also other variables within each discipline. For example, book cover designers can also ask for a higher price when highly specialized skills, like illustration, are required. Interior book design, meanwhile, will be affected by the length of the book. 
Find exciting new projects
We connect publishing professionals with our community of 1,500,000 authors.
Business cards, logos, infographics, etc. 
For business materials like cards, logo design, and infographics, each project can fall in the $100-$2,000 range, depending again on designer experience, as well as on the company's budget, the industry it's in, and the requirements it has for the project. 
Web design 
Another popular kind of freelance design is web design — and it comes with the highest per project rates, often between $1,000 and $5,000. Some projects may involve building a new website from scratch, while others involve redesign an existing website. We will talk more about what factors may go into the rates for this kind of project in the next section.
Tips for setting your rates as a freelance designer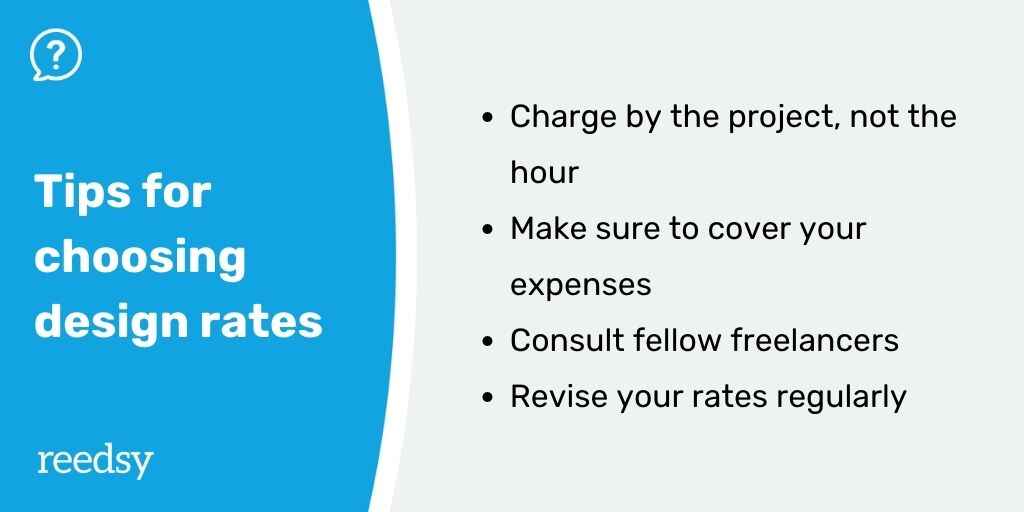 While the averages can give you a guideline to orientate yourself, you should work on a pricing strategy that really works for you, given your service, niche, and skills. Here are some of the tips that Reedsy's professional designers have shared with us. 
1. Charge by the project
For most projects, it is much more worthwhile to charge per project. Think about what you are providing your client, and what the value of that is, rather than evaluating your work with a clock. Not only does charging an hourly rate require meticulous time tracking, it also doesn't account for your skills. More skilled designers are more likely to finish a project faster — but that does not mean they should be paid less. 
Moreover, an hourly rate fails to consider the unique requirements and conditions of each project. Book cover designer Jeff Brown talked about this with us in a recent webinar: "For me, some of the covers will take way less time than others. That's kind of the luck of the draw. It doesn't affect the pricing — I personally charge the same thing for book covers. The pricing is really irrelevant to me when it comes to how much time I put into a piece; it's the final product that matters." 
Interior book designer Vanessa Mendozzi says that, when typesetting books, she factors the final word count, the number of images/tables/graphs, and the number of footnotes/endnotes into her project's quote. 
Meanwhile, web designer Jessica Skorich considers the following when coming up with her quote: 
Expected deadline;
The size of the site (number of pages, content, etc.); 
Functionality requests (is it an ecommerce site? Does the client want a mailing list?);
Platform (some platforms are more limited to build on, e.g. Wordpress); 
Social media (buttons from website, banners, etc.); and
Content requirements (SEO, illustrations, etc.).
Regardless of what kind of design you do, as long as you base your freelance designer rate on the value of your work, then you're off to a good start! 
2. Take your expenses into account 
Another important factor when it comes to setting rates is to think about what you want to earn. In any case, you should be able to cover your own expenses and maintain your life. 
In an official, tax-based sense, expenses include anything you have invested in which allows you to do your job, like your computer, design software, or stock imagery. But as a freelancer you also have to take care of setting up an office, paying utility bills, hiring an accountant, etc. 
Given a full work schedule, i.e. assuming you consistently get new projects, you should have enough to cover all of those expenses and some extra for yourself. Thinking about this not only helps you establish a sustainable rate, you also are on top of your own financial situation. Once you've calculated your "overheads" in this way, you'll have a good pricing floor to work up from.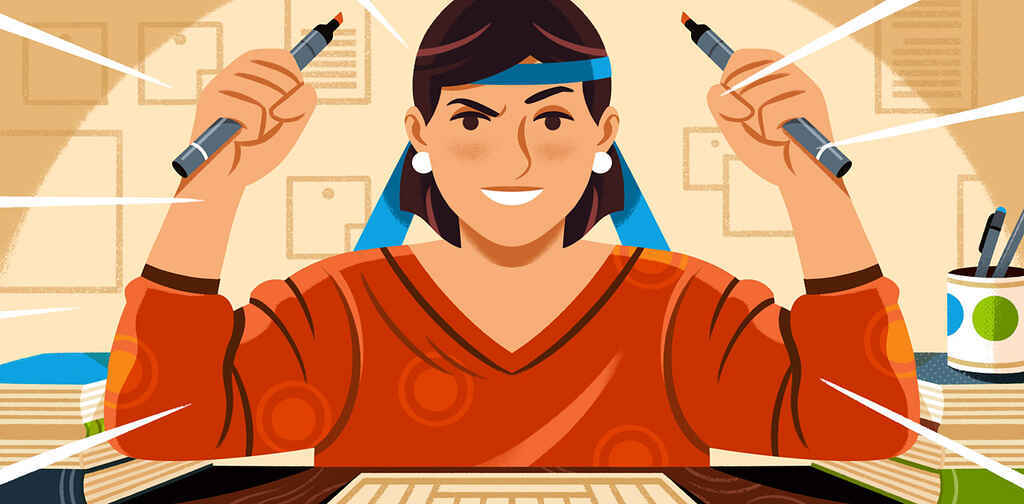 Invoice Template
Provide billing and payment details with this professional template.
3. Reach out to fellow freelancers 
The averages we provided above are exactly that — averages. They don't reflect differences in level of experience, or in specialties and niches. To really fine-tune it and find the suitable rates for your business, you might want to reach out to other designers who work in the same field as you, and see how they manage their prices. Freelancer communities are usually friendly and willing to help, so don't be afraid to ask! 
Reddit, for instance, hosts an active community of designers and artists on its platform — including subreddits like r/Design (which comes with a Discord group, too) and r/graphic_design. The nice thing about these big communities is that you can get thoughts from multiple designers with different experiences and perspectives, and you can decide what kind of pricing strategy might work best for you. 
4. Revise your rates regularly
The final tip is to revise your rates every year or so. Your skills develop all the time, so naturally, your work should be of greater worth, and that will be reflected in what you charge. Keeping the same rate for years will probably lead to you undercharging, not least because of inflation. 
With more experience in freelancing, you'll also discover other aspects of the job that should be factored into your pricing. For instance, designer Vanessa Mendozzi reflected: "Looking back, sometimes I wish I had charged more for some projects. I would tell my younger self to also consider the 'back and forth of emails and messages' when sending a quote to a client. Because time is money and it's not all about the actual graphic design work."
So as you grow, remember to bump your rates up. Customers who really want your expertise and skills will be willing to pay the price that you ask. 
We hope the tips and averages above can be of use to you when you set your freelance designer rates. Think of the value of your designs, and don't be afraid to send a quote that's an accurate reflection of your hard work — you're worth it!