Book Publishing Jobs: The 12 Best Places Hiring Right Now
If you're hunting for a job in publishing, you're probably well aware that it's a super competitive field. You need to be on the ball to catch the best listings as and when they come up.
But don't fear! To help you out on this quest, we've compiled a list of 12 places to hunt for book publishing jobs, including freelancing sites, traditional publishers, and everything in between.
What types of jobs are there in book publishing?
The publishing industry is a huge and varied one, and there are a lot of different career paths available. In general, careers in book publishing fall within these broad fields:
👋 Acquisition: Acquisition editors identify potentially successful book projects and sign authors on to a contract with a publisher .
✏️ Editing: Book editors work closely with authors to polish the manuscript until it's ready to be published. The editing department encompasses developmental editors, copy editors, and proofreaders. Learn more in this guide on how to become an editor.
🎨 Illustrations and design: Illustrators, look alive! The design department is in charge of a book's presentation, from the cover jacket to the interior design of a book. Learn more about how to become a book cover designer in this guide.
📁 Production: Production managers keep track of everything and ensure that the book is actually printed before the appropriate deadline.
📢 Marketing and publicity: This department is responsible for marketing and promoting a book, which can include anything from setting up blog tours to writing press releases and sourcing author interviews.
💰 Sales: Salespeople in publishing directly communicate with distributors like bookstores, libraries, online retailers, and schools to advertise new books.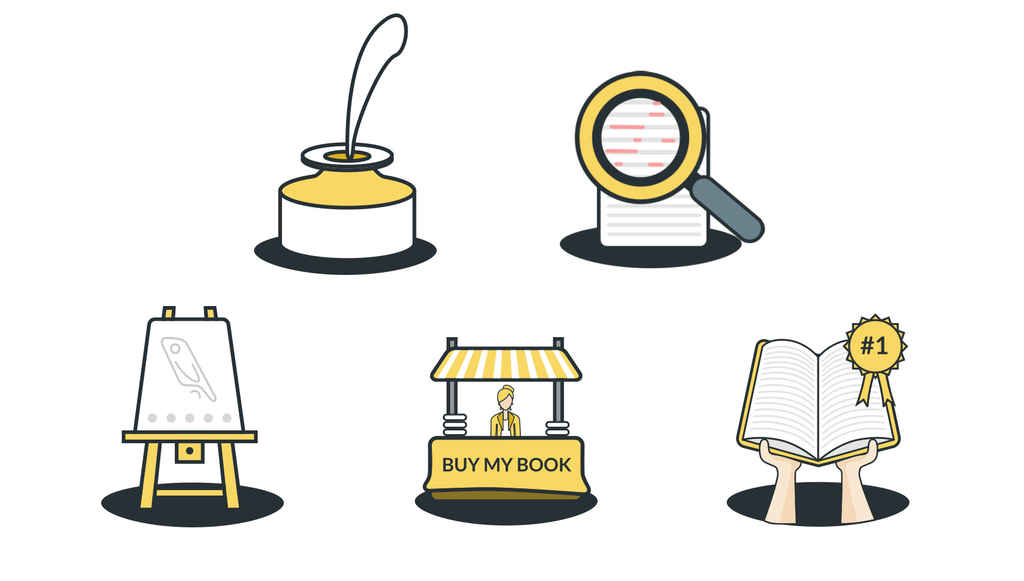 You can also choose to specialize in trade publishing or educational publishing, and there are plenty of big publishers in both sectors to look out for. 
Something else to keep in mind during your job hunt: while your chance to work in publishing was limited to the number of job vacancies in traditional publishers in the past, the rise of the self-publishing industry has drastically changed the game. This evolving landscape means your career prospects are no longer entirely at the mercy of publishing houses. In fact, more and more publishing professionals are opting to work freelance to fulfill the growing demand for their skills from indie authors.
❗ Because of the growing self-publishing industry, it's more important than ever to consider not only what you want to do, but where you want to work when looking for a book publishing job. Once you've got the answers to both of those questions, then let the job hunt commence!
Where to find book publishing jobs
As we mentioned, the publishing industry can be a jungle to navigate! So to help you gain your bearings, we've put together this list of 12 reliable places to find book publishing jobs. They range from opportunities to work with indie authors to potential positions in a traditional publishing house.
Note that job opportunities will always vary, depending on your timing. But if you're looking to get a headstart on your job search, these are the best (and most trustworthy) places to start looking.
1, Reedsy
📍 Location: Worldwide
💻 Browse jobs here
✨Top tip for jobseekers: Check out Reedsy's selection criteria to get a head start on your application and see if you're a good fit. 
If joining a community of the very best freelancers — along with over 500,000 authors who are looking to hire them — sounds like your idea of a good time, then Reedsy is the place for you. If you don't already know, Reedsy provides a marketplace that connects authors with publishing professionals. There, you'll have constant access to an ever-growing pool of clients, ideal for keeping those publishing jobs rolling in. For the most part, you'll be working with self-publishing authors who are looking for editorial, design, and marketing services.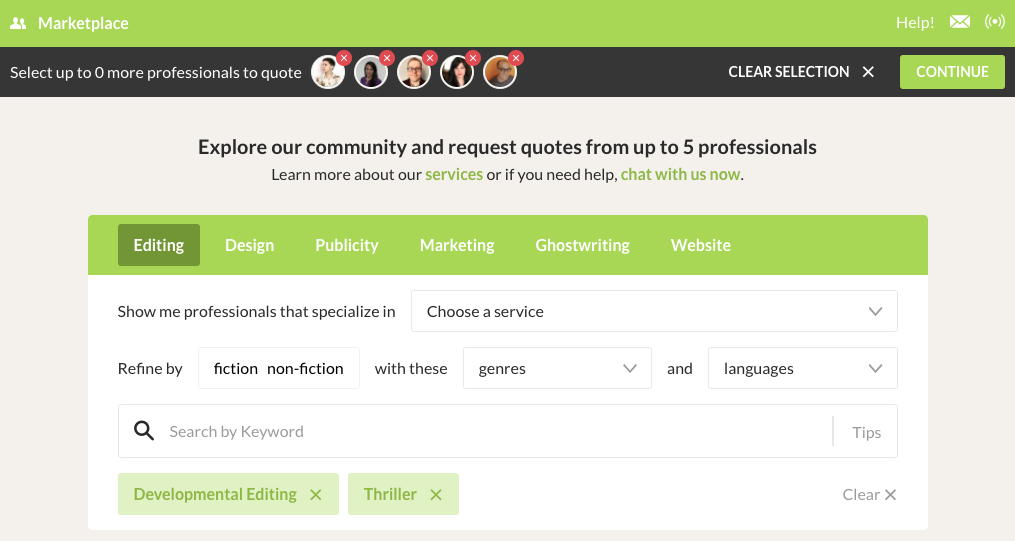 Reedsy's marketplace works by bringing your profile, in which you state your specialties and preferences, to authors who are looking for your services. As such, you don't have to bid on gigs, as you'd have to do on sites like Upwork. This ensures that jobs are allocated less on the basis of who's willing to slash their prices the most, but rather who would be a genuinely good fit for the project — making it a more rewarding collaboration for all involved
There is a vetting process — the curation team only accepts the best of the best into the Marketplace — but once you're in, that Reedsy seal of approval will help attract high-calibre clients. 
Create your Reedsy freelancer account
We have some great projects already lined up for you to work on.
Another avenue for your job search are publishing-specific job boards, which are — you guessed it — only for book publishing jobs! This makes them a lot smaller than traditional job boards, but you'd spend a lot less time sifting through irrelevant listings. 
Below are some of the sites that industry insiders use most when looking for book publishing jobs. Bear in mind that they're very traditional publishing-focused, which can make the vacancies very niche, and the application process incredibly competitive. 
2. Publishers Weekly Jobzone
📍 Location: USA
💻 Browse jobs here
✨Top tip for jobseekers: To keep abreast of industry news which might prove useful in your job hunt, keep an eye on the rest of the PW site for updates.
The PW Jobzone is a firm favorite among industry professionals for finding jobs, brought to you by Publishers Weekly magazine. They have listings for all of the major cogs in the production process, from editing to design to marketing.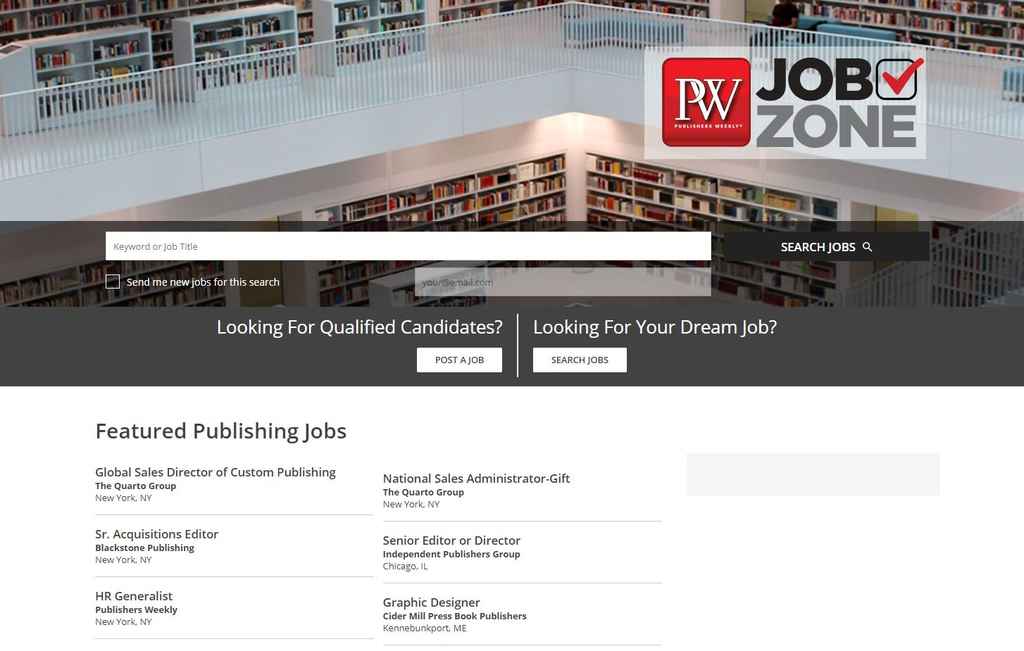 The main drawback? It's not a massive pool of listings — it's certainly nowhere near the size of the generalist job sites. In fact, as of December 2020, they only have around 30 vacancies on the site. But what PW lacks in size, they make up for in reputation, and you can put your faith in this established name to curate legitimate opportunities for book publishing professionals.
3. Publishers Marketplace
📍 Location: USA
💻 Browse jobs here
✨Top tip for jobseekers: They update their job board several times a day, so do check back regularly to see new listings as they come in.
Their user interface might be a little, ahem, dated, but Publishers Marketplace is another industry go-to. You can expect to find listings from Big 5 publishers, as well as indie and audiobook publishers. Note that Publishers Marketplace is selective in what they post — meaning, like PW Jobzone, you won't exactly be spoiled for choice. But among their 60 or so listings are some very promising leads for any book publishing jobseeker.
4. Bookjobs.com
📍 Location: USA
💻 Browse jobs here
✨Top tip for jobseekers: Bookjobs has a whole page dedicated to internships — so it's a good place to look if you're just starting out.
Bookjobs.com is a site sponsored by the Association of American Publishers, created to help college graduates from around the USA find jobs within the publishing industry. They also pride themselves on their commitment to encouraging diversity in the industry (the AAP formed the Recruit and Retain task force in 2000 to support just that).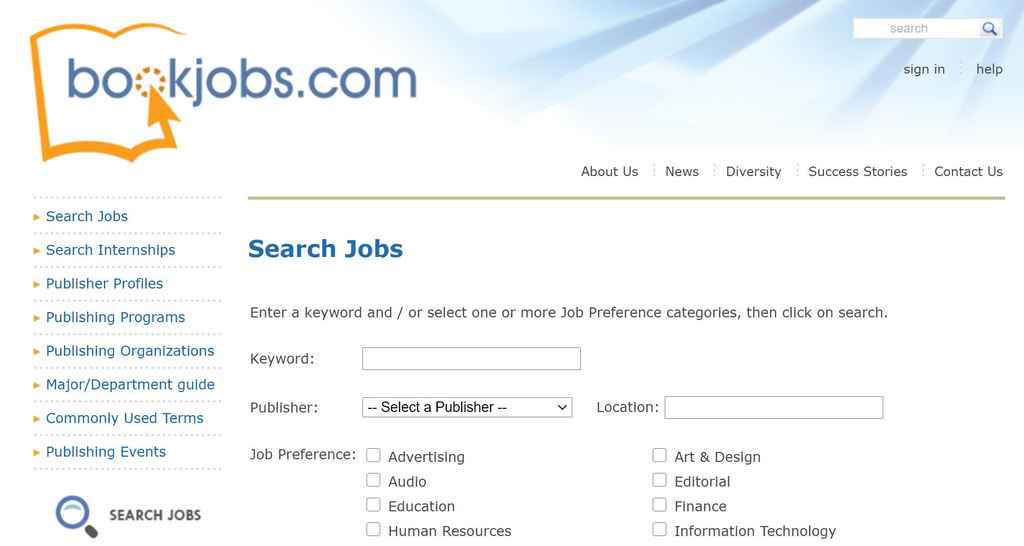 The cherry on top? It's one of the bigger publishing job boards listed here, and is a hotspot for finding some of the best industry opportunities and internships. 
5. The Bookseller
📍 Location: UK
💻 Browse jobs here
✨Top tip for jobseekers: Sign up for their newsletter if you'd like a weekly update on the latest jobs sent straight to your inbox.
If you're based in the UK, check out the Bookseller job board. They post listings from Big 5 and trade publishers, but also commit to a good line of academic and educational publishing listings, too, if that's your bag. While you're there, their "My Job in 5" series is well worth checking out: they ask a bunch of industry professionals the same 5 questions about their role and advice for industry newbies. Handy stuff!
6. Association of University Presses
📍 Location: USA
💻 Browse jobs here
✨Top tip for jobseekers: Check out the "closing" date on a lot of listings, which helpfully lets you know the deadline for sending in your application.
If your specialty is academic publishing, look no further than the Association of University Presses job list! They're a small board, but some of the most prestigious journals and university presses advertise there. If you're looking for a job in this field, here's the best place to start.
7. Shelf Awareness
📍 Location: USA
💻 Browse jobs here
✨Top tip for jobseekers: Posting a listing on Shelf Awareness costs $200, so you can expect to only see serious recruiters here.
Shelf Awareness is one of the tiniest job boards you'll ever come across. However, don't underestimate its worth: it costs $200 for a recruiter to post a job listing here, so you can be sure that its job board is active and legitimate. The listings are largely for editorial roles, however, so those who are more into the design or marketing areas of publishing may want to look elsewhere.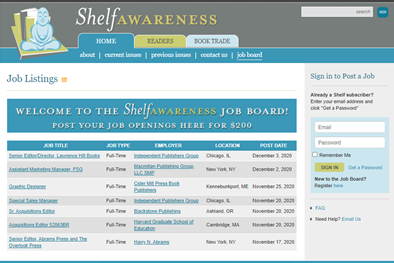 Of course, the option is always on the table to go straight to the source! This is perhaps the most targeted (but time-intensive) approach to finding a book publishing job, as it involves seeking out the specific publishers you're interested in and checking out their in-house listings. 
Most publishing houses do list their available career opportunities on their websites (the big ones even have their own job boards, and you can find a "Careers" tab on most smaller publishers' websites). Here are a few things to keep in mind as you browse them. 
8. Big 5 publishers
📍 Locations: USA and UK, with more offices internationally
💻 Browse jobs on their individual job boards
✨Top tip for jobseekers: Networking is often the key to securing a job at a big publishing house, and the baseline requirement is usually a Masters degree minimum.
The Big 5 publishers (Penguin Random House, Hachette, Harper Collins, Simon & Schuster, and Macmillan) are so named because they're just that — big. (In fact, one of them is about to get even bigger, with the recent purchase of Simon & Schuster by Penguin Random House meaning we'll soon be left with a Big 4!). Considered by many to be the creme de la creme of publishers, their reputation for excellence makes them industry powerhouses.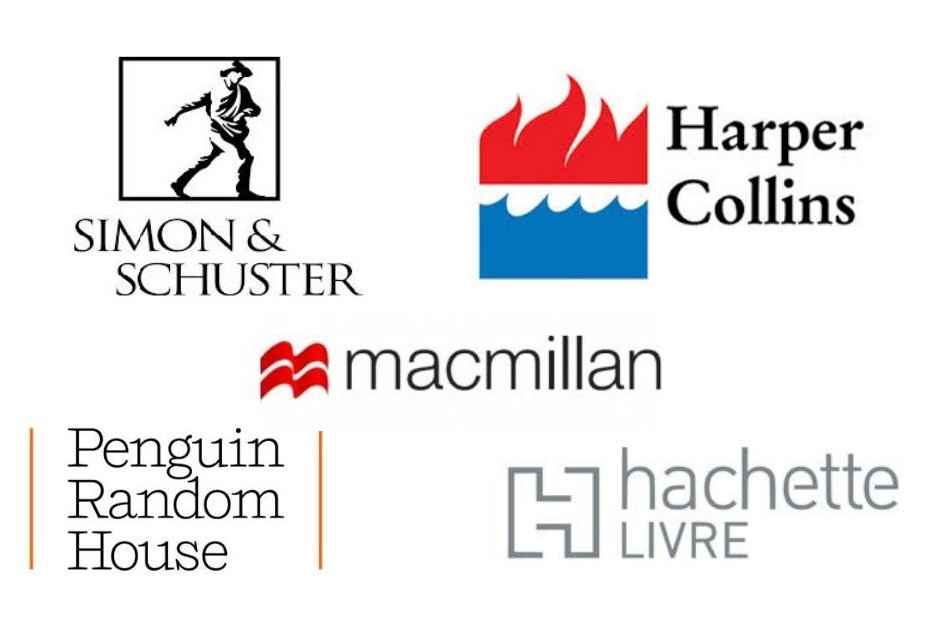 This kind of clout is a double-edged sword. On the one hand, they're so big that they tend to always be hiring, but, on the other, they are hugely competitive. Like, Hunger Games competitive.
As well as brushing up on your networking skills, you're going to want to do some hardcore research into the different imprints of each company if you want to ensure you're a good fit. Not all branches of one company will work on the same kind of books! While some of the Big 5 like Harper Collins do accept resumes for general consideration, we'd recommend identifying particular openings that you're suitable for if you're really interested in working with them. 
It's also important to bear in mind that the standard they have for their employees is very high and competition is intense, so there's no guarantee that applying to an open listing will generate any leads. Make sure to do your research, manage your expectations, and be open-minded about applying to smaller, more specialized publishers instead. Speaking of which...
9. Other publishers
📍 Location: Worldwide
💻 Browse jobs on their individual sites
✨Top tip for jobseekers: Brush up on a smaller publisher's back catalogue before applying. Knowing their new releases is definitely a must.
This is a pretty big umbrella, we know — but that's because there are a lot of smaller publishers out there. But they're an exciting and diverse bunch that covers a wide variety of niches. From Christian publishers to LGBT publishers to cookbook experts — if you can think of it, there's probably a publisher for it.
If you have a particular literary passion, it's well worth researching for publishers that specialize in that area — not least because it's easier to get your foot in the door of a boutique publisher than in one of the Big 5 folks. You're also more likely to get one-on-one time with colleagues in other departments or with senior colleagues once you get the job. So rather than putting on blinders, be open-minded to opportunities that are a little more off the beaten path! And you can get a headstart by checking out this directory of 30+ independent publishers.
And if the smaller, industry-specific sites aren't turning up anything for you, consider dipping into more general job aggregators, like the ones below. Publishers often also post vacancies on big sites like Indeed, but keep in mind that there will be a lot of irrelevant job positions to wade through.
10. Indeed
📍 Location: Worldwide, but be sure to visit your local version
✨Top tip for jobseekers: While Indeed's "Easy Apply" feature lets you send out a ton of applications quickly, consider editing your CV to suit your potential employer. A tailored application is more likely to be a successful one!
Indeed is one of the household names when it comes to job listing sites, and there's a huge number of book publishing jobs advertised there (as well as pretty much any other type of job you can think of). They're global, and they feature listings from some of the biggest players in the industry (think Big 5 publishers).
Indeed is well established, and well trusted. Just be prepared to sift through some less-than-relevant results for your searches, and bear in mind that smaller companies (like boutique publishers) seem to be at a disadvantage and don't appear very high in the search results, and so they're unlikely to list there.
11. SimplyHired
📍 Location: Worldwide, but be sure to visit your local version
✨Top tip for jobseekers: Better suited to finding managerial roles than hands-on creative ones.
SimplyHired is Indeed's younger, smaller sibling — both fulfill a similar role as a job aggregator. One perk of SimplyHired, however, is that their listings are a little more transparent in terms of pay and requirements, making the job search that bit quicker if you know what you're looking for.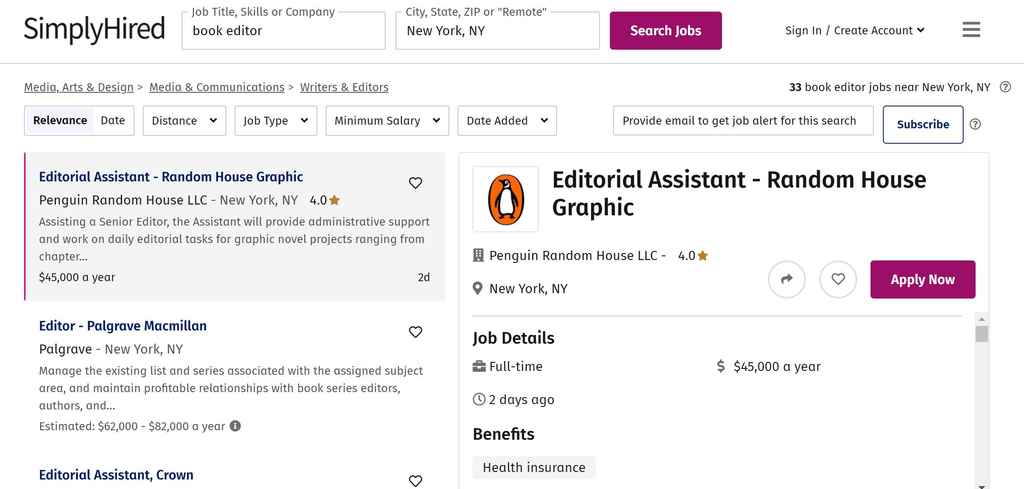 A potential downside is that SimplyHired tends to list more administrative or managerial roles than creative positions, so it's not the best fit when looking for book publishing jobs like designing or copy editing.
12. ZipRecruiter
📍 Location: Worldwide, but be sure to visit your local version
✨Top tip for jobseekers: You can set up notifications for new listings that  match your skill set (provided you don't mind them sending you a lot of emails).
ZipRecruiter is the new kid on the job listing block. What sets them apart is that they require employers to pay to list a job on the site. While this means that the employers you can find here are pretty serious about hiring, it also puts off some of smaller employers.
On the flip side, the pro of ZipRecruiter is that its job-suggestion algorithm is pretty good at matching candidates with suitable listings. But like the other general job aggregators, they lean more towards managerial positions than hands-on ones.
***
 As you can see then, it's a jungle out there, but we hope that this list will provide you with a good starting point for your search. Good luck with the hunt for a book publishing job!