14 Editing Jobs Sites Every Professional Should Know
The publishing industry can be a tough nut to crack. Even if you feel you have all the experience, skills and knowledge needed to be the most eagle-eyed editor on the block, actually finding the job openings can be a task unto itself. But fear not — here at Reedsy, we've done all the hard work for you by collating the best places to find exciting in-house and freelance editing jobs in this handy list. All you've got to do is brush up your resume, prepare a top-notch freelance proposal template (if you're an independent worker), and iron your smartest shirt. Let's go!
1. Publishers Marketplace
Publishers Marketplace is exactly what it says on the tin — a jobs board specifically for publishing professionals. For $25 a month, you will gain access to the industry's most comprehensive databases of agents and editors, as well as industry-related news and analysis. Alternatively, for no cost at all, you can subscribe to Publishers Lunch, a daily newsletter.
What you'll want to pay particular attention to is the 'Publishers Lunch Job Board', which allows you to freely search a collated list of the most up-to-date job opportunities, spanning editing, marketing, advertising, and many other related fields. It's updated regularly by a dedicated team, so you can be sure that the job listings are fresher than fresh!
2. Reedsy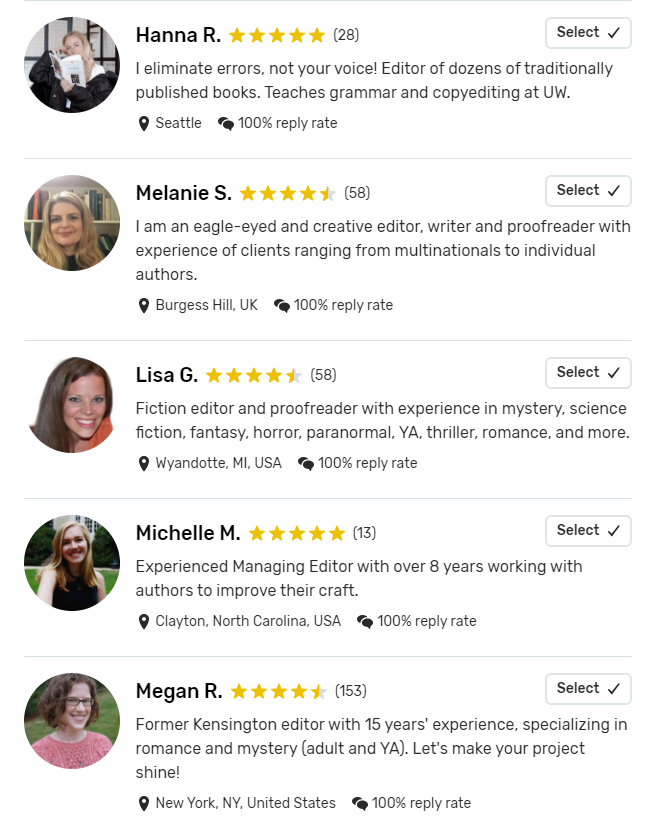 If you're looking for flexible, full-time or part-time editorial work, Reedsy is where you'll want to be. Over 500,000 authors use the platform to find illustrators, ghostwriters, proofreaders, agents, and of course, editors for their manuscripts. Every Reedsy professional is vetted for their knowledge (according to a carefully curated criteria), expertise and experience prior to onboarding, to ensure that all projects are of the highest quality.
If you can get past these checkpoints, it's worth it — you'll be opened up to a global database of writers and prospective self-publishers that are keen to collaborate. The best part is, Reedsy takes care of the job hunt for you. All you have to do is fill out your professional profile, and we'll deliver it to authors who have the need for your skills. If they think you would make a good editing partner, authors can reach out with requests, to which you can respond with a quote. Reedsy's authors are only allowed to request the services of 5 freelancers at a time, so there's no risk of being dragged into bidding wars that undercut your prices!
Find exciting new projects
We connect publishing professionals with our community of 1,500,000 authors.
3. Mediabistro
Mediabistro is another industry specific jobs platform, and to make the editorial job hunt even easier, the 'Editor Jobs' section is at the front and center of their website. Different editorial roles are searchable by level of experience, location, remote/non remote, and duration, so a refined list of job openings most suitable to yourself is just a few clicks away. You can also sign yourself up a newsletter which specifically shares new editorial roles as they come, by clicking the 'create alert' button.
The great thing about Mediabistro is that despite being an industry-specific platform, there are plenty of jobs (typing in 'editing' generated 479 results, as of June 2021). Other than book editing, you can find plenty of other opportunities in TV, radio, magazine editing, journalism — anything in the realm of media. Though some of these may not be editorial roles in the strictest sense, if you're happy to cast the net wider, then this site is a great one to routinely check on.
4. Publishers Weekly Job Zone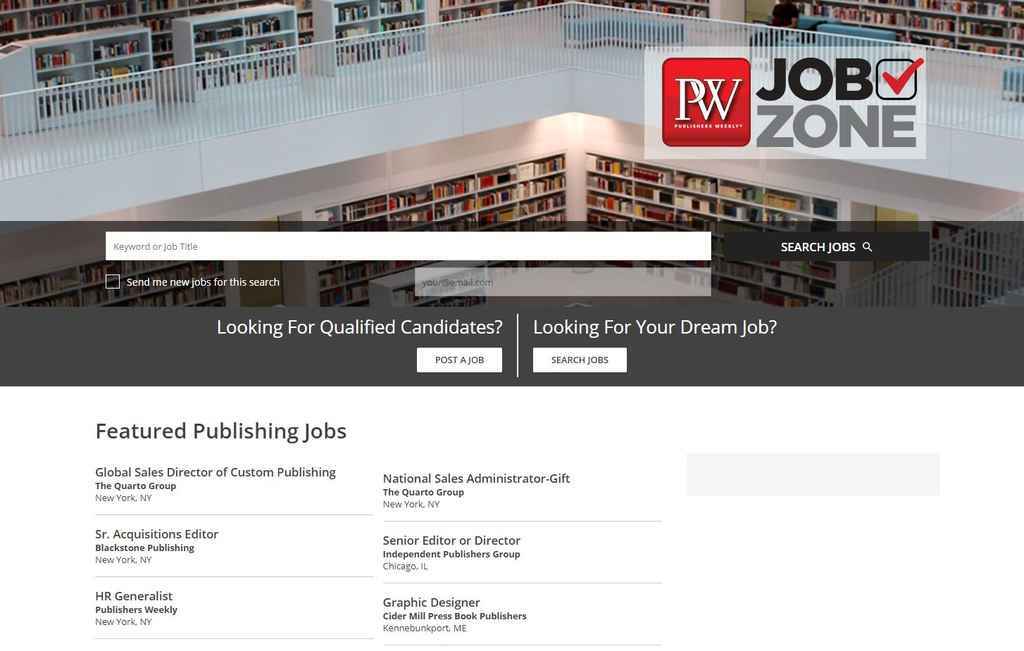 You might already be acquainted with Publishers Weekly, a magazine (and news website) for all things that might interest book publishers and booksellers — but did you know about Publishers Weekly's 'Job Zone'? Much like other industry-specific job boards, Job Zone is a place where you can find recent job openings in an array of editing (and editing-adjacent) roles, at esteemed publishing houses and literary agencies, as well as marketing firms and so much more.
Compared to more generalist job sites, the Publishers Weekly Job Zone is a smaller pool of jobs (at the time of publishing this article, there were 50 jobs listed). However, what they lack in volume, they make up for in quality — you can be sure that these jobs are 100% legitimate and are drawn from a diverse register of employers across the USA. They have a reputation to uphold, after all!
5. LinkedIn
Time for the household names — LinkedIn is one of the largest job platforms out there, so if an editor role has opened up in a publishing company (or an editing project has arisen), chances are it's been posted on LinkedIn before it's gone anywhere else. The site functions like a social media platform, so you can follow potential employers and get the latest updates directly from them.
To really make the most of LinkedIn, start by being wise about who and what you follow. Tailoring your feed to publishing companies and those adjacent to the industry, like Self Publishers Union, means you'll be first on the scene when new jobs crop up. Searching the names of big firms in the search bar will also generate a list of current employees — follow these people too, and if you're feeling proactive, use LinkedIn's instant messaging function to inquire about opportunities. You never know who'll respond — fortune favors the brave, after all!
Top tip: Follow Reedsy on LinkedIn — we're always happy to share handy tips and updates about the publishing industry!
6. Indeed
Indeed is by and large cut from the same cloth as LinkedIn — it's another site that aggregates job listings for hundreds of industries, including publishing and editing. All you need to do is upload your resume and you're all set to commence your hunt for editing work. Indeed hosts both salaried, in-house positions, as well as freelancing opportunities, so you'll have no problem finding interesting vacancies, regardless of your preference.
Refining your 'what' search to 'editor' and your 'where' search to whatever location you're looking for work in will generate results tailored to your specifications, complete with the offered salary and requirements. There are also other analytics like 'date posted', 'posted by' and 'salary estimate' so that you can streamline your search even further.
💡 Enjoyed a taste of the WFH life? Indeed allows you to set your location to 'remote', and will connect you to plenty of remote job opportunities.
7. FlexJobs
FlexJobs is a slightly different kettle of fish to big sites like Indeed and LinkedIn. Other than the fact that it's a little smaller, the site mostly operates by way of skill level. This means you can input the level of expertise you have as an editor and FlexJobs will generate listings most suitable to your level of experience. Whether you're a small fish in a big pond looking for internships and editorial assistant positions, or an esteemed editor looking to jump up the career ladder, there'll be something for you.
The added perk of FlexJobs is that all listings are screened before they go live, so you won't have to worry about inadvertently falling into the clutches of a cowboy employer. We're certainly not complaining!
8. We Work Remotely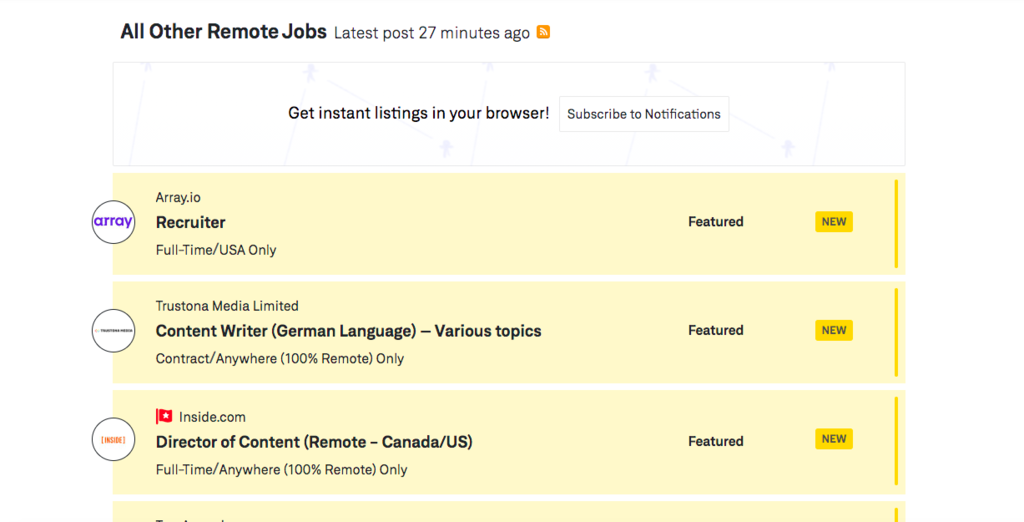 A simple and clean user interface really does make the job hunt that little bit less soul-destroying, doesn't it? We Work Remotely's easy to navigate site has a bounty of job openings — as of the writing of this post, simply typing 'editor' into the search bar generated over 100 results. The website is broken down into sections like 'Design', 'Product' and 'Sales and Marketing', so it's probably more appropriate for copy editors and those working in commercial, SEO-related editorial roles. WWR also posts listings according to how recently they've been uploaded onto the site, so you know you won't be wasting your time applying for old job opportunities.
We Work Remotely appreciates connecting those most qualified to a job, similarly to FlexJobs. This might mean editing qualifications, but it could also mean other kinds of expertise in communications and literature. If you've got plenty of experience as a writer, tutor or teacher, and you're wanting to pivot to editing work, this might be the place for you to start looking.
9. Upwork
Upwork describes itself as a 'work marketplace'. The jewel in the crown of this platform is its Project Catalog function, where employers/companies are able to find the type of work they need from freelancers, who are able to advertise their services on the marketplace. All you need to do is sign up by clicking 'apply as a freelancer', complete your profile and then you can start bidding on jobs.
For editors, your profile will appear in the 'Writing and Translation' section, where you will find a range of categories spanning content writing, copywriting, proofreading and more. You can take a look at profiles that are currently live to get a sense of industry rates, and how people make their 'projects' stand out from the crowd.
💡Want more attention? For $14,99 a month, you can upgrade to Freelancer Plus, to more effectively market your services, submit proposals and get more eyes on your profile.
10. Remotive
Here's another one for the freelancers amongst you — Remotive hand-screens over 2,000 live remote jobs from 1,321 companies, and presents them in a cleanly formatted, easy-to-use website which helpfully categorizes jobs according to industry and job title.
Remotive also provides a newsletter that is designed to connect prospective employees with employers seeking talent. The newsletter is bi-monthly, and not only shares job opportunities, but also handy tips for remote workers on how exactly you can maximize your chances of finding work as a freelancer. If that's something you're interested in, click 'subscribe' on the Writers newsletter, and you'll have listings tailored to writing and editing professionals in your inbox.
11. Fiverr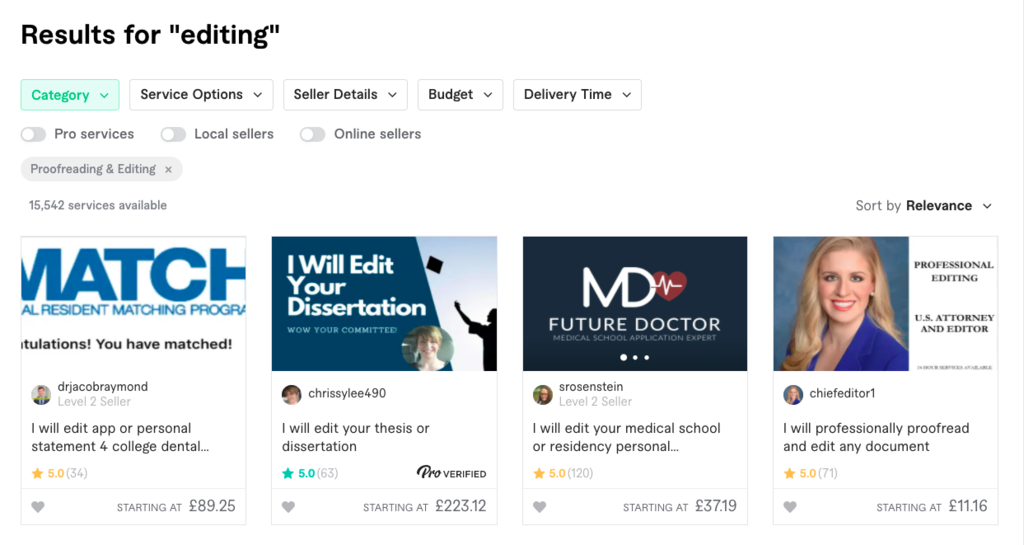 If you feel like you spend too much time writing and rewriting resumes and cover letters, then Fiverr might just be your salvation — it's more than just a database hosting job listings that people can apply to. Instead, freelancers list their skill set and the types of projects they're able to complete. For example, as a technical editor, you could list 'full proofread of scientific articles.' The site will then match you with the appropriate client.
Similar to other freelancer platforms, Fiverr lets freelance editors have control over the type of work they do, the clients they work with, and what rates they charge. If you're a parent having to work around a hectic schedule of your children, or somebody that loves jetsetting at the drop of a hat, the flexibility Fiverr offers will be ideal. The one drawback is that the pay might be a little bit low, as projects on here are varied and can be commissioned by clients who have quite small budgets. To make up for it there are many opportunities for you to check out.
12. Freelancer.com
 Freelancer.com works a little differently to other job boards, in that you bid on jobs, rather than set fixed rates. After you've completed the simple process of signing up, you can then fill out your profile and create a portfolio by adding samples of your work. You'll then go into the platform to acquire positions you're interested in by stating your preferred rates. At the same time, other freelancers interested in the same project will also send in their price — and the client gets to accept the most appropriate bid. Once you've successfully bidded on and completed a project, you'll get reviews to beef out your page. 
At the bottom of their website, you'll see over 1,800 categories that job listings are sorted into. For editing work and remote proofreading jobs, you'll want to pay particular attention to the 'proofreading' and 'copywriting' sections.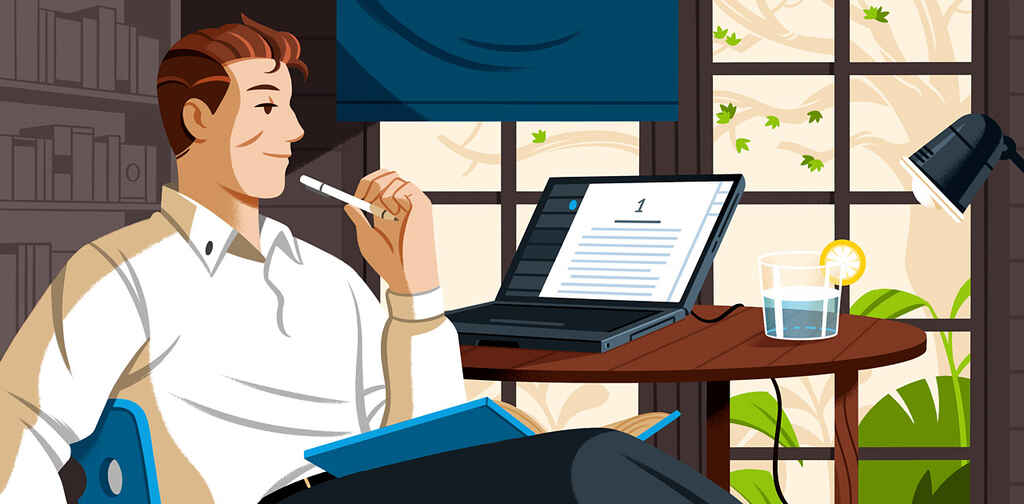 The Full-Time Freelancer's Checklist
Get our guide to financial and logistical planning. Then, claim your independence.
13. Monster
Of course, not everyone is attracted to the freelancer lifestyle. If you're looking to work in-house and enjoy the benefits of everything that comes with being a salaried employee, look no further than Monster. It works similarly to the big sites like LinkedIn (though without social media functions), by hosting job listings from an impressive variety of companies, including plenty of publishing houses and marketing firms.
Editing jobs are easily searchable by typing in keywords like 'writing', 'editing' and 'publishing'. From there, you'll find a variety of jobs, from copywriting, to blog editing, to technical writing. Monster is particularly useful for those trying to break into editing, as they also provide career advice in the form of blog posts on a variety of topics, from the art of project negotiation, to how to write a killer resume.
14. Twitter
It might not immediately strike you to enlist a social media site in your job search, but Twitter can be surprisingly useful in connecting you with other industry professionals and keeping you up to date with which firms are employing. 
Whilst it's not a direct job board, Twitter is similar to LinkedIn — there's a lot of managing editors and publishing houses on-site, who post about job opportunities all the time. You can find editors by searching up the relevant publishing houses or authors (the latter often mention editors or literary agents in their bios). What's even better is that once you've followed enough people, Twitter's algorithm would recommend the right people to you!
---
And with that, we complete our list of 14 sites to find legitimate in-house and freelance editing jobs! We hope that there's enough on this list for you to find plenty of work and build your editing business.