Last updated on Apr 23, 2021
Can Non-Fiction Authors Create Their Own Indexes?
Maria Sosnowski has been a freelance indexer for over ten years. In this article, she explains that hiring an indexer to create a professional index is something that many authors neglect: they either don't think about an index at all, or they decide that the book doesn't really need an index. This is a mistake that could cost you access to entire markets.
---
Libraries, Bookstores, and Amazon Sales
Do you want your book to sell more easily? A good index is an important feature that librarians will look out for. Some libraries won't consider purchasing non-fiction books without an index. Readers will often head to the back matter first and browse the index first to see what the book is about; those who want to look up something will go straight to the index. Without indexes, books are seen as less polished, which lowers the chance that a library system will select it for purchase.
The same thing is true with bookstores. Buyers will skim the index to see if certain topics are covered in the book. If they can't see what they are looking for, they will move on to another title on the shelf. The lack of an index can result in a lack of sales.
When you sell your book on Amazon, the Look Inside feature allows buyers to check out sample pages from your book, read the table of contents, and browse the index. A missing index is a missed opportunity to convince someone that your book is exactly what they're looking for.
And how would you like to optimize your online listing for searches? You can add "tags" with keywords and phrases to make it easier for Amazon to target the right audience, which will naturally increase book sales. While you can certainly try to create your own tags, an index will naturally contain most of these keywords and phrases. It's an easy and effective hack!
No substitute
Dr. Francis Young wrote about the importance of indexes in his blog article, "The joy – and importance – of the analytical index":
"It now seems to me that there is nothing sadder than an unindexed book – indeed, if a book is worthy of an index and does not have one, I feel a pang of desire to provide it with this final and most important adornment of scholarship. I have found it invariably true that the quality of an index indicates the quality of a book, and I know that academic librarians often decide whether a book will go on open shelves or be consigned to the stacks on the basis of whether it has an index and other critical apparatus. There are no technological shortcuts that can be a substitute for a properly written index; I suspect there never will be, because indexing is integral to writing and is indispensable to ensuring a book is logically structured and useful to scholars."
Let's hear it for the index, and for the indexers!
Don't think they go unnoticed: book reviews will sometimes comment either on the lack of an index, or the quality of an especially good one. An index shows that you both take your book seriously and understand that a professional book requires a good index.
Why hire a professional indexer?
A good index requires a fresh pair of eyes and an objective viewpoint. If you really want to take your non-fiction book to the next level, you need to hand it over to a professional indexer. They will be able to read your book from the perspective of a new reader, a returning reader, or someone looking up that one thing they remember from the book.
As you might imagine, the Society of Indexers will commonly discourage authors from writing their own index:
"Would you want your authors to design their own covers? Few authors have any indexing experience and most simply don't know how to create an effective index. Many think that computer-generated lists of keywords are just as good. And most are too close to their own words to anticipate their readers' needs — an author might refer to 'agricultural runoff' but readers may look up 'farm waste'. An experienced, objective third-party indexer knows what to look out for and will come up with efficient, neat solutions."
But don't take the indexing society's word for it. Academic and Author Kathleen Fitzpatrick decided to write her own index, only to discover how tedious and inefficient it was.
"Professional indexers are professionals for a reason," she later wrote in a blog post. "They have developed the skills necessary to find a text's core concepts quickly, including those that may not be mentioned specifically by name. They also have a perspective on the text necessary to figuring out what a reader might be searching for, and how best to categorize and describe the text's contents."
What does a professional bring to the table?
Writing an index is one of those things that seem easier than it really is. Indexers take courses and attend conferences, go to peer review sessions with other indexers, and hone their craft over years. Many of them have made indexing a second or third career, and bring rich and varied experience to the work that they do.
A professional indexer brings many things to your book that you can't:
Objectivity and a fresh eye
An effective and efficient method developed over years of indexing non-fiction titles to high standards
Cross-references that guide your readers from their terminology to yours
Dedicated indexing software that eliminates some of the error-prone issues of the DIY author, such as automated alphabetic sorting, proper formatting of subheadings and cross-reference, and error scans to catch many types of errors
Why automated indexes aren't good enough
A professional indexer doesn't take shortcuts. They actually read the book — and there is no substitute for that. The process of creating an index isn't automated, and it can't be. If you've ever seen an "index" that is nothing more than a list of terms with strings of 50 page numbers after it, you've seen the result of an automated process. This is a poor substitute for the real thing.
Consider this example where someone just ran a search for "child support" and put the page numbers in an "index," versus what a professional indexer would create and think about. Which one helps your reader?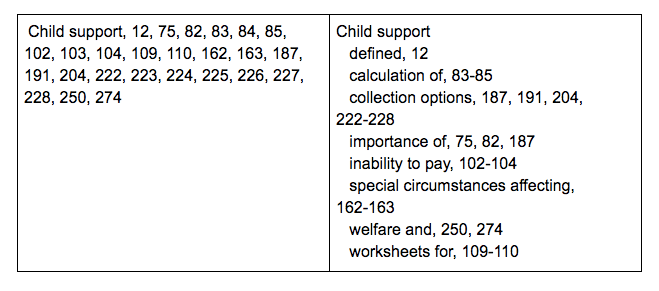 A search function can't separate the wheat from the chaff. It can't distinguish between an in-depth discussion and a passing mention of a term. It doesn't capture synonyms where multiple words are used for the same concept. It doesn't capture homographs where they same word has different meanings. It doesn't consider context, either, so it would treat a discussion about Abraham Lincoln just the same as a sentence that uses Lincoln's term in office to mark the timeline for the real topic.
Adding value to your book
Searching provides too many hits, while not providing enough quality hits. There is no analysis in a search. Professional indexers analyze the text as they read, create a structured index with multiple access points into the material in the form of cross-references, and use subheadings to break down the page ranges about a particular topic. They can group related information and concepts together, even when varying terminology is used. Just as important, they will leave out extraneous information, casual mentions of a topic that lack any depth, duplicative material, and other things that would frustrate a reader who's trying to learn more about your topic. In short, professional indexers raise the value of the book.
---
To find out more about Maria Sosnowski and the other top freelance indexers, head to the Reedsy Marketplace and get a free quote today.