Book Templates: An Author's Best Friend or Secret Saboteur?
When you're picking up any new skill, it's common to look to a template for guidance. They're like training wheels on a bike. Embroidery? Get a template. PowerPoint? Work from a template. Building a website? Template. 
There's no shortage of book templates to help authors turn their manuscripts into fully designed books. But while they offer assurance that we're not "doing it wrong," an over-reliance on templates can result in a cookie-cutter approach to book design.
Having helped over 100,000 authors self-publish their books, we at Reedsy are acutely aware of the trade-offs between simplicity, cost, and effectiveness when it comes to book design. In this post, we'll have a look at the most useful template-y resources indie authors can use — and reveal when it's best to think outside the box.
Book Templates vs. Book Designers
While we always stress the value that a professional can bring to an indie book, certain aspects of design can be accomplished to a pro standard with the help of a template.
Hire a cover designer where possible
Most authors are not designers. If you're dead set on designing a book cover all on your own, a template will, at the very least, help you avoid making a terrible cover. Also, if you're publishing a book mainly for your friends and family, you might find it best to use a template-led, low-cost, DIY solution. 
However, if your goal is to reach a wider audience of readers, consider hiring a professional designer. Not only will they create a cover that looks beautiful, but they'll also ensure it entices your target readers.
To show you how a professional cover can boost your sales, we ran an experiment where we redesigned four self-published books to see how it would affect their marketability.

Get a world-class cover for your book
Reedsy's professional designers can make your book look like it belongs on the bestsellers lists. Sign up for FREE and meet them today.
Learn how Reedsy can help you craft a beautiful book.
Use customizable templates for your interiors
The unsung hero of the book world, interior design (also known as typesetting), greatly impacts how easy and enjoyable the reader experience is. The reason we take it for granted is that most books do this very well. It's only when you read a book that's been carelessly formatted on MS Word that you realize there's a science to it all.
This is why it's possible to use simple apps to format a book's interior to an excellent standard automatically, provided the text doesn't pose any exceptional design challenges. For this reason, we recommend that most authors use a tool like the Reedsy Book Editor, which can give you professional-grade typesetting (and happens to be free!).
The exception to this rule will be any graphically heavy title, like a cookbook or a picture book — anything that involves lots of images, tables, or other fiddly elements. In these cases, a professional interior designer will be necessary. They'll give you much better results and save you from tearing out your hair while trying to teach yourself Adobe InDesign.
Where to find free book templates
If your project can benefit from templates, here are some of your options.
Reedsy Book Editor: Your new favorite formatter 
A free online tool, the Reedsy Book Editor is a great app for tracking your writing goals, as well as writing and editing your book — and it just so happens to be one of the most reliable typesetting tools available. 
To get started, you can either create a new book or import your existing manuscript. Any formatting in the original manuscript will carry over, and your book will be ready to export in just a few minutes.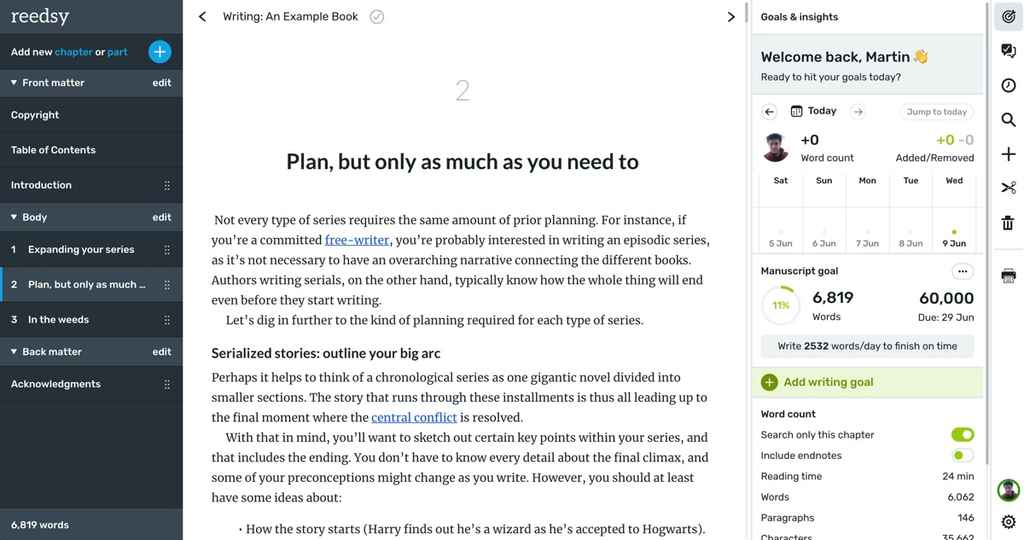 You can choose between three themes — Reedsy, Classic, Romance — and the ability to control how your chapter headings and copyright pages are styled. Need to insert a foreword? No problem, just click 'add new chapter' in the front matter section of the sidebar, and away you go.

Once you're ready, all you have to do is hit 'export,' and you'll get a perfectly reflowable ebook as well as a PDF file which you can use with any print-on-demand or offset printing service.
Kindle Create: Amazon's own 
In general, your best option for publishing books on Kindle Direct Publishing is to upload already-formatted EPUB and PDF files (for ebook and print, respectively). KDP also provides a typesetting program, paperback manuscript templates, and a cover creation app. The cover design app and its print templates are strangely subpar for something created by the biggest company in the world, so we would urge you to find alternatives. However, Amazon's Kindle Create app — their ebook formatter — is a lot closer to the mark.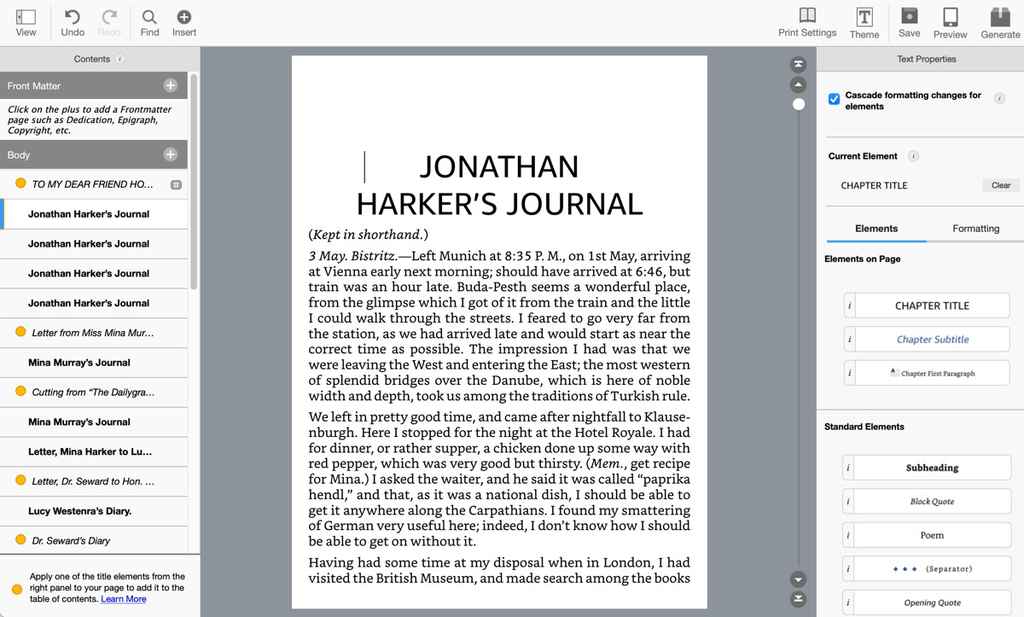 Once you download the free Kindle Create app, you can import your MS Word manuscript, apply a theme, then add in elements and formatting. It's a decent app, though its user interface can be somewhat overwhelming for non-tech natives (and oddly low resolution at points).
Note: if you wish to indent new paragraphs (as is standard in most fiction books), you will need to do this in your manuscript before importing it into Kindle Create. Once it's in the app, it can be tricky to roll any formatting changes across the entire book.
Draft2Digital: A solid automated option 
If you're looking for a simple, hands-off solution, distributor Draft2Digital also offers a reliable automated formatting tool for ebooks. Though it doesn't provide much control over the manuscript formatting once it's been uploaded, so long as you upload a perfect manuscript, the result tends to be good.
D2D offers a choice between 21 different styles. In reality, the only differences between these styles are the chapter headings and chapter breaks, but they are a genuinely fun touch.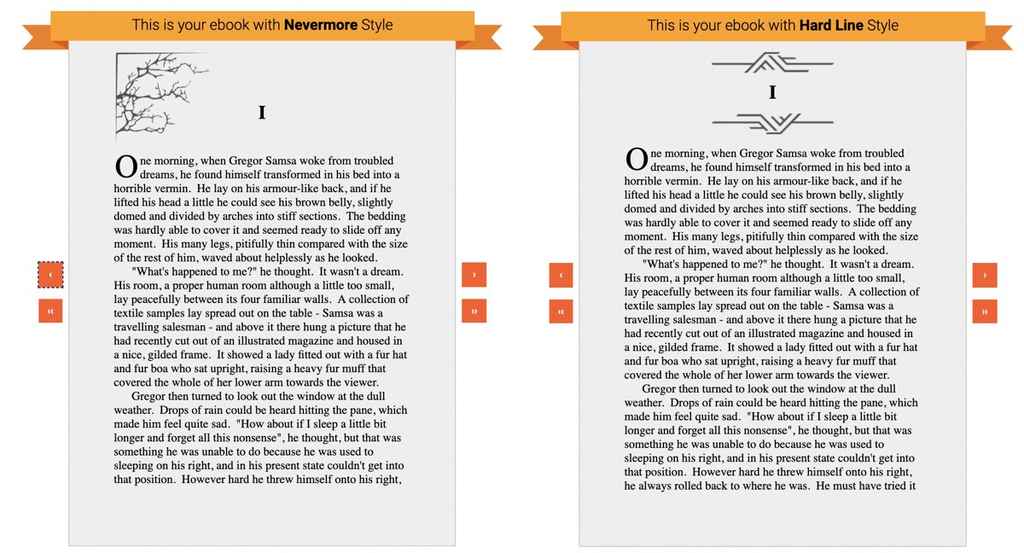 While D2D's big selling point is letting you format your manuscript into an ebook and immediately publish it through them — you don't have to use their service to take advantage of their book formatter. 
Canva: The design juggernaut
The biggest player in consumer-oriented graphic design, Canva is probably your best option if you're looking to design your cover. Its interface is easy to use, and the site offers many stock images and contemporary templates upon which you can build your design.
Of course, the best part of Canva is that almost all its features are free — a boon for any self-publishing author. 
One thing to note is that, despite Canva's deep roster of cover templates, you will eventually bump into titles on the market with suspiciously similar book cover images. And while you may get attractive results, you run the risk of making a book cover that isn't optimized for selling your book.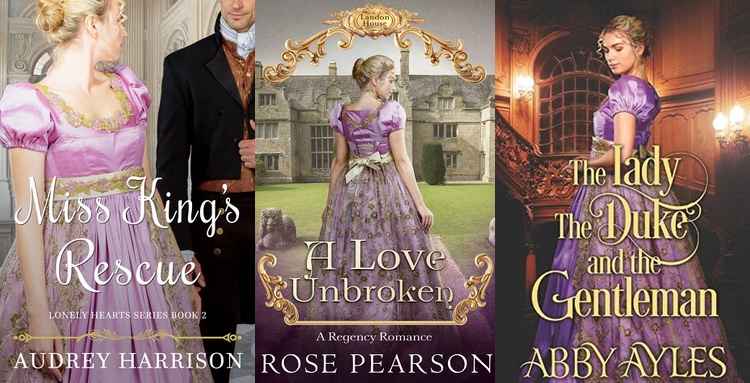 Blurb BookWright: For fancy interiors
A cross between a template-based designer and Photoshop, this free app from self-publishing company Blurb hits a sweet spot for users who want to design their book interiors but are wary of expensive, complex tools.
With a clean, pleasing user interface, customizable templates, and built-in tutorials, BookWright is undoubtedly worth a download if you're looking to self-design image-heavy projects. Are you putting together an art portfolio, coffee table book, or a family cookbook? Look no further.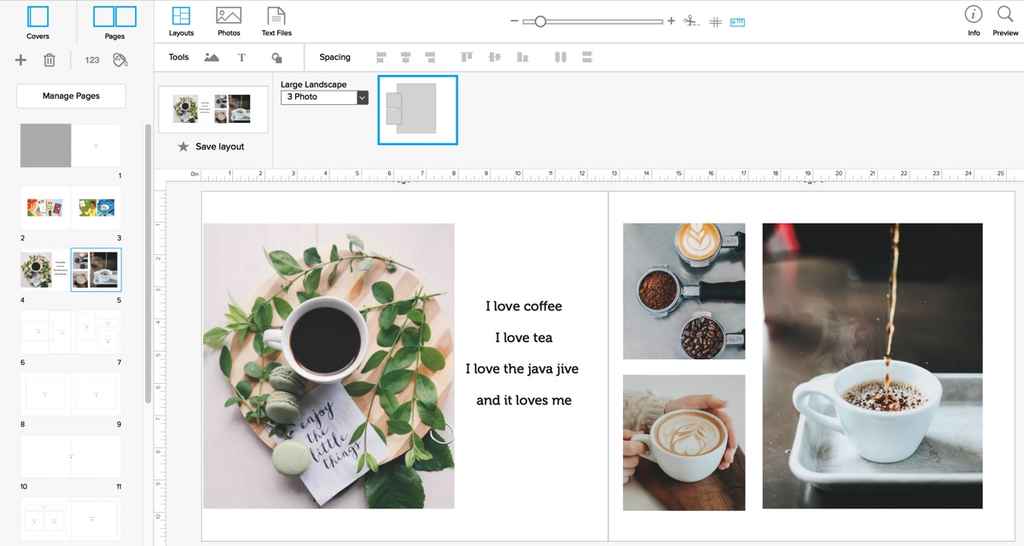 For a closer look at some of the other template-based cover design options available, check out our guide to the best paid and free book design apps.
---
As we mentioned at the start, there is nothing quite like working with an experienced designer — especially if you're looking to build a fruitful career as a self-published author. But if you still want to get your hands dirty and build your book from start to finish, these apps and their templates will help you along the way.