How "Write What You Know" Helps You Find a Target Market
When she was 26, Fiona MacBain moved to Tunisia and ran a watersports base near Sousse with her local husband (more about that at fionamacbain.com). She returned to the UK with her 6-month old daughter in 1999 and eventually settled in Inverness, where she lives with her husband and children. In this article, she talks about turning her memoir into fiction and how "write what you know" can be a sales tool when marketing your book.
When I was twenty-nine I wrote a memoir. It was about the events that led to me returning to the UK a penniless single mother after spending two years running a watersports base on a beach in Tunisia.
I sent it to agents and although a couple showed initial interest, nothing came of it; they did not think there was a sufficient market for the book or enough popular interest in Tunisia. It was my first taste of literary agent rejection.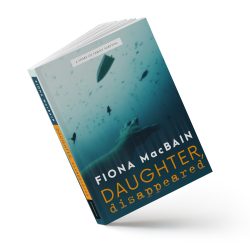 I put the memoir aside and turned to what I really wanted to write: novels. I'd had a number of novel ideas at different stages but Tunisia remained in my head. It's an interesting country, and an ideal setting for a thriller. Coupled with this, I was bringing up a half-Tunisian daughter and had some fears about returning to the country with her; I knew several women who had lost access to their children as a result of Tunisian laws that favor the father over the mother. I realized I could use my own life experiences to shape my first novel, and these factors ended up as the basis for Daughter, Disappeared, which opens with a terrified mother finding a note saying her eighteen-year old daughter has gone to search for her father in Tunisia, unaware of the danger she is putting herself in.
Turning memoir into fiction
Then came one of the hazards of turning a memoir into a novel: the first editorial report on the manuscript pointed out, in an ego-shattering manner, that the main character was unbelievable and inconsistent. Once my indignation had subsided, I realized it was true; I had invented the other characters but the mother, Jane, had my personality, but was doing things I would never do. So I recreated her during one of four major re-writes over about three years, removing all trace of my characteristics and real-life events from the novel, but leaving many descriptions of locations and culture I had experienced first-hand. The direct knowledge I had obtained from living in Tunisia was invaluable in creating a setting for the novel that felt authentic, and is reflected in several reviews from people who bought the book because they love the country:


Treating my book like a business
In my eagerness to find a publisher, I began submitting my book too early. A recurring piece of feedback I received from publishers related to genre. Agents and publishers didn't see where the book would sit in the marketplace; Tunisia is an unusual setting (which has since turned out to be one of its biggest selling points). Secondly, the mother-daughter relationship offers a more domestic, and therefore atypical, basis for a thriller novel.
Not wanting to squeeze my novel into one specific genre (women's fiction or thriller), my thoughts turned to self-publishing — but the idea was daunting. I realized it was time to start treating the book as a business product, with marketing, sales and, most importantly, reader recommendations in mind. It had to be perfect.
By this stage I was building up early readership with a blog about my own experiences in Tunisia and when I targeted the blog via Facebook at women with similar Tunisian connections, I realized I had an immediate and keen readership for the book.
Finding readers through Facebook
In the first five weeks of its release, I sold over 500 copies of Daughter, Disappeared, split about 50:50 between ebooks and paperbacks. I also received 31 top Amazon reviews. These sales and reviews were almost entirely generated through two sponsored Facebook posts, and I'd attribute their success to two key things: careful reader targeting and my book's professionally designed cover, courtesy of Reedsy designer Mark Thomas. 
I ran two Facebook ads — one of which was targeted at people in my local area, the Highlands of Scotland. Knowing that there is a mutually supportive and thriving community of writers and readers in my region, I marketed my novel from the 'local author' angle.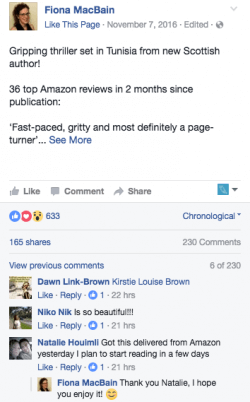 The other Facebook ad was targeted at women across the UK with an interest in Tunisia. The results were phenomenal; I was astonished at how Facebook managed to track people so specifically. I was inundated with comments and messages from women who, like me, had been married to Tunisian partners, and many other regular holiday makers with a love of the country. Several people commented that they had been drawn to the book because of their experiences of Tunisia — and in this respect, having a blog which covered my own personal experiences of the country was helpful. It gave readers an insight into my life, which generated a personal connection and added interest in my book. It also enabled to me to sell my novel on the back of articles that chronicled my life in Tunisia.
The importance of connecting with readers as an indie author
A word of caution is that managing the ads was time-consuming. I replied to every comment, every message,  and managing the ads became a full-time job for the two months they ran. My phone was permanently a few inches from my face; I was walking into lamp-posts, burning dinner, and neglecting my children as I replied and chatted with readers. I also didn't do a shred of writing during that period.
Still, the boosted Facebook posts highlight one of the advantages for an indie author: with the help of specific targeting on social media you can connect with readers who have a specific interest that your book meets — books that people wouldn't typically find in a bookshop. Through Facebook, niche markets are directly available and many readers seem to enjoy the personal contact with the author that social media can provide.
Writing fiction based on the old "write what you know" adage has been a successful and enjoyable experience. My time living in Tunisia gave me first-hand knowledge with which to create setting, places, and characters in a way that was unique and authentic. Most of the research for my novel came from trips down memory lane — and using Facebook, I managed to find a host of readers who seemed to enjoy take that trip with me.
---
Fiona will be doing a reading of "Daughter, Disappeared" on February 3rd at Waterstones, Covent Garden as part of their "Novel London: An Evening of Contemporary Fiction Event"! More information here.
"Daughter, Disappeared" is available on Amazon in paperback and on Amazon Kindle!
Have you lived an experience that made you uniquely qualified to write a book? Have you gone through the process of turning a memoir into a work of fiction? Share any thoughts or questions for Fiona in the comments below!