Grammarly Alternatives: 19 Grammar Tools for Any Budget
Grammarly is the most popular spelling and grammar software for writers, students, and teachers alike — though it has its limits and can cost a pretty penny. So if you're looking for Grammarly alternatives that won't break the bank and work just as effectively to help you write better, you've come to the right place. 
The table below shows our reigning champions of the spelling and grammar tool game: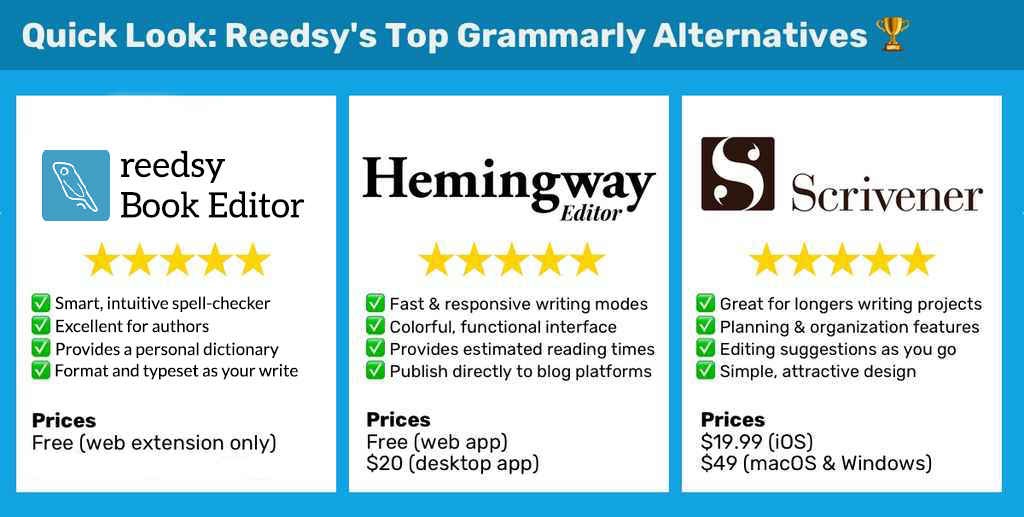 For a wider look at your best options, read on! We've curated a list of the 18 very best Grammarly alternatives on the market in this post. Let's get stuck in. 
1. The Reedsy Book Editor
💰 Price: Free.
✅ Best for: Anyone who's writing a book.
🖇︎ Compatible with: Web.
The Reedsy Book Editor boasts everything that you might expect from a spell-checker: it'll highlight typos, suggest the right words, and replace errors. Best of all, it'll intuitively build  your own personal dictionary while you write. You can add or remove words from this personal dictionary, and even use the text input to search for words in it. 
What's special about the Reedsy Book Editor is that spell-checking is just one of its  strong suits, if you're writing a book. This app also comes with a goal reminder system that you can enable to keep you on track if you're falling behind your writing schedule. On top of that, it'll professionally typeset and format your book as you write — so that you've got a ready-to-publish book, as soon as you type "THE END." Check out the RBE right here! 
2. ProWritingAid
💰 Price: Web browser extension is free. The desktop version is $20 a month.
✅ Best for: Everything from general readability to spelling errors.
🖇︎ Compatible with: Mac OSX, Windows, Scrivener. No mobile app.
ProWritingAid is a Grammarly alternative that is considered its stiffest competition — for a good reason. According to its promotional material, PWA is a "grammar checker, style editor and writing mentor in one package" that boasts a comprehensive editing and proofreading tool that goes far beyond scanning for spelling and grammatical errors.
By checking for insightful writing, inappropriate colloquialisms, and general readability, PWA can assure you that the phrasing of your work won't come across clunky or unnatural. Its unique combination of suggestions, articles, videos, and quizzes aims to transform the proofreading process from arduous to fun and interactive, with great success. Check out our ProWritingAid review for a more detailed analysis and a 20% discount!
Free course: Self-Edit Like a Pro
Don't just leave it to the machines. Learn how to edit your own manuscripts to perfection with our 10-day online course, written by PWA's blog editor.
3. Hemingway Editor (v3)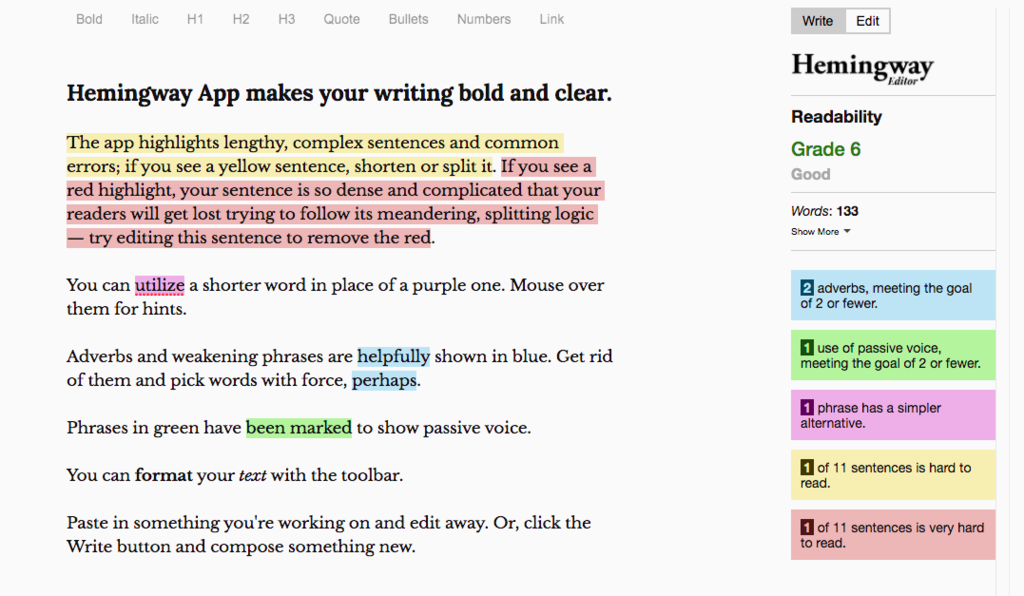 💰 Price: The basic web app version is free, $19.99 to download the desktop app.
✅ Best for: Concise, clear writing.
🖇︎ Compatible with: macOS and Windows. Works offline.
This writing tool owes its name to one of the literary titans of the 20th century — so if you're an admirer of Ernest Hemingway's writing, Hemingway Editor should be a no-brainer. Unlike PWA, Hemingway puts more emphasis on the style of your work, as opposed to the nuts and bolts of your writing (though you can rest assured that it will pick up copy mistakes for you, too).
Like its namesake, Hemingway focuses most on making sure that your writing is clean, succinct, and easy to read. To that end, Hemingway uses different colors to highlight different types of error — from overly complicated adverbs to convoluted sentences — and offers solutions. Its simple user interface will undoubtedly appeal to writers who feel that their writing is too complex or technical in nature. Read our review of Hemingway here for an in-depth take on the app.
💡Attention bloggers! Hemingway has one-click integration with Medium and WordPress — meaning you can publish a live blog straight from the application.
🖋️
Which writing app is right for you?
Find out here! Takes 30 seconds
4. Scrivener
💰 Price: $19.99 to download from the app store, or $49 for desktop use.
✅ Best for: Longer writing projects, covering everything from organization to punctuation.
🖇︎ Compatible with: macOS, iOS, and Windows.
There are more than a few Scrivener superfans out there who can attest that this writing app is highly effective, accurate, and easy to use. The Scrivener app is multifunctional in that you can create an overview for your project, your manuscript can be integrated with other documents useful to your writing (like research papers), and offers editing suggestions. The biggest thing that differentiates this tool from Grammarly is that Scrivener is specifically designed for writing novels. So it's much, much lighter on the editing and spelling and grammar functions of Grammarly and much heavier on the outlining, planning, and organizational elements that go into writing that novelists like.
Scrivener 3, which came out this year, is now available on Windows, so even more authors looking for Grammarly alternatives can see what the hype is all about! Check out our Scrivener 3 review if you want to learn more.
5. Writer.com
💰 Price: $11/a month for the Starter edition, customizable packages for businesses.
✅ Best for: Fine-tuning commercial copy.
🖇︎ Compatible with: Chrome, Word, and Google Docs. No mobile app.
For those writing commercial copy, a writing tool oriented for hobbyist writers might not cut the mustard. Instead, you'll want something like writer.com that provides AI-driven copyediting (like Grammarly) — specifically with business content and copywriters in mind. In addition to the standard features of spelling and grammar tools, it'll give you content feedback that's brand-specific — a feature that really sets it apart from Grammarly, especially for companies looking to maintain a unique brand voice. It'll also help you pick up untidy phrasing and provide context for suggested corrections, amongst other standard features of spelling and grammar tools.
What's more, writer.com lets companies make customized brand guides and share them with a team. It's also got a super-efficient plagiarism checker. Nifty!
6. Ginger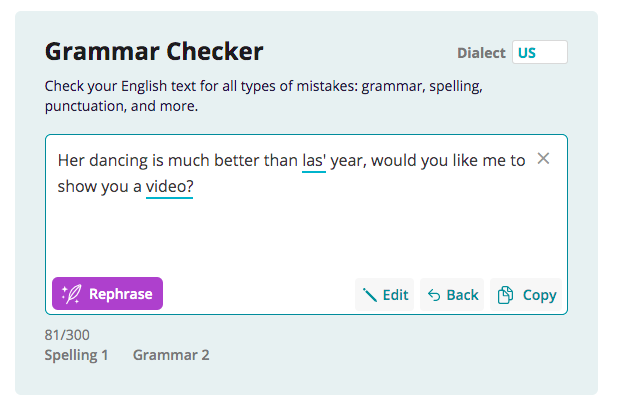 💰 Price: Free on Google Chrome. To download, it's $29.96 per month (paid monthly), $12.48 per month (paid yearly), and $9.99 per month (paid every two years).
✅ Best for: People writing in multiple languages.
🖇︎ Compatible with: Web browser plug-in. Desktop and mobile app available.
Ginger is one of the older kids on the block, established in 2007. If you are more audibly minded, Ginger's text reader will be helpful to you, as it verbalizes your writing back for you, allowing you to pick up inconsistencies and flow problems and eliminate instances of passive voice.
For language learners, Ginger's appeal is even greater. Its crown jewel is its impressive translation function, which can translate your work into 60 languages! (Of course, literary translation is much more complex and are best done by professionals, but this tool can give you quick answers!) It also has advanced natural language programming, which functions more akin to a human editor that can check for fluency and flow. What's not to like?
7. Reverso
💰 Price: Free.
✅ Best for: Checking shorter pieces of copy, as well as language translations.
🖇︎ Compatible with: Chrome, Firefox, and Safari, but there is no desktop application.
Linguists and language enthusiasts might already be familiar with Reverso: a tool primarily known as a language translator that offers much more accuracy than Google Translate. You can input a sentence in one language on Reverso and be presented with various 'real life' (i.e., sourced from actual writing on the internet) foreign language translations. 
The one drawback is that, unlike other tools, it has a 600-word character limit, so you cannot input huge amounts of copy at one time. However, if you want to speedily check shorter writing pieces in a foreign language for errors, Reverso is your go-to Grammarly alternative.
8. Virtual Writing Tutor
💰 Price: Free.
✅ Best for: Preliminary checks that can complement another writing tool.
🖇︎ Compatible with: Any web browser.
If you're a writer in English but it's your second language, you may find that many S&G tools do not offer that extra bit of support you need to feel secure in the fluency and precision of your writing. Fear not — Virtual Writing Tutor is an online grammar checker that will look for spelling, grammar, and punctuation flaws, as well as phrasing!
According to their website, VWT wants to help make you a better writer for the future, too. The goal is to "make the Virtual Writing Tutor the best ESL grammar checker to help learners of English as a Second Language. It may also help dyslexics, professional bloggers and university students".
It is also popular for its Target Structure Checker that allows users to improve the structure of their work. With this being said, it's worth noting that VWT actually advises using a more comprehensive writing tool secondarily. So this one is great if you're a writer on a budget, but you might want to look elsewhere for something that will cover all your bases.
9. Antidote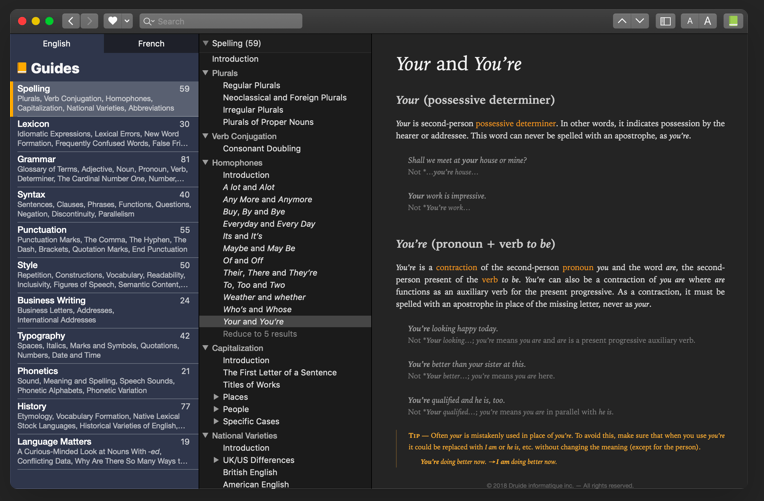 💰 Price: Antidote+ Personal (most basic version) is $59 a year; Antidote 10 is a one-time purchase of $119.
✅ Best for: Creative writers and novelists, or anybody working on a larger writing project.
🖇︎ Compatible with: Web browsers, Windows, macOS, and mobile.
If Antidote's attractive website is anything to go by, it's one of the slickest writing assistance apps on the market. Available in both English and French, it'll provide you with suggestions on improving numerous elements of your work beyond the mechanics. Its features can be broken down into three categories:
Corrector: With smart filters that detect a variety of errors from capitalization to unnecessary prepositions.
Dictionary: Click on any word, and it'll present you with a definition, synonyms, conjugations, and more. You can also add specific features of your writing, like character names and technical terms, to a personal dictionary.
Guides: 11 clear and concise guides on topics like syntax, lexicon, and grammar so you can learn as you write.
But with Antidote 10, there are also new features like a gender neutrality checker, display of bold, italic, and emojis, and a new readability filter. Antidote can run locally on your computer as a plug-in, so it doesn't require an internet connection. 
10. 1Checker
💰 Price: Free.
✅ Best for: A comprehensive overview of the technical aspects of your writing.
🖇︎ Compatible with: Any web browser.
It's hard not to be impressed by 1Checker's scholarly beginnings — it was designed by a team at the University of Cambridge as a tool for non-native English speakers to improve their written command of the English language. For this reason, it specifically focuses on mistakes commonly made by EASL speakers (that occasionally slip through the cracks with other types of software) — like context-specific word choice errors and grammatical mishaps. Like all great S&G tools, 1Checker uses a combination of A.I. and natural language processing technologies to crunch data for you to present you with easy-to-understand suggestions for your copy.
11. Slick Write
💰 Price: Free.
✅ Best for: Anybody looking for data-driven suggestions.
🖇︎ Compatible with: Online plugin with Chrome and Firefox, though you can't download it for offline use.
Whether you're a student writing an essay or an SEO professional, Slick Write offers customizable feedback suited to your style that will enhance the readability of your work. This Grammarly alternative will also check for a range of writing elements, including but not limited to grammatical and spelling errors, stylistic mistakes, and sentence structure. Handily, Slick Write also has a demonstration of its software that allows you to get to grips with its sidebar and learn about its various features before you commit to working with it yourself. As you'll be able to see, it's super easy to use and offers a range of analytics to help you understand your writing style and processes.
12. Google Docs
💰 Price: Free.
✅ Best for: Writing collaboratively and organizing your workload.
🖇︎ Compatible with: Any web browser as long as you have a Gmail account.
If you're a writer, you're probably no stranger to Google Docs. In fact, it might be the platform the majority of your work takes place on. Its major perk, as everyone knows, is the fact that you can access it so long as you're connected to the Internet. Not to mention that all your manuscripts can be stored in one place that isn't a local drive — minimizing the risk of losing your work if you have the misfortune of spilling a drink on your laptop.
As a Grammarly alternative, Google Docs has in-built spelling and grammar checkers that will throw up suggestions for you as you type, so you can make amendments as you work. This being said, the tool is relatively basic as S&G checkers go — so if you want a keener eye on inappropriate words, phrasing, and sentence structure, you'll want to look at some more comprehensive software. That being said, Google Docs isn't a bad place to start if you're looking for the option to collaborate with other users and the ability to track the edits made to your work.
13. Microsoft Word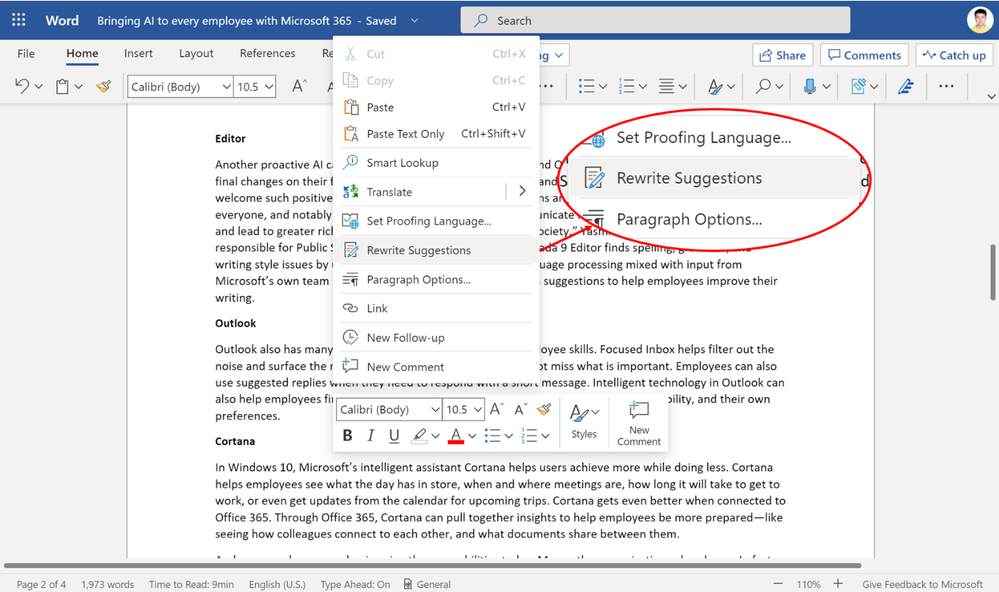 💰 Price: Office online is accessible for free with a Microsoft account.
✅ Best for: Anything from writing a CV to a novel.
🖇︎ Compatible with: Windows, Mac OSX.
Here's another software you're probably all too familiar with — Microsoft Word! There's a reason that students, writers, and working professionals the world over still swear by it, 37 years after it first hit the market under the name of Multi-Tool Word. Like Google Docs, Microsoft has a built-in spelling and grammar checker that enables you to edit your work as you go along, as well as a dictionary and thesaurus function to improve the quality of your writing. Over the years, the usability of these functions has improved to the point where it's quite reliable as an S&G tool.
For more comprehensive, targeted 'feedback,' you should use tools like 1Checker, ProWritingAid, and Hemingway. But if you want quick suggestions as you type, Microsoft is your trusty friend.
Tired of using Word to write your book?
Sign up and start using the Reedsy's free book writing app!
Learn how Reedsy can help you craft a beautiful book.
14. Sentence Checkup
💰 Price: Free.
✅ Best for: Improving shorter pieces of text.
🖇︎ Compatible with: No downloading necessary.
If run-on sentences are a bad habit that you're unable to break, you're probably on the lookout for a tool that'll automatically chop up sentences for you. If that's the case, you're in luck: user interfaces don't get simpler than Sentence Checkup — all you need to do is copy and paste your sentence into the textbox function, and it will review grammatical errors and suggest stylistic improvements that could be made for general fluency and readability.
Sentence Checkup might not have the smorgasbord of features other S&G tools offer (there's no plagiarism checker, for example) — but if you're looking for quick analysis on a paragraph or two (for example, an email to a client you're keen to impress, or an Instagram that will reach thousands of followers), Sentence Checkup is a handy way to get smaller pieces of writing spick and span.
15. Paper Rater
💰 Price: Free.
✅ Best for: Students and researchers.
🖇︎ Compatible with: Free, but the premium version is $11.21 a month (or $71.55 for the year).
Paper Rater's M.O. is all about elevating the quality of your written work. This tool was created with students in mind. For that reason, it has an excellent plagiarism checker, which will undoubtedly be useful for putting one's mind at ease before submitting academic papers. And while it has many typical features of a spelling and grammar tool, Paper Rater emphasizes alternative word choice and stylistic improvements that are more applicable to your writing. According to Paper Rater itself: "You won't find another tool offering plagiarism checking, automated proofreading, grammar check, and automated scoring that can analyze your text this quickly."
16. Language Tool

💰 Price: Basic version is free, but the premium version is £4.92 a month for individual users.
✅ Best for: Making communication sound professional.
🖇︎ Compatible with: Google Docs, Microsoft, all web browsers.
While Grammarly is a good all-rounder, sometimes you need a slightly more specific function. If you require a language translation mechanism that can check for inconsistencies, spelling errors, and the general competency of the messages you send to others, Language Tool will do all of this and more.
Language Tool is specifically tailored for working environments and even has a group version that allows for collaborations within teams. More than that, the app presents its users with simple suggestions, color-coordinated in line with the nature of the correction, and other features like 'right-click for synonyms.' If you're looking to add a glossy veneer to your copy, look no further.
17. Wordtune
💰 Price: Basic plan is free; the premium version is $9.99 a month.
✅ Best for: Writers looking for more innovative suggestions for their writing, rather than neatening up.
🖇︎ Compatible with: Chrome.
In contrast to other spelling and grammar tools, Wordtune's mission is less about offering a copy-editing service and more about presenting writers with innovative ways to express themselves more successfully and with stylistic flair. Its basic plan has three main functions:
Presenting ways to restructure sentences.
Translating foreign texts into English (currently supports Spanish, Mandarin, Arabic, Hindi, Korean, Hebrew, and Russian).
Getting contextually relevant synonyms for every word.
The premium plans also offer advice on striking the correct tone in your writing, shortening and expanding your text to suit its format, and the ability to use the app collaboratively.
💡 Attention students and educators! Wordtune offers discounts for students and educators, so long as you have a .edu email address!
18. Sapling
💰 Price: Basic version free, premium $25 a month.
✅ Best for: Businesses wanting to elevate messages and written communication.
🖇︎ Compatible with: Google Chrome (and docs) plug-in, also well as Outlook/Word. Most message platforms, Gmail, LinkedIn, Zendesk, and more.
If you've ever been concerned that you come across a bit… robotic in your messages, emails, and other written communications — well, a robot in the form of Sapling might just be what you need. Sapling is an AI extension that allows you to refine and improve your writing by spelling and grammar suggestions, which will tighten up and put a finer point on your prose. If you're messaging clients and need to employ a professional tone, Sapling will allow you to do this with its easily navigable features.
The premium version comes with autocomplete and knowledge snippets, where you can quickly search and insert commonly used messages to save time (à la TextExpander).
19. Cliche Finder
💰 Price: Free.
✅ Best for: Rooting out cliches and making writing more original.
🖇︎ Compatible with: Any web browser.
Though we might try our best to write original, compelling copy each time we sit down to write, sometimes we just can't avoid a cliche (it's just a… matter of time, you might say). They're the peril of every writer, and that's why the team of Cliche Finder created this tool to highlight exactly where you may have written something stale and overused. This isn't to say every cliche is bad, but it is always helpful to have someone (or something) else point out to you exactly where you've fallen into the trap.
---
So there we have it. Grammarly isn't the center of the spelling and grammar tool universe, after all. There are plenty of diverse alternatives out there that offer a similar quality of editing services without pinching the purse too much. Hopefully, you've found your perfect match!