Last updated on Jan 06, 2023
Hemingway App Review: Read This Before Using It!
The Hemingway app is a distraction-free writing and editing tool to help you polish your writing. Taking its name from Ernest Hemingway's iconic writing style, the app focuses on identifying common errors that bring down the quality of your prose: confusing sentence construction, overuse of weak adverbs, excessive passive voice, and the like.
You can use a free version of the app right on the website. Or, if you'd rather work offline (and gain a few more options, which we'll get into in a moment), you can buy a standalone version for a one-time purchasing fee of $19.99.
But does this work? And more importantly, should you use this app over any of the other writing apps like Scrivener and the Reedsy Book Editor? Let's break it down and see exactly what this book-writing software offers writers:
What we love
What's missing

Free to try out, and inexpensive to buy the full version
Points out common stylistic and grammatical errors
Easy way to check your reading level
Provides an estimated read time

No save or import/export functions in the free version.
It focuses on only a handful of grammar choices
It rarely offers suggestions for how to fix the problem they've identified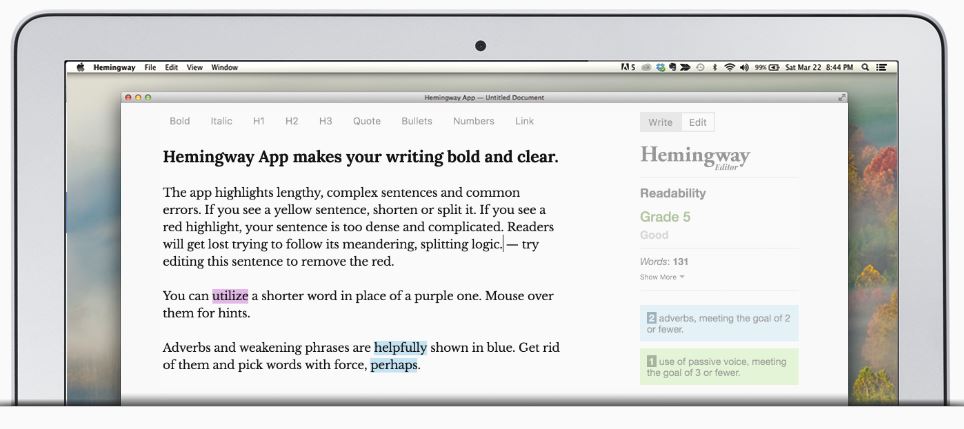 There are two modes in the Hemingway app: writing and editing. You can switch between them via a toggle on the sidebar. Each mode is fast and responsive, as is changing from one mode to the other.
Writing mode lets you get on with the job at hand
The writing mode is designed to be unobtrusive, with a minimalist interface. Formatting buttons along the top allow you to make your text bold or italic, set your headings, add a blockquote or a list (either in bullet point or numbered), as well as create links. There are no page breaks, or detailed formatting options to create print layouts — this app is truly about writing, and writing only.
Editing mode is where the app shines
Switch to editing mode, and you'll see most of the Hemingway features come into play. In addition to a summary of your work's readability level, estimated reading time, and length, Hemingway analyzes your work and highlights a variety of potential problem areas.
Blue highlights mean it's identified an adverb or a qualifier.
Purple highlights show it's found a complex word that can be replaced with a simpler one.
Green highlights are for passive voice.
Yellow highlights denote complex sentences.
Red highlights indicate an extremely complex sentence.
Mousing over these highlights will remind you of which type of problem has been identified, though only a few types of errors offer suggestions for fixes. You can remove adverbs, for instance, with the click of a button, but you'll have to change to active voice on your own.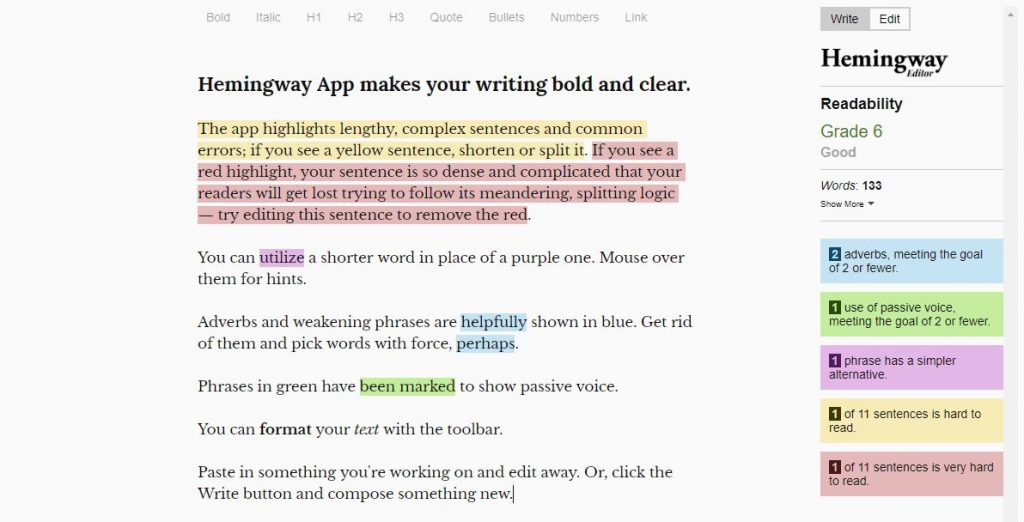 The editing highlights, while helpful, could use a few more suggestions for how to improve the text. On the other hand, merely working with the Hemingway Editor for an extended period would likely train you to spot these types of mistakes as you're writing — improving your self-editing skills, and hopefully raising the overall quality of your first drafts.
You can export directly to your website
Once you've finished drafting, the desktop version can export your work in a few different ways. You can even publish straight to Medium or WordPress. Hemingway can also import from Word .docx files. This, plus the emphasis on tight writing, makes it a solid tool for web content.
But you'll need another app to format your book
It's worth noting, however, that only the desktop version has any save or export/import functionality at all — if you want to use the free one, you'll have to copy and paste your work into and out of Hemingway yourself and save it somewhere else.
However, there are no formatting options for making books, so if you're writing a longer piece, this won't help you get your file ready for publication. (For this, you may want to check out our post on other makes of novel writing software!) And it certainly isn't feasible to use the free version for larger work.
Looking for a professional book-writing app?
Sign up for free to start using the Reedsy Book Editor within seconds.
Learn how Reedsy can help you craft a beautiful book.
So what's the bottom line?
Hemingway has some nice features and is a good way to check the readability of your work, so it's useful for something like a blog post, essay, or article, but less useful for a whole book. The estimated read time and reading level are helpful metrics, depending on the medium you're writing for.
The deciding factor will be how closely your writing style follows the Hemingway standards. If you're aiming for short, tight sentences, this app will help you trim down your work. But if you're not writing to the Hemingway ideal — such as crafting a "voicey" piece of fiction, or certain types of nonfiction where passive voice is appropriate — this app won't have much to offer you.
It's free to test out, so if it sounds like something you'd like, there's no reason not to play around with it. So give it a try and let us know what you think!
Reedsy rating: 4/5