Last updated on Apr 13, 2022
The Best Book Writing Software For Every Budget in 2022
When it comes to book writing software, there are more options than you can easily choose from — and not all of them can give you what you need. In this post, we'll look at 16 of the most popular pieces of writing software (many of which are free) and their functionalities to see which one best suits your needs. The table below will give you a quick breakdown. 
| | | | |
| --- | --- | --- | --- |
| Book Writing Software | Price | Main strength | Main drawback |
| Scrivener | $49 | Structuring and note-organizing features | Can be difficult to use  |
| yWriter | Free | Tracking worldbuilding details as you write | Only available to PC users |
| Campfire Write | $1.50+/month | Assists creation of SFF worlds and plots | Takes time to learn  |
| Evernote | $7.99/month  | Conceptualizing and outlining | No interface for long-form writing |
| Reedsy Book Editor | Free | Writing and automatically formatting your book | Only available online  |
| Ulysses | $49.99/year | Planning and writing your manuscript | Limited formatting features |
| Atticus | $147 | Writing and formatting your book | Costly |
| Google Docs | Free | Collaborative writing & editing  | Difficult to use for book formatting  |
| Microsoft Word | $69.99/year | All-round word processing | Costly |
| LibreOffice Writer  | Free | Open-source alternative to Word  | Complex interface |
| Pages | Free | Handwriting-to-text mode | Only available to Mac users |
| FocusWriter | Free | Distraction-free writing | No formatting features |
| Frost | Free | Mood-setting capabilities | Exports only as .txt files |
| ProWritingAid | $79/year | Grammar check integrates into any writing software | Suggestions not always useful |
| Hemingway | $19.99 | Stylistic suggestions to your prose | No integration with other writing software |
| Grammarly | $12/month | Cleaning up your prose | Costly |
If you want to cut to the chase and find out which writing app is right for you, we recommend taking this quick 30-second quiz. Otherwise, let's dive in!
🖋️
Which writing app is right for you?
Find out here! Takes 30 seconds
Strong organizational book writing software
If you're a writer at the start of a project and are dealing with many different ideas for your book, you might want a piece of book writing software that has good organizational capabilities and outlining functions. Whether you're a plotter or a pantser, below are some tools that can help you set off on the right foot:
Scrivener
💲 Price: $49 
⭐ Best for: Prolific writers who want to write and organize their book all in one app
💡 Features: Corkboard planner, writing templates, integrated outlining system, import and export capabilities
🤝 Editorial collaboration: No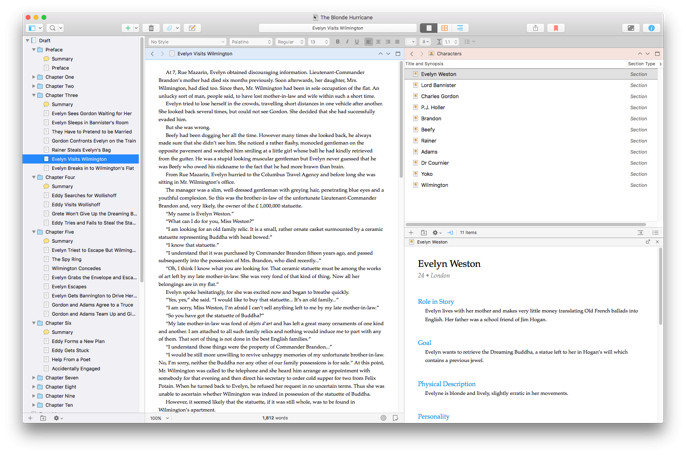 Scrivener is a favorite among authors, probably because it is one of the first writing programs created with authors in mind. With its corkboard function that allows you to see your whole project in one view, its split-screen mode for you to reference research as you write, and its clean-cut filing system, Scrivener gives authors a good workspace whether they need to outline their book before writing or figure out the big picture as they write.
However, there's a pretty major drawback: Scrivener is a complex piece of writing software that has a steep learning curve. It may be well worth it if you plan to write numerous books down the line, but not so much for a one-off, especially since it isn't free.
yWriter
💲 Price: Free
⭐ Best for: Authors who need to keep track of plot and worldbuilding details as they write
💡 Features: Scene-based organization, storyboard view and reports, progress tracking
🤝 Editorial collaboration: No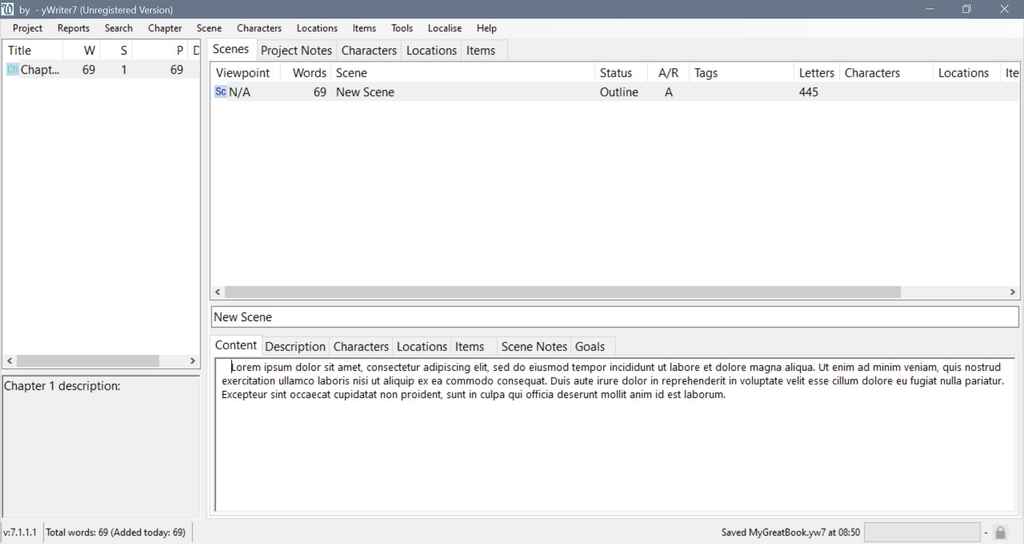 yWriter looks a bit dated, and it's not yet available to Mac users, but it's a formidable piece of writing software for anyone writing science fiction or fantasy — or any project with a lot of complex worldbuilding details. By dividing your work into scenes (on which you can tag relevant characters and locations), yWriter helps you track every development in the manuscript as you write. 
Enter your email address to download the Ultimate Worldbuilding Guide & Template!
You'll get it in your email inbox right afterward.
All this data from your scenes is then compiled into graphs and statistics accessible alongside the storyboard view, giving you a quantitative overall look of your project, which can be especially useful if you're dealing with multiple POVs or intertwining plotlines.
Campfire Write
💲 Price: Minimum $1.50 per month 
⭐ Best for: SFF authors who work with a lot of worldbuilding details
💡 Features: Character and worldbuilding templates, interactive maps, automatic detail tracking, project sharing
🤝 Editorial collaboration: Yes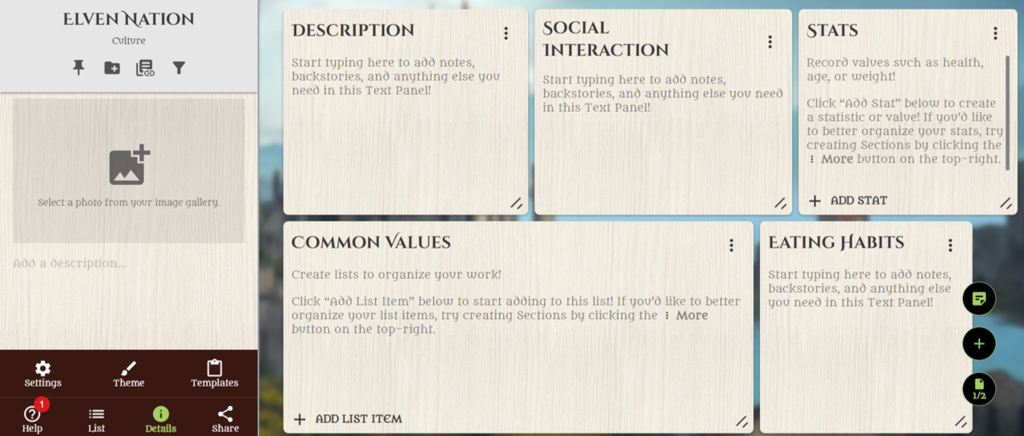 Another option for science fiction and fantasy writers is Campfire Write. Created with these genres in mind, this web-based book writing software lets you map your story by Elements (characters, locations, maps, species, cultures, philosophies, etc.) which can be purchased individually, as needed. Say you only subscribe to the manuscript writing feature, it'll cost $1.50 a month. If you want to have several character profiles, a culture outline, and a couple of interactive maps, you can expect to pay $5.25 a month. 
Your work here can also be shared with an editor (who can leave comments on your work) or with the Campfire writing community at large. While it takes some time to familiarize with its many details, Campfire can be a useful and fun tool for writers to build their universes.
For 20% off all lifetime purchases on Campfire, use the promo code REEDSY20 at checkout.
Evernote
💲 Price: Free basic plan, $7.99/month for personal plan
⭐ Best for: Authors who like to thoroughly organize their research and planning 
💡 Features: Writing templates, web clipper function, syncing ability
🤝 Editorial collaboration: Yes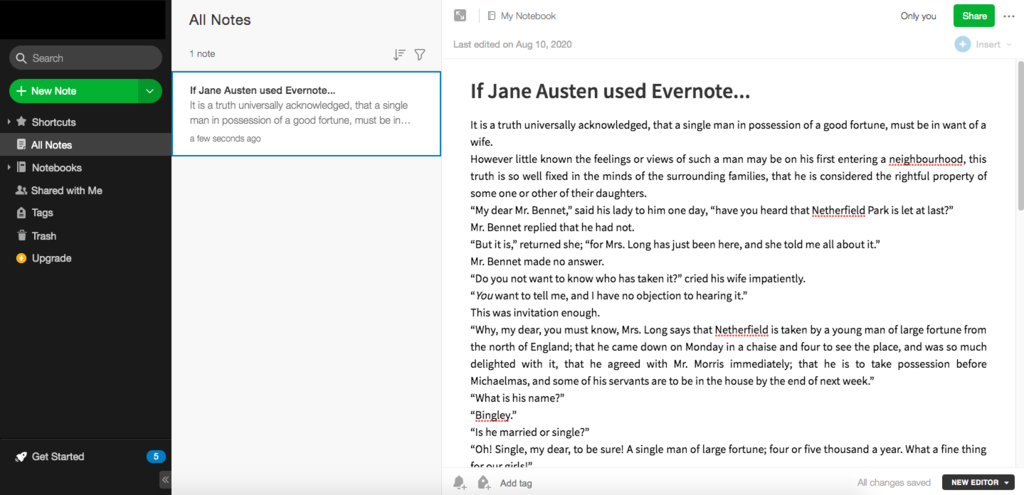 Evernote is not a program created specifically for authors, so it has fewer writing functions and more organizational ones. If you like the idea of having a virtual space to flesh out your characters, your fictional universe, and your plot details, but you don't want the complicated interface of Scrivener or the SFF-specific Campfire Write, Evernote is a good alternative. The (paid) personal plan allows you to clip web pages and files onto your notes as reference, and the app is accessible on mobile as well as computer devices, so you can work from anywhere. 
This is more helpful as novel writing software, to be used for brainstorming and outlining rather than writing. So while you can jot down some scenes when the inspiration strikes, we advise using other writing-based apps when you draft.
Writing software to track your progress and format your book
Say you've got the informational aspects of your book planned out. You might be looking for book writing software that keeps you driven throughout the lengthy drafting process and lets you format your book effortlessly. In other words, an all-around writing app that lets you focus on writing, rather than worrying about organization and formatting. The following apps are for you.
Reedsy Book Editor
💲 Price: Free
⭐ Best for: Authors who want to maintain a writing schedule and format their book for publication
💡 Features: Spell-check, goal tracking, cloud saving, export as ebook or PDF, version history, free formatting templates
🤝 Editorial collaboration: Coming soon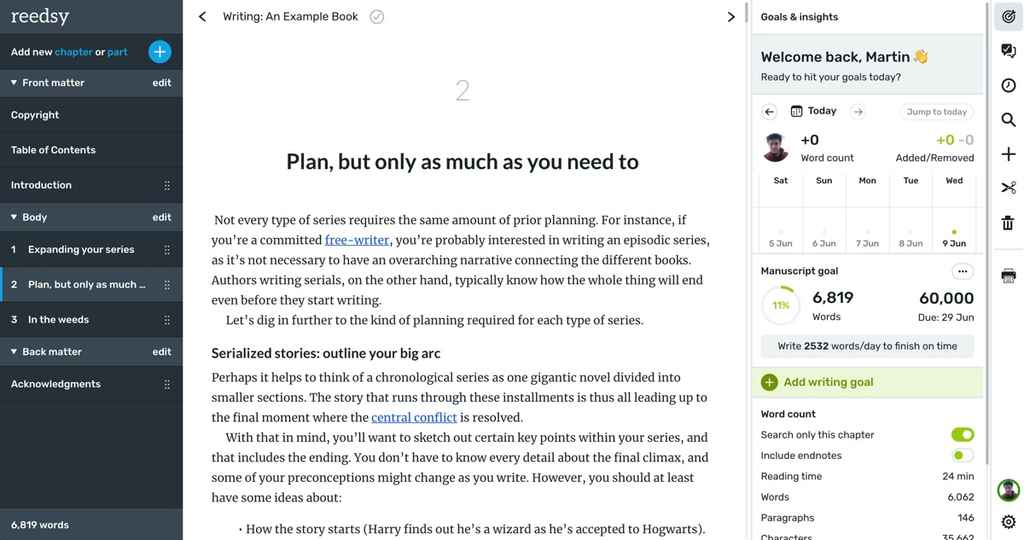 Designed to meet the key needs of authors, our Reedsy Book Editor is your free, all-in-one piece of book writing software — where you can go from first draft to fully formatted ebooks.
On our sleek interface, you can write your book with the help of a built-in spell-check system, tailored to your preferred language, and the goal-tracking feature, which comes with statistics about your progress and optional email reminders to write. Before publishing, the Editor lets you send your manuscript with your editor or beta readers using a sharable link. 
Once your book is ready for readers' eyes, you simply have to click export and choose a style — the Reedsy Book Editor will take care of aligning the text, inserting drop caps and chapter titles, and turning your work into an elegant EPUB or PDF file that can immediately be uploaded to ebook distribution platforms or printing services. It's an effortless process that allows self-publishing authors to spend time and resources on other parts of their publishing project. 
Ulysses
💲 Price: $5.99/month, or $49.99/year
⭐ Best for: Mac user authors hoping to plan, write, and export their books
💡 Features: Typewriter mode, goal tracking, ability to sync between multiple devices
🤝 Editorial collaboration: No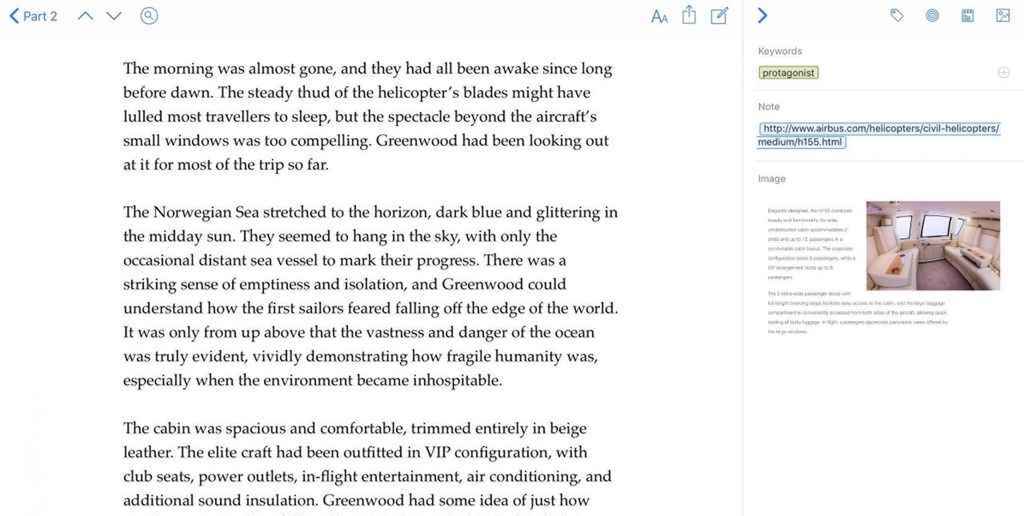 Ulysses combines the outlining functions of Evernote with a distraction-free interface — though currently it's only available to Mac users. You'll have no trouble staying organized with functions like keyword labels, split-screen view, progress-tracking, and a filing system — but when it's time to write, the app allows you to hide those features and get to work without distractions. When it's ready for publication, your book can also be exported as an EPUB file — but styling options are limited on Ulysses.
Atticus 
💲 Price: $147
⭐ Best for: Authors writing a draft or formatting their book for publication
💡 Features: Cloud saving, customizable formatting templates, export as ebook, goal tracking
🤝 Editorial collaboration: Not yet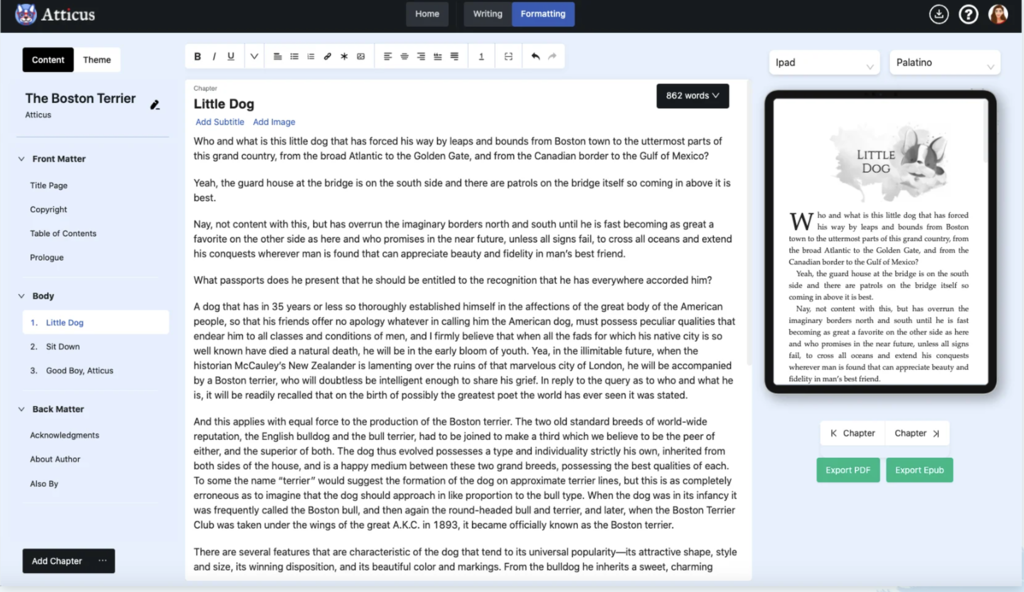 A bit newer to the book writing software scene is Atticus — another option for authors who want to write and format their book in one go. Similar to the previous two apps in this section, Atticus provides a clean interface to stay on track and write your book with goal-keeping features. Then it follows up with a range of customizable templates for you to export your book in. Atticus typesets your book and sets up all parts of the book automatically, so all you have to do is select your theme. 
You'll find Atticus helpful if you want more freedom to play with the style of your book and don't mind paying a steeper price.
Book writing software to simply write
Specialized book writing software can sometimes give you too many features without really helping you. In many cases, a word processor is all you need to write and edit your first draft. After all, no amount of fancy gear will write your book for you. If you're looking for some simple software to write with, here are your best options:
Google Docs
💲 Price: Free
⭐ Best for: Writers collaborating with each other or an editor 
💡 Features: Cloud saving, easy to share files with anyone, manual formatting options
🤝 Editorial collaboration: Yes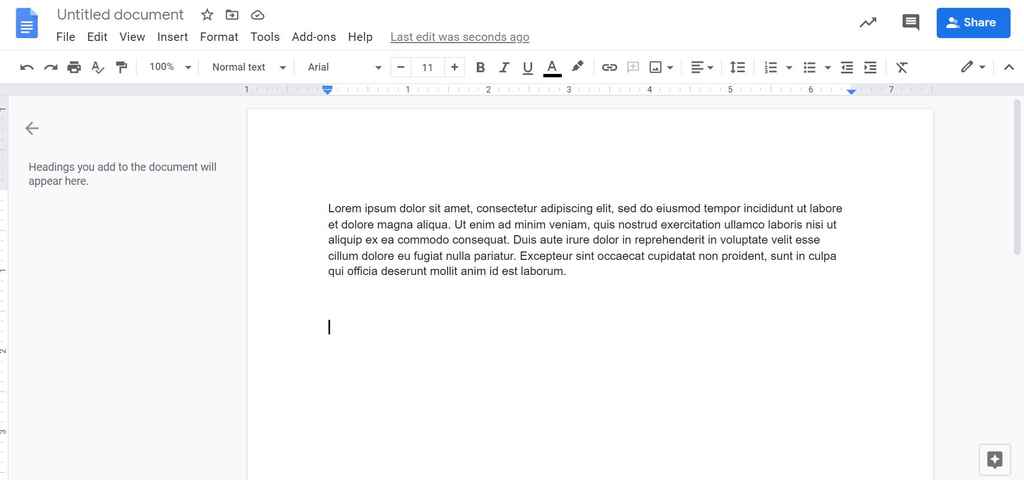 If you want a basic, free app that can handle a large amount of text, Google Docs is your guy. Available both online and offline (though you will always have to access it via a browser), Google Docs files are automatically saved to your Drive whenever you're connected to the internet. The app also has particularly strong collaborative writing and editing features — ideal for anyone who hopes to get comments and suggestions from an editor.
Give your book the help it deserves
The best editors are on Reedsy. Sign up for free and meet them.
Learn how Reedsy can help you craft a beautiful book.
As you can download Google Docs files as Word, PDF, and even EPUB files, you technically can format your ebook for publication with this app. However, you will have to waddle through the various widgets on the app for ages if you choose to format on your own. An easier option would be to use one of the formatting apps we recommended earlier.
Microsoft Word
💲 Price: $69.99/year
⭐ Best for: Writers working on a first draft or submitting to publishers
💡 Features: Built-in dictation, manual formatting options 
🤝 Editorial collaboration: Yes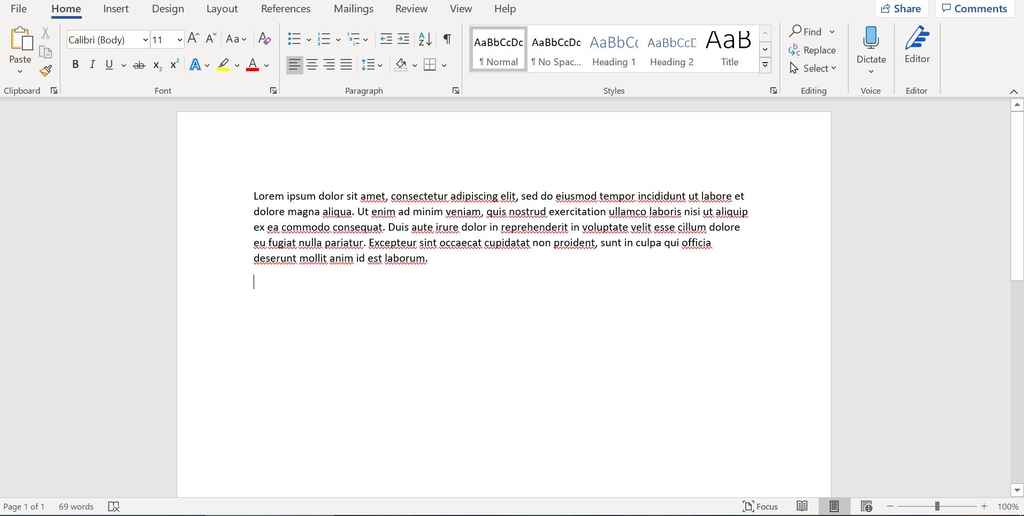 Ah, Microsoft Word: the go-to piece of writing software since the dawn of time. Everyone has Word and knows how to use it, including the literary agents and editors who will review your manuscript if you publish traditionally. As such, Word has long been the standard app for authors who want to submit to publishers or collaborate with editors using its Track Changes features. 
In fact, given Word's omnipresent, we have a free manuscript format template available as a Word file for you to use before you send your work out to agents and publishers! You can download it here:
Enter your email to download Reedsy's Manuscript Format Template!
You'll get it in your email inbox right away.
LibreOffice Writer
💲 Price: Free
⭐ Best for: Writers who prefer to write offline 
💡 Features: Cross-platform, manual formatting options 
🤝 Editorial collaboration: Yes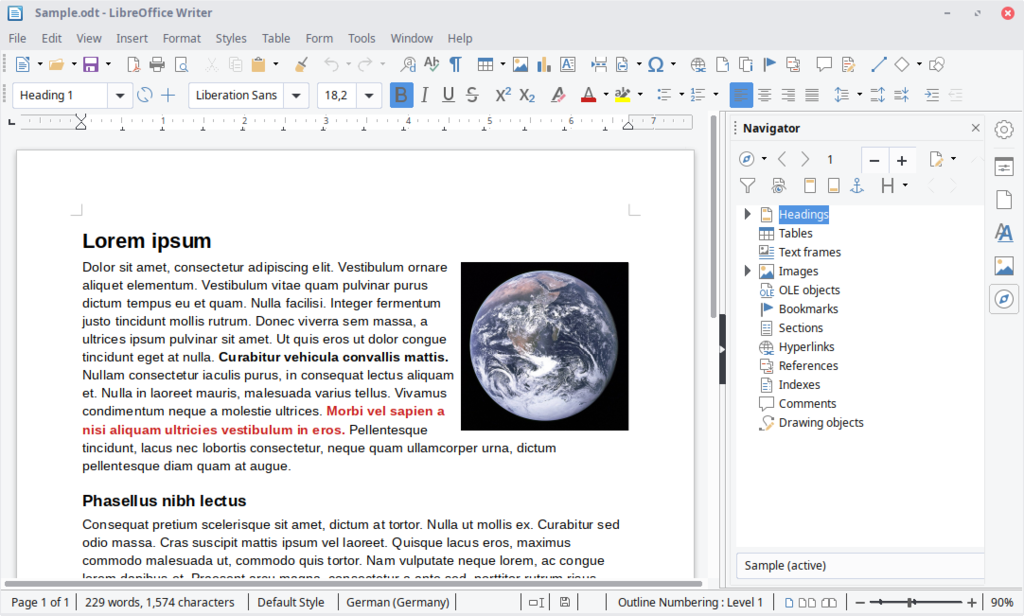 LibreOffice Writer combines the best of both worlds: it offers the offline work that Word does at the price of Google Docs — $0! This open-source word processor, developed by the nonprofit organization The Document Foundation, handles everything writing-related that the big dogs can, and runs on just about any computer out there. It's also compatible with other software, meaning you can save your work as .docx files for smooth collaborations with those who don't use LibreOffice. 
It may take some time to get used to the interface, but if you seek the functionality of a major office suite without supporting a mega tech corporation, LibreOffice is the way to go.
Pages
💲 Price: Free (as long as you own an Apple device)
⭐ Best for: Authors writing their first draft on Apple devices 
💡 Features: Handwriting-to-text, formatting templates
🤝 Editorial collaboration: Yes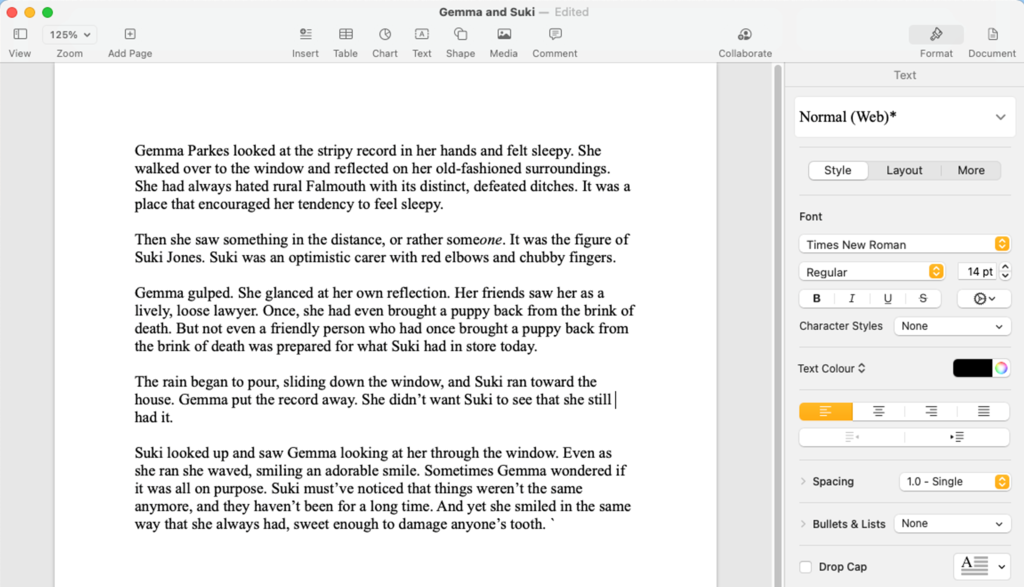 Mac users everywhere will recognize this one: it comes pre-installed on virtually all Apple devices (you can download it for free on your iPhone). Pages offers everything major processors have for free — like LibreOffice, but only to Apple users. In fact, those in the Apple ecosystem get the added benefit of Pages's handwriting-to-text function. Using an Apple Pencil, you can write, edit, and annotate your document as you would with a pen and paper, and your handwriting will automatically be turned into text. This can be a really fun, quick, and easy way to make notes on your draft during your first round of self-editing.
FocusWriter
💲 Price: Free
⭐ Best for: Writers struggling to focus
💡 Features: Spell-check, timers and alarms, daily goal tracker
🤝 Editorial collaboration: No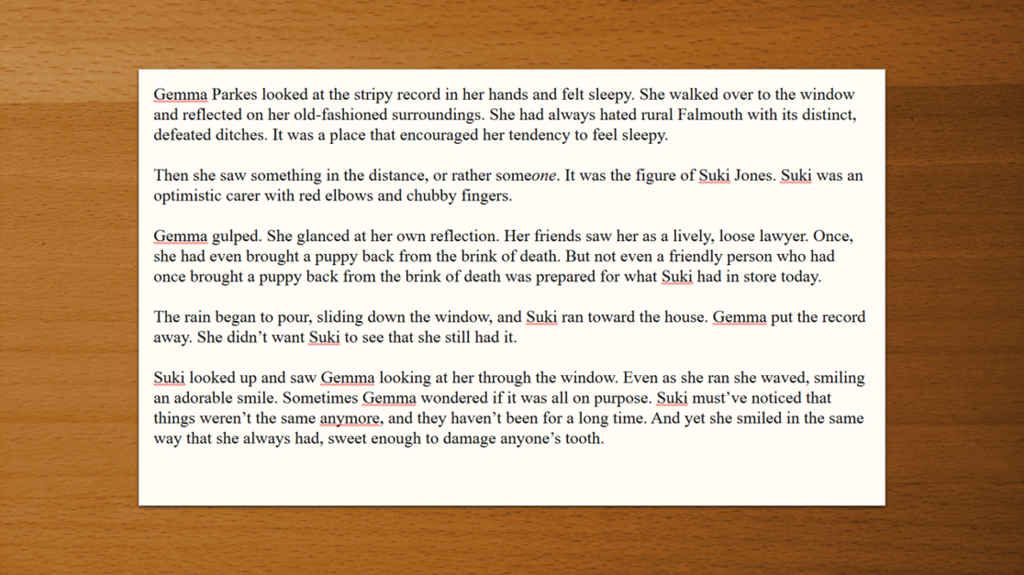 Sometimes even word processors like the ones discussed so far feel overwhelming and distracting with all of its formatting tools and features. What if you just want a clean slate with absolutely nothing to distract you from the flow of your words — not even a toolbar with unnecessary functions? FocusWriter can provide you with just that: a virtual sheet of paper (cloaked in the theme of your choice). 
Now, you can access a toolbar with several features like a timer for writing sprints, and a daily goal tracker — but in its default state, this writing software tucks them safely out of view. Recent updates have made it possible to save your work as Word files, which means you can write with FocusWriter and easily share your manuscript with others for feedback.
Frost
💲 Price: Free
⭐ Best for: Setting the mood for your writing session
💡 Features: Ambient music, sounds, and backgrounds
🤝 Editorial collaboration: No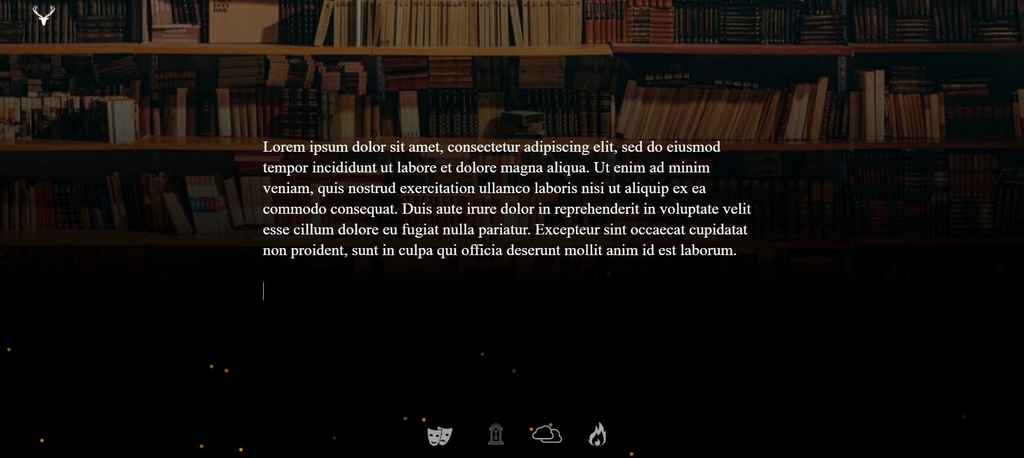 Another app to get you into the write mindset is Frost. Available online and for free, Frost allows you to write to an atmospheric backdrop that's not only on screen but also in the music around you. Set your writing desk up on a tropical beach, in a cozy library, or in the vast reaches of outer space, among other things. 
This creative approach to writing might be what you need to get out of writer's block, but it offers nothing by way of assembling a manuscript with proper formatting. Frost only lets you download your work as .txt files, so it's best to reserve this software only for when you need a change of scenery. 
Writing apps to polish your prose
Finally, if you're looking for some assistance in the style and grammar of your writing, here are the pieces of writing software you may find handy. It goes without saying that none of these can replace the expertise of a human copy editor, but they can help make things that bit neater as you go along.
ProWritingAid
💲 Price: $79.00/year
⭐ Best for: Authors who want to keep an eye on their grammar while writing in other apps
💡 Features: In-depth grammar checking, editing reports, integration with many different word processors and web browsers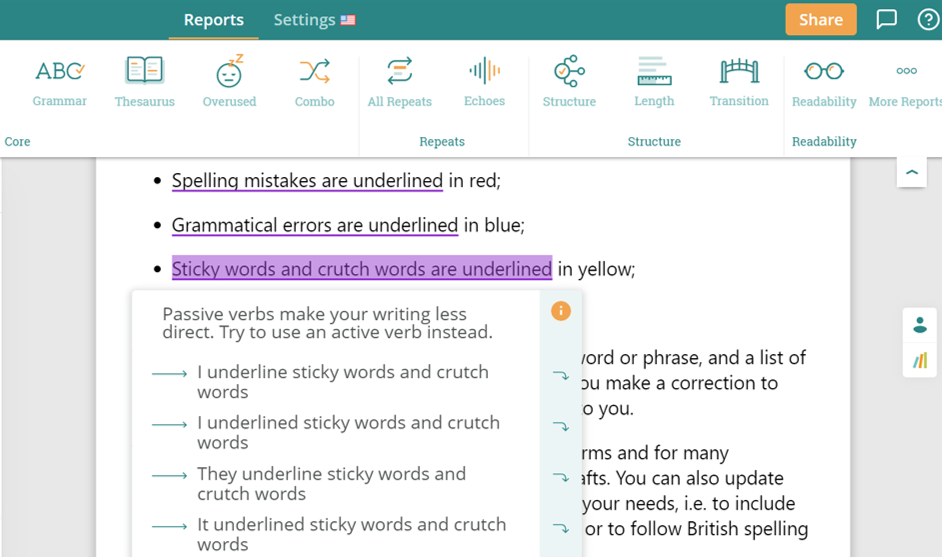 ProWritingAid aims to improve your writing by providing language checking features that not only spot grammar mistakes but also stylistic weaknesses like purple prose or passive voice — though these should be taken with a grain of salt. The app has integrations to most major word processors and browsers, so you can easily apply it to book writing software like Word or the Reedsy Book Editor. For a more in-depth analysis of its functions and uses (plus a discount code!), head over to our ProWritingAid review.
Hemingway
💲 Price: Free online, or $19.99 to download the desktop app
⭐ Best for: Authors looking for stylistic suggestions to improve their prose 
💡 Features: Basic grammar checking, readability markup, import from and export to Word and other editors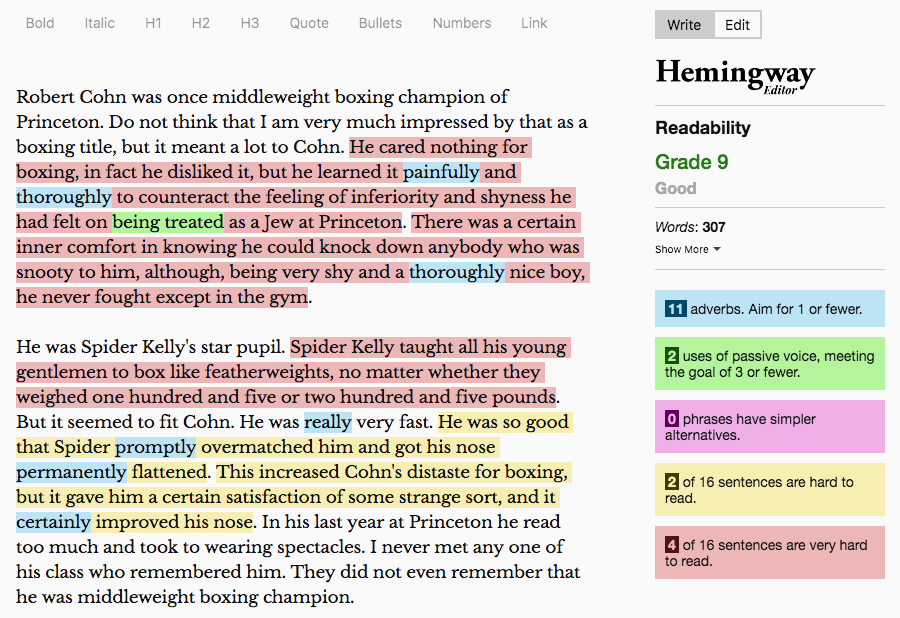 The Hemingway app is for authors who want to bring out their inner Ernie by writing prose that's "bold and clear". To help you trim the fat, it uses different-colored highlights to flag up run-on sentences, passive voice, qualifiers, adverbs, and complex phrasing to reduce. Our full Hemingway app review discusses these functions in more detail, but the biggest drawback is that it doesn't exist as an extension to browsers and word processors like ProWritingAid does. You either have to write your book elsewhere and import it onto Hemingway for an edit, or you write on Hemingway and forfeit other book-related functions like formatting tools and goal-tracking.
Grammarly
💲 Price: Free basic plan, $12/month for premium
⭐ Best for: Authors who prefer to check for grammatical mistakes as they write
💡 Features: Comprehensive grammar checking, plagiarism detection, integration with many different word processors and web browsers
🤝 Editorial collaboration: N/A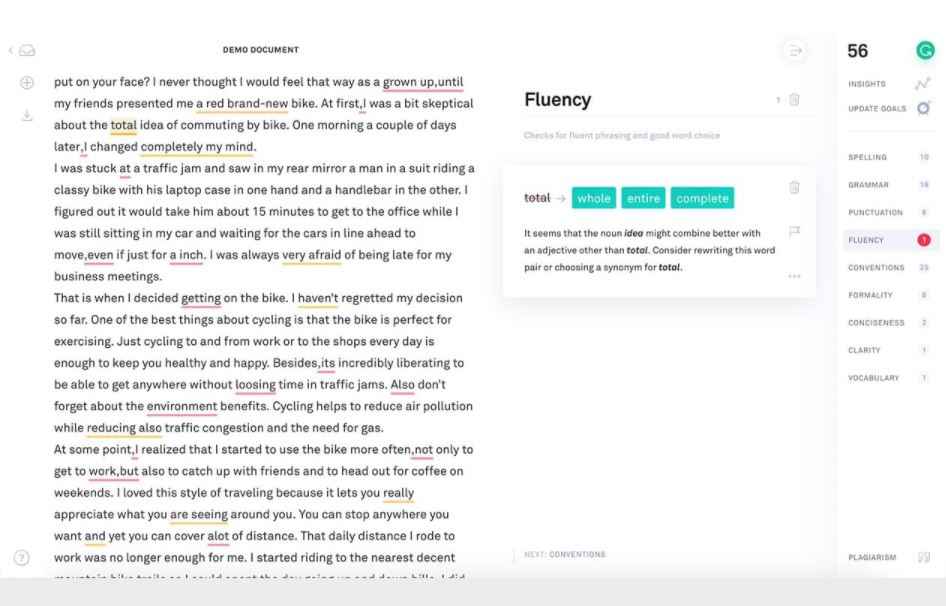 Similar to the previous grammar-based apps, Grammarly offers suggestions to correct and tighten your prose. The free version limits functions to simple spelling, punctuation, and grammar mistakes, while the premium boasts consistency, clarity, and tonal suggestions as well. It works seamlessly as an integration to your web browser and other book writing software, so it can be a handy tool to clean up easy-to-fix mistakes and allow your editor to focus on more nuanced problems.
---
At the end of the day, no app is going to be fully able to outline, write, or edit your book for you — but with these book writing software options in mind, you'll at least be able to find something that makes the process easier, streamlined, and more enjoyable. Now get out there and start creating!