Last updated on Feb 07, 2023
The Best Book Writing Software of 2023: Scrivener, yWriter, and More
There isn't any writing software that can miraculously make you a professional author. However, plenty of digital tools can help you improve your writing, become more productive and publish a book. To help you sort through a sea of apps available on PC, Mac, and mobile, we'll run through some of the best book writing software available today.
This post will help you find the best app for your particular needs as a writer.
Writing Software

Best for

Price

Reedsy Book Editor

Writing productivity;
Book formatting

Free

yWriter

Planning your story

Free

FocusWriter

Writing productivity

Free

ProWritingAid

Developing your craft

$79/year
Developing your craft
The best way to become a better writer is simply to write prolifically. But it might also help to have a kindly electronic tutor looking over your shoulder.
Hemingway
Price: Free online, or $19.99 to download the desktop app
The Hemingway app is for authors who want to bring out their inner Ernest by writing prose that's "bold and clear."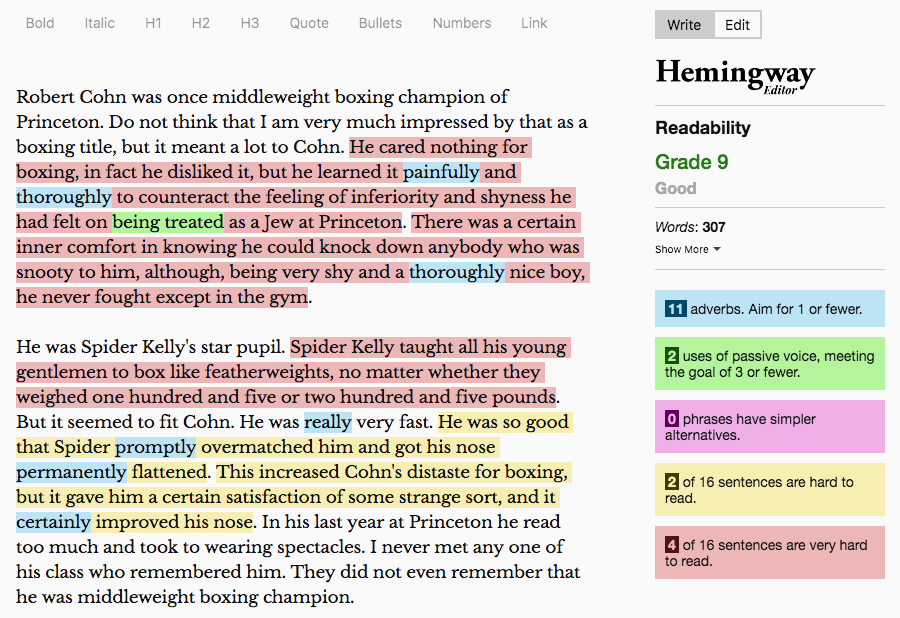 To help you improve your writing in real-time, the app highlights text with colors that indicate run-on sentences, passive voice, qualifiers, adverbs, and complex phrasing to reduce. Our full Hemingway app review discusses these functions in more detail, but one drawback is that it doesn't exist as an extension to browsers and word processors. You either have to write your book elsewhere and import it onto Hemingway for an edit, or you write on Hemingway and forfeit other book-related functions like formatting tools and goal-tracking.
---
If you struggle to write consistently, sign up for our How to Write a Novel course to finish a novel in just 3 months.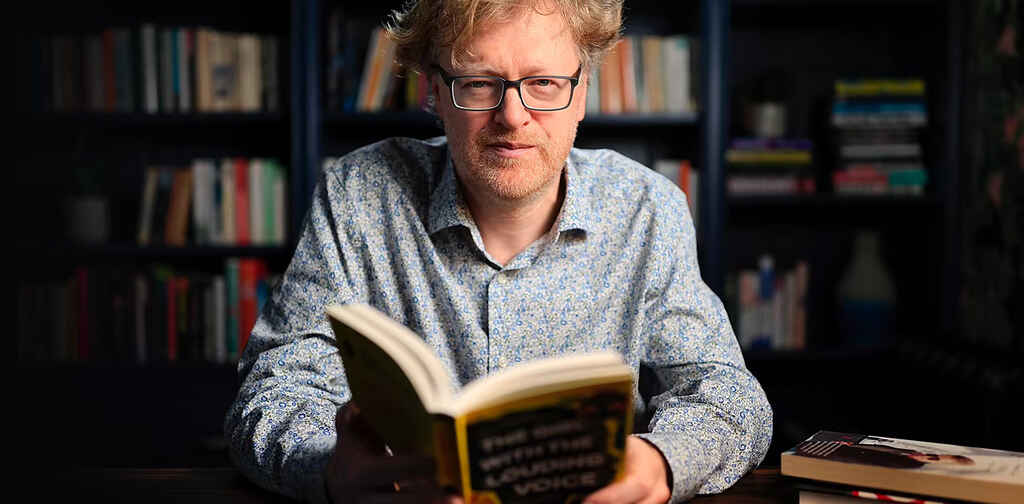 How to Write a Novel
Enroll in our course and become an author in three months.
---
ProWritingAid
Price: $120/year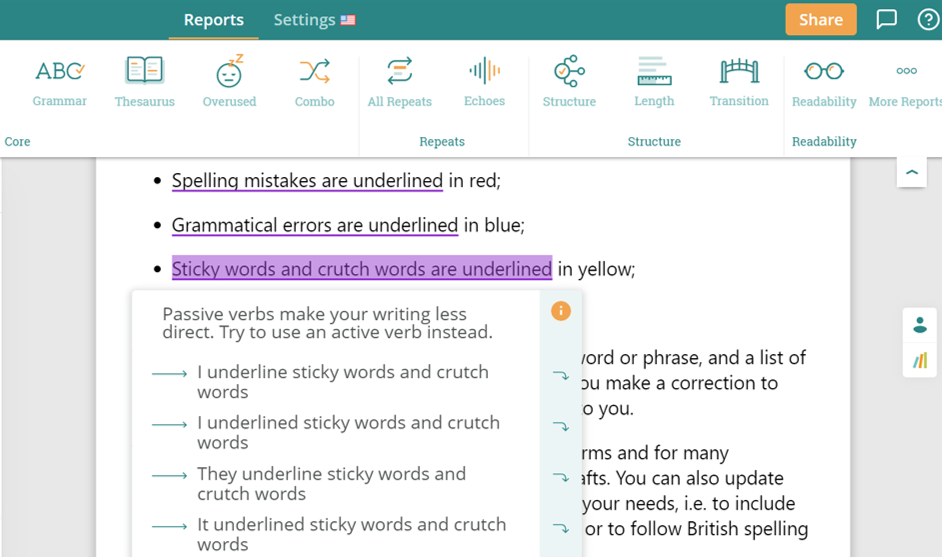 ProWritingAid aims to improve your writing by providing language-checking features that spot not only grammar mistakes but also stylistic weaknesses like purple prose or passive voice — though these should be taken with a grain of salt. The app has integrations to most major word processors and browsers, so you can easily apply it to book writing software like Word or the Reedsy Book Editor. For a more in-depth analysis of its functions and uses (plus a discount code!), head to our ProWritingAid review.
Writing productivity
Inspiration is nothing without the discipline to complete your first drafts. The features on these apps are designed to help you become more productive writers.
FocusWriter
Price: Free
Sometimes even word processors like the ones discussed so far feel overwhelming and distracting with all of its formatting tools and features. What if you just want a clean slate with absolutely nothing to distract you from the flow of your words — not even a toolbar with unnecessary functions? FocusWriter can provide you with a virtual sheet of paper (cloaked in the theme of your choice).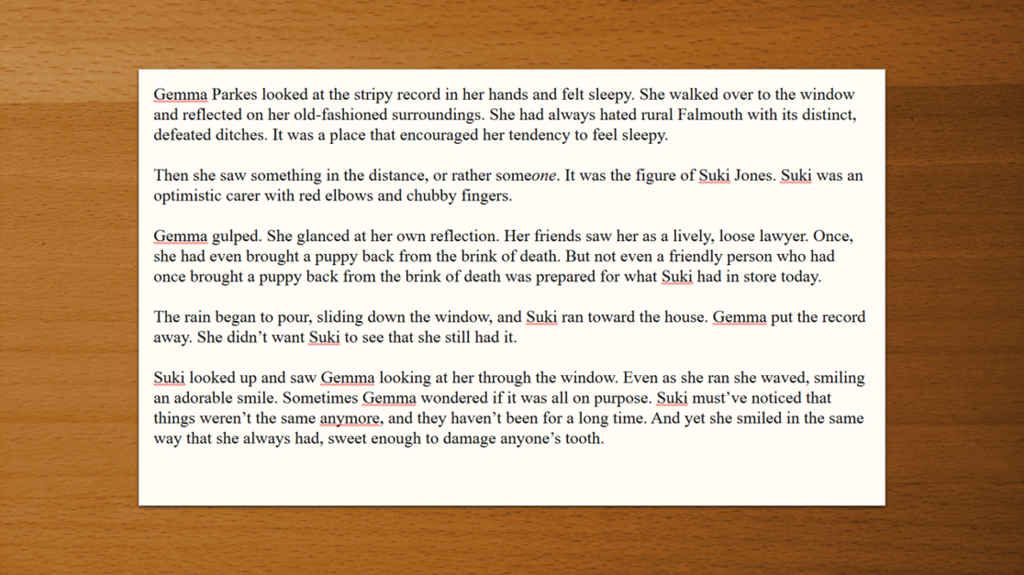 Now, you can access a toolbar with several features like a timer for writing sprints, and a daily goal tracker — but in its default state, this writing software tucks them safely out of view. Recent updates have made it possible to save your work as Word files, which means you can write with FocusWriter and easily share your manuscript with others for feedback.
Reedsy Book Editor
Price: Free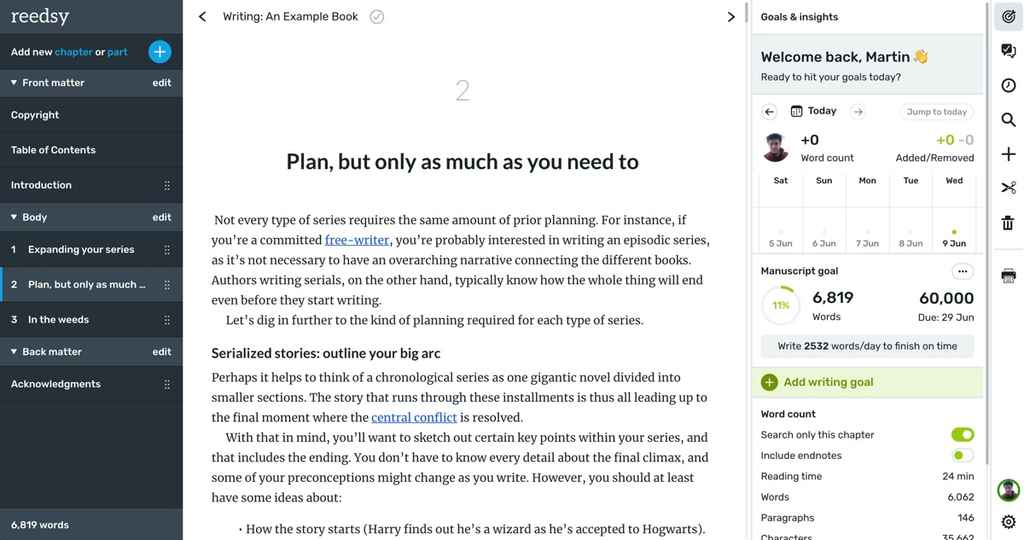 Designed to meet the key needs of authors, our Reedsy Book Editor is a free, all-in-one piece of book writing software. On its unobtrusive interface, you can write your book with the help of a built-in spell-check system (tailored to your preferred language) and a goal-tracking feature that will help you hit your deadlines. Simply enter your target length, tell the RBE which days of the week you intend to write, and the app will automatically set your daily word count goals.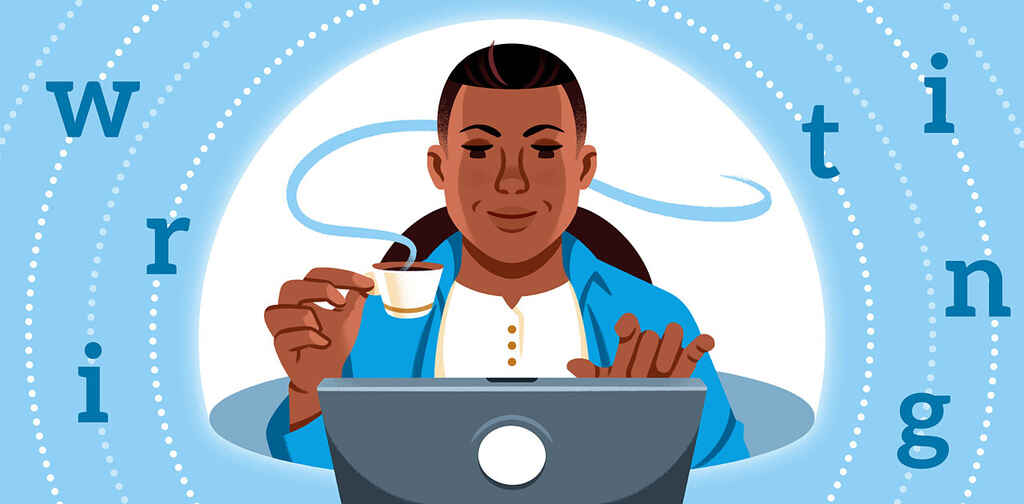 The Reedsy Book Editor
Set goals, track progress, and establish your writing routine in our free app.
Freedom
Price: $39.96/year
If you're struggling to find enough discipline to make the Pomodoro method work, it might be time to call in the distraction-busting big guns. You can install freedom on one or all of your devices, and during your writing sprints, the app will cut off your access to your apps, the entire internet, or a self-selected collection of 'distracting websites' (Facebook, Instagram, OK Cupid, etc.).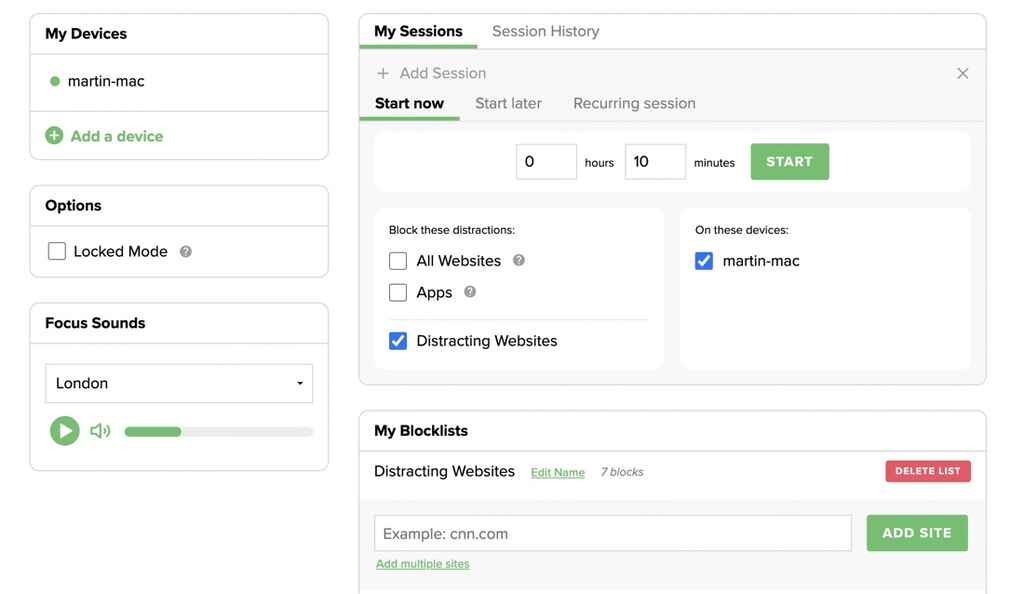 Our favorite bonus feature on Freedom is its library of 'Focus Sounds' that includes ambient coffee shop noises from over a dozen cities. Want to imagine that you're writing in a Joe & The Juice in Stockholm or a Starbucks in Santiago, Chile? Here's your chance!
Planning your story
Many writers love plotting out their books on corkboards and spiral-bound notebooks. But if you're looking for tidier alternatives (or programs that can prompt you in the right direction), you may want to check these out.
yWriter
Price: Free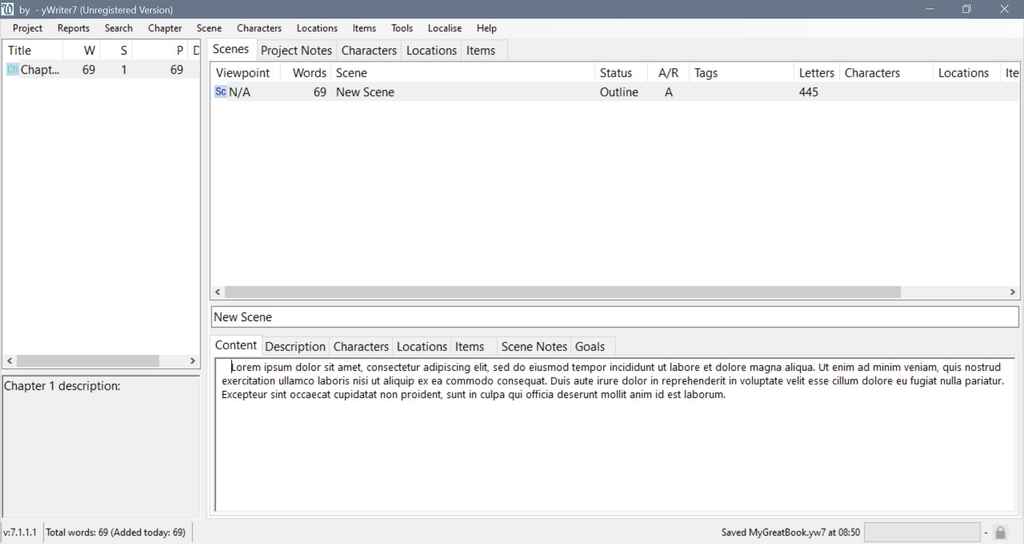 yWriter looks a bit dated, and it's not yet available to Mac users, but it's a formidable piece of writing software for anyone writing science fiction or fantasy — or any project with a lot of complex worldbuilding details. By dividing your work into scenes (on which you can tag relevant characters and locations), yWriter helps you track every development in the manuscript as you write. 
Campfire Write
Price: Starting at $1.50 per month 
Another option for science fiction and fantasy writers is Campfire Write. Created with these genres in mind, this web-based book writing software lets you map your story by Elements (characters, locations, maps, species, cultures, philosophies, etc.), which can be purchased individually, as needed. Say you only subscribe to the manuscript writing feature, it'll cost $1.50 a month. If you want to have several character profiles, a culture outline, and a couple of interactive maps, you can expect to pay $5.25 a month.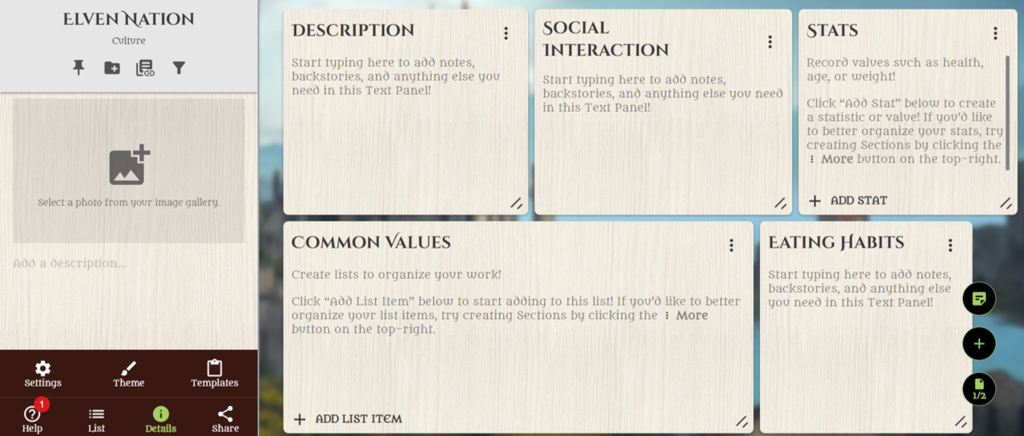 Your work here can also be shared with an editor (who can leave comments on your work) or with the Campfire writing community at large. While it takes some time to familiarize yourself with its many details, Campfire can be a useful and fun tool for writers to build their universes. We've also reviewed Campfire Write in more detail.
For 20% off all lifetime purchases on Campfire, use the promo code REEDSY20 at checkout.
Scrivener
Price: $49 
Scrivener is a favorite among authors in no small part because it is one of the first writing programs created with authors in mind. With its corkboard function that allows you to see your whole project in one view, its split-screen mode for you to reference research as you write, and its clean-cut filing system, Scrivener gives authors a good workspace whether they need to outline their book before writing or figure out the big picture as they write.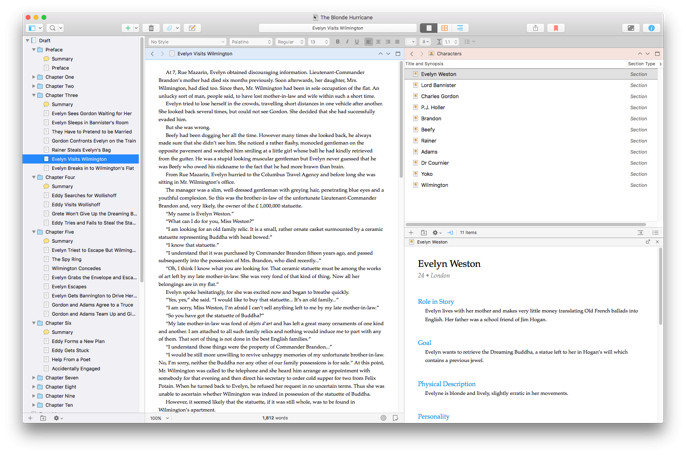 However, there's a pretty minor drawback: Scrivener is a complex piece of writing software with a steep learning curve. It may be well worth it if you plan to write numerous books down the line, but not so much for a one-off writer, especially since it isn't free.
Formatting your book
If you're looking to join the self-publishing revolution and become the next big author on Kindle, you'll need a way to turn your manuscript into a professional-grade ebook and paperback. Thankfully, there's an app for that!
Reedsy Book Editor
Oh look! A second appearance for the Reedsy Book Editor. But hey-ho: our site, our rules. 
With the RBE's formatting abilities, you can import your manuscript from a .docx file and apply stylistic flourishes in minutes. Simply click 'Export' and choose a style — the Reedsy Book Editor will take care of aligning the text, inserting drop caps and chapter titles, and turning your work into an elegant EPUB or PDF file that can immediately be uploaded to ebook distribution platforms or printing services. It's an effortless process that allows self-publishing authors to spend time and resources on other parts of their publishing projects.
---
At the end of the day, no app is going to be fully able to outline, write, or edit your book for you — but with these book writing software options in mind, you'll at least be able to find something that makes the process easier, streamlined, and more enjoyable. Now get out there and start creating!