Should You Get a Publishing Degree, and What are the Best Programs?
Getting a publishing degree is a relatively new thing, considering the long history of the industry. Publishing professionals often hold Humanities degrees, enter entry-level jobs, and get trained. Now, you have a range of options to further prepare yourself with master's in publishing programs — but are they worth your investment? And which are the best degrees? We'll give you an overview of the pros, cons, and worthy degrees in this post.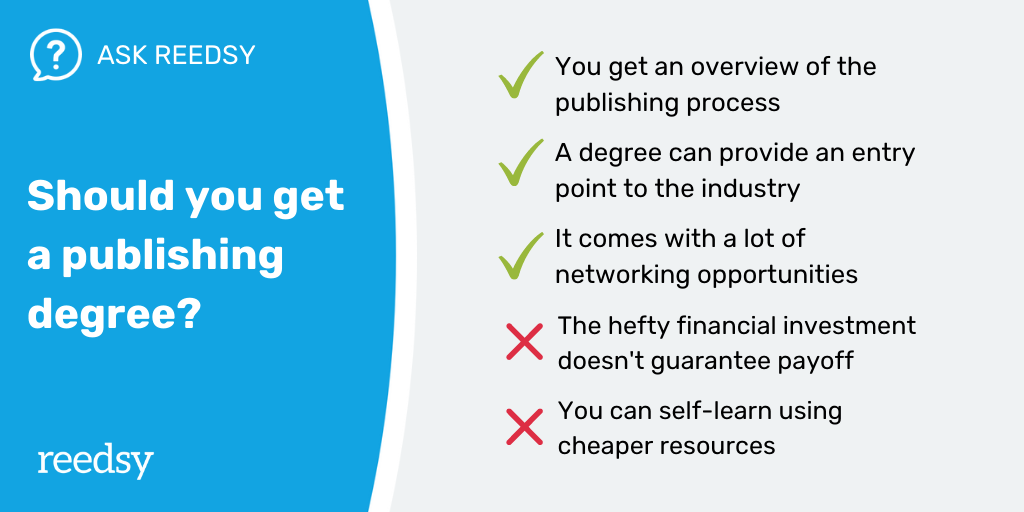 Below we provide a general look — it's recommended that you work with a qualified career advisor to come to the best decision for you personally. 
A degree provides an overview of the publishing process
Something working in publishing (especially in Big 5 imprints) probably won't give you is a sense of how the publishing machine works. Usually, you'll get a job in one field — say book marketing — and focus on that part of the book production process. As a book marketer, you collaborate closely with other marketers and publicists on your team to boost a book's visibility, but you're unlikely to work directly with the author, editors, and designers. You probably won't get to know how other departments work.
If you're not yet sure what you want to go into or curious about other aspects of the industry, then a degree course can take you through all the steps and jargon that come with them and help you make informed decisions. 
It can help you break into the industry
To be clear, a publishing degree is not required to secure a job in the industry. You can move over from other academic or professional fields if you can show that you have the skills and enthusiasm needed for the job. 
But for those with less work experience to back your case, a master's degree in publishing can be useful. By investing in a whole degree, you gain some relevant skills and show employers that you're serious about this career path. Anything that indicates a willingness to stay on in an industry with a high turnover rate can only add a point to your CV. And it goes without saying that the training a degree provides you can make it that bit easier for you to get used to the job — another thing employers will appreciate.  
You can start networking as a student
Publishing, like most industries, is often reliant on connections — a lot of the time, you find jobs and projects through the people you know. And a publishing degree gives you plenty of chances to do this before your career even begins. 
The first people to form part of your professional network are your teachers. A lot of the time, publishing degree lecturers work in the industry while they teach you, making them exceptional guides. Many institutions will also invite experienced professionals to their campus to give speeches and one-off seminars, which are again great opportunities to connect with people in the field. And, of course, those who study with you probably form the next cohort of editors, marketers, and publishers who are connected to you through this degree. 
But a degree costs a lot...
As with any degree, a master's in publishing is costly. Not only can the tuition be a hefty financial burden, but most courses are also taught in publishing capitals like New York or London, which come with high living costs. If you are to enroll in a degree program, you will have less time to work — meaning you'll have to save up, take a loan, or rely on sponsors to get through it.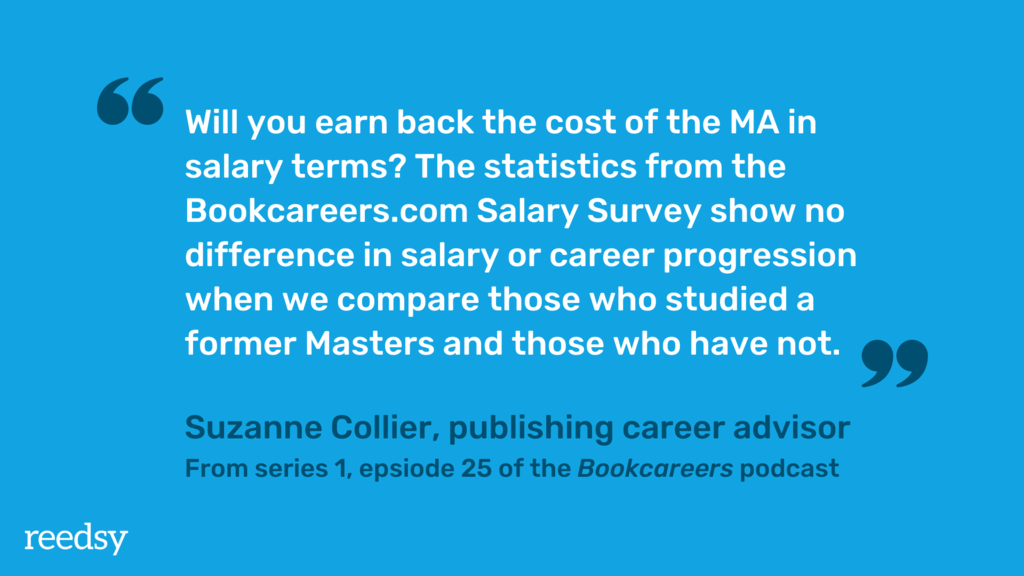 This investment often isn't quickly paid off either — publishing isn't known for its high salaries, especially for entry-level jobs. Publishing career advisor Suzanne Collier runs an annual salary survey, which "shows no difference in salary or career progression when we compare those who studied a former Masters and those who have not." You can hear more of her advice on the matter in her podcast episode on master's in publishing, but the main thing to note here is that such a big investment doesn't guarantee a financial payoff. 
...And you can learn plenty on your own 
While a publishing degree can give you a formal space to learn about work in the industry, it is not the only way to learn. There are books, articles, and webinars that you can access at a much lower price than a course that can give you plenty of knowledge and insights. For instance, we organize monthly live chats with professionals to hear their career development tips that are free to attend. 
However, you will have to actively curate these materials to suit your needs and the path you want to go on. It'll possibly take longer to learn than a degree program would take, but it costs far less. 
Top master's in publishing degrees to consider
If you've thought about it carefully and decided to get a publishing degree, consider these six well-established options. 
Note: The tuition fees below reflect the fees for 2022 entry for local students. Courses may have different fees for international students. 
| | | | |
| --- | --- | --- | --- |
| Publishing degree | Location | Full tuition  | Duration |
| MPS in Publishing (George Washington University) | Alexandria, USA  | $31,560  | 2 years |
| Publishing MS (Pace University) | New York, USA | $46,512 | 1.5-2 years |
| MS in Publishing (NYU) | New York, USA | $68,344 | 2 years |
| Publishing MA (Kingston University) | London, UK | £10,500  | 1 year (2 years part-time) |
| MA in Publishing Media (Oxford Brookes University)  | Oxford, UK | £8,900 | 1 year (2 years part-time) |
| MA in Publishing and Writing (Emerson College) | Boston, USA | $53,960 | 2 years |
1. George Washington University: Master of Professional Studies in Publishing
📍 Location: Alexandria, USA
🌐 Online learning option: Available
📆 Duration: 2 years (part-time) 
💲 Tuition fees: $31,560 in total
📧 Apply here
Taught by professionals who have and are still working in various publications (be it magazines, academic journals, or trade publishers), the publishing master's program at George Washington University is a top choice for many candidates. Not only do you get a wide overview of the many branches of publishing, but you also learn from the real experience of veterans of the trade.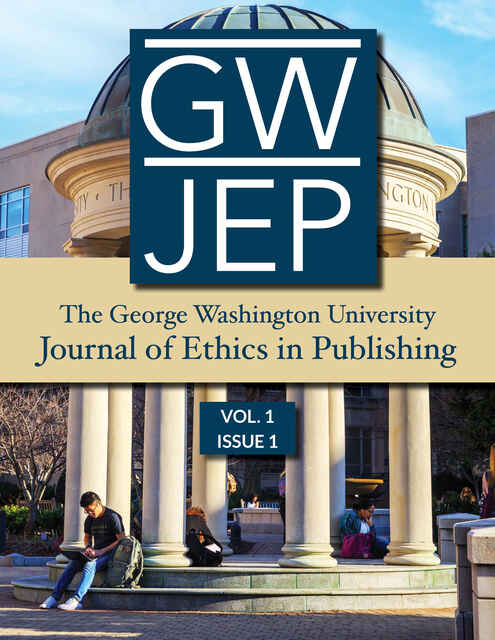 There are seven mandatory courses making up 16 credits, covering several kinds of publishing (including ebooks), copyright law, management, and ethics in publishing. You then get to specialize in whatever you're curious about with the other 14 credits — so whether you want to become an editor or work on book designs, you can find this degree useful. The program is accessible whether you're working or not: all is done part-time through night classes over two years, and you can opt for online learning if you're unable to go in person. 
2. Pace University: Publishing MS
📍 Location: New York City, USA
🌐 Online learning option: Available
📆 Duration: 1.5 to 2 years
💲 Tuition fees: $46,512 in total
📧 Apply here
If you're aiming for project management roles in the publishing field, you might enjoy the degree program at Pace University. Its core courses, which take up half of the 36-credit curriculum, cover everything from editorial processes to information systems — the latter of which is currently a pain point in many publishing houses. While technology evolves, much of the publishing industry still relies on out-dated managerial systems that are complicated and can overburden employees with administrative tasks. Pace University allows you to learn about and explore solutions to this and other issues, which makes the course useful for existing professionals. 
Find exciting new projects
We connect publishing professionals with our community of 1,500,000 authors.
For newcomers, Pace also offers an internship elective, which comes with support to find appropriate opportunities (of which there are many, given that you'll study in New York) from faculty. While interning, you also get sessions to record, reflect, and discuss your experience with course supervisors, which can become the foundation of your end-of-program thesis. 
3. New York University: MS in Publishing
📍 Location: New York City, USA
🌐 Online learning option: Unavailable
📆 Duration: 2 years
💲 Tuition fees: $68,344 in total
📧 Apply here
Since New York is the capital of publishing in America, it's not surprising to find excellent publishing degrees in this city — and NYU's program is another strong candidate. Divided into three different pathways (media content development, media marketing, and media profitability) all of which end with a business plan for a media company of your creation, the degree is ideal for anyone who wants to make it to managerial positions.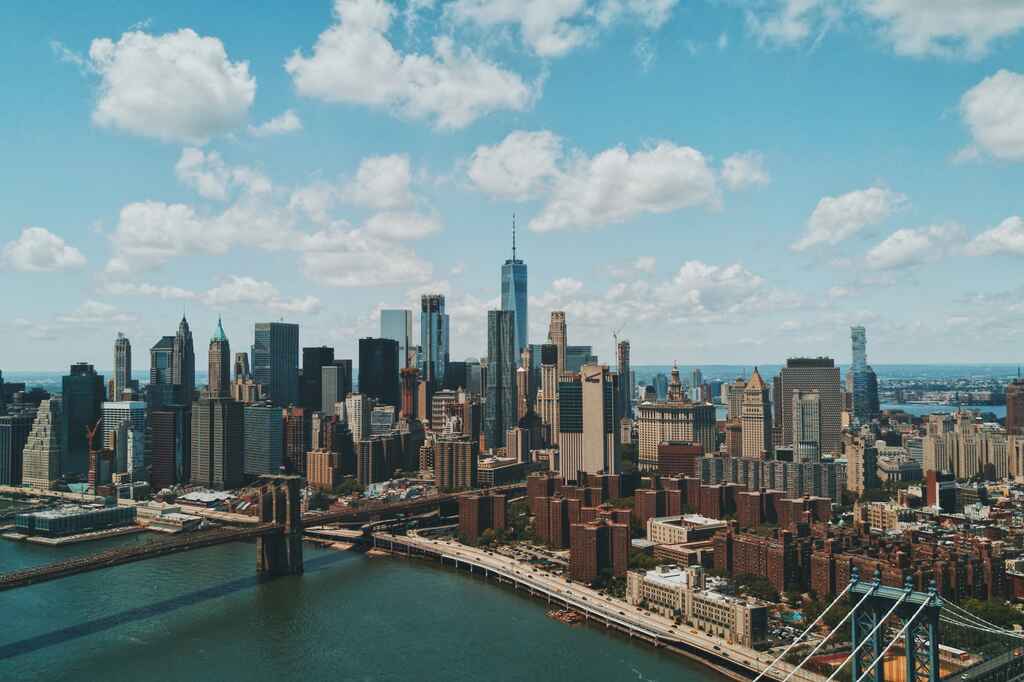 NYU also offers plenty of chances for practical experience and networking, given the number of publishing houses in New York City. One of the electives is an internship course, and there are various opportunities to volunteer at international book fairs across the world so you can learn hands-on while building connections with working professionals. One other plus point is that NYU welcomes international students as well as US-based ones. 
Looking for more ways to network? If you're in editorial, joining a professional editing society will help.
4. Kingston University: Publishing MA 
📍 Location: London, UK
🌐 Online learning option: Available
📆 Duration: 1 year full-time (2 years part-time)
💲 Tuition fees: £10,500 for UK students, £17,200 for international students
📧 Apply here
Across the Atlantic is another publishing hub: London. Kingston University may be located on the border of this city but its program (or should we say programme) is as up to date with the industry as any. You'll complete two core modules to learn about the publishing process and how to exist and grow as a professional in the field, followed by more specialized courses on content development and marketing. 
What stands out the most about Kingston's master's degree in publishing is its practical elements. For the final project, you either can write a dissertation or you can work on a publishing project. This can be a book, a literary magazine, or a journal which you produce as well as identify stakeholders for — you can even work with a publication on it. You'll have to find this collaborator yourself, though the program encourages you to dive deep into its operations by offering a 12-month work placement option. 
5. Oxford Brookes University: MA in Publishing Media 
📍 Location: Oxford, UK
🌐 Online learning option: Unavailable
📆 Duration: 1 year full-time (2 years part-time)
💲 Tuition fees: £8,900 for UK students, £15,200 for international students
📧 Apply here
Oxford is another center for publishing in the UK, particularly academic publishing. That said, Oxford Brookes University's program can be useful to professionals working in any kind of publication, including trade publishers.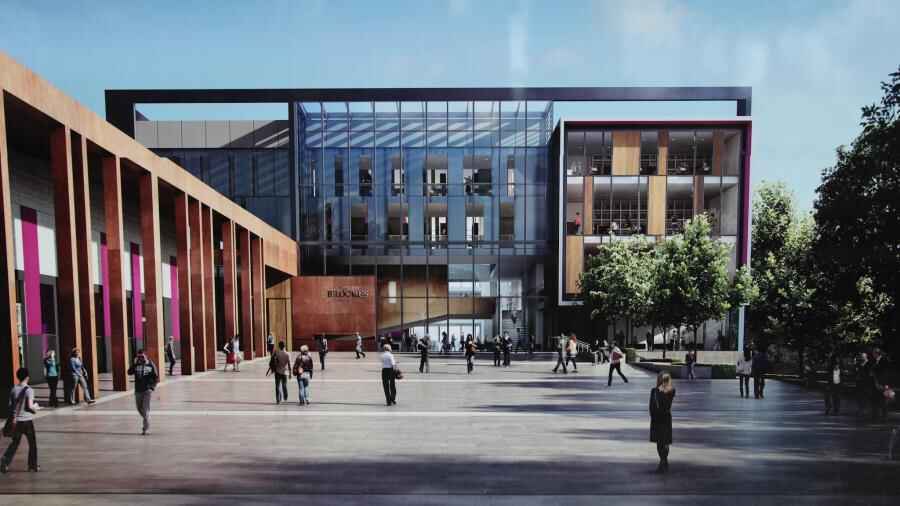 Beyond the basics, this program has options to go into specific genres like children's books, general fiction, trade non-fiction, and academic and journal publication. For your final project, you can go down the research path, looking at the industry's history and culture, or pick a more practical thesis by methodologically studying an issue you've encountered in your own work experience. 
Another nice thing about Oxford Brookes is that they also let you take fewer modules (and pay less) if you're happy with earning a certificate or diploma by the end of it. And if you want an even more flexible, distance learning option, consider their MA in Publishing. 
6. Emerson College: MA in Publishing and Writing
📍 Location: Boston, USA
🌐 Online learning option: Available
📆 Duration: 2 years
💲 Tuition fees: $53,960 in total
📧 Apply here. 
For those who know they want to pursue editorial work, Emerson's publishing degree might be what you're searching for. While teaching the same core courses as other institutions, what stands out in Emerson's offer is the electives, which are to be taken from their Literature, Writing, and Publishing departments. With this you can focus on literary skills like copy editing, travel literature, or creative nonfiction. 
Alternatively, if you're even more sure about your future path and know fiction is the way to go, then consider Emerson's MFA in Popular Fiction Writing and Publishing. It is much heavier on the writing side of things, but if you don't love the administrative work involved in other publishing degrees, it is a good alternative. 
For cheaper (but still useful) qualifications, check out our list of top copy editing certificates! 
---
With more and more institutions offering publishing degree programs, you are bound to find a curriculum that provides exactly what you're looking for. It will be a big investment, so consider whether you'll get enough benefits to justify the cost and choose your program with great care. Hopefully, you find the route that sets the foundations for an exciting publishing career!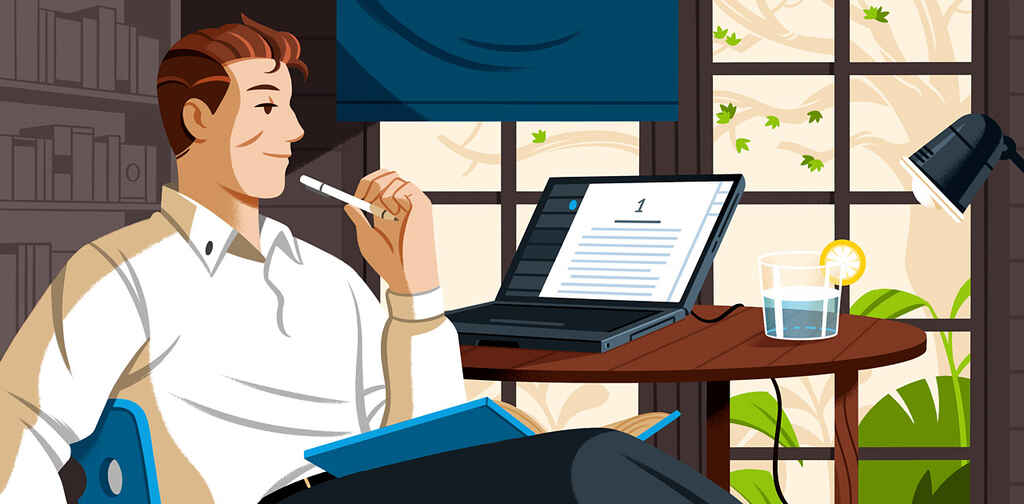 The Full-Time Freelancer's Checklist
Get our guide to financial and logistical planning. Then, claim your independence.