13 Author Websites That Get It Right
Now that you've read our 10 Tips on How to Make an Author Website, you're probably ready to set up shop. If you're itching to make a big impression, but need a boost of creativity to get you started, check out the 13 author websites below.
Each website was picked because it features an example of effective and personal author marketing that you can incorporate into your own website. Take a look, and don't forget to leave us your thoughts and opinions in the comments! 
If you're having trouble imagining your website, we recommend taking this quick 30-second quiz to get matched with a website style of your own: 
💻
Tell us about your book and we'll match you with a website style!
It'll only take a minute!
Otherwise, read on to get 13 more examples of scintillating author websites! 
1. David Sedaris: Put your book front and center
Authors often make the mistake of thinking that people visit their websites just to read their bio. Are you, the author, important? Sure, but your book's more important. Let people know they're on an author's website by making your product the star of the show, as David Sedaris does. A minimalist setup makes it impossible not to notice the main event: David's new book.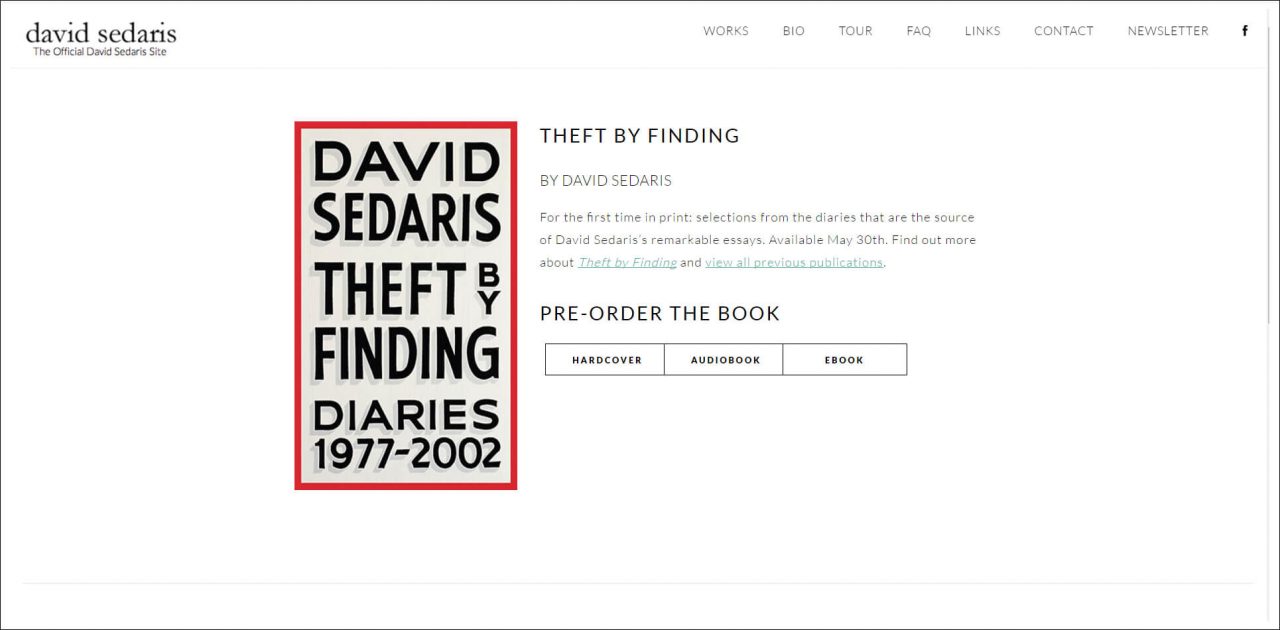 Also important: the buttons below "Pre-order now" that steer folks to your retailers. To build the perfect author website, you must generate retailer links to your books. Once you have a book to sell, you need to make sure people know where to buy it.
Pro tip: Keep site speed in mind! On the technical side, a simple setup will help your site load faster. Heavy images will slow a site down and frustrate visitors. They came to find out about your book, not wait around watching their fingernails grow.
Takeaway: Promote your book.
If a reader visits your site and doesn't realize immediately that you're an author with a book to sell, you're probably doing something wrong.
Looking for an author website designer?
Hundreds of the best website designers are on Reedsy. Sign up to meet them within seconds!
Learn how Reedsy can help you craft a beautiful book.
2. J.K. Rowling: Add a social element
Granted, not every author can burn cash on a website like J.K. Rowling can. However, her online presence features several practices that are good takeaways for any author website.  With Pottermore, she's created an interactive book world where fans can interact online. (Bonus content and virtual butterbeer galore!) You might consider offering a similar option for the friendly visitor, even if it's just a feed of your Twitter or a newsletter.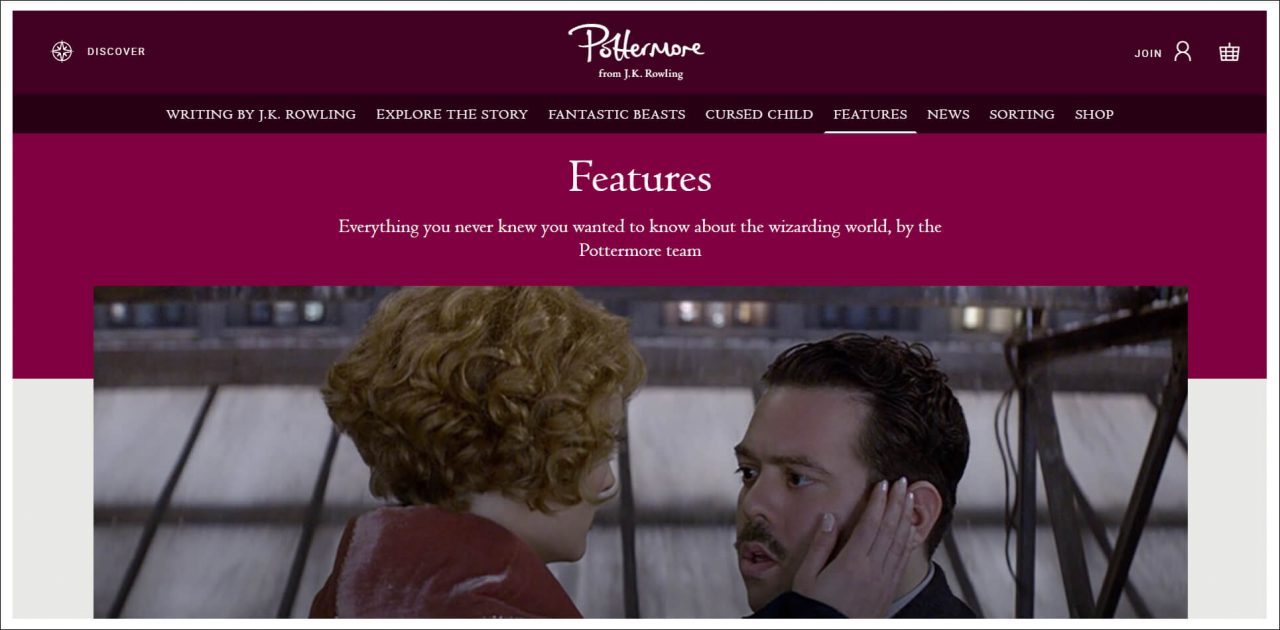 And if you're not on social media yet, get started right away! Amongst other things, it's a powerful tool for building your community of fans and supporters. At minimum, you should be providing an email sign-up form on your front page to pick up those contacts.
Takeaway: Make your site interactive for engagement and retention.
If your site is a pretty-but-static thing, you're wasting an opportunity. You want to engage people — and you want your interactions to be a two-way street.
3. Austin Kleon: Keep your website up-to-date
On that note, don't show off your social media feeds if you don't post regularly. Your author website should be kept up-to-date. Easier said than done? Of course — but Austin Kleon does an excellent job of it, as evidenced by his homepage below.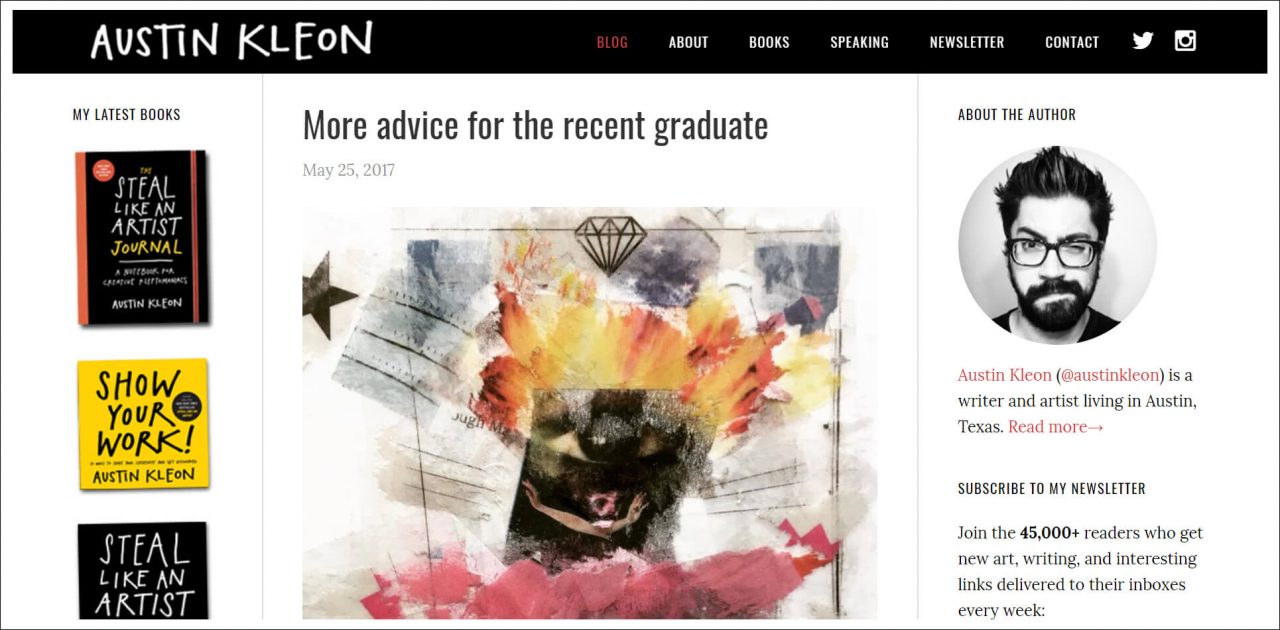 Unless you can uncannily churn out quality books on a constant basis, your website will probably remain inactive for periods at a time. However, when people visit your site, you don't want it to seem as though it's been idly collecting dust for years. You want it to seem as though someone is home.
Austin Kleon's website achieves this with regular blog posts displayed front and center. Straight away, you know that Austin is around and still writing. What's more: it's good for business! Studies show that businesses that run blogs have 55% more website visitors than those that don't.
Takeaway: Give people a reason to come back.
Knock, knock. Who's there? You should be. Something as simple as an up-to-date Twitter feed or a list of upcoming events can keep your website feeling fresh and show that you're committed to interacting with your readers. If you're able to blog regularly, all the better! And if your blog gets popular enough, it could even become the foundation for your next book.
Free course: Creating an author blog
Build and run a blog that will perpetually attract new readers (and make them buy your book). Get started now.
4. Veronica Roth: Go to your readers
The favorite social networking site of Americans under the age of 25 is no longer Facebook, which means that other sites have started to become more prevalent. While Tumblr may not seem like an obvious home for the blog of a best-selling novelist, it makes sense when you realize that "under 25" is the exact age group of Veronica's readers. [Update: Veronica Roth's Tumblr page is no longer live]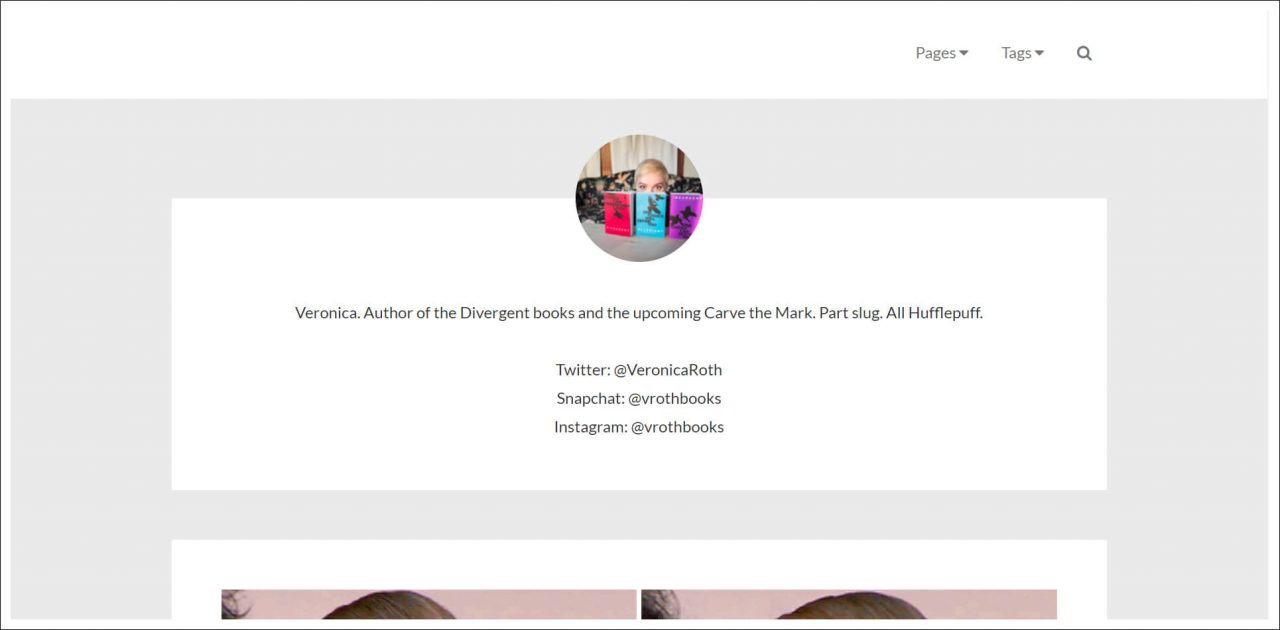 Veronica doesn't exactly need a leg up in terms of discoverability. However, the point remains that if you have written your novel for a certain market (and authors who have done their due diligence will know this is essential), then you correspondingly want to ensure you are putting your book and yourself out there in a way that is accessible to that market.
Furthermore, by making her presence as an author known in an online space her readers already frequent, it's almost like she's just "hanging out" with them. In this way, she's able to foster a better sense of connection between her and her readers, which goes a long way in ensuring future sales of upcoming books.
Takeaway: Make sure you're visible to your target market.
Not all author websites need to be authorname.com. Figure out where your readers spend their time online, and make your website available there. In other words: go where your readers are. Don't wait for them come to you.
5. Jon Krakauer: Negative space is your friend
An author website can't (and shouldn't) look like a textbook. Instead of cramming text into every corner, use negative space! When you implement it correctly, negative space will make your visitors' eyes jump exactly where you want them to (such as the "BUY NOW" button.)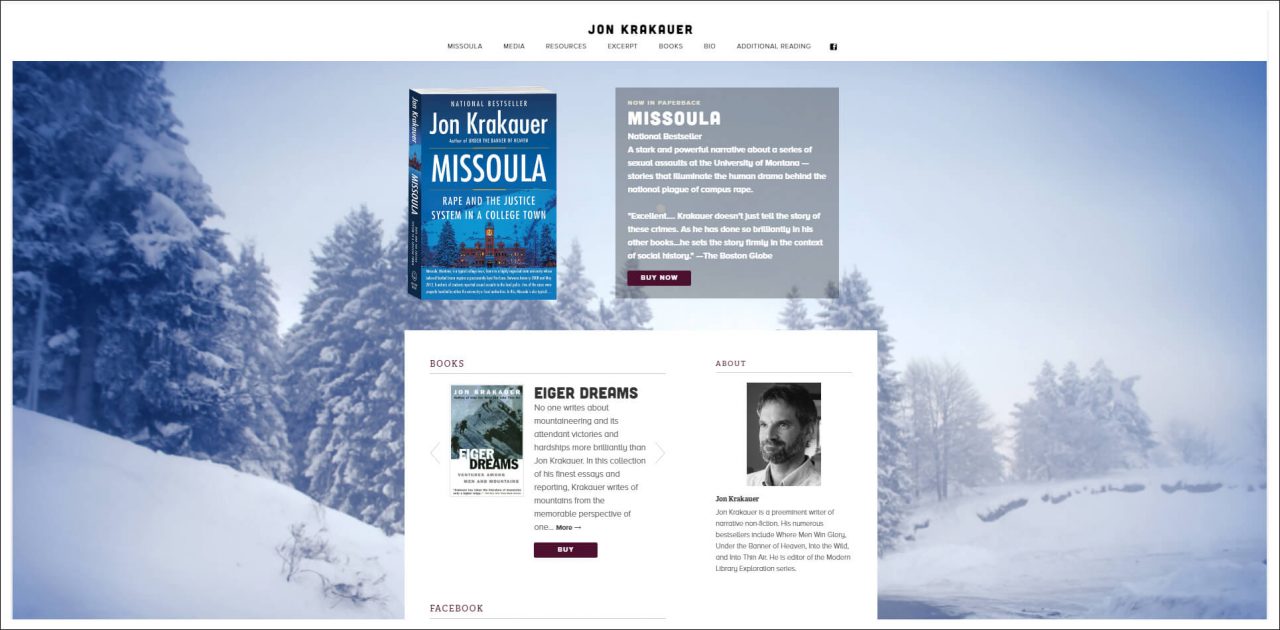 A writer's natural impulse is to stuff every bit of empty space with text. Resist that impulse! You may have just written a 100,000-word novel, but those words belong in your book, not on your website.
Takeaway: Keep it simple.
Sometimes, less text and fewer elaborate features is simply more elegant — and helps highlight what's most important. For example, one of the other elements of Jon's website is a resource page for sexual assault victims, which he installed after writing about sexual assault at the University of Montana.
6. Lesley M. M. Blume: Transport readers into the world of your book
When you first land on Lesley M.M. Blume's website, you are greeted by an old, faded picture of a 22 year old Ernest Hemingway. Beside it, a caption reads: "Ernest Hemingway, age 22, turned up in Paris, determined to become the greatest of writers — but he could not break through. "I knew I must write a novel," he later wrote. Easier said than done. There were at least three false starts. The only choice, he realized, was to "let the pressure build."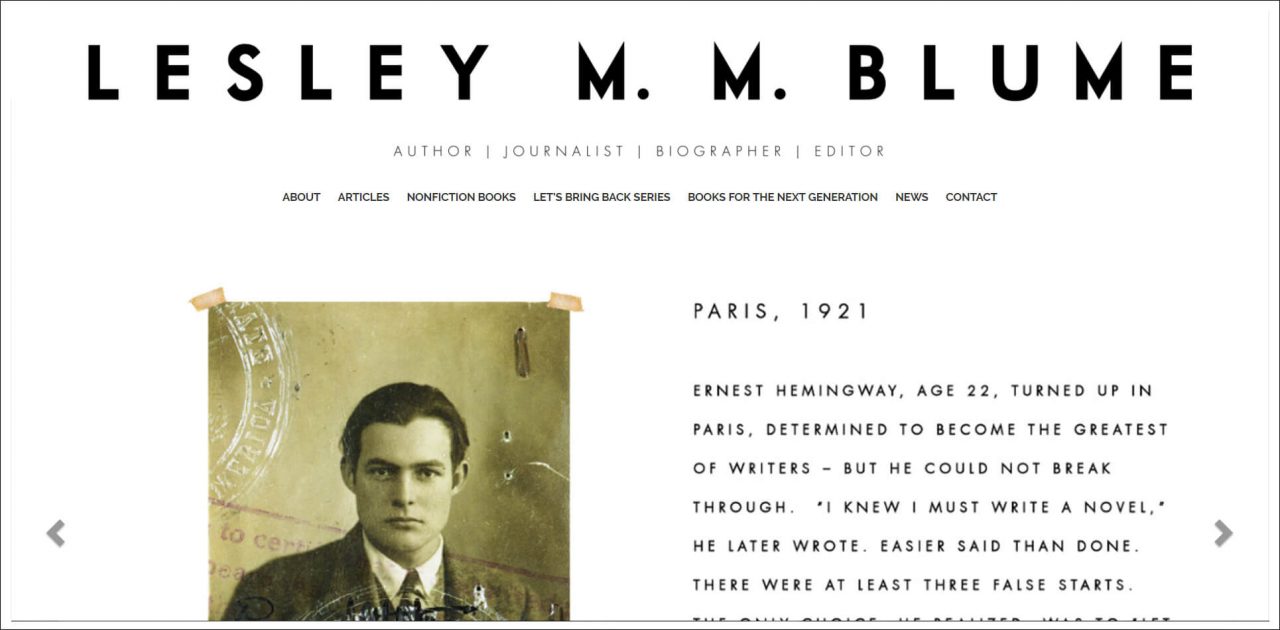 This slide eventually moves to new picture of Ernest Hemingway in 1925, with another caption explaining the snapshot. Within moments of arriving on Lesley's site, you become aware that she is a writer, that she has written a book about Ernest Hemingway, and that the book is an intimate account of his life accompanied by photos. This quick preview of her book grabs your attention and is basically the literary equivalent of a trailer.
Takeaway: Your website should visually give readers a taste of your book.
Allow readers to get an idea of what your book is all about right away — and present it in a way that is quicker and easier to consume than a full synopsis straight off the bat.
7. Megan McDonald: Brand your site
The illustrative style on this website gets the Judy Moody brand across almost immediately: fun children's books! Ultimately, the best author websites are the extensions of the author's novels.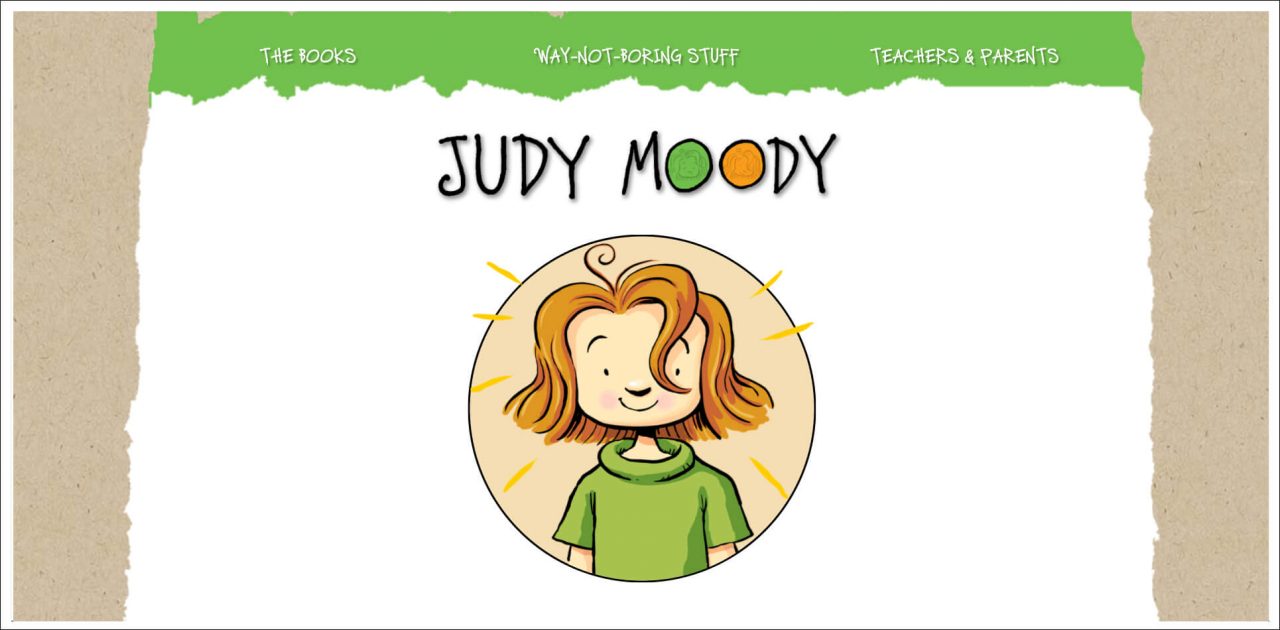 Are you branding yourself or a series? What's the voice and tone of your novel? Who is your target audience and would your site resonate with them? What's your author brand? Our co-founder spills more tips on author branding over on Book Machine.
Takeaway: Your website should be an extension of your author brand.
Keep the voice and tone of your website distinctive and consistent, so people immediately recognize the relation to your work.
8. Anthony Horowitz: Be selective in your use of color
A beautiful author website does not the colors of the rainbow make! Anthony Horowitz's word may be murder, but the color is mostly gray. As designers know, the psychology of color can make or break your website. It's not a competition you win if you manage to splash all your favorite colors onto it.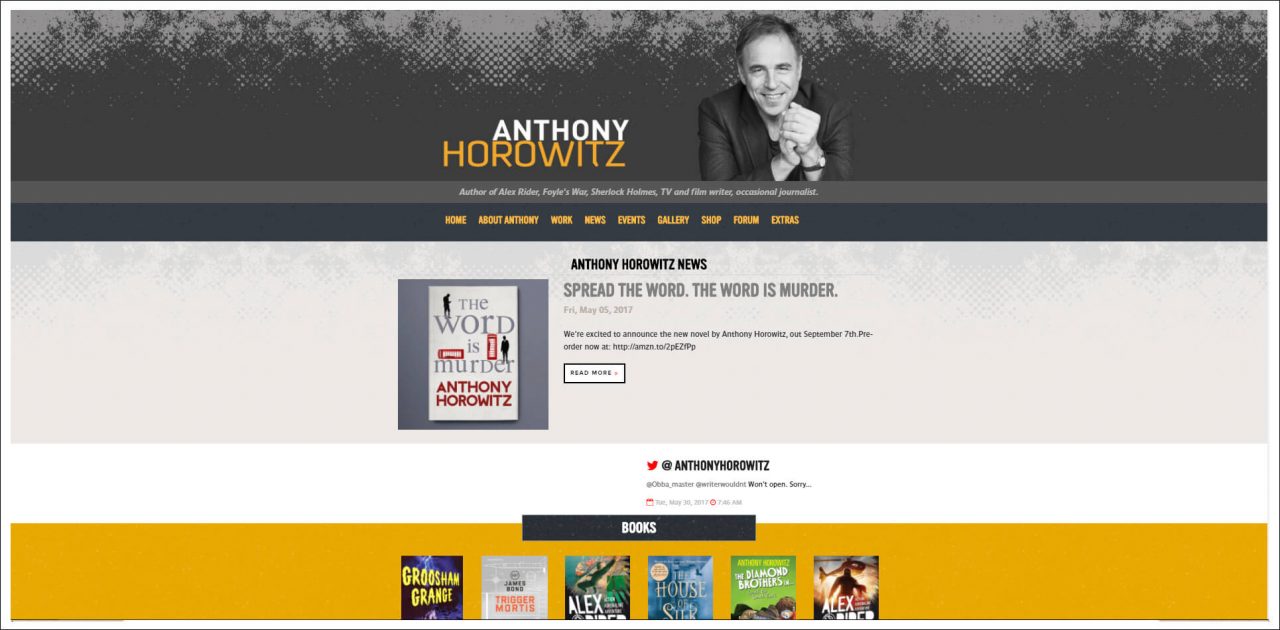 Instead, use one or two colors to draw visitors' focus towards the most important things. Here, the color orange cleverly tugs your attention towards two elements: Anthony's name and also the oeuvre of books down at the bottom. Incidentally, one click will take you to an Amazon page to purchase said book!
Pro tip: You can find Liam Fitzgerald, the designer of Anthony Horowitz's website, right here on the Reedsy marketplace. Click here to view Liam's profile and project gallery.
Takeaway: Don't use all the colors in the rainbow if you don't want to distract visitors.
Again, less is more, but especially if you want to draw the reader's eye using splashes of color.
9. Gretchen Rubin: Make your website a "place to be"
The best way to keep people coming back to your site is to offer them something of value. If you can provide a little something extra, other than details about you and your book, you are more likely to build a strong online presence and become a resource people to which people return.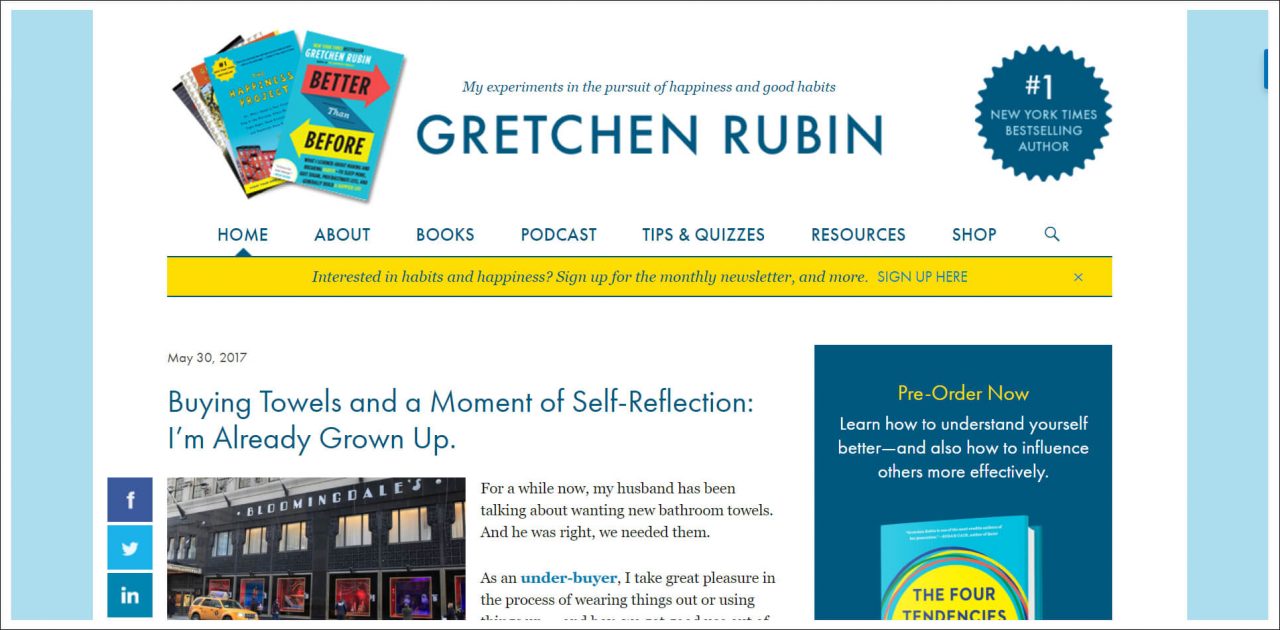 Gretchen Rubin has done this by devoting whole pages of her sites to tips-filled listicles, "revealing" quizzes, podcasts, and resources for applying her methods for a happy life — all of which will appeal to her self-help market and make them more likely to return to her site.
Takeaway: Offer a little something extra.
Making your site more compelling and useful is more likely to create loyal fans (and customers).
Download Reedsy's author website checklist!
Just enter your email address and we'll send you a copy.
10. Brent Jones: Use a lead magnet
One of our best tips for author websites is to use a lead magnet! A lead magnet is a tactic for capturing a visitor's contact information. In publishing, that usually means offering some sort of free content in exchange for an email address. Reedsy's very own Brent Jones exemplifies great use of a lead magnet by offering of a free sample of his book in exchange for subscribing to his website.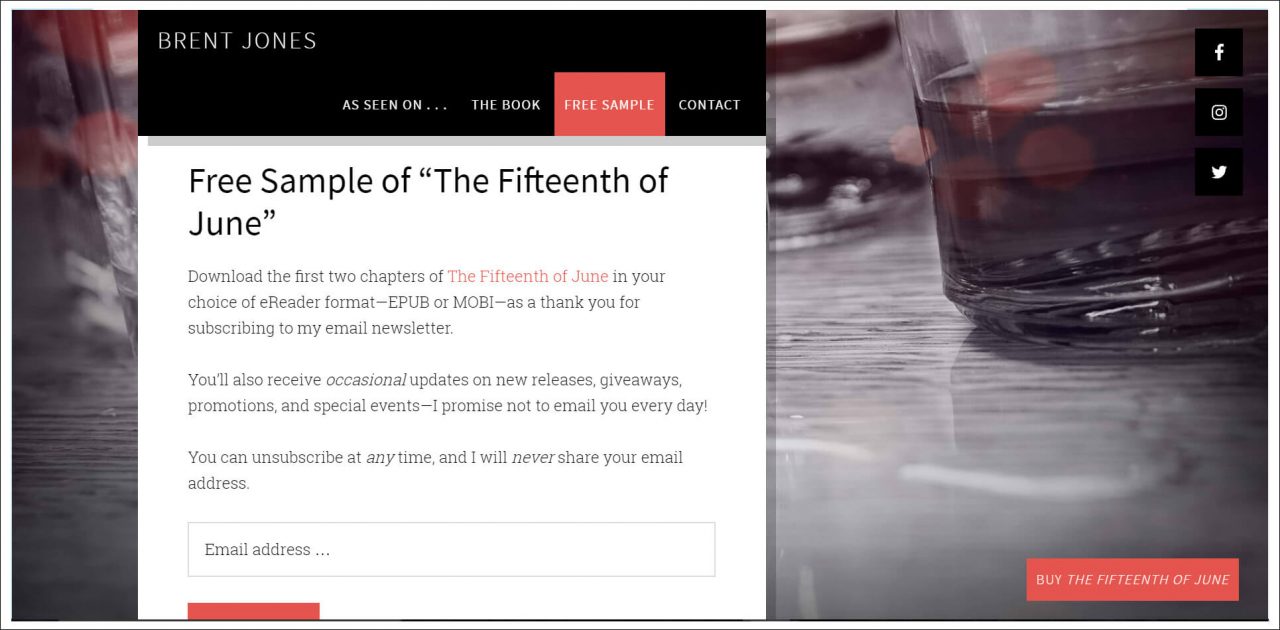 However, a free sample does more than just incentivize people to offer their contact info. If you've read our Reedsy Learning course on how to run a price promotion, you'll know that offering a free book is also a great way to hook readers and create a loyal fanbase for future publications. A free preview can work similarly, giving readers a commitment-free chance to get drawn into your book, leaving them more likely to pay to read the rest.
Takeaway: Give readers a free sample of your book.
Lead magnets can help you build your mailing list so that when you publish another book, you already have a group of people to advertise it to. Ensure that your lead magnets offer people a concrete reason to sign up.
11. Gary Shteyngart: Give it a personal touch
Remember when we said to keep it simple and use few colors to your advantage? Well, that remains true. However, sometimes there are exceptions to the rule — just be aware that if you are going to go against the grain, it needs to be purposeful.
Take, for instance, Gary Shteyngart's website. It has all of the necessary information: retail links, a short biography, contact information, and links to social media. But it is also loud, splashy, and definitely colorful, in keeping with the cover of his book.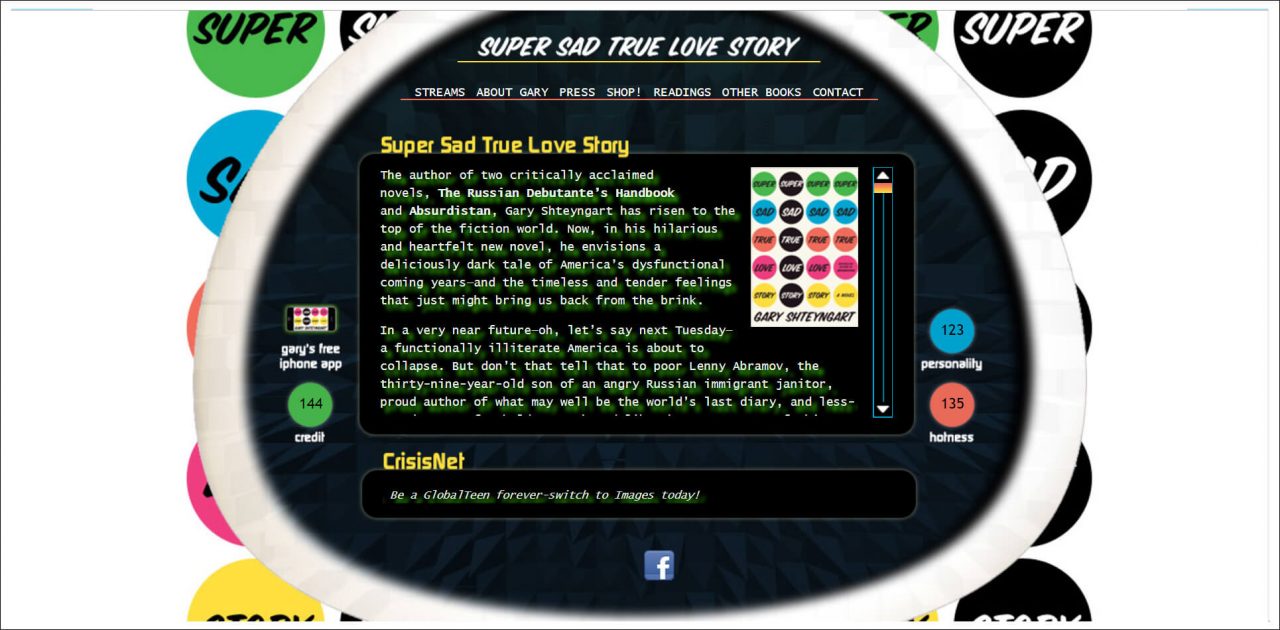 In this case, breaking the rules works for Gary. His website reflects his satirical writing with its campy, old school layout and flashy colors which almost feel like they're poking fun at the publishing industry, which can often be lofty with the desire to appear serious in order to reflect intellect.
Upon first glance at Gary's website, you might think, "Well, that's zany." But whether you realize it or not, two concrete goals have been achieved: (1) the website has left an impression that's on-point with the author's brand, and (2) it's given you an idea of what Gary's writing is like.
Takeaway: Know when to break the rules.
Break the rules if you have a good reason to do so! But if your objectives in going against the grain aren't met, re-visit our previous takeaways and think about sticking to tried-and-true methods.
12. Nicole Dieker: Make it clear how to reach you
As Nicole says, "I've been on social media since the early days, which means I've seen it evolve from a place to chat with old friends (and make new ones) to the hyper-competitive marketing-and-awareness channel it has since become."
Doesn't that old social media sound nice? A place to chat with old friends and make new ones.
While it plays a crucial role in marketing her latest novel and her work as a freelance writer, Nicole's website also achieves the cozy, friendly feeling that it's a place to just get in touch and catch up.

Her Contact & Follow page — one of the most important spots on any author's website — tell you exactly where you can find her, and what you will find her doing there. In this case, Nicole is tweeting about her writing, sending our more detailed updates via her TinyLetter, and responding to general inquiries by email.
These days, we have so many different ways of communicating with a person, that it almost feels harder than ever just to connect with someone. Not so on Nicole's website.
Takeaway: Playing hard to get is not a wise move for an indie author.
If you've achieved the great success of having potential readers, agents, or publishers land on your website, don't make it hard for them to find you. A dedicated, thoughtful, and well-maintained contact page is key.
13. Miquel Reina: Bring your site to life
Finally, you may want to incorporate some movement into your author website to really bring it to life. This can be a risky maneuver — more often than not, flashy gifs and scrolling text scream "tacky." But when it pays off, it creates a beautiful, dynamic impression that will impress and entrance readers who stumble upon your page.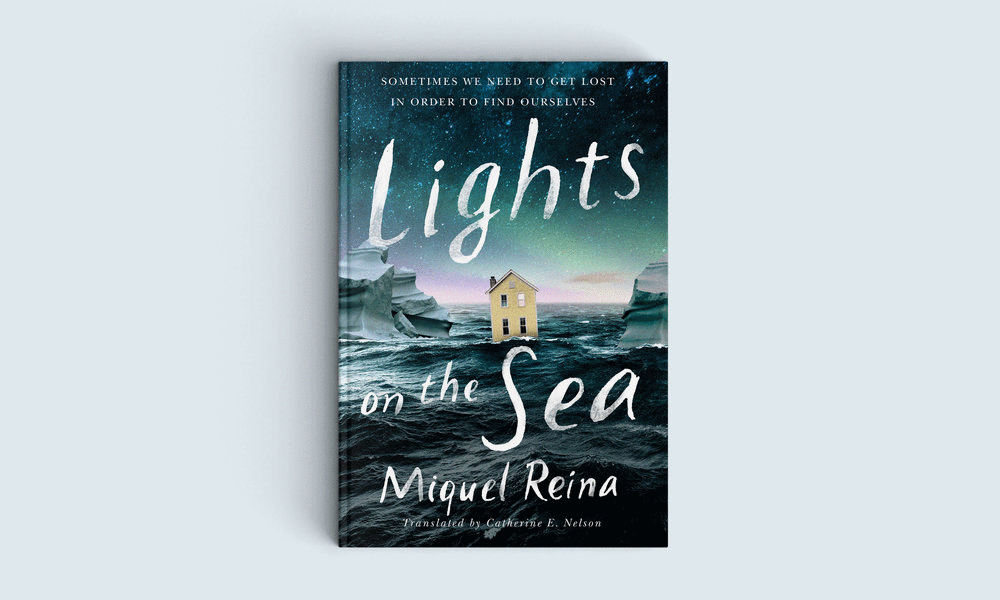 Upon first glance at the homepage of Miquel Reina's author website, nothing appears out of the ordinary... until the first image begins to change. As you can see, each translation (and gorgeous new cover) of Reina's book Lights on the Sea morphs into the next, providing a beautifully comprehensive sense of his accomplishments.
In the hands of another web designer, this tactic could easily go awry, but Reina ensures that all his images are carefully sized and timed to create a perfectly calibrated effect. He also wisely avoids cluttering the rest of his homepage with additional text and images — adhering to the Jon Krakauer rule — so the viewer's focus is solely on the slow-moving book covers.
Takeaway: A little bit of movement goes a long way.
Again, it's easy to go overboard with this tactic; you don't want your author website to look like a carnival. To keep things interesting yet professional, bring your site to life with just one or two smoothly transitioning GIFs.
Fun fact: You can find Miquel Reina, who designed his own website (!), right here on Reedsy. Click here to check out his other projects.
Final takeaways
In order to sell books, indie authors need to first invest in them. This means using as many marketing resources in their arsenal as possible, and that absolutely includes an author website. Each of these examples showcase best practices when it comes to author websites, but remember that your own website shouldn't simply be a copy of an existing one! Mix and match our tips to create your own unique site.
And if you need a hand getting your author website set up, head over to the Reedsy marketplace, where we have a host of supremely talented and professional web designers. To find out more about how these pros can help you build an online presence (and to get a free quote!), visit our Author Website Design page.
Of course, if the thought of setting up an entire website yourself is too overwhelming to you, you can also consider other options — such as launching your book on Reedsy Discovery, which gives you a good-looking landing page, along with the ability to reach hundreds of thousands of readers and a pool of professional reviewers. Good luck!
---
And if you've already set up your author website, drop the link in the comments so we can check it out!