Today, Reedsy changes the way millions of authors will create books
We are incredibly proud. After months of work, we are releasing the first version of the Reedsy Book Editor, a writing tool that will transform the way millions of authors create their books. It took thousands of hours, and countless iterations on design and code to create what we believe will disrupt the process of writing and producing books.
Okay we've said enough. Now, showtime.
The simplest yet most innovative way to create books
The first thing we wanted to do was to create a great environment to write in. We didn't want to replicate Microsoft Word's awful interface and were inspired by the work the team at Medium did. We saw it as the way forward and designed a product that appears minimalistic but is in fact extremely powerful.
To format a book, authors will only be using our style-guide toolbar. Here is what it looks like: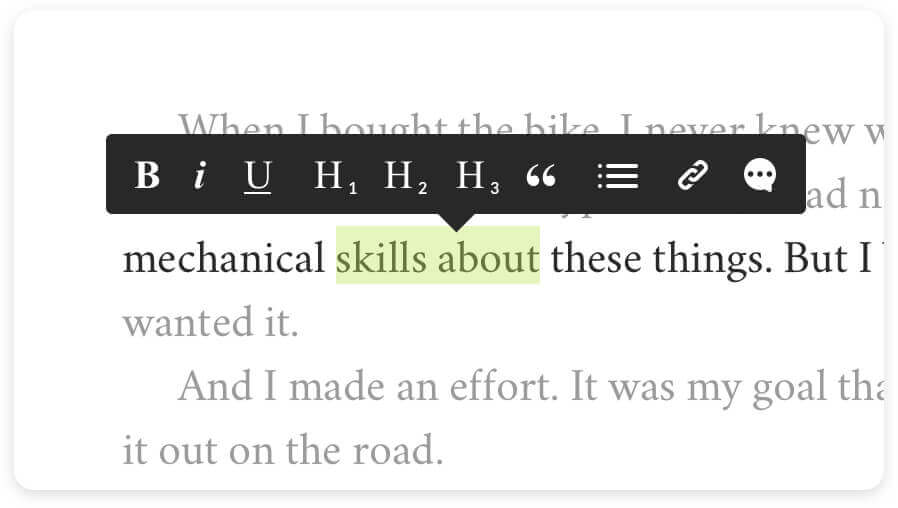 Medium users will feel at home.
We used some of the most advanced technologies for collaboration and contributed to several open source libraries
In the coming weeks, we will progressively unveil additional features for the Reedsy Book Editor. It is the result of a lot of research and web development work. The Reedsy Book Editor uses operational transformation technologies to allow multiple users to work on a book at the same time. It will allow authors to invite either a co-author or editor to work on their book and make edits together in real-time, which means you can forget about managing manuscript revisions via email; everything is stored securely on Reedsy's servers. Authors will be able to use both the commenting and track-changes systems to work collaboratively.
The Reedsy Book Editor will fully integrate with our marketplace
The reason we wanted the Reedsy Book Editor to be collaborative was to ensure our authors never have to email different versions of their books when working with a Reedsy editor. Reedsy is now the world's best place to find and collaborate with amazing book-industry talent.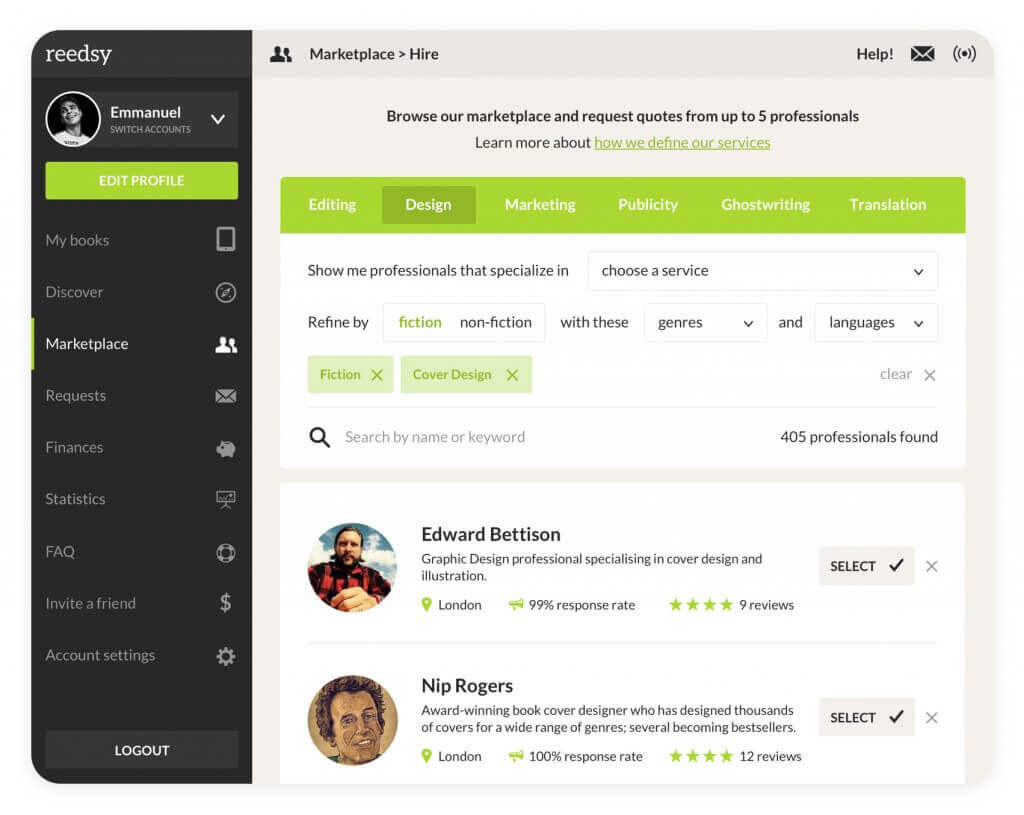 Our friends at IngramSpark are also excited about the integration:
"What I like about the Reedsy platform is that it provides indie authors with an online marketplace to get many of the services they need to create a finished and polished book. The website is very intuitive and easy to use. This is definitely a service that will benefit IngramSpark authors and why we are happy to recommend."
– Robin Cutler, Senior Manager for IngramSpark ©
We worked with world-class book interior designers
As of today, two beautiful book templates are available to choose from on our export page: one for fiction and one for non-fiction. We plan to add many more in the coming months based on the demand we get from our users (so do send us feedback!).
Here is an example of what you can do in a few seconds with the Reedsy Book Editor; click on the image to download an excerpt from Michael Doane's book, The Crossing: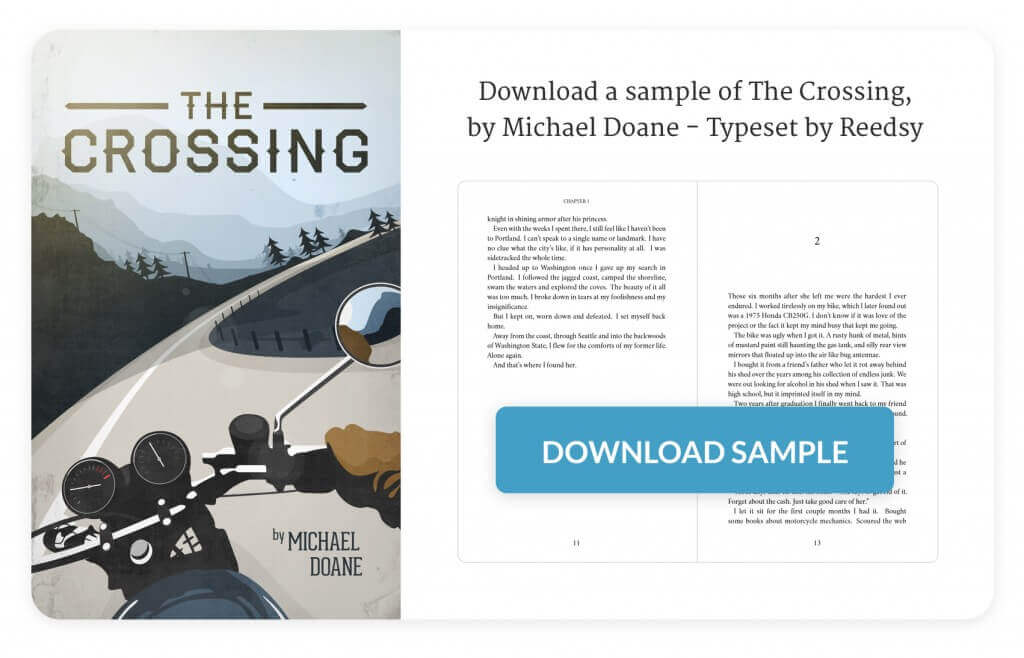 Once your book has been exported you can use it for digital distribution on the main ebookstores (Amazon Kindle Direct Publishing, Apple iBooks, Kobo Writing Life, etc.) and for print-on-demand services (IngramSpark © for instance). A professionally formatted book for free to the delight of your readers? Yes, that's the deal!
Oh and we forgot to mention: if you ever notice a typo in the book you published, you can make changes and re-upload your file in a few seconds, unlike the more tedious process detailed by Hugh Howey.
So, who is this writing tool for?
The Reedsy Book Editor offers a level of quality that makes it extremely useful to both self-publishing authors and publishers who want to create a perfectly formatted book. Those looking to have a more customized product can hire a book interior designer via the Reedsy marketplace; machines can't do art yet!
I want to use the Reedsy Book Editor. Where do I find it?
Simply log in to your Reedsy account, create a new book and start writing!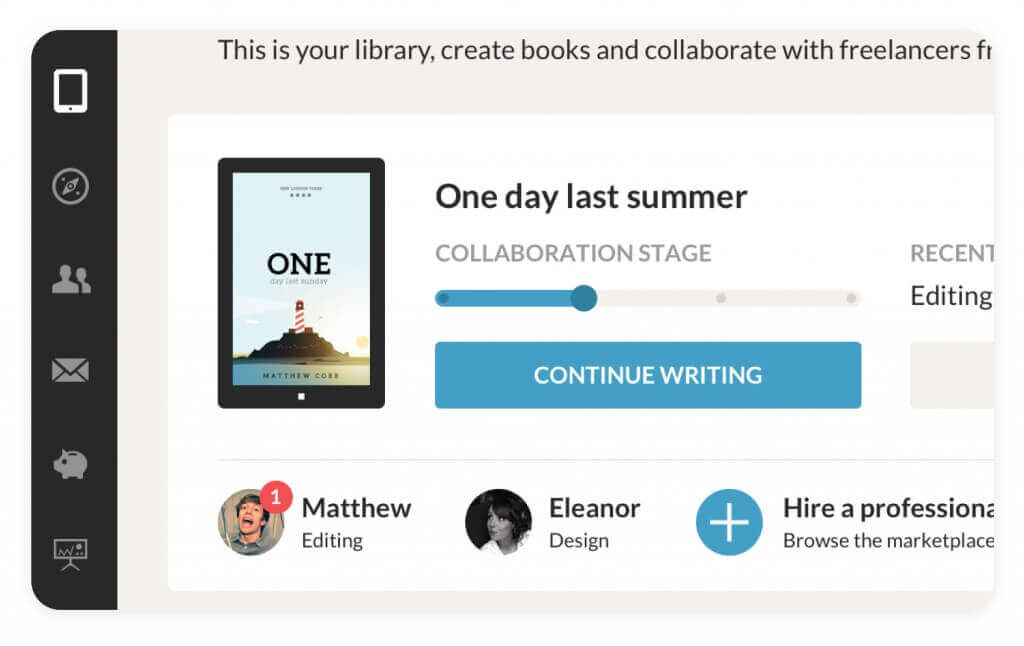 We look forward to seeing how you'll use the new Reedsy Book Editor. Send us your feedback!
– Matt (designer) and Emmanuel (visionary) of the Reedsy Book Editor, founders at Reedsy.
---
A press release is available here.