How to Find an Illustrator to Bring Your Children's Book to Life
Children's books benefit from beautiful artwork, regardless of whether it's a full-on picture book or a middle-grade novel with a handful of illustrations in between the text. Unless you are an experienced artist yourself, it's advisable to find an illustrator who can give your self-published children's book the magnificent visuals it deserves.
Note: If you're publishing through a traditional press, their editorial team will pick and assign you an illustrator.
So, how can you find someone who is able to realize the vision that so far has only existed in your head? Well, we're here to help! Here's the best way to find an illustrator for a children's book:
1. Begin by considering various art styles for your story
While writing your children's book, you've probably been envisioning your book — or at least parts of it. Now that you're ready to look for an illustrator, it's time to outline whatever you've imagined as clearly as possible by creating a mood board. 
The idea is to have criteria by which to assess illustrators — so that you can gauge who the best fit for you might be. This will also be a handy resource to eventually hand over to the illustrator you choose to work with, to help them understand your vision. A mood board can easily be created using Canva, Pinterest, PowerPoint, or you can even print things out and pin them to a physical board. It'll include references and inspirations for your book, from real-life photos to paintings to picture books similar to your own. 
On top of that, you may want to think about some slightly more technical aspects as well. 
Consider book dimensions
For middle-grade books, you'll work with the rectangular dimensions of paperbacks and hardcovers. Picture books can have more flexible trim sizes. Broadly speaking, you get to choose between square, portrait, and landscape dimensions.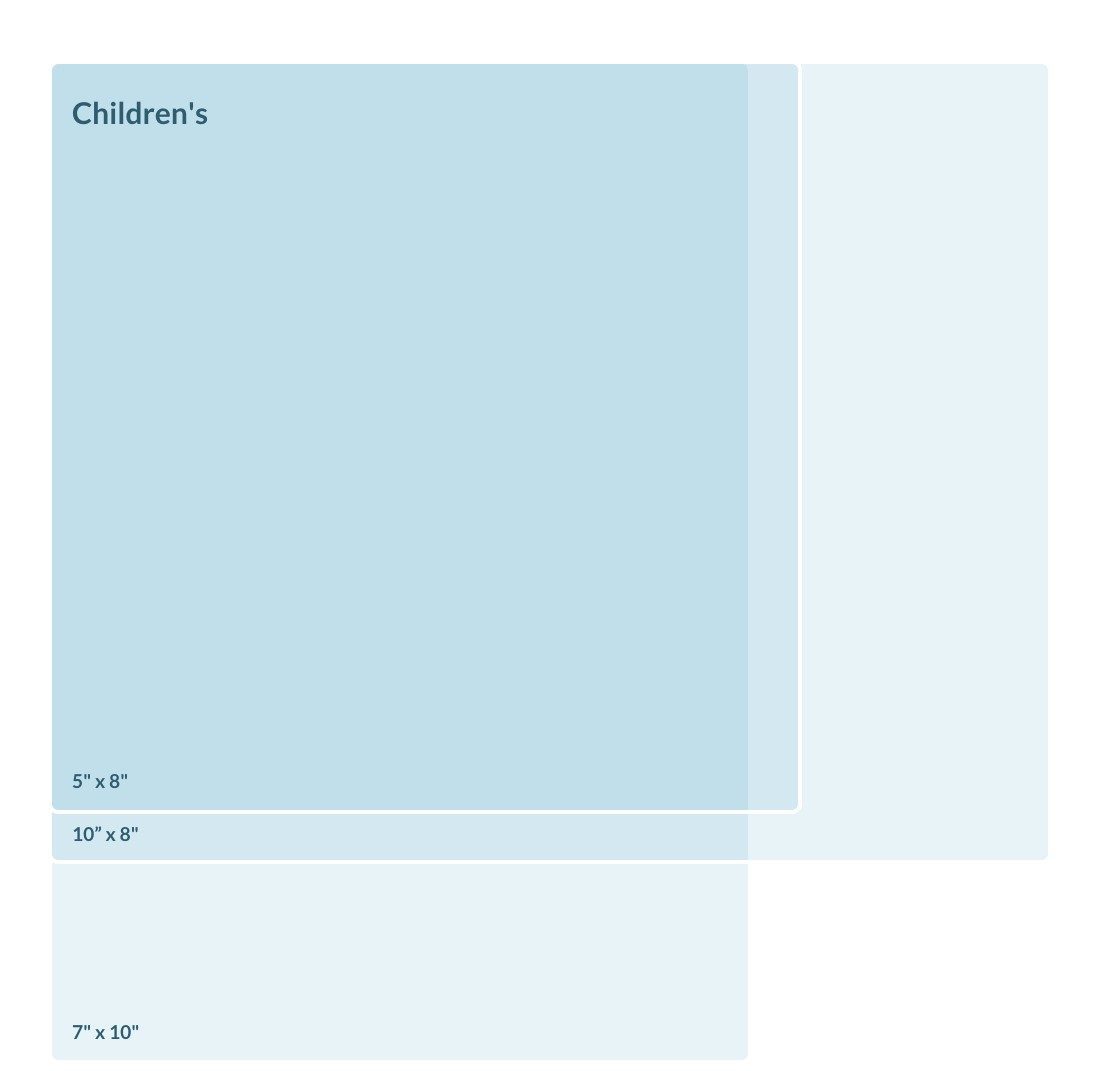 The choice between these dimensions sometimes depends on the story. For example, the portrait orientation of The Tiger Who Came to Tea allows for the vertical space needed to highlight the height difference between the tiger and the humans.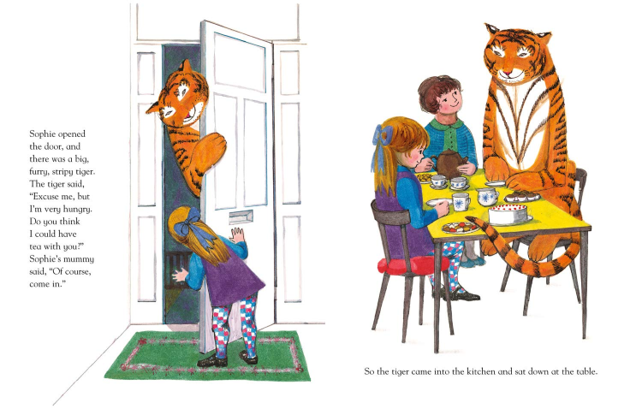 Meanwhile, Goodnight Moon portrays the whole bedroom and all of the little items in it by taking a wider lens — or a landscape orientation.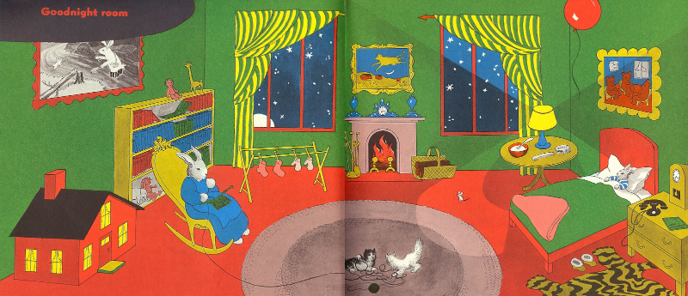 Think about this early on and find relevant similar titles to use as references. This information will also be useful when you start discussing the book with an illustrator.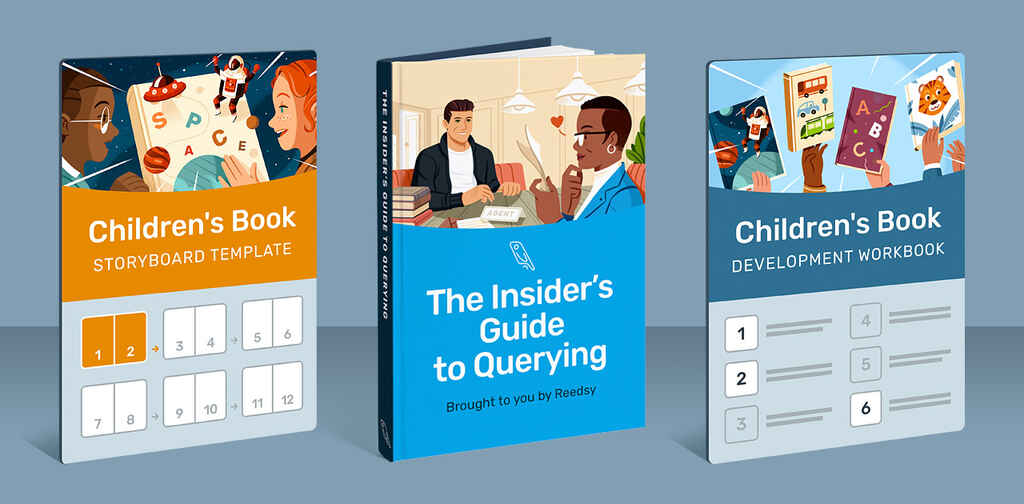 Children's Book Publishing Kit
Turn your idea into a book with our workbook, picture book template, and query letter template.
Pinpoint a suitable art style 
If you've worked with a children's book editor on your manuscript, you probably understand the importance of thinking about the book from the perspective of a reader. As such, you'll know that illustrations should also be tailored to the topic and the interests of its target audience. 
For example, a book about nature like Feathers has a very different style from I Am Martin Luther King, Jr.,  even though both are nonfiction children's books. One aims to realistically portray the visual details of the world to budding naturalists, while the other focuses more on portraying a person's life in a way that captures the attention of young minds.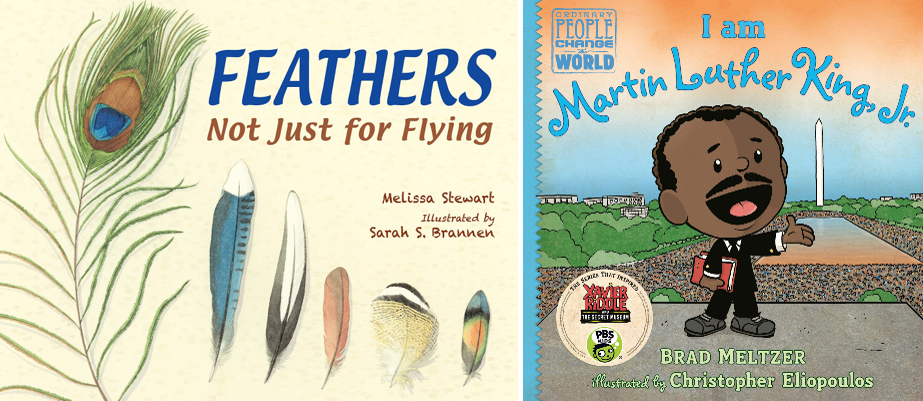 Keeping that in mind, be intentional when you pick your references. Are you trying to put everyday life in a new light for your readers? Is your book aiming to teach children about something specific? With every goal, you'll find there are a number of styles that work well — you want to collect samples of those specific styles. 
2. Put money aside for your illustration budget
When an illustrator works on your children's book, they are giving you their time, creativity, and skills, the latter of which is the culmination of years of training and practice. It is only fair that you set aside a good part of your budget for this service. 
This budget can vary based on a few factors, which include:
The number of illustrations you want; 
The level of details of these illustrations; and 
How well-known and experienced the illustrator is. 
A middle-grade book with several illustrations will likely cost less than a 32-page picture book, unless the former asks for very intricate drawings. 
And naturally, if you want the likes of Vashti Harrison or Chris Van Allsburg to illustrate your book, you'll need a very big purse. As a self-publishing author, you're better off anticipating a budget for an experienced illustrator who isn't a household name — of which, luckily, there are many! 
How much does it cost to hire an illustrator for a children's book?
Based on the data from thousands of quotes on the Reedsy marketplace, it can cost between $2,000 and $10,000 to hire an illustrator to work on a full picture book. 
As we mentioned before, there is such a big range because children's book illustrations can have varying levels of complexity, and illustrators offer different levels of experience. To narrow it down to what it might cost to illustrate your children's book, you can complete the 1-minute quiz below: 
💸
What will it cost you to hire a children's book illustrator?
Find out here! Takes 10 seconds.
3. Assess the portfolios of reputable artists
To find an illustrator for a children's book, you can flip through books you admire to see who the artist is, ask for word-of-mouth recommendations from other authors and publishing professionals, or browse online portfolios and contact illustrators directly.
On Reedsy's marketplace, you can find some of the best and most experienced children's book illustrators and directly request a quote for your project.
Search on the Reedsy marketplace
Reedsy is a publishing marketplace that vets all professional applications to ensure that every illustrator who lists themself on the platform has several years of experience in the book industry. That said, there is still a range — some illustrators have spent 20 years in the industry, others have spent seven — so you can pick someone appropriate for your budget. 
In terms of style, you get a diverse selection, as you can see in the work of these 20 wonderful illustrators. There are many more profiles on Reedsy, and you can filter for service and genre in the search bar in order to get a list of illustrator profiles that best suit your needs. In each professional's full profile, you'll find information on their experience, their portfolio, and author reviews from previous collaborations.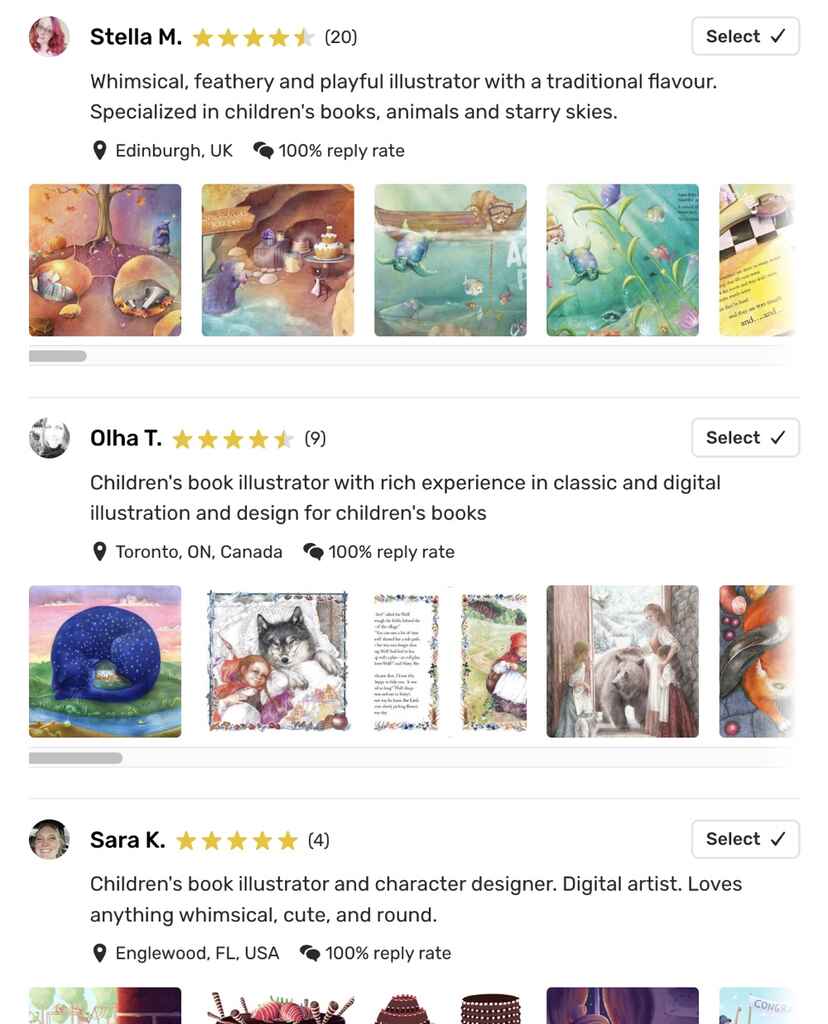 If you've spotted some potential creative partners, you can shortlist and reach out to up to five professionals to see if they're interested in your book. All of this can be done for free on Reedsy.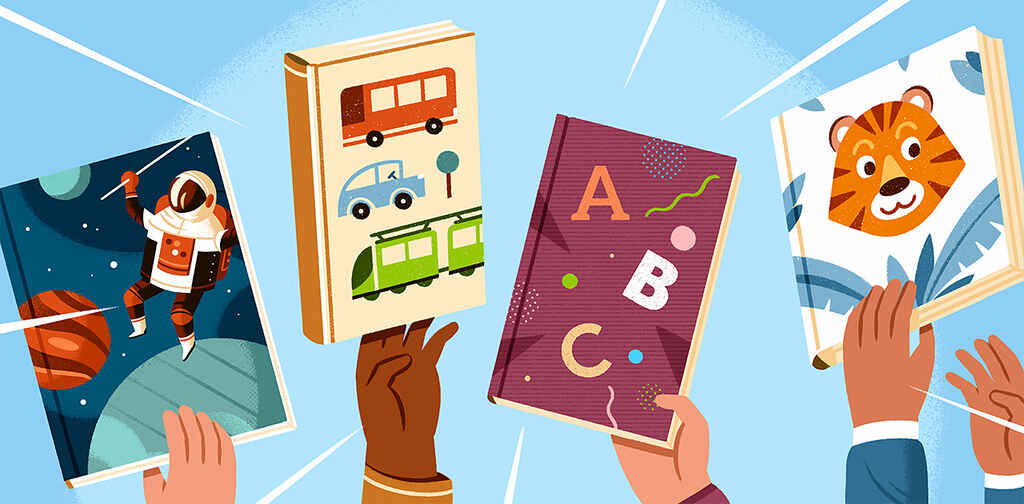 Dazzle children with design
Enchant kids and their caregivers with a professionally designed book.
Be careful with general freelance marketplaces 
There are other marketplaces out there, like Upwork or Fiverr, which can also connect you with freelance artists. However, because they rarely vet their professionals (or have very basic requirements for them), these marketplaces are unlikely to introduce you to suitable, experienced book illustrators. 
Experience in publishing is an important factor to check when you scout for an illustrator. Children's books are made for young readers — a lot of specialist skill and care is required to make the art comprehensible, attractive, and harmonious with your story. Not every illustrator, no matter how artistically talented, can deliver the work that complements your book, which is why picking someone with experience in a similar line of work is crucial. 
4. Discuss your story and vision with illustrators
Finding the right artist is only the first part of your search — the next is to convince them that your project is worth their time and effort. Here are a couple of tips we have for this step. 
Write an informative but concise brief 
When sending a request to a professional on Reedsy, you get to write a brief (a project description), share a synopsis for the book, and attach relevant files or books to it. 
For the brief, introduce yourself and talk about the meaning or motivation behind your book — you never know what might strike a chord with the artist! But remember to keep it short with two or three impactful sentences, since this is only an introduction — you'll get a chance for more discussion later on. 
Then, you can include more specific details about the project if you have them. This may include:
The target age group;
Whether the manuscript has been edited; 
The book's length and potential trim size; 
When you expect the illustrations to be finished;
Which book printing services you're looking to use. 
These technical details may have implications for the work and tools needed, so the illustrator will appreciate any information you can share regarding them. 
Include some reference 
Since you can attach files to your request and link to other books, make use of it by adding a few good references to give the illustrator some idea about the project. It's not compulsory but is great for getting the artists interested and their creative gears moving.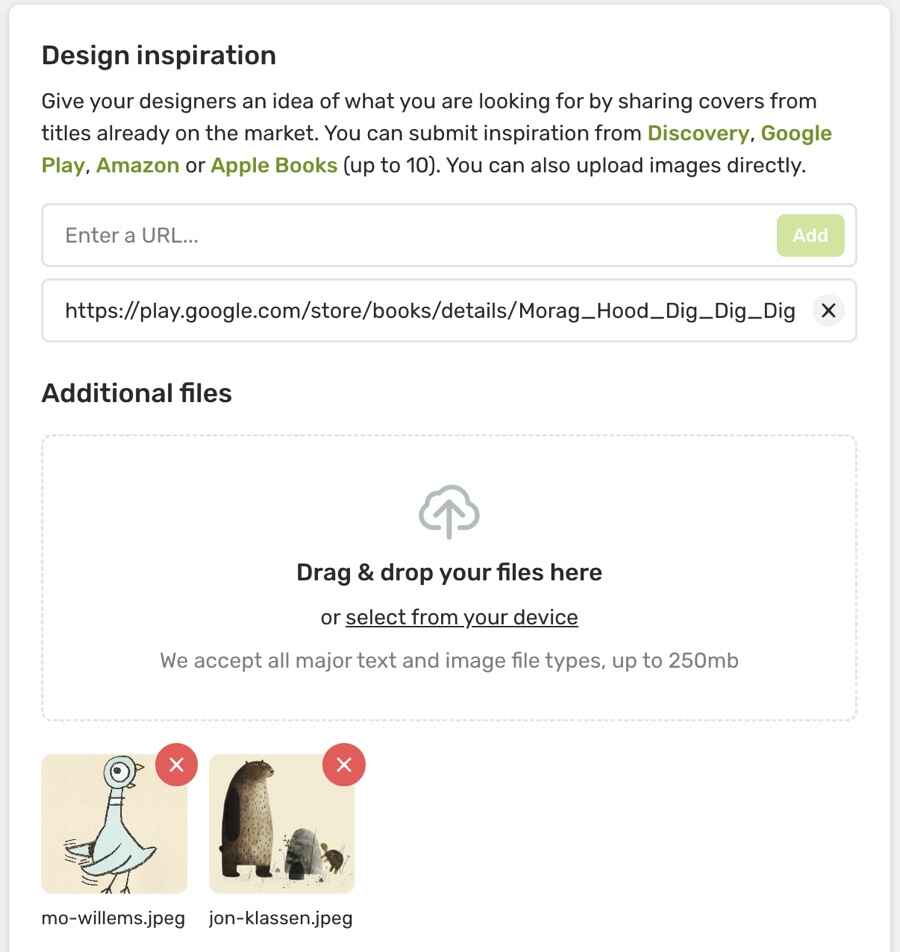 5. Finalize your project agreement with a contract
Once you get responses, it's time to lay your options out on the table and decide who to go for. Other than your personal preference in art style, here are some other things you might want to keep in mind in order to find the best illustrator for your children's book. 
Deadlines 
It may take 3 months to complete a full picture book illustration, so start your search early on if you have to keep to a hard deadline. Earlier requests will also increase the chances of booking your preferred illustrators, who will probably have other projects to work on as well. 
If you're not working with a specific due date, it could be a good idea to let illustrators know that you're open to negotiating the deadline. 
Budget
When it comes to pricing, the quotes you get for a project can vary from artist to artist, depending on the illustrator's experience. 
It's usually difficult to negotiate something down if it's far out of your budget, but you can definitely talk to the artist if it's a close call. There's no guarantee that they will adjust their quote since they are offering a lot of hard work and experience, but if you really like this particular illustrator, it may be worth a try. 
Communication 
Most professional illustrators will strive to make the work process clear to you from the get-go. They'll detail in the proposal and contract all the steps from storyboarding to coloring, including where they'll check in for your feedback, and respond to your questions in a timely manner. 
If an artist fails to present things clearly and be active about discussing things with you, it could be a sign they're not the right illustrator for you. Book illustrating is a very collaborative process, so you'll want someone who can keep the dialogue open and clear. 
A quick way to get some personalized recommendations is to complete this short quiz. Tell us about your children's book and we'll suggest some suitable candidates for you in no time: 
🎨
Which children's book illustrator is the best fit for your book?
It'll only take a minute!
Once you've found the illustrator who checks all the right boxes, the work of bringing your story to life can begin.