Live Chat: Freelancer Profile Critique — Reedsy's Head of Ops Reviews Your Profile
Below is the transcript from our Freelancer Profile Critique, on November 2nd, 2022, where Reedsy freelancers submitted their profile for a chance to be reviewed by Martin and Reedsy's Head of Operations, Prathima. We've selected a handful of them to give critiques and highlight things that work well on the marketplace, as well as what freelancers can improve to get more requests and collaborations. 
As Head of Ops, Prathima sees which profiles are getting the most requests as well as what seems to be catching the authors' attention, eventually turning into collaborations.
This transcript has been edited for length and clarity.
---
Skip to 4:48 for the start of the discussion.
Optimize your profile for more requests and collaborations
Prathima: It's easy to get lost with the whole profile building process so today we're going to go through a couple of profiles and see what they can do better to improve which authors they reach and get more requests and collaborations. I've seen a lot of profiles that don't really convert into requests, so we'll talk about which kinds of profiles are doing better and why they're doing better, to help our wider community of freelancers. 
Keep your profile short and to the point
Prathima: The purpose of your profile should be to highlight your work experience. Give just enough detail to convey your expertise but not overwhelm.
The best profiles stand out with their short descriptions. The first thing that any author is going to notice are the two sentences right at the top of your profile and a lot of our best profiles are very clear:
They talk about exactly what sub-genres they specialize in;
They don't cram too much in; and 
They don't use general terms such as "fiction" or "nonfiction." 
A lot of them also talk about the services they specialize in. As an editor or designer, you may offer more than one service, but the best profiles usually only highlight one, for example "a proofreader who specializes in science fiction." Something specific, clear, and detailed always does better.
Also have a photo of yourself! Most professionals already do, but it's always important to have a clear photo of yourself rather than of an object or an animal.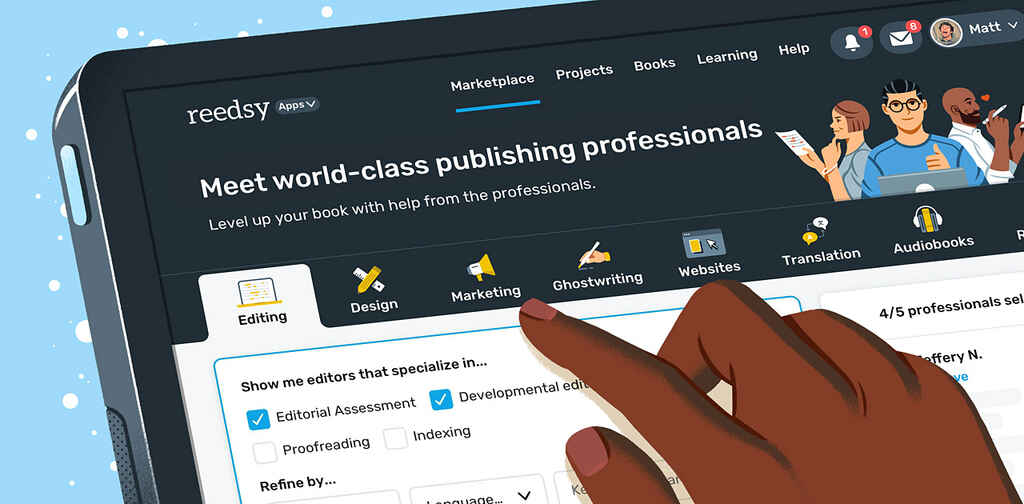 Supercharge your freelance career
Find projects, set your own rates, and get free resources for growing your business.
Profile #1 — Margaret M. (Editor)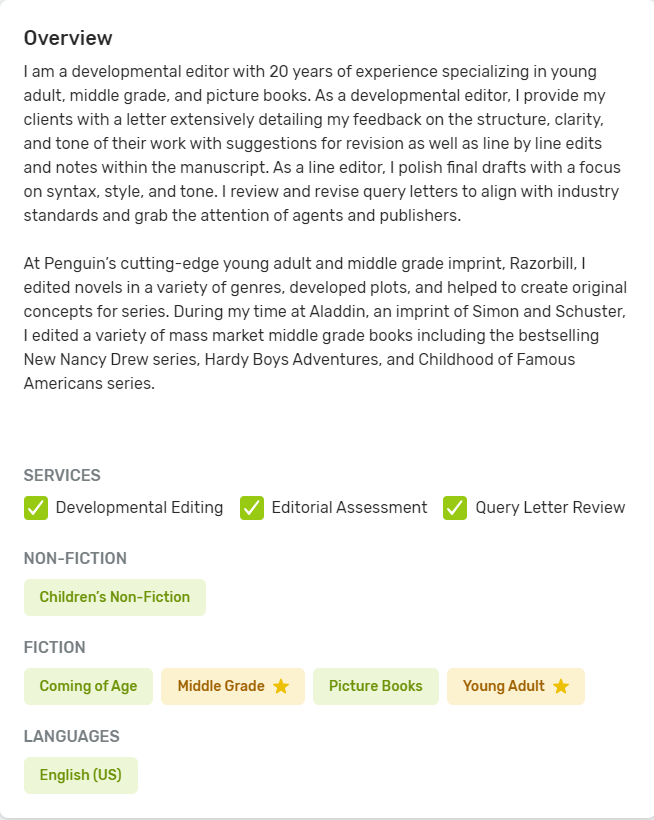 Prathima: One thing that stands out is Margaret's short description. It's very detailed: "Developmental Editor specializing in Y/A and Middle Grade". This brings immediate attention to what she specializes in and doesn't take too much time.
I really liked her overview: it doesn't give me too much information but at the same time gives me relevant information about her work experience and what working with her would look like.
Lastly, her choice of genres are great. I find that freelancers tend to use a lot of genres rather than just what they specialize in. You can list up to eight genres, but Margaret only lists five, which shows that she really does specialize in those and probably has a portfolio to match.
Use genre tags to increase your discoverability
Prathima: It's always a good idea to use sub-genres when setting up your profile. A couple of years ago we added over 30 genres to the marketplace. We now have 50 genres, including multiple sub-genres. 
If you specialize in a particular sub-genre, it's better to list that than the parent genre. Instead of listing "fantasy," it's better to pick something like "epic fantasy" or "gaming" or "urban" (something that you do specialize in) because when you select a sub-genre, you'll pop up in searches for those sub-genres as well as the parent genre in the search results. 
So, if you've put "epic fantasy" in your profile, you will turn up in searches for "fantasy" and "epic fantasy." So you can really use that to your benefit. 
☝️ Note: it doesn't work the other way around; if someone is searching for just "epic fantasy" and you're only listed as a "fantasy" editor, your profile will not be displayed.
Highlight work experience that is relevant to authors
Martin: In her overview, Margaret talks about her work experience: 20 years ago she started at some Big Five publishers, then went on to work in a different industry, and came back to publishing around 2015. In the second section, she talks about the services she offers and then, [when you scroll down], you can see a list of work experiences which seem very detailed. 
Curious about what goes on inside the walls of Big 5 publishers?
Check out this course
Margaret also sent in a question: 
"I wonder if it helps me or hurts me to include the full work experience section, since I worked for Penguin and Simon and Schuster so long ago and was only an assistant editor at that time. Is it better to just list my role as freelancer there?"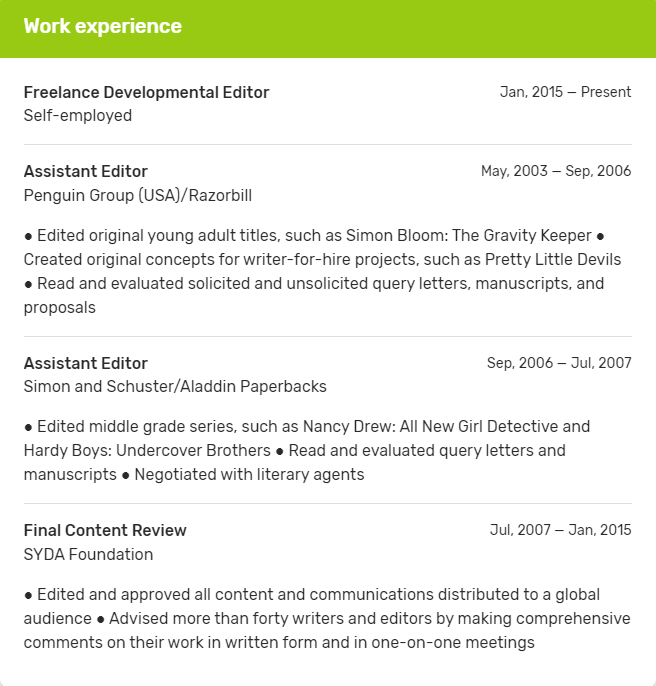 Prathima: Including this experience does add to her profile. She worked for a big publishing company for over three years. Even though it was as an assistant editor, it adds credibility when combined with her freelance editing experience.
Martin: There's a gap between 2007 and 2015 where she worked in a different industry, still doing editing and copy work. Would you advise her to keep that? 
Prathima: As long as your experience is relevant to your profile, it's good to list that information because that's a significant gap. If it's something that has nothing to do with editing, you probably don't want to list that.
Tell us what relevant work you did in your jobs
Martin: I think it's very good when Margaret uses bullet points in her work experience section. For example, she talks about editing specific series during her time at Simon & Schuster: Nancy Drew, The Hardy Boys — big name projects. 
But she also talks about other responsibilities in those jobs, details that feel like they belong on a LinkedIn profile. They don't really need to know everything you achieved in the past that doesn't relate to editing. So perhaps you could put more emphasis on the titles you've worked on, the people you've worked with, and in what capacity.
Likewise, I've seen a lot of folks list their experience as a freelancer — which is great — but they sometimes leave the description blank. That makes it feel like they haven't achieved or worked on anything in the time that they've worked as a freelancer. So make sure to give some details about your freelance work as well.

💡Top tip: Don't miss the opportunity to add relevant information about your accomplishments as a freelancer. Mentioning some interesting titles you've worked on or indie authors you have worked with shows other authors that you know what it entails to self-publish.
Update your portfolio regularly
Prathima: I find that a lot of freelancers also forget to update their portfolios regularly, which you should definitely do. Putting your best and/or most recent books at the top and not at the bottom can require a bit of work, but it's worth the effort.
💡Top tip: You can pin the book you want to highlight to the top of your portfolio without having to manually rearrange it entirely. However, if you want to rearrange the rest of your portfolio, you will have to remove and re-add them in the order that you would like them to be shown.
Martin: When authors search for freelancers, they'll first see the short description, your reviews, and then a list of books in the order you've put them. So make sure those top three spots are finely curated and not occupied by three old or non-representative books.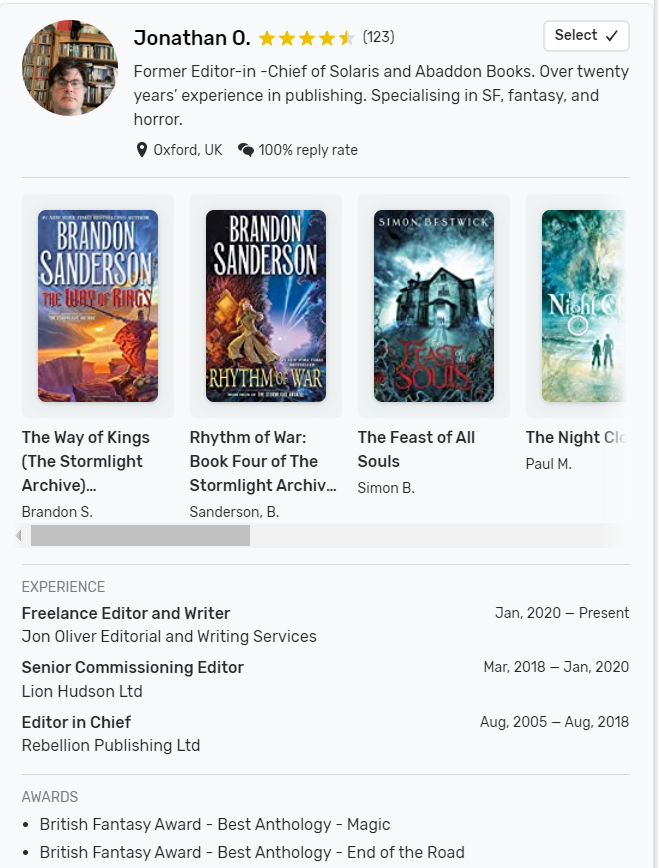 💡Top tip: Remember to keep the author's perspective in mind when you set up your profile. For instance, when authors search for freelancers on the marketplace, they get to see a preview of your profile in the search results. Placing the most impressive titles you've worked on at the top of your portfolio so that they are the first thing authors see in the preview is a good way to catch their attention and hopefully entice them to click through to your full profile.
Profile #2 — Candice B. (Designer)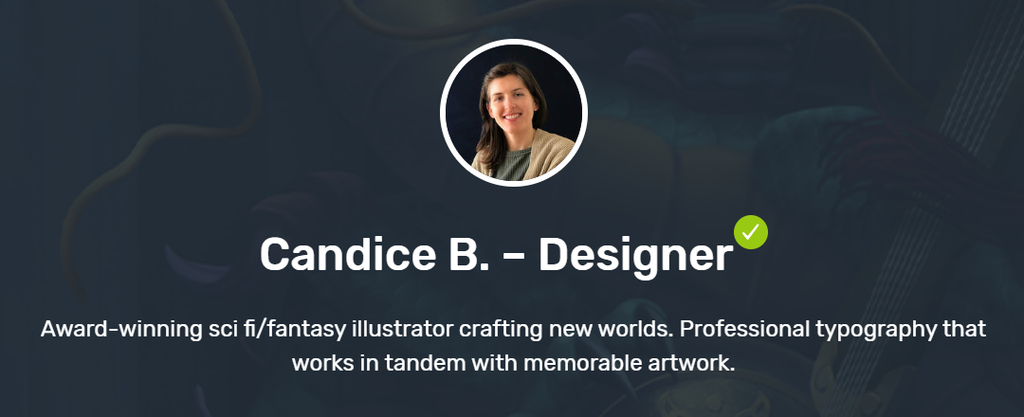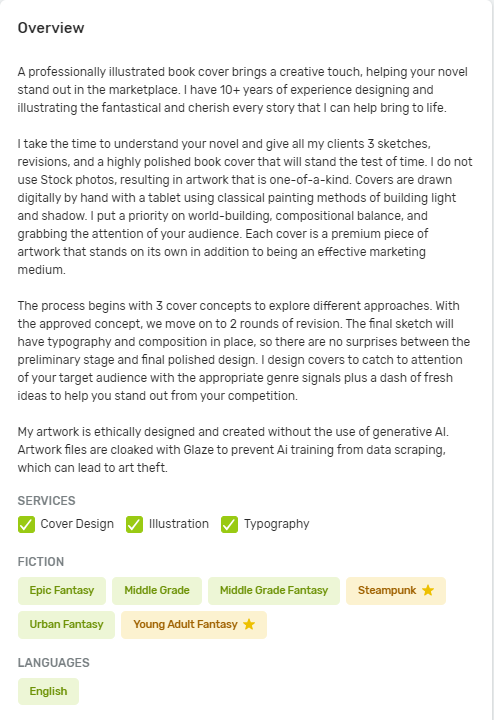 Make sure authors can get to the portfolio quickly
Prathima: Similar to the previous profile, Candice has a strong short description. I know exactly what she specializes in and what kind of artwork she does. I also think the use of sub-genres is very relevant to her profile. It's very clear that she focuses on fantasy and middle grade and you can find examples of that in her gallery and portfolio.
What she could improve is the overview itself. If you've worked in the industry for 10 years, you probably don't need to include your educational qualifications there. As for her recent projects, that's the kind of information you should have in your portfolio or gallery instead, because, since this is a design profile, authors would rather look at the designs themselves than have them listed.
Martin: Make sure that people immediately get to see the stuff that's important. With a massive overview, authors have to scroll down a lot to get to the portfolio. And about 50% of people who come to Reedsy are on mobile devices, where it takes even longer to get to the exciting stuff. So keeping the overview short makes sense.
Would you consider adding education to the work experience area instead?
Prathima: Probably, yes. But instead of adding all that information about when and where you graduated, you can say it in a much more succinct way. For instance, you can say, "I'm a Savannah College of Art graduated illustrator" in your overview, but you don't need to add the years that you attended or the degree you received. 
Use testimonials in the overview sparingly
Prathima: I personally think that once you have a couple of Reedsy testimonials and reviews, you should consider removing external testimonials from the overview. New freelancers who don't have Reedsy reviews yet can include one or two, but it has to be relevant to the services they're offering.
Toot your own horn and don't apologize for your prices
Prathima: I like awards and would actually mention them in the short description itself, saying something like "Award-winning illustrator," in Candice's case.
Martin: Candice has also filled in the "freelance illustrator" part of her work experience section, but the details are quite vague. Even if it's on a freelance basis, mention the clients you've worked with.
Martin: Candice also submitted a question with her profile: 
"I am looking for general advice for improvement on my profile as well as how I can use my profile as a way to educate potential clients on my services. Can too much information overwhelm potential clients? I am also looking for how to tackle my #1 reason that I don't fit my client's request, which is budget range. Can this be addressed in my profile or is that risky to bring up early on?"
Martin: Since Candice is an illustrator and works a lot without stock images, it's going to be a bit more time intensive and expensive in terms of quotes. What would you tell her?
Pathima: Yes, you can include that information in your overview without it being overwhelming. As you're describing what the process would look like, you can mention that since you're an illustrator, it's more time consuming and expensive. 
At the same time, a lot of Reedsy authors will still send you a request [even if you have that information available and it's out of their budget range]. When I took a look at some of the offers Candice has made and the requests she's received, I found that a lot of her offers were very specific to what the client was looking for. So while you can have general information on your overview, it's also a good idea to have discussion with the author and make an offer for them quickly, because when authors are sending requests, they want to see offers as soon as possible.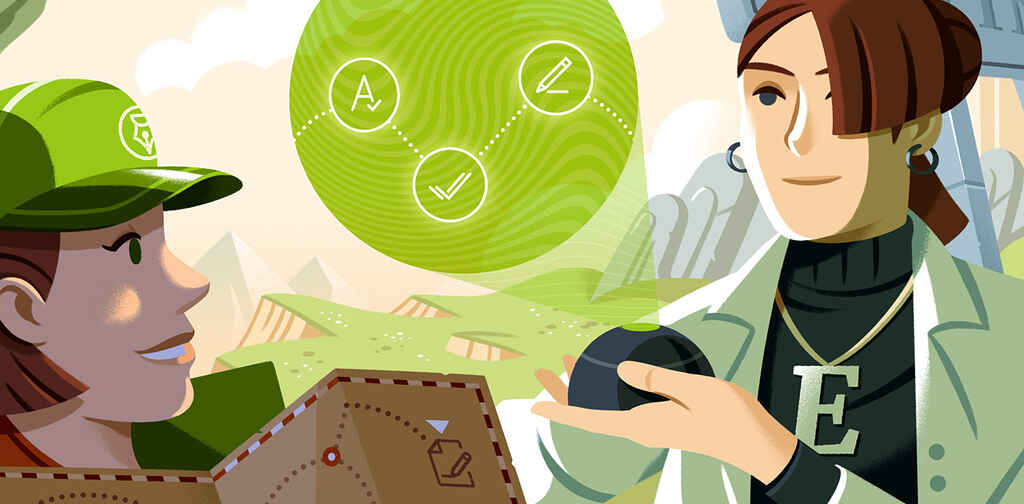 Offer Letter Checklist + Template
Follow our tips to successfully sell clients on your services while setting clear expectations.
Martin: In your overview, you don't want to play coy. Instead of saying "I'm new to the Reedsy community," Candice can highlight her 10 years of experience. She's offering something that all fantasy authors want — basically their big Hollywood poster. It's something that's going to be exciting, super premium, and bespoke. 
So, instead of letting authors be surprised by a high quote, you can make it known just by the way you describe your services that they're going to get the experience of a lifetime. It's going to be massive; it's going to be fantastic. 
Always sell yourself up. 
For more insights into how to calculate your quotes as a designer, check out this article on average freelance designer rates.
Showcase your design skills with the background image
Martin: I like the use of illustrations in the background. It's very nice. 
Prathima: Yes, all designers should take note. If you're a designer, you should definitely use one of your designs as a background illustration.
Profile #3 — Laura J. (Editor)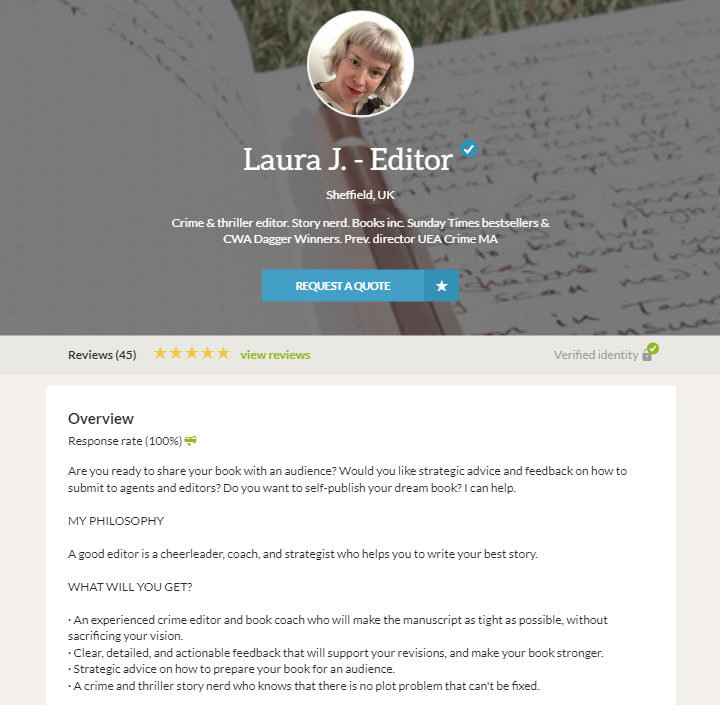 Martin: Laura is a "Crime and thriller editor. Story nerd. Books inc. Sunday Times Bestseller & CWA Dagger Winners. Previous director UEA crime MA." That's University of East Anglia, which I believe is the UK's leading creative writing school. I believe Kazuo Ishiguro went there. 
In her overview, she writes: "Ready to share your book with an audience? Would you like strategic advice and feedback on how to submit to an agent and editors? Do you want to self-publish your dream book? I can help."
Then she goes into her philosophy, what you'll get, a bullet pointed section on who she is, then a call to action at the end to send a request to get a quote and a free sample edit tailored to their project. Then she lists some client feedback with some short sentences.
Pay attention to readability
Prathima: Again, Laura has a really good short description and is very clear with her sub-genres. I know exactly what she specializes in, which is thriller and crime. But, I would trim the overview. That's an entire chunk of text that I have to go through and there are better ways to write that information briefly, rather than taking all of that space.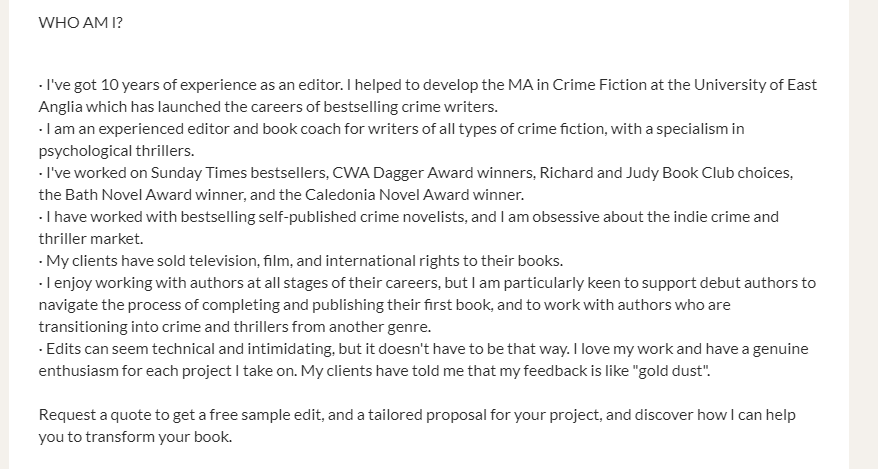 Martin: There's a lot of detail that will only be relevant to some people. And I find that with bullet point lists, once you exceed three bullet points, it gets a bit too much for me. Especially if you look at this in mobile format, there's a whole page that you're going to have to read to get through your bullet points. So, figure out what's relevant and exciting about yourself to potential authors and highlight that. 
How about the client feedback? There are some exciting names. 
Prathima: There are definitely some exciting names and you can always mention those without including the feedback itself. You can say that you have worked with this editor or that author, or on this project. Laura also has 40 Reedsy reviews, which I think is a decent enough number not to have other testimonials take space in the overview section. 
Choose language tags to increase your visibility
Martin: I've noticed that people put Australian English, Canadian English, UK English, and US English. Have you found this to be an important distinction?
Prathima: To some extent, yes. It's always good to include UK and US English, because [a lot of authors are writing in those areas]. You do have clients coming in from Australia and New Zealand and Canada, too, and they want to make sure that their books relate to the audience there, so it doesn't hurt to include those languages too [if it's something you master]. 
Martin: It can come down to something as simple as not having to explain what a Billabong is.
Combine entries to tighten your work experience section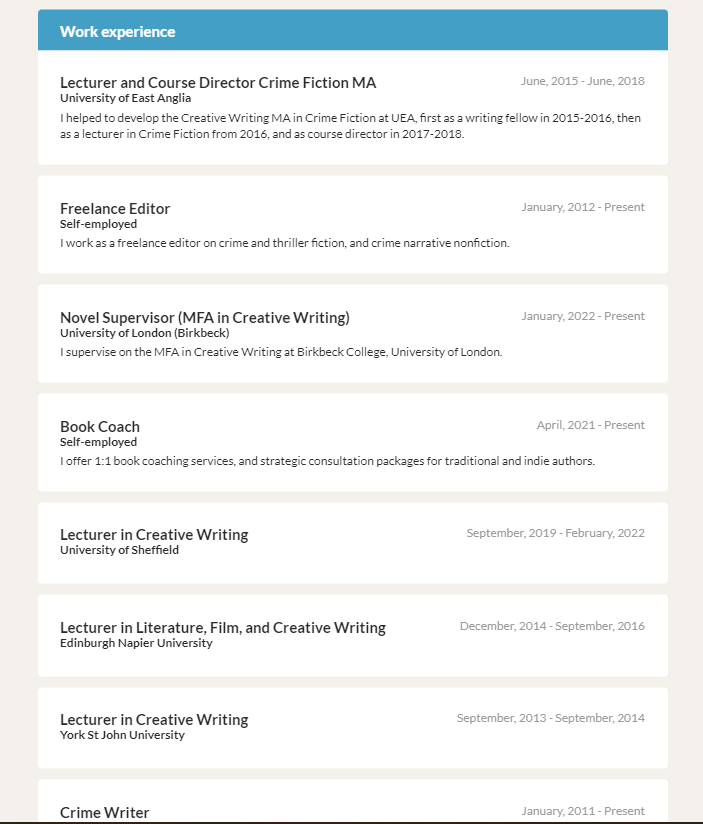 Martin: Laura's profile is a good example of giving details in your work experience. [She includes] stuff that is useful, interesting, and relevant to authors, instead of listing her responsibilities. But there's quite a lot. 
Prathima: Yes, that's way too much information before I get to a portfolio. And the portfolio is always the exciting bit. 
Martin: Perhaps instead of adding one entry for each university you've lectured at, you can have one entry and then list the different universities in the description. This applies to your freelance work experience too: put all your achievements as a freelancer under one work experience, and not add projects as separate entries.
Work experience actually turns up in the profile preview too, so you want to prioritize your CV according to relevance and put what you think is your unique selling point in the top three positions. 
Profile #4 — María Elena A. (Translator)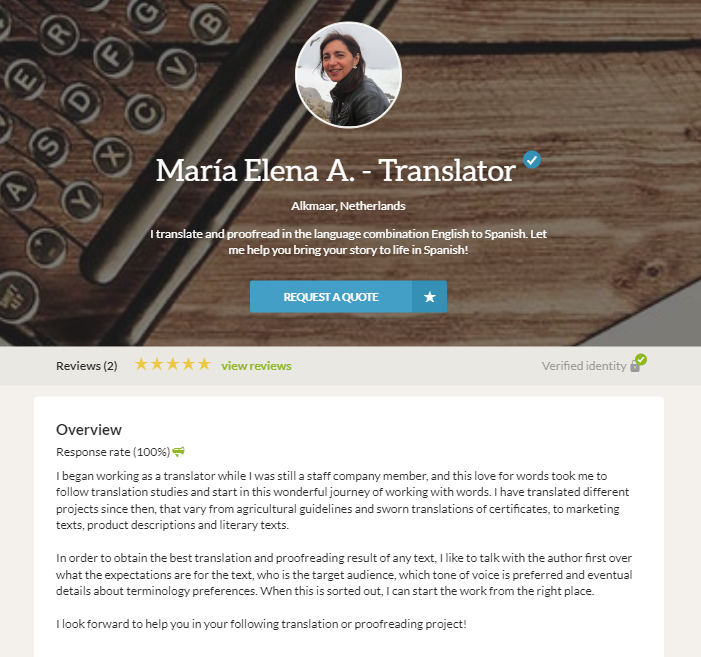 Martin: María Elena translates and proofreads in the language combination English-to-Spanish and says "Let me bring your story to life in Spanish." In her overview, she talks a bit about how she began working as a translator, different projects she's worked on, and her process. 
Prathima: I think María Elena's overview was brief and clear, but instead of saying that she translates books from English to Spanish and then repeating that she will bring your story to life in Spanish in the short description, she could use that space to highlight the genres she specializes in. 
Martin: The language in the overview isn't 100% perfect so it could be worth having an English writer go through it too. Because I'm sure María Elena's ability to translate into Spanish is immaculate, but for a new author, grammatical errors may not inspire the most confidence.
Curate your portfolio to match your genre tags
Prathima. When I went through the portfolio, I didn't see examples of all the genres she mentioned. If you're listing a genre, make sure there are at least one or two clear examples in your portfolio. 
If I were to look at the profile for something that wasn't romance — I think she listed cooking as one of her genres, for example — I would want to see a couple of books in the non-fiction genre in her portfolio. 
Martin: When you search for Elena's profile, you only see romance novels in the preview, so the way it's arranged gives the impression that she's inviting a specific type of book.
Prathima: Exactly. So I think she should at least put in a couple of other books that she's worked on.
Another tip that we tell a lot of our non-editor and design professionals is that you can always use the gallery section too. So if you can't find your book on Amazon or Google, you can always upload the cover of it in your gallery. 
💡Top tip: All professionals can use the gallery to highlight projects they've worked on but can't find on Google or Amazon to complement their portfolio. 
Focus on quality over quantity
Martin: María Elena has also listed her individual projects under her work experience. And the first thing that pops up is a translation into Dutch; if you're looking for a Spanish translator, seeing a Dutch translation is not super helpful.
Instead, you can say that you've worked as a freelance translator between these years, and then you can list the types of projects you've worked on, prioritizing the genres and languages that you're offering. 
Freelancers may want it to look like they've got a beefier portfolio [or work experience] than they actually do, which is sometimes why they include every single book they've worked on. Having one book per author is enough, though, whereas if you list four or five books by the same author, it gives the indication that you may be listing your whole CV. It's useful to be selective. 
Prathima: Yes, I think two books for each genre you've listed ensures that you have a varied but representative portfolio. You can definitely have more than 11, but I think variety and covering the genres you've listed is more important than quantity.
Profile #5 — Nina B. (Editor)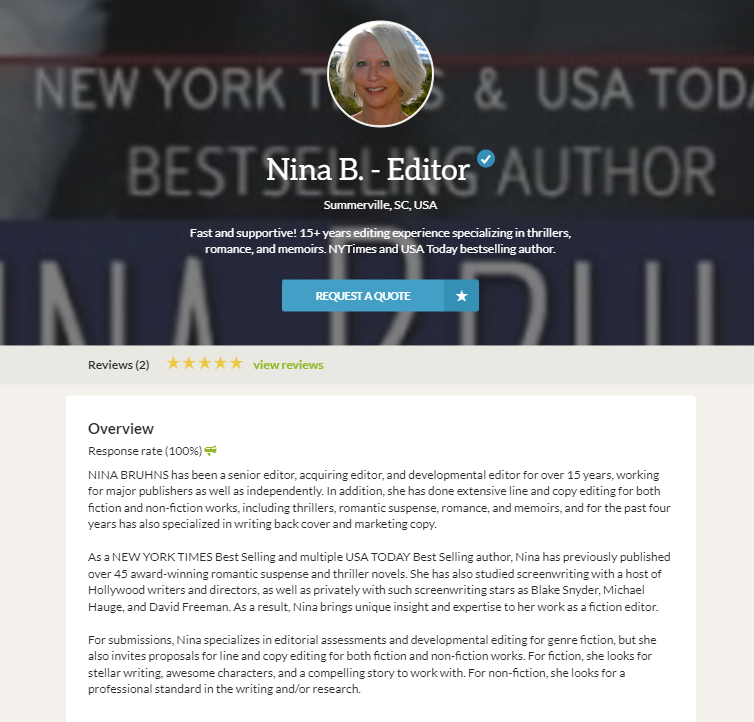 Prathima: Nina has a very good short description, but, as you mentioned earlier, the work experience section feels a little empty. It's always a good idea to add relevant information there. 
Martin: Yes, if you've worked for a big publisher, it's a good time to mention who you've worked with or what type of projects.
Highlight your expertise in your main service only
Prathima: Another thing I noticed in her work experience is that she mentioned she's also a cover designer. If you're listed as an editor, you want to make sure that you only talk about your editing experience. It's not a good idea to mention other professions. I understand that our professionals are capable of doing more than just one thing, but your profile has been approved for editing only, so it's best to stick to that and talk about your editing experience, and not any other professions. 
Having experience as an author is probably the expectation because you've experienced what the authors you'll be working with will be going through.
Profile #6 — Lorraine Martindale M. (Editor)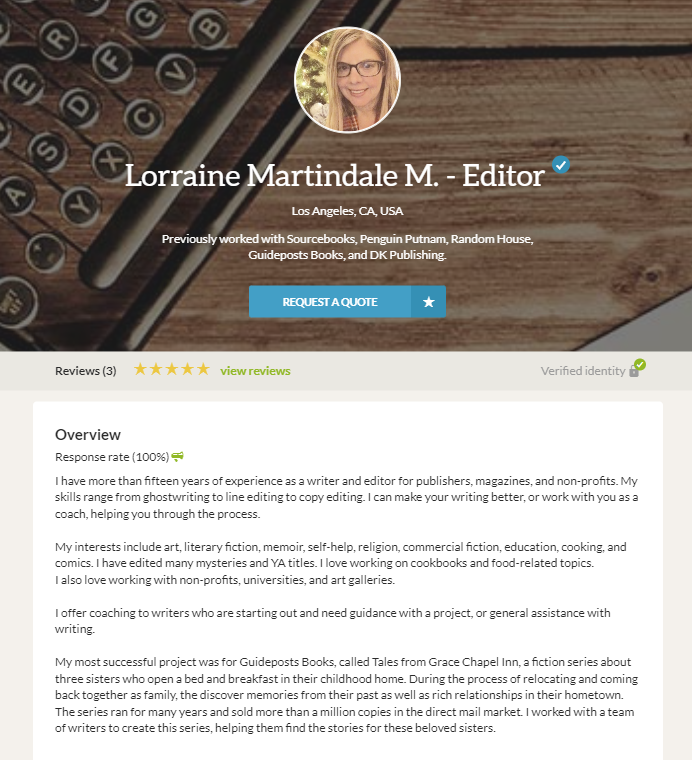 Use Reedsy terminology for clarity
Prathima: The same thing I said about Nina's profile applies to Lorraine's: stick to one profession only. I understand that you do ghostwriting and other professions as well, but because you're listed as an editor, you want to talk about that and your skills in that area. 
Additionally, we don't really list line editing as a service on Reedsy, so it's probably not a good idea to mention that. A lot of authors confuse the differences between editing services and might expect something different because you've listed line editing and copy editing as different services. You want to make sure that the services you've listed match what we have on Reedsy. 
Think about your presentation
Martin: What do you think about mentioning one's most successful project, as Lorraine does in her overview?
Prathima: I think there's a little bit too much information there for just one particular series.
Martin: Yeah, it's almost like saying, "I've worked on one series and by some miracle it was successful." Since she's describing the book for people who haven't heard of it, if I'm not being unkind, it sounds like talking about one's salad days and like this is the only thing of significance in your career. 
Instead, you can say "I've worked on many projects, including Tales from the Grace Chapel Inn series, which sold millions of copies." That way, you're framing it as one thing among many that you've worked on. 
Prathima: Yes. And, again, in the overview she speaks about genres that are not listed in the profile, which I'd edit out. 
Martin: It's nice to be well-rounded professionals. But if people are putting down the kind of money they're putting down, they're not looking for jacks of all trades; they're looking for someone very specifically matched to the task at hand. 
Proofread your profile carefully
Martin: We also noticed that, in the work experience section, there are a bunch of HTML bumps. Lorraine might have copied and pasted this from a Word document and not checked through it, but this is not the sort of meticulous work one would expect from an editor.
Prathima: That's something that all professionals should do in general: once you've filled out your profile and you've submitted it, check how that looks on the actual marketplace. You want to make sure that you clear all of those formatting issues and any typos that you might have, because you may not realize it when you're typing it out, but it's always a good idea to take a look at that again.
💡Top tip: Even publishing professionals can get blind to their own texts, so consider getting a second opinion on your profile from an external proofreader.
Q&A Section
As a marketer on the platform, I find people don't know what to expect in terms of budget. Is it worth putting pricing in the profile? 
Prathima: You can have a general pricing list but, of course, you want to make sure that you mention that your offers are going to be tailored to what the author needs.
Some designers have their basic prices on their profiles, which is fine because those are their starting rates. But just let them know that your offers will be tailored.
Martin: Yes, we do have some resources we send people to show them average rates but I think because there are so many moving parts in any given marketing collaboration, sharing averages aren't particularly useful. 
Is there any way to see how many people visit your profile? 
Prathima No. But perhaps in the future!
Can you have two separate profiles for two professions?
Prathima: No. We ask our freelancers to select one main profession because, as Martin said, when authors come here, they're looking to invest a significant amount of money and are looking for someone who specializes in that profession. Someone who has a niche specialization, rather than someone who can do multiple.
Many times I've received requests with many services checked. I found this confusing, because getting a developmental edit, editorial assessment, and query letter review all at once isn't realistic. Thoughts?
Prathima: This is obviously a case where the author isn't really sure what they're looking for or doesn't know what each service entails. They list everything because they feel like if they don't, they might miss out on something.
I always recommend taking a look at the sample before you make an offer. Take a look at the sample and discuss it with them. See what they're looking for, and based on what you've read in their sample, you can go ahead and make an offer [for the service you think they'd benefit most from]. Then you can add a caveat in your offer to say that this is subject to change, depending on further discussion. 
Martin: if it's something broad, you can look at the sample and say, "Judging from what I've seen, I recommend starting with a developmental edit. I don't recommend that you also hire me for the copy edit. Here's my quote." However, if they want an editorial assessment — because that tends to be a little bit more affordable — give them the editorial assessment quote too. 
Basically, a lot of authors don't really know what they're looking for, so you tell them what they need and that they're in capable hands.
Why do I get so many requests for services I don't list in my profile?
Prathima: That's probably because you've listed at least one service that they're looking for. If you have listed copy editing, but they're looking for someone who does copy editing and a developmental edit, your profile will come up in the search results.
In that situation, you can go ahead and make an offer for just a service that you offer, if you're interested. Or you can decline if that's a project that you're not interested  in. 
I've worked with some well-known publishers. Do you recommend listing a couple of the heavy hitters in the short description? 
Prathima: Yes. Big titles and big names always work. It's always a good idea to put that in your short description. 
Do you think the overview section is best written in first person or third person? 
Prathima: I personally like it in first person because you are selling yourself and your services. 
Martin: When you're doing a blurb for a book or a professional bio, third person allows you to have a distance that allows you to toot your own horn, whereas what you're selling [on Reedsy] is the experience of working with you. In many ways, it's like a dating profile because you're putting yourself out there as someone they're going to work with. You are the person they want to know. 
Prathima: That's another thing that Nina can change about her profile, because that was in third person.
Martin: This person can be a bit cold; "If you're interested in working with Nina, we'll put you in touch when she has some time." 
I've noticed that not a lot of people have videos on their profiles. Is that a missed opportunity?
Prathima: Yes! We've had that feature for a while but because we were using YouTube [to facilitate that], that feature's going to be updated this week actually. 
We've built a new app that you can upload your videos to and I do recommend adding a video if possible. A lot of people aren't comfortable being in front of the camera, but if you are, it's always a good way to catch someone's attention. 
Martin: Since it's a service that is being sold online, people want some sort of assurance that you're a real person, that you're warm and engaging. 
Is it a good idea to include interiors in your gallery or should you stick to just covers?
Prathima: If you have book interior design listed as a service, you should definitely include interiors in your gallery. 
Martin: Alright, that's all we have time for today. Thank you Prathi and everyone who tuned in. 
---
For more tips on how to create a great freelancer profile, get more freelance clients, or notifications about events like this, subscribe to our Freelancer newsletter or follow us on LinkedIn.