How to Become a Literary Agent: 7 Steps to Establishing Yourself
✍️ This post was written by Kleopatra Olympiou, a writer from Cyprus and holder of an MA in Creative Writing from Durham University. 
Nearly every book begins with a literary agent reading a manuscript submission and seeing its potential. These professionals have the power to influence the literary market in accordance with their own tastes and business savvy — which, admittedly, is a very cool thing to do as your job.
If you're considering following their footsteps, we've gathered all the information you'll need and spoken to ten experienced agents, who have contributed their wisdom. Here are seven steps to becoming a literary agent.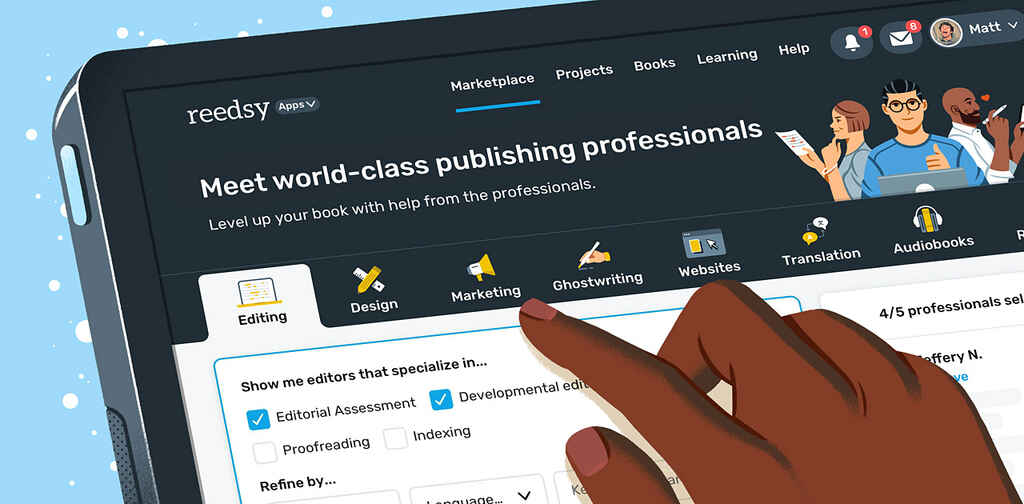 Supercharge your freelance career
Find projects, set your own rates, and get free resources for growing your business.
1. Start by understanding what a literary agent's job entails
Before you set your heart on becoming a literary agent, you have to know what you're getting yourself into. After all, being a literary agent isn't all book launches and four-martini lunches. 
So what do literary agents do? To summarize it briefly, agents act as the intermediaries between authors and publishing houses. When an agent accepts an author as their client, they enter a long-term partnership where they work together to make the most of the author's career.
On a given day, a literary agent's duties might include:
pitching a book to editors
revising a client's manuscript
performing "author care" duties (e.g. corresponding with authors via email or phone calls to discuss projects in progress, pitch developments, or royalty payments)
reading query letters submitted by authors seeking representation. 
Compared to editors employed by publishing houses, agents generally enjoy greater autonomy, and are more free to pursue their own reading tastes and interests. Exact circumstances vary depending on each agency's ethos and the level at which the agent is working, but more junior agents at larger agencies tend to be asked to work within a certain genre to fill a gap in the market share of books for that agency. Then, as they become more successful, they get to pick according to their personal taste more and more, with an independence not typically afforded to in-house editors.
"To be a literary agent you need to be endlessly curious and open-minded about what lands in your inbox," says agent Sarah Williams. "But there is incredible joy and satisfaction with having your personal taste match with what a writer has sent you, and that you know there is a place in the current publishing market for it. That's where the magic happens."
Essential skills for a literary agent
If this sounds like something you'd like to do for a living, here are some skills that are vital for any agent to have:
Communication and interpersonal skills — to network with editors and know who's looking for what, as well as nurture client relationships and collaborate with other members of their agency
Strategic thinking and industry acumen — to perceive where a book can fit in the current or future market and negotiate on their clients' behalf
Literary savvy and editing skills — to recognize manuscripts with potential and envision ways to improve them
Project management and organizational skills — to keep track of client projects, royalty payments, and multi-task multiple clients' needs
Most people's fantasy of being a literary agent rightly involves creative work with brilliant and inspirational talents — but agenting, like any job, also has some drawbacks you should know about, which we'll touch on later in this post. For now, let's turn to how you can start to build your career.
2. Choose a reading-heavy subject in college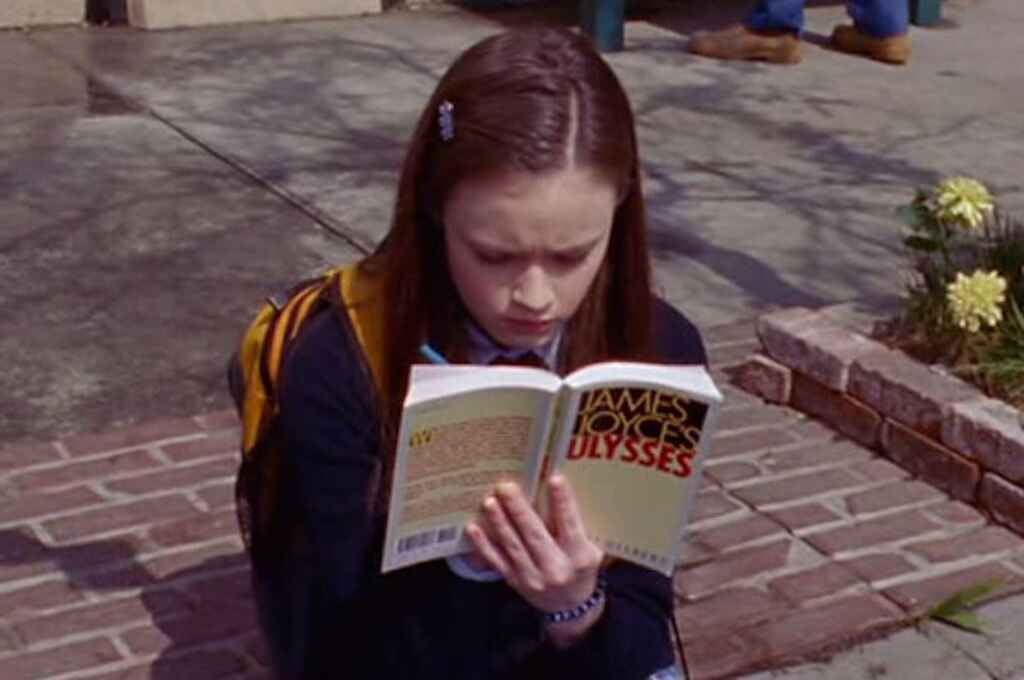 The first step you can take toward becoming a literary agent is to get a college degree — most people working in publishing have at least a bachelor's, so while degrees aren't always stated as essential on paper, you'll benefit from one.
If you're about to choose your major in college, consider a humanities subject that involves doing lots of reading, critical thinking, and interpreting, which will set you up with some of the essential literary skills involved in editing. English or comparative literature are pretty common academic backgrounds for publishing employees, and so are closely related disciplines like Writing, Publishing, Journalism, History, Philosophy, and Sociology. 
As an experiment, we asked ten literary agents what they studied at college — here are their responses: 
1 × Social Work
1 × Rhetoric
1 × History and North American Studies
1 × Archaeology
6 × English
Of these ten agents, seven had pursued a Master's degree or postgraduate publishing course, and one had a PhD.
The truth is that your degree won't determine whether you get the job or not, and people aren't likely to care very much what you majored in. Plenty of agents have a background in Law or other seemingly unrelated subjects, like Urban Planning, but eventually found their way to agenting by building industry-specific skills and experiences.
TL;DR: choose something relevant to build useful skills if you're yet to make a choice, but don't sweat it if you've already got a degree in something else. Your next step will be to find your first role in the publishing industry and begin to get hands-on experience, which is what really makes you employable. 
3. Get an internship or entry-level job in the publishing industry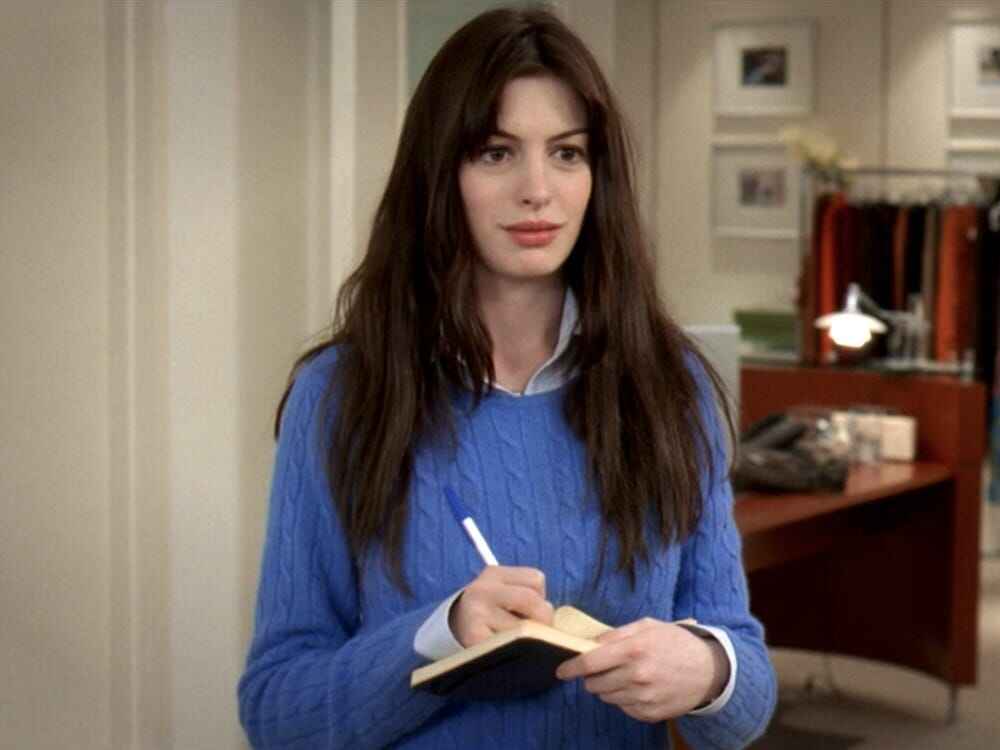 Since colleges don't usually offer a major in literary agenting, internships are a common way to enter the industry and build some essential office skills. These are offered by many literary agencies and are a great way to learn more about how agencies operate. 
With your trusty notebook at hand, you'll learn about:
How agents decide which authors to take on;
Intellectual property and copyright;
Publishing licenses;
Translation rights;
Domestic and international representation;
The role of literary scouts.
But it's not just theory — during an internship, you'll be making your first contacts and putting your critical reading to the test by going through the submissions pile. Duties will vary depending on each agency, but also tend to include administrative tasks like answering phone calls or responding to email inquiries, posting social media content, helping organize events or planning the agency's attendance for book fairs. If you struggle to find an internship in an agency, interning in a big 5 or independent publisher will also help you build your knowledge of the industry by showing you the inner workings of traditional publishing.
Free course: Inside a Traditional "Big 5" Publisher
Learn what goes on behind the closed doors of publishing
In Reedsy editor and literary agent Kaitlyn Katsoupis' opinion, internships are the best way to get your foot in the door, but not all internships are equal. "The key is being sure the place offers true mentorship and not just throwing busy work at an intern." 
One way to do that is to check Glassdoor reviews from former interns. If you look at the reviews of Aevitas Creative Management's internship, for example, you'll notice interns consistently reporting being happy with the opportunities they were given during their time there. If people just make their interns do photocopying and filing, Glassdoor is likely to reflect that. Alternatively, you can always look up past interns on LinkedIn and send them a quick message to ask how they found it — you'll be surprised by how happy people are to help.
Publishing careers adviser Suzanne Collier urges those seeking a career in publishing to seek out only paid internships where possible. "Unpaid work is something you undertake when you are volunteering for charity or working on your hobbies. Publishing companies, even those with a charitable ethos, are neither of those things. Every commercial company should pay all their staff." You'll be doing real work that benefits the company, so you deserve to be paid for your efforts.
Many roads lead to agenting
In the interest of showing you that there is no single 'right' path to becoming an agent, we've spoken to some literary agents who offer freelance services on Reedsy's platform and gathered their career trajectories below. We hope they can also serve as useful case studies of the way the apprenticeship model operates: if you start as an intern or assistant of some form, eventually that pays off. 
Sandy Fuller: Administrative and production assistant at a film studio → children's books buyer and consultant for wholesalers → bookseller → freelance editor → literary and rights agent → founder of a boutique literary agency
Annie Bomke: Editorial assistant at a literary magazine → royalties and foreign rights agent at a literary agency → freelance editor and founder of a boutique literary agency
Larissa Melo Pienkowski: Social worker → managing editor of a professional membership organization → senior editor of a diversity education company → book publicity intern → editorial intern/freelance children's editor → assistant publisher → freelance editor/business owner → fiction editor → associate publisher → literary agent
Jennifer Barclay: Administrative assistant and foreign rights coordinator at a literary agency → literary agent → commissioning editor at independent publisher → freelance editor and occasional literary agent
Jon Darga: Intern at a literary agency → foreign rights assistant at a literary agency → editorial assistant → assistant editor → literary agent
Amaryah Orenstein: Editorial assistant at academic institutions → editorial assistant at a literary agency → assistant literary agent → founder/president of a boutique literary agency → agent and freelance editor
Kaitlyn Katsoupis: Academic copy editor → intern at a literary agency → copy editor → apprentice agent → literary agent
Max Sinsheimer: Editorial assistant → associate editor → editor at an academic publisher → founder of a boutique literary agency and literary agent
Charlotte Colwill: Bookseller → agency reader and advisor → studio manager at children's book packager → literary agent assistant → literary agent → founder of independent literary agency
Hannah VanVels Ausbury: Freelance academic editor → bookseller → editor → literary agent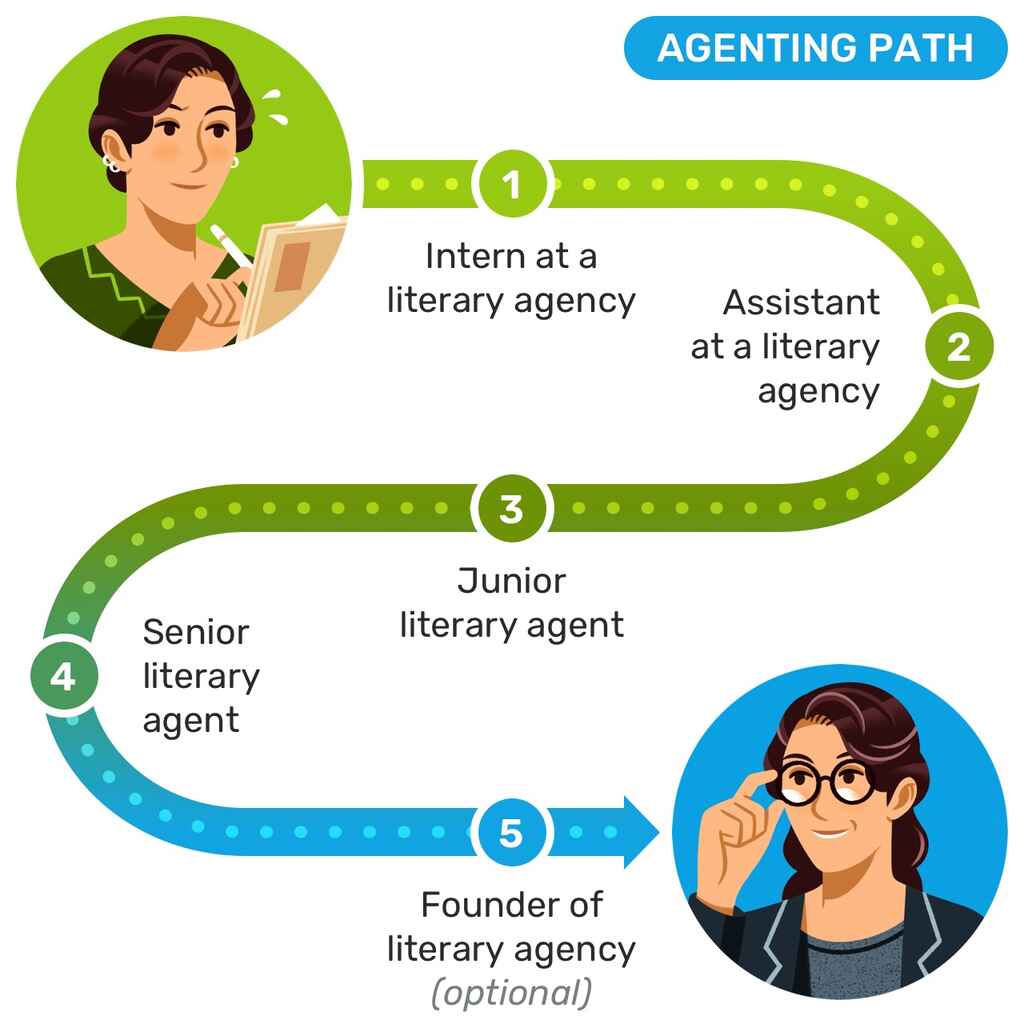 You know what's next: using your internship experience to earn your first full-time role.
4. Seek out assistant jobs at literary agencies
If you started out with an internship or an assistant job outside of literary agencies, a good next move would be to look for an assistant job where you are in direct contact with agents. In their roles, assistants to literary agents are assisting agencies with day-to-day operations and building the skills to become agents in their own right. 
If you didn't manage to intern at an agency, this is also the stage where you begin to test your potential as a future agent: one of your tasks is going to be to read through submitted manuscripts and book proposals and write reader's reports for agents, helping them make acquisitions decisions. 
A reader's report, in case you were wondering, is a document that:
summarizes important facts about a submission (title, genre, author name and credentials);
describes the plot; 
analyzes the submission's strengths and weaknesses; and
recommends acquiring or rejecting the book at hand. 
As literary agent Nicole Cunningham explains, these reports equip you with some important skills: "An effective reader's report shows not only that you understand a book on an editorial level – its plot, themes, style, voice, and structure, for example – but that you can clearly see where it fits in the current publishing market. That skill is crucial as an agent. Reader's reports allow you to hone your editorial voice, demonstrate valuable industry knowledge, and gain confidence as an experienced, trusted reader."
The reality of being a literary agent 
At this stage of your career, you'll see what being an agent is like first hand, so there are a few things worth addressing. Along with the joys of helping wonderful books get published, working as a literary agent can come with a long apprenticeship stage, a frequent lack of work-life balance, emotional demands that aren't for everyone, and unstable finances.
You'll need to hustle at entry level for some time
When you set out to become an agent, you can expect to spend around five years performing low-paid, entry-level work to get your foot in the door or build the job-specific skills necessary to progress to agenting. Unless you work multiple jobs or have savings or financial support in place, living in New York or London can be hard or impossible — which contributes, of course, to the publishing industry's ongoing struggle for diversity.
You don't switch off after 5pm
Being an agent takes more than the usual nine-to-five. Asked about the difficulties of agenting, editor and independent literary agent Jennifer Barclay's confirms that her former role at an agency was "very intense and extended well beyond office hours to reading at home and attending events in the evenings." Jennifer's experience was that there was a weight of responsibility for her clients' livelihoods which could feel overwhelming at times, and there was never a moment when someone didn't need something from her, though the thrill of successes made it worthwhile. You'd have to judge your personal boundaries on this one.
The job can be emotionally taxing
In answer to our question about the more problematic sides of agenting, Jennifer also describes aspects of the job as emotionally draining — she recalls finding the creative part of the job to be minimal in her first agency role, with money being the focus instead; feeling tired eventually of the "schmoozing" required of an agent; and one of the toughest parts being receiving the inevitable rejections and passing them on to clients. These aspects of agenting can lead to burnout, so when making career decisions, take your own temperament into consideration, paying special attention to how you tend to feel when working under pressure. 
Your salary may not be stable
How much money an agent makes is determined by their client authors' earnings. Standard practice is for agents to take 15% of their client's earnings in commission fees, and as a result, agents who are not paid a regular salary by an agency will see their paycheck vary month to month, offering limited financial security.
What about agents who are salaried workers at literary agencies? Agent Jon Darga says that this can take two forms: a true salary, or a 'take.' In the former case, "the agent is considered an employee of the agency with all of the responsibilities therein, and typically does not see any commission unless it's in the form of a discretionary 'bonus.' " In the latter, "an agent's commission goes towards 'earning back' their salary, and then once their salary is 'earned back,' they start seeing their standard commission." Jon explains that takes are typically lower than true salaries to allow for the risk assumed by both agent and agency, but not all agencies have the financial backing to offer a salary or a take.
What's important to know is that every agency's offerings will differ when it comes to the following questions:
Getting paid on commission vs as a salaried employee vs working on a 'take'
Freedom vs restrictions in terms of what projects you can represent
Employee benefits like health insurance or 401k vs no benefits
It varies on a case-by-case basis, so you'll have to arm yourself with information, know what you're looking for, and assess each offer when you get to it.
Now that you're on your way, you'll also be meeting more and more people through your position in an agency.
5. Grow your network and connections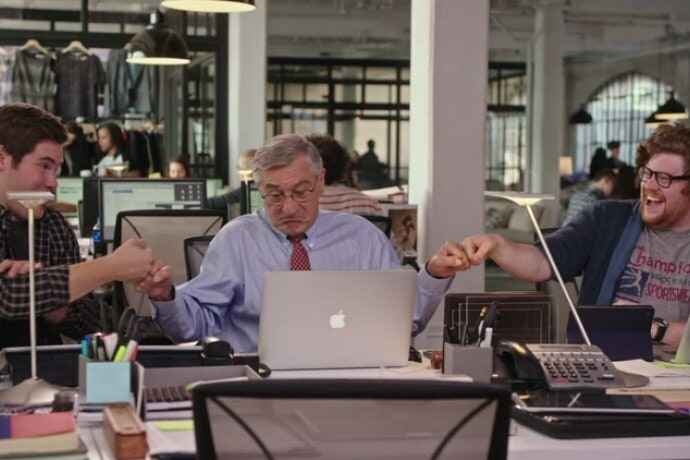 One part of an agent's job is to know when a book has potential. Another part is knowing who's going to want to buy it.
While working in an agency, the agents you work with will be talking about which editors they plan to pitch specific books to, so keep track of this information. Unlike literary agents seeking submissions, individual editors' preferences aren't generally public information, so it's up to you to put the picture together based on the discussions happening in your office and during after-work schmoozing. Make notes in a notebook, start a spreadsheet, or by all means go old-school and fill in a Rolodex.
Make personal connections
Along with mapping out who works where and edits what, you should also make personal connections. Network within your own cohort of assistants: if you frequently work with publicity or editorial assistants working for publishers, they may end up being the publicists or editors junior staff will look up to in the future. 
"Don't underestimate the value of networking as an assistant — both with colleagues at publishers and agents at other agencies," advises agent Hannah VanVels Ausbury. At this stage, you might not be forging professional alliances, but a support and friendship network can be just as important. 
To this day, Hannah remains in a few different group chats with other publishing professionals she's known since they were all starting out. "I'm always struck by the kindness of my colleagues and how much we genuinely are rooting for one another's success." 
To meet even more people from across the industry, it's helpful to attend industry events like book fairs, networking events by the Association of American Literary Agents, or writing conferences. When agent Kaitlyn Katsoupis first started out, she found the literary community to be a great way to make connections. "I was in Boston at the time and became a part time employee for GrubStreet, which hosted a huge writer's conference. For others, it may be something as simple as attending any author readings or book clubs at local bookstores."
Whatever that looks like for you, the key with networking is to make an active effort to depart your comfort zone. Overcoming nervousness will lead to greater professional confidence in the long term, and likely lead to connections that can help take your career to the next level.
6. Keep climbing the agenting ladder 
If you've managed to find a role within an agency, you'll soon know everything you need to become a successful literary agent.
Become a junior agent
As a junior literary agent, you'll have to build your own client list and establish your name. Armed with your mentors' recommendations, you'll be looking for projects of interest and authors ready to trust you with their careers. 
Many junior agents are hit by imposter syndrome at this point — it is, after all, the first time a writer's entire career will depend on you, so you may find yourself wondering why anyone would take a gamble with you when there are so many experienced senior agents out there. 
If you do find yourself thinking that way, remember that:
Clients who choose you will see you dedicate a lot of time and energy to helping them
They won't have to compete for your time with celebrity or bestselling clients
Everyone started out as a junior at some point
You aren't in any way disadvantaged, as you'll have your mentors and agency's support around you     
Agent Amaryah Orenstein encourages emerging agents to remember that the industry isn't always a competition. "There are more than enough books and authors to round. It's a question of finding the right fit — not every book is right for every agent. And if you can see it that way, you can free yourself to focus on what's the best fit for you, and on doing the best you can for the authors/books who fit that bill." 
Whether you feel prepared or not, you'll soon have your first client, and your second, and your third. You did it: you're a full-fledged literary agent now.
Progress to the position of senior literary agent
When you've served as a junior agent long enough to have a persuasive track record of choosing promising manuscripts and shepherding them to success, you'll be able to climb up another step of the agenting ladder and become a senior agent. 
This is the top of the agency ladder — you'll now be among established figures in the publishing field. Hopeful writers wishing for literary representation may consider you their 'dream agent,' you'll be receiving more queries than you can read on your own, and you'll have admin support from assistants or interns while you try to make time for all of your clients.
By all accounts, you've accomplished what you set out to do, so make sure you pause to celebrate your achievements. It takes many years of hard work and determination to get here. Now it's your turn to help lift others up.
Pay it forward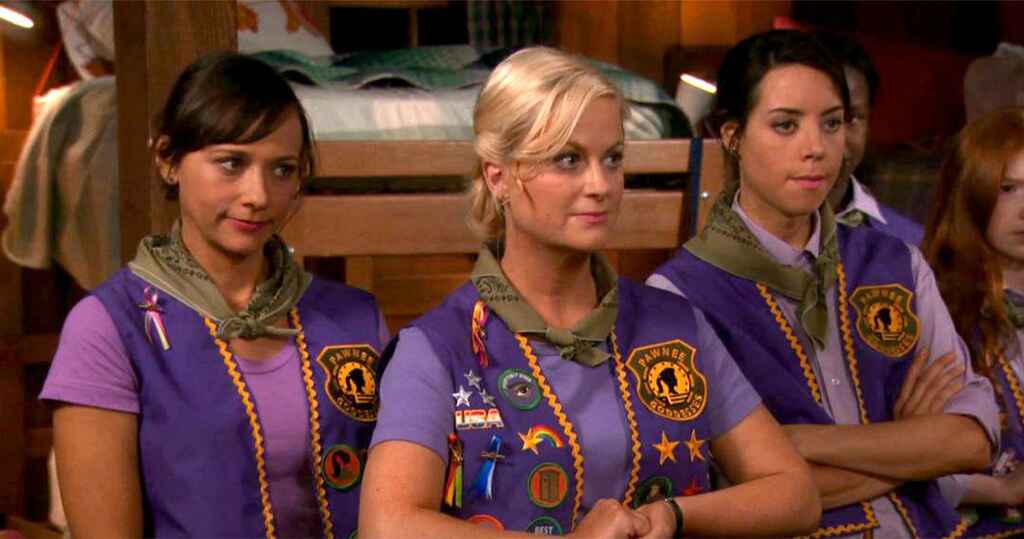 When you've made it this far, it's time to reflect on all the help and mentorship you received on your way. If you were making an Oscar acceptance speech, you'd likely have several people to thank by now: those who helped train you, who gave you advice, who offered you their friendship, and who trusted your abilities and taught you to trust yourself.
It's time to give back. When you work with assistants or interns, take the time to properly inform them and make them feel comfortable — offer context for the tasks you assign them, let them know that they can ask you questions, and give them opportunities to prove themselves and grow their skills. 
Agent Larissa Pienkowski points out that by extending your support to junior staff, you can do your bit to make publishing a more welcoming and accessible field. "Supportive mentorship is critical for BIPOC, LGBTQ+, neurodivergent, and other agents with marginalized identities in particular. 
"The publishing industry wasn't created by or for us, so mentorship is one tool out of many that can help build a supportive community in which we feel seen, heard, and bolstered to keep going and building our careers." 
If you want to take an extra step toward making your mark on the industry, you can also consider setting up your own agency or going freelance.
7. Strike out on your own
For many experienced agents, the culmination of a successful career is the position of senior agent at an influential agency. Others choose to set up their own agency to have total freedom in pursuing their literary and commercial gut instinct, or go freelance, offering editorial services to projects that appeal to them. 
These steps are optional and not part of the traditional ladder. Many agents are happy in their agency roles and remain there, but in the interest of giving a complete picture of your options as a senior agent, we'll quickly look at two alternative paths.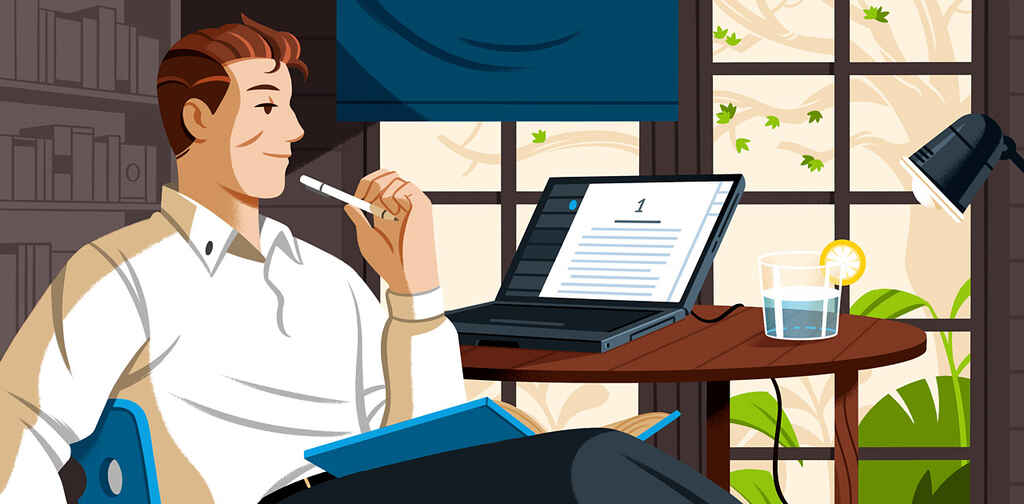 The Full-Time Freelancer's Checklist
Get our guide to financial and logistical planning. Then, claim your independence.
Setting up your own agency
Founding your own agency means you're your own boss, legally as well as metaphorically. If you're not entrepreneurially-minded, it may sound like an incredibly complicated undertaking, but all of today's established agencies started this way, so have a little faith. So long as you find great writers and foster contacts among editors, you'll be on your way.
"It's easier than you think to set up on your own — there are no real overheads when starting an agency," says Charlotte Colwill, co-founder of boutique agency Colwill & Peddle. "In terms of rights and contracts, there are partners out there you can work with until you have that knowledge in-house." 
If you're hoping to set up your own agency without having followed the conventional path, your lack of agency experience will pose its own challenges. Max P. Sinsheimer discovered these pitfalls when he set up his own agency after serving as an acquisitions editor for Oxford University Press. "By skipping the apprenticeship stage, I invited a whole slew of 'unknown unknowns' into my work life." 
Though he had an editor's knowledge of what makes a manuscript strong and marketable, Max's 'unknowns' included agent-specific skills like:
spotting author red flags in otherwise attractive proposal
using one editor's interest in a project to prompt another editor's response
navigating a closing
knowing which contract clauses have wiggle room
knowing the systems and softwares that can help agents effectively track queries
dealing with royalty statements and payments
In the face of these challenges, Max gratefully acknowledges the help he received from excellent agent mentors and a large network of respected authors from his time as an editor at OUP.
Max's example proves that it's possible to set up and run a successful agency without direct agenting experience if you have some hard-earned industry knowledge, editorial skills and experienced contacts — but his story is also a reminder that the apprenticeship model exists for a reason.
Setting up your own agency should never be considered a shortcut into the industry: most authors will be deeply suspicious of recent college graduates without editorial or agenting experience setting up their own agencies, and for good reason. Authors trust agents with their careers, so to call yourself an agent without relevant experience, even with good intentions, would be considered a scam by most in the writing community. 
Going freelance
An alternative way to use your agent experience in a way that isn't constrained by an agency's needs is to offer freelance editorial services. In fact, every agent we've quoted in this article so far does so, right here on Reedsy's publishing marketplace. 
Many agents offer developmental editing or editorial assessments, which draw from the big-picture evaluation skills they practice as agents. Another service that agents are especially suited to and qualified for is query letter reviews, where authors pay for feedback on their query letter draft and an edit of their manuscript sample. As you can imagine, being able to consult an agent before you go on to query agents can be pretty handy.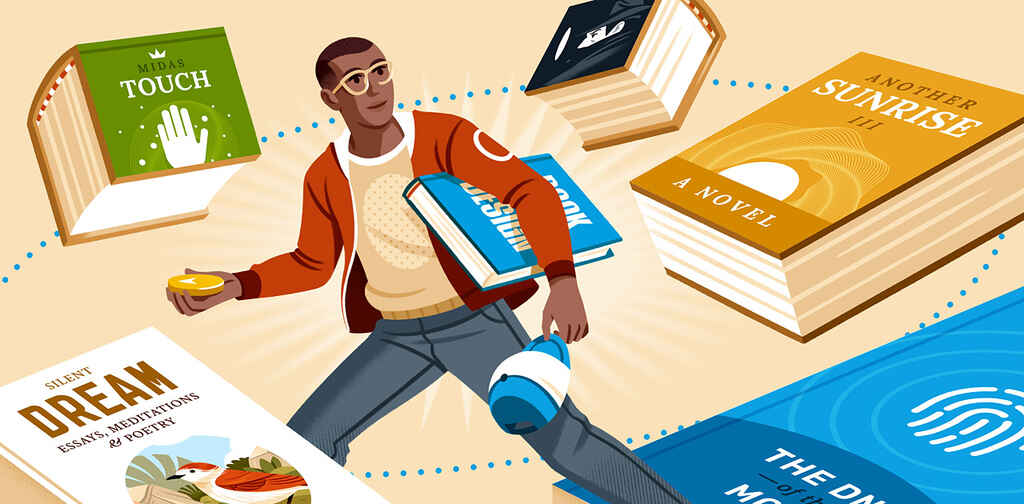 Find exciting new projects
We connect publishing professionals with our community of 1,500,000 authors.
💡In case you were wondering, agents who offer editorial services have to comply with the AALA's ethics canon by refusing to accept queries from writers who have paid them for editorial feedback and making this clear on their freelance profiles or websites.
Wondering what freelancing can offer you? Whether you do it full-time or as a side hustle, we'll let some of the pros on our marketplace tell you why freelancing works for them:
Though the path to becoming a literary agent can feel long and arduous, the system generally works in a perpetual relay: established agents help train the next generation of agents, forever passing down industry knowledge and helping champion literary talent. We hope this article has helped you understand how it all works. There's just one question left for you to answer: will you be taking up a baton? 
---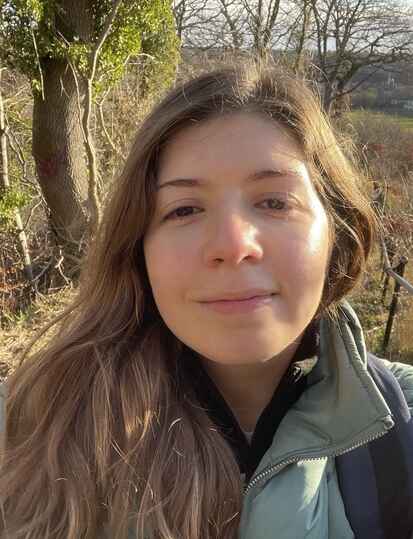 Kleopatra Olympiou is a writer from Cyprus, and holds an MA in Creative Writing from Durham University. Her writing has appeared in HAD, Electric Literature and LitReactor. She lives in London.