How I Quit My Job and Made 6 Figures as a Freelance Marketer With Reedsy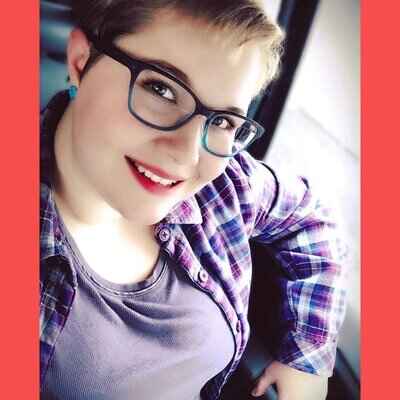 Arley Concaildi is a digital marketing expert, author, and business owner who has promoted more than 100 New York Times and Amazon bestsellers. With experience in every genre, Arley creates digital marketing strategies that enhance social media platforms, optimize Amazon product metadata, and publicize authors' books via online influencer publicity.
---
If you're anything like I was before I started freelance marketing, you're probably tired, frustrated, strapped for cash, and losing hope for career fulfillment. We're told that hard work always pays off, but the truth is that the economy has changed, and the traditional 9 to 5 doesn't always offer the best opportunities for upward mobility. 
Nowadays, one of the best ways to earn a paycheck is to work for yourself. Of course, ambition needs to be combined with know-how if you want to succeed at this. As someone who recently made the move from a 9 to 5 into a freelance career, I thought I'd share my experiences and best advice for creating a successful freelance marketing business here on Reedsy.
Considering the income potential
I've worked as a full-time freelance marketer with Reedsy for the past year and a half. In my last job, I made $30,000 a year, working 40-50 hours per week. After taxes, retirement savings, and health insurance, that amounted to a modest net income of $20,000 in my bank account. 
Quitting that full-time job was scary, but taking the plunge was the best decision I've ever made. In my first year of being self-employed I made $150,000 in gross revenue. Now I'm halfway through my second year as a new business owner and conservative estimates for my 2022 gross income amount to $300,000, using Reedsy alone. That's ten times more than I could've achieved in my rigid 9 to 5 job. 
Of course, making that much money wasn't easy, especially at the beginning. However, if you're ambitious, work hard, love what you do, and are always ready to learn new things, becoming a freelance marketer can provide unrivaled opportunities for career development.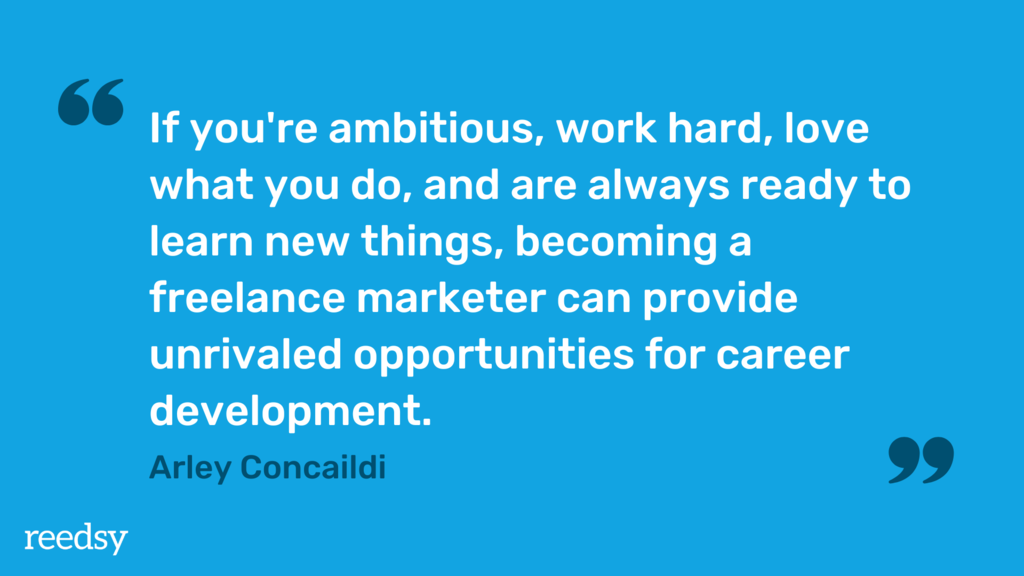 Determining if freelancing was the right fit
Freelancing is an exciting opportunity to make a living doing what you love. It can also be a frustrating experience if you don't approach it with the right attitude. If you're a go-getter and a self-starter with lots of motivation, freelance marketing can be a dream job. It takes a lot of hard work, creativity, and research to learn how to break into this career path, so persistence, optimism, and determination are key. I've also learned that the best freelancers are flexible and constantly learning new things. Being a good communicator, working well under pressure, multitasking, and time management are all great skills that will help you succeed as a freelance marketer.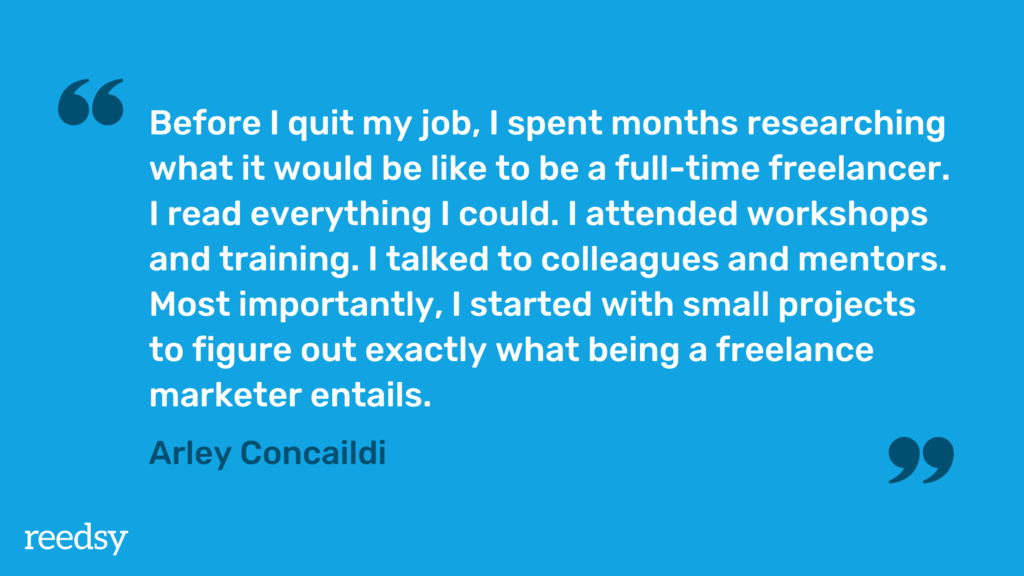 But how do you know you'll like it? 
I never would've had the confidence to quit my day job if I didn't start freelancing on the side first. To be a freelancer is to be an entrepreneur, and that realization intimidated me. I knew I was an excellent marketer, but I didn't know anything about owning my own business. Before I quit my job, I spent months researching what it would be like to be a full-time freelancer. I read everything I could. I attended workshops and training. I talked to colleagues and mentors. Most importantly, I started with small projects to figure out exactly what being a freelance marketer entails, how to best serve my clients, and how to create the perfect balance of work and play to create a successful, long-lasting business that I could enjoy. All of these steps helped me build the confidence to start freelancing full-time.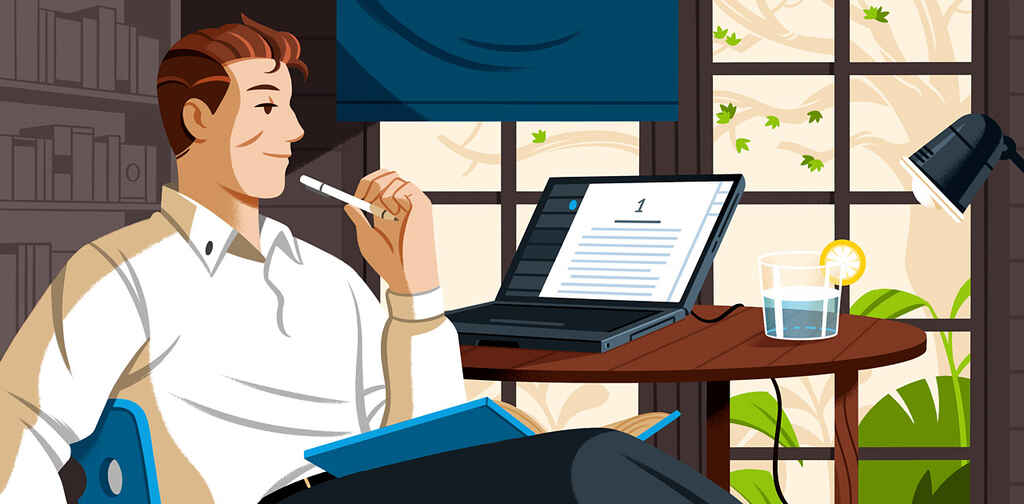 The Full-Time Freelancer's Checklist
Get our guide to financial and logistical planning. Then, claim your independence.
Getting clients to come to me
The scariest part of quitting my job was not knowing whether I'd have enough clients to pay my bills. Most freelancers don't have many clients, so the most significant risk is that you'll go out of business and lose your income, with no safety net. I had plenty of practice in sales and marketing, but I knew that finding clients on my own could be time-consuming and stressful if I failed to meet my financial needs. 
That's my #1 favorite thing about Reedsy: they bring the clients to you so you can focus on improving your clients' lives and honing your skills instead of constantly scrambling for your next project. I receive 5-10 messages daily from prospective clients requesting a quote for my services. I've frequently had to waitlist clients because Reedsy helped me fill my schedule! Reedsy also handles all the payment processing and has set terms and conditions that eliminate the need to waste time over logistics.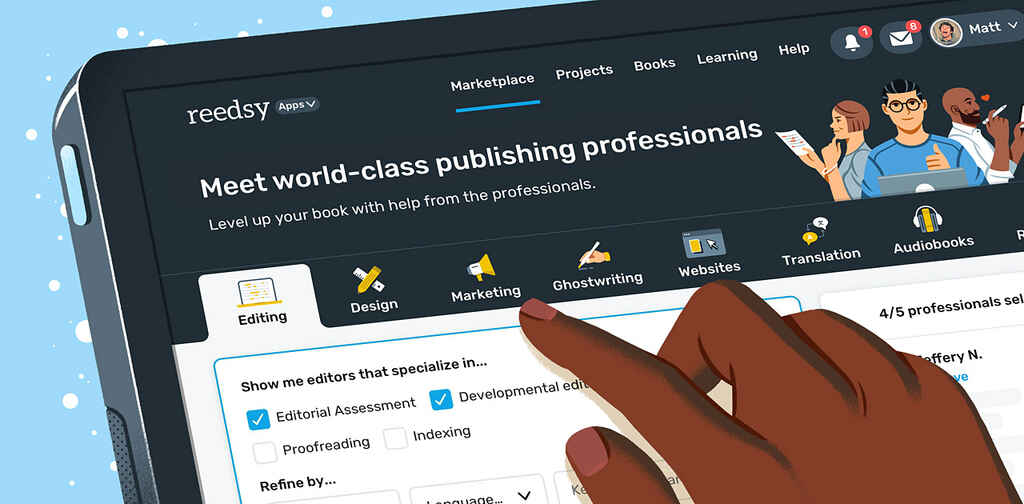 Supercharge your freelance career
Find projects, set your own rates, and get free resources for growing your business.
Offering competitive services at fair rates
One piece of advice I would give to anyone who wants to be successful in this industry is to respect your clients' needs, expectations, and budgets. If you don't, you risk leaving them feeling cheated and losing potential repeat clients. 
Instead, research your industry by looking at what services other professionals in your niche provide, how much they charge, and their ratings. Then, make your services stand out by offering more value than your competitors at a fair price. For example, I chose to offer in-depth strategic digital marketing strategies that offer a digital marketing plan that assesses my clients' social media platforms, creates custom metadata strategies for Amazon and other online retailers, provides influencer marketing services, and does intense keyword research to aid in Amazon advertisements.
This is a lot of content to provide, and it far exceeds the range and depth that most freelance marketers offer. However, I keep my prices affordable by "trimming the fat" and providing detailed instructions on how the clients can implement the strategy themselves, instead of charging them an excessive hourly rate to do it for them. This saves me time and energy so I can focus on creating the best possible strategy, and it saves clients a significant amount of money because my services are efficient, highly specialized, and created specifically to offer the most bang for their buck. In short — your business can only thrive if your clients do, so show them the respect and empowerment they deserve.
Asking for help and advice when I needed it
Being your own boss can feel overwhelming at times. What if you need help with administrative tasks like organization or project management? What if you run into problems and don't know how to solve them? Spoiler alert: You will likely experience both situations at some point, but you don't actually have to start and operate your freelance career alone. 
As soon as I saved up enough money to hire someone to help me with day-to-day tasks like sending reminders and running errands, I invested in assistants to save time and energy while I focused on what my clients truly needed — my expertise and undivided attention. When I ran into obstacles in managing my finances, I found a volunteer business mentor in my area who specialized in helping start-ups succeed. He took so much guesswork off my plate and helped me catapult myself from a hopeful start-up to a successful business. With this help, my productivity skyrocketed, and my income doubled.
Developing a sustainable business plan
Most people who begin freelancing choose this career path because of its freedom, but if you're an overachiever like me, you run the risk of working yourself to death. Ever heard the saying, "If you love what you do, you'll never work a day in your life?" For me, it was more like, "If I love what I do, I'll work 18 hours a day without blinking, sleeping, eating, or having hobbies." 
After a few months of living this way, I suffered an epic burnout that left me wondering what on earth I was doing wrong. As it turns out, the magnificent business mentor I mentioned earlier informed me that the problem lay within my business plan. Namely, the fact that I didn't have one yet. I took on every client I could, provided a massive range of services, and tried to do it all by myself.
Then, I discovered the "lean" business model. In short, the lean business model is a way of strategizing and operating an agile business that maximizes productivity and minimizes distractions. I learned to hone in on my strengths — creating in-depth social media marketing strategies and metadata — and creating efficient processes that made my ever-expanding to-do list more manageable. Once I mastered the lean business model, I went from working 80-100 hours a week down to a standard 40-hour week. A year later, there are some weeks when I only work 10-20 hours without sacrificing profits.
Want to learn more about lean business models? Check out our article on Lean publishing and evolving in the freelance economy. 
Concluding thoughts
If you're looking for a career that allows you to work independently and be in control of your success, freelancing could be a great option. Although it may be intimidating to run your own freelancing business, there are always plentiful resources and people who will be happy to help you achieve your dreams. 
The Reedsy community has been a great help for me, as it has allowed me to streamline the client acquisition process by bringing clients straight to my virtual doorstep. This means I get to  spend more time doing what I love. As long as you balance your hard work with your clients' needs, plan your finances appropriately, and create a streamlined system for managing yourself, you can have total control over your success. Maybe you'll even double, quadruple, or 10x your net income like me.
---
For more tips for career development and inspiring stories from publishing professionals, follow Reedsy on LinkedIn.