Why I'm Writing a Trilogy — and Maybe You Should, Too
After graduating with a degree in Biological Anthropology, Kara Timmins is now bringing her keen interest in evolutionary processes and natural systems into the fantasy genre with her first major release, Eloy's Discovery — book one in a trilogy. In this article, she talks about the power of three when it comes to storytelling, and offers tips for telling a cohesive, dynamic story in three parts.
If you ask a group of writers about the most daunting task on their to-do list, it's probably going to be book marketing. Fortunately for us, there are plenty of online resources to help get our books in the hands of readers and build a career. If you're someone who has combed through your share of videos, webinars, and articles, you're aware of the marketing versatility of writing a series. Which, especially if you're writing in a genre like fantasy, science fiction, or adventure, is undeniable.
However, consumers are smart: writing a series for the sake of stretching story just to sell more books isn't going to go unnoticed, and those readers won't buy your books again. If you're like me, you're in this for the long term. So writing a trilogy means the opportunity to carry readers to more places and adventures through the years — and the marketing benefits are an added bonus.
Now for the good news: we're working in a realm that is both business and art. This means we get to stretch out our arms in both spaces. We know that writing a series is good for selling books, building a name, and offering book bundles — but that's the business half. And our readers don't care about the business part, that's for us. The art is for them: it's the fun part, the boundless part. It's the part that connects us to our readers. That's where the business and the art meet, the mutually beneficial boundary line.
The power of three and consideration of reader biology
Despite what we may think, we are biological creatures first and readers second. So it makes sense to appeal to the cognitive tendencies that are already in place in the brains of your audience. Human beings naturally seek out structure and organization, and this is what makes the number three so powerful: it's the smallest number required to make a pattern.
In writing, the rule of three can be seen frequently:
Three-act structure: beginning, middle, end
Dramatic conflicts: international, relational, external
Aristotelian unities: time, action, place
Since the middle ages (at least), painters have known the power of storytelling in three parts. The triptych — a work of art divided into three sections — has its roots in early Christian artwork, which makes sense given how much three comes up in the religion:  father, son, and holy spirit; faith, hope, and love; or the Law, the Prophets, and the Writings. Triptychs are meant to be read from left to right with each panel depicting a piece of the whole intended message, such as the well-known, The Garden of Earthly Delights by Hieronymus Bosch.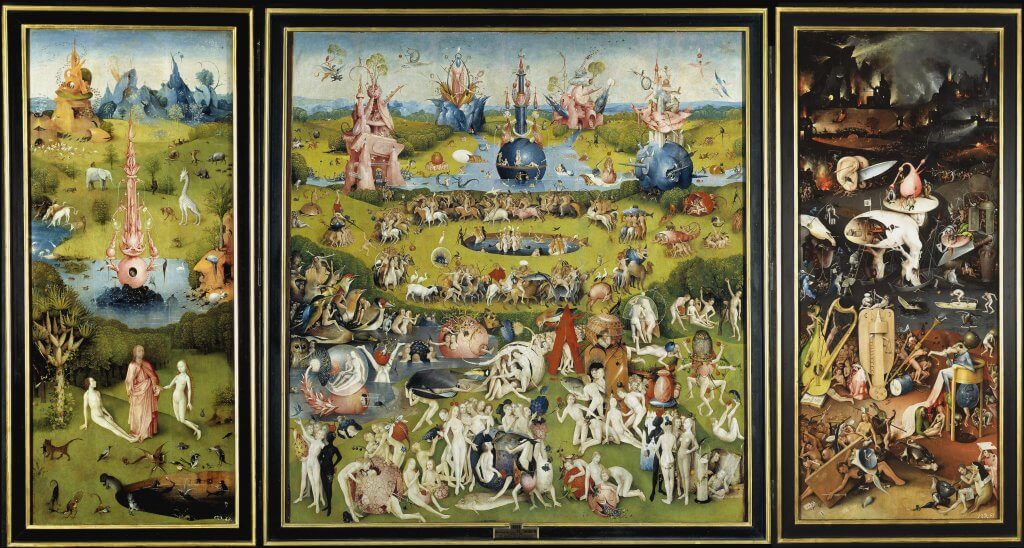 We can see evidence of the satisfaction found in groups of three all around us: Earth, Wind & Fire; Lock, Stock, and Barrel (or Lock, Shock, and Barrel for you Nightmare Before Christmas fans); or The Good, The Bad and The Ugly. It's everywhere.
To sum up: people like trios.
Now, enough about the mind and 600-year old art. Let's talk about structuring a trilogy.
The structure of my trilogy
It's not an accident that my series is comprised of three books. Consumers are primed to understand and appreciate things in threes: as readers, we're looking for ways to link, group, and interpret stories. This is an opportunity for writers, and I kept these expectations in mind while writing my series, The Eloy Trilogy.
Each book in the trilogy is titled after a different phase of life: Discovery, Challenge, and Legacy, and is meant to feel like a different part of life. Within that framework, I've also broken up the three stories into three different obstacles: book one is man vs. circumstance, book two is man vs. man, and book three is man vs. nature.
While it is a fantasy with magic and monsters, the structure of the novel is intended to represent familiar and relatable stages of life. A first love is a first love — whether you're fighting ground-dwelling creatures or trying to get through sixth period in high school.
Filling in the gaps between sequels and prequels
The story is broken up into three for the reader, but not for Eloy, my protagonist. For Eloy, it's just his life. Recognizing the distinction between what the reader sees and what the character sees helps create a sense of a gradient (another thing our minds like). For me, that transition is the best way to include parts of what happened in the past book into the next one in the series, without having to rely on an "info dump." Eloy is a person, and though he lives and struggles in a world very different from our own, his underlying structure is the same as someone living: his past doesn't fall away from him. He uses what has happened to him to try and make sense of the present and predict the future. This is where that gradient lives, in his reflection of the past and his actions based on that.
Finding the right editor for my trilogy
Incorporating these layers feels like a lot — and it is! It's hard to monitor cohesion when we're shoulder-deep in a lump of clay on the spinning wheel.
One of the most important aspects of writing The Eloy Trilogy was finding an editor willing to believe in the intention I have for this story. And I have found that in Chersti Nieveen. Chersti provides me guidance by steering my voice; she elevates it and keeps it on course. She knows what I'm trying to do, and more importantly, she knows what the audience wants. She's there for me when a small change in book one causes rippling edits in book three: like combing out tangles, and just as painful.
We're united in our effort to link the business with the art, and, like Eloy surrounding himself with those who thrive where he is weak, it's how I can foresee following this journey to the end.
The possibilities of what we can do using this already established structure of three are limitless. Readers will forgive us for selling three books when there's a reason for it; when we're giving them more than three free-floating stories. We may not be Hieronymus Bosch, but we can give them art.
---
Eloy's Discovery, the first book in The Eloy Trilogy, is available in paperback and on Amazon Kindle.
For more tips on writing a trilogy, check out our past Reedsy Live video: Writing a Genre Series: The Perils and Pitfalls.
Please share your thoughts, experiences, or any questions for Kara Timmins in the comments below!