Having previously launched his books to little fanfare, self-published author Robert French submitted the fifth novel in his Cal Rogan mysteries to Reedsy Discovery. With a respectable editorial review on his Amazon page, Robert's fortunes started to change.
Not all reviews are made equal
Cabal was the first book I published with a marketing plan. Previously, I had sent ARCs out to a few readers before my launch, but that was about it. In preparation for book five in my mystery series, I took Mark Dawson's Publishing 101 course, and I quickly understood that a good book marketing plan is like a puzzle — and a crucial piece of that puzzle is gaining credibility through reviews.
Yes, my previous books have had many reader reviews, but I accumulated those over time. To make my latest book more compelling for readers on launch day, I needed more than a handful of short reviews. So when I learned about Reedsy Discovery's editorial book review service, I loved the idea: I'd get a review by an experienced reviewer, and feature it alongside my book description. Since I hired my cover designer and editor through Reedsy, I trusted the offer and submitted Cabal on the same day.
Did you know? An editorial review is a 'traditional' review by a member of the media, or an experienced reviewer, which authors can feature on their books' Amazon pages.
A thoughtful review for an incredible price
The submission process was immensely easy and straightforward. Once I filled in all the information and paid the $50 fee, Reedsy Discovery took care of the rest. A day later, I was notified that a reviewer had chosen my book. Four weeks passed and I received an email with the full-length review.
I was nervous to open this email and read my first editorial review. What if they didn't like my book? Was I about to read a long, negative essay ripping apart my novel? But when I saw the 4-star rating at the top, I breathed a sigh of relief. Matt Pechey, my Reedsy Discovery reviewer, loved it.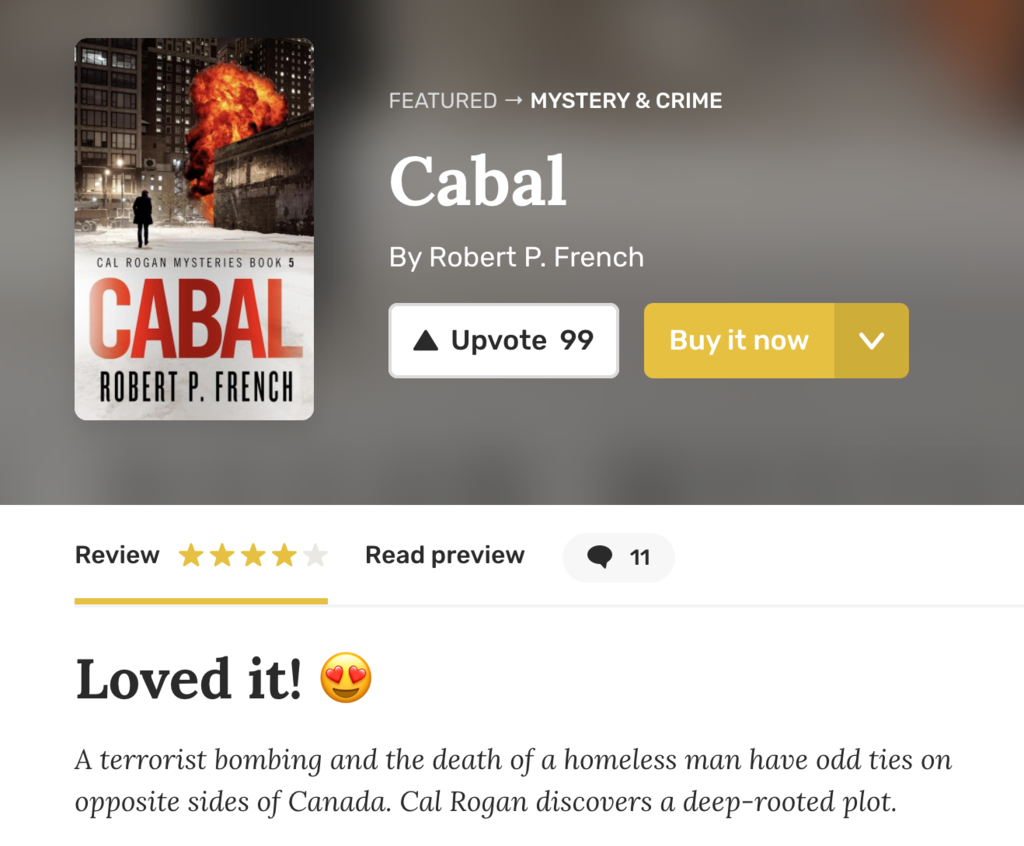 As I read on, a smile started to spread across my face. Matt's analysis of my protagonist picked up on all the small details I wove into the story. His review was fair and balanced, going in-depth into story and character without a hint of a spoiler. I was so impressed with Matt's review that when he offered to become a beta reader for the next books in the series, I jumped at the opportunity. He's been an early reader for me ever since!
My Reedsy Discovery review helped increase launch day sales
Ever since my first Reedsy Discovery review, I've submitted every new book to them. Cabal's launch saw a big increase in sales compared to the previous books. Yes, I had greatly improved my launch process, but Reedsy Discovery was a part of that. Their editorial reviews look great on my Amazon pages, and a respected, long-form write-up clearly had a bigger impact on sales than just the short reviews I had for my previous books.

As an author, these reviewers have also provided me with invaluable feedback. When my second Discovery reviewer, Lauren Jones, commented on my pacing, I made some changes to the next book in the series based on her assessment. Thoughtful feedback and a respected review that boosts sales — Reedsy Discovery is amazing value for money.
"Thoughtful feedback and a respected review that boosts sales — Reedsy Discovery is amazing value for money." — Robert French
While cover design, blurb, and user reviews are the trio that decides whether someone will buy your book, a respected editorial review goes a long way in getting a reader to make that final click. Reviews are the lifeblood of indie authors, and Reedsy Discovery reviews have helped me pump that lifeblood faster.