How Self-Publishing Gave me the Creative Control I Needed
Christina Hamlett is an award-winning author whose credits to date include 34 books, 161 plays, five optioned feature films, and hundreds of articles and interviews. She is also a script consultant for the movie industry and a professional ghostwriter. Read on to find out about her experience with traditional publishing and her decision to take creative control of her book into her own hands.
Twenty-six years later, I still remember the unabashed giddiness I felt when my agent told me that my first novel, The Enchanter, was going to be published in hardcover. When the editor sent me a long questionnaire to fill out regarding the type of artwork I envisioned for the cover, I couldn't have been more excited. I had definite ideas about the kind of "look" I wanted to fit the romantic time-travel storyline of a handsome young Merlin coming to modern-day Washington DC in order to recover the stolen Excalibur.
Traditional publishing and a lack of creative control
You can, thus, imagine how deflated I felt when the cover art arrived, and I had no say-so in requesting changes. Not only had the artists decided to leave off the two main characters but the sword they featured was clearly for one-handed French duelling and not Arthurian legend-making. Dratimus maximus.
When, a few years later, I was contracted for four romantic suspense novels with HarperCollins, my assumption was that I'd actually get covers that reflected my input as the author. Not so. In fact, the third book – Hunter's Heart – had to be hastily withdrawn and fixed in order to erase the heroine's accidental mustache, a mistake that at least four people at HC failed to notice during production.
While some of my subsequent experiences with traditional publishers have been positive, it continues to be affirmed in my mind as to why self-publishing is steadily gaining in popularity. Not only does self-publishing give authors more creative control of the intellectual property that's between the covers but also the design and text placement that graces the outside.
My first impression of Reedsy
Having put my own photography and graphic design expertise to good use for my recent nonfiction titles, I realized I wanted something fun and different for my chick lit novel, Just Say You're Mine. It was the first time I had used Reedsy, and even the bidding process was fun insofar as describing the plot and the type of scene I wanted to depict between the two star-crossed leads. I think it's important that if a writer wants different artists to bid on his/her project, it's critical to provide a substantive "hook" from the get-go. If artists are only lukewarm about it and view it as simply another job, it's going to show in the finished product.
Here's the hook I used to entice talent:
"Will do anything legal for $50,000."

When a flighty young heiress answers his classified ad for emergency funds to repair his fishing boat, it's almost a dream come true for Nantucket native Kevin Dunbar. Unfortunately, it's the worst nightmare imaginable for the spoiled and self-absorbed Rachel McCarrick. Intent on temporarily passing Kevin off as her fiancé until the real love of her life can commit to marrying her, the last thing Rachel ever expected was that both her mother and her cynical grandfather would actually warm up to this guy and welcome him to their Santa Barbara estate. Her father, meanwhile, decides to enlist the aid of one of Rachel's former beaus to expose Kevin as nothing more than a fortune hunter. Or is he? The only fortune Kevin has his sights on right now has absolutely nothing - and everything - to do with the girl who caught his heart from the very first night they met.
Working with a Reedsy Cover Designer
French artist Isabelle Arné caught my attention from the first sentence in her bid response: "I love romance!" As she described her passion for the genre and her fondness for the storyline I had laid out, I knew we'd be kindred spirits on this project and was ready to move forward.
I was fascinated to learn more about the cover designers process I provided her with a description of the lead characters, explained the flirtatious nature of their relationship and also shared a bit about the climate and architecture of the setting (coincidentally my birthplace in Santa Barbara, California). I explained that the hero spends a lot of time on his cell phone and that his faux fiancée is as curious about who he's talking to as she is peeved that he's not 100 percent focused on her.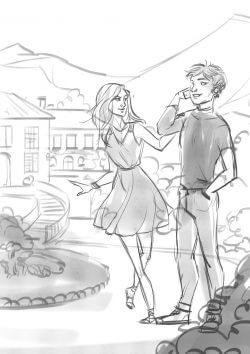 The preliminary pencil sketches were to establish what Rachel and Kevin looked like as well as provide a glimpse of the house where she lives. The next step was to add color. There were several versions of this which gave me options that included Rachel's dress and Kevin's sweater. The version chosen represented the best balance with the house, shrubbery, mountains, and sky. The third step was a full-color painting. At this point, Isabelle began asking me what verbiage I wanted on the front, spine and back cover. These elements would not be added, however, until the painting was finalized.
What impressed me about Isabelle's talents wasn't just that she's an amazing artist but that she also understood the technical aspects of using the template I provided to professionally format a pdf cover suitable for submission to the publisher. By the time we got to the step of choosing a font, font size, and placement, a friendship had grown; we discovered we had a shared enthusiasm for cooking and began exchanging recipes. There's no question I'm already looking forward to working with her again.
My tips for a successful cover design collaboration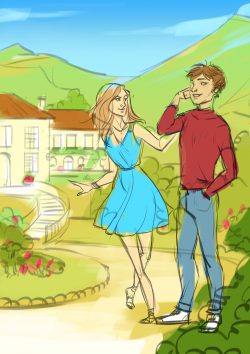 As for advice to fellow authors who are contemplating the DIY route, far too many seem to feel that the investment in a professional designer isn't worth the money, that what's on the inside will be so mind-numbingly fabulous that readers will forgive an amateurish-looking cover. Not surprisingly, these are the same individuals who shoot selfies for their headshots rather than go to a photography studio. If you've taken the time to write a book, (and especially if you plan to one day write books full-time), why wouldn't you want it to look like a professional product? 
If you do take that step, there are a couple of things you need to know to make the collaboration a successful and satisfying one for both parties.
The first is to have a general idea of what you'd like the cover to look like before you ever hire someone. Are there, for instance, samples of book covers that not only appeal to you but are also consistent with the tone and message you want the cover to convey?
If you want people on the cover, are there specific actors you could see playing these roles?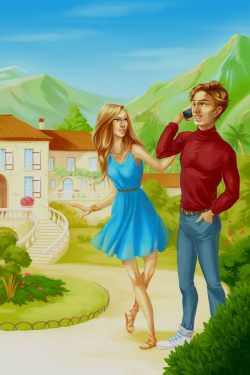 If there's architecture that's significant to the setting, don't force your designer to interpret what "a big house with a lot of trees" looks like. Is it Georgian Colonial? Craftsman? Cape Cod? French Provincial? Are the trees Oak? Palm? Evergreen? Willow? Your designer is not psychic.
Respect your designer's time. Having done book covers for my own clients, nothing is more infuriating than someone who keeps changing his/her mind.
Remember to provide a design credit. While most authors do this on the back cover or acknowledgments page, my choice was to give Isabelle her own photo and bio at the end of the book. That placement was indeed well deserved!
Just Say You're Mine is available in paperback on Amazon US, Amazon UK, and Amazon Canada.
Find out more on Christina's website!
---
Have you gone through the process of both traditional publishing and self-publishing a book? Is full creative control something that matters to you? Leave your thoughts, experiences, or any questions for Christina in the comments below.