Is IAPWE Legit? A Look at the International Association of Professional Writers and Editors
Emerging writers and editors are often advised to join vocational associations and societies for professional resources, networking opportunities, and exclusive job listings. The EFA, CIEP, and ACES are fairly well known in the industry — but there are other organizations with serious sounding acronyms for names out there.
In this article, we'll be taking a closer look at The International Association of Professional Writers and Editors (IAPWE) to see if they're worth your time (and the membership fee). We'll break down the benefits they claim to offer members — and see if it stacks up to what they actually deliver. As well as assessing their online presence, we've reached out to IAPWE and IAPWE members directly to try and gain a fair and accurate picture of the association. Here's what we found:
Who are the IAPWE and what do they offer?

The International Association of Professional Writers and Editors is a membership organization whose mission statement is to provide resources and work opportunities for writers and editors. Their primary draw is their jobs board, but they also offer resources such as blog posts on writing-related topics, video courses, a grammar tool, a plagiarism checker, and a few other additional tools, such as a recommendation letter and a blog title writer. 
Can't come up with what to call your latest work? Check out our Book Title Generator. 
But as we say, the biggest attraction of IAPWE membership would be the promise of potential employment.
A job board aimed at freelance writers and editors
According to their website, IAPWE's job board consists of "the most updated, legitimate and vetted writing and editing job opportunities," drawn from across hundreds of websites. To get a better sense of what their vetting process looks like to determine whether their promises of legitimate job opportunties actually holds up, we reached out directly to IAPWE, but got no reply. On their website, the only information they provide is that they do not accept paid advertisements nor accept any commission for the job opportunities that they post.
One IAPWE freelance writer we spoke to estimates that a large majority of the job opportunities advertised on their job board are copywriting or content writing assignments, with writing for blogs on topics such as video games or travel being some of the more interesting (but rare) opportunities up for grabs. 
In general, the job board appears focused towards freelancers looking for shorter-term freelance writing or editing jobs and being able to refer to a single, vetted job board would certainly make the job-seeking process easier than juggling multiple platforms. However, according to an IAPWE writer, "most of the jobs listed are also listed on mainstream job boards," so the job opportunities IAPWE provide are neither unique nor substantiated by a transparent vetting critiera. Writers and editors could arguably turn to one of many other free job boards that provide the same services, with stronger guarantees of quality assignments and higher transparency.
Find exciting new projects
We connect publishing professionals with our community of 1,500,000 authors.
Now, you don't need to be a member to access the writing and editing jobs on IAPWE's job board, but you do need to be go through IAPWE's application process (more on this later). 
Lack of transparency for membership fees
For most other resources on the website, a member's login is required — and if there is a page which outlines the cost of membership, it's almost certainly not available to the public at large. In our correspondence with IAPWE, they mention three different types of memberships: a free membership, a "supporter" membership, and a "professional" membership. 
The free membership is the default membership that you get when you register to work directly for IAPWE. This gives you access to the portal where they assign tasks to their staff writers and editors — much like apps such as Slack or Basecamp — but not much else.
To actually access any of IAPWE's resources, you need to become a paying member, but there is no information available pre-application about what type of membership — "supporter" or "professional" — you will need to access their different tools, nor how much this will set you back. 
Placing premium content behind paywalls or offering discounts on your membership fees is not unheard of, but what sets IAPWE apart is a general lack of transparency. Basic information about how to become a member, how much it costs, and what specific benefits you will get can't be found directly on their website. When asked, IAPWE simply replied that their pricing varies, but did not mention any standard base rate. A member we contacted said that they pay $4.99 a month, but that they're unsure what membership level that entails — and that they have not yet found employment via IAPWE to earn back the monthly fee.
After waiting for their application to be reviewed for over 2 months, here's the information another IAPWE freelance writer received about membership fees: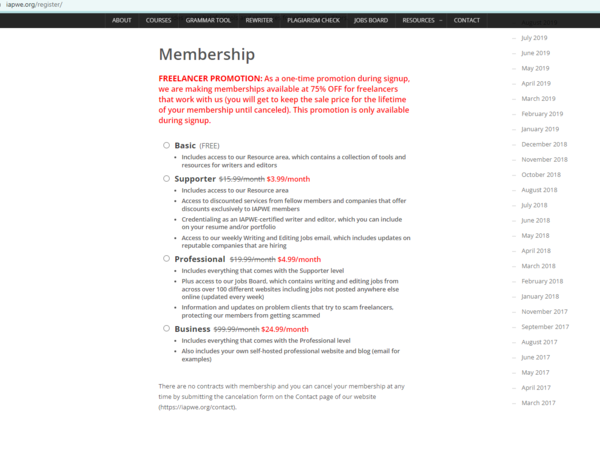 Without knowing the actual cost, it's difficult to assess the value of joining this organization. Additionally, it's worth noting that versions of their resources (grammar tools, title generators, and writing courses, etc.) are available on other websites and very often for free. 
If you're looking for free writing and editing courses, Reedsy Learning offers 10-day email courses on a variety of topics, including how to master the 'show, don't tell' rule, the mechanics of writing dialogue, and story editing for authors, to name a few — complete with descriptions of what you can expect to get from each course.
Free course: Novel Revision: Understanding the Craft
Master the fundamentals of editing.
Putting the P in "Professional"?
Another reason writers and editors join professional bodies is to surround themselves with talented and knowledgeable peers, thereby associating themselves with quality craftsmanship. Being able to add "member of [X organization]" on your CV is a good way to increase your chances when pitching an article or applying for a job — but it really helps if the organization has a reputation for quality.
Our research suggests that IAPWE doesn't have much of a selection process, which would mean that anyone can join and become a professional writer for them. Someone charitable might point out that this is a good opportunity for folks who haven't built up their portfolios yet to gain some experience in the field. However, this practice also means that there's no guarantee that IAPWE's editors and writers will consistently deliver high quality work. By extension, there's no assurance that IAPWE's seal of approval will bring with it any prestige — and any bad work delivered by an under-experienced IAPWE professional can reflect poorly on its members.
Note: after publishing this article, one writer who had applied and been accepted to IAPWE reached out to us to give us some insights into their personal experience with the platform. According to their testimony, they submitted their application along with three writing samples in November 2022. Their application took over two months to be approved, with a positive response in January 2023. This suggests one of two things: an inefficient organization with limited to no follow-up, or a serious reviewing process that is limited and time consuming due to staff or other factors. However, one thing is sure: it is not clear what IAPWE's selection criteria is or how they review applications.
IAPWE's online presence
As you may have already guessed, if you're thinking about joining IAPWE, their website is unlikely to provide enough information to base a decision on. This, in and of itself, isn't a great sign, so we thought that perhaps their wider online presence could help fill in some gaps.
Where there's smoke
When you start typing "IAPWE" into Google, the auto-complete function suggests "IAPWE scam" as a popular search term — which doesn't always bode well. Of course, the internet is not always to be trusted, so we did some digging. And while we couldn't find any suggestions that the organization is behaving in any illegal fashion, the accumulation of testimonials that describe lengthy application periods, slow or nonexistent replies from IAPWE's support, a lack of clarity around what a membership will give you access to (at what price), as well as difficulties with canceling membership payments — together with the lack of information on their website — should at the very least serve as a sign of caution for anyone considering the organization.
If you're wondering how to assess whether something is a scam or not, here are some of the main signs of a freelancer scam that you should keep an eye out for.
LinkedIn
Looking further afield, there are some 300 people listed as associated with IAPWE on LinkedIn, suggesting that they do and have used the site as a place to find work opportunities. However, the IAPWE LinkedIn account has no posts nor any job listings — odd, considering that IAPWE also hire staff and recruit members via Craigslist and other gig economy job boards. This does little to increase their credibility as a place where professionals and job seekers can expect the kind of rigorous vetting process and security worth paying for.
Things continue to take a turn for the worse when they link out to their YouTube and Twitter accounts in their "about" section.
Youtube and Twitter
When you navigate to IAPWE's official Youtube channel, you're met with a concerning message: 
"This account has been terminated due to multiple or severe violations of YouTube's policy against spam, deceptive practices, and misleading content or other Terms of Service violations."
IAPWE's Twitter account, on the other hand, has some 3,000 followers and is one of the more lively parts of the organization, as a place where they share updates about writing contests, workshops, scholarships, and articles from a variety of outlets with writing tips and reading recommendations. However, it must be noted that the account doesn't seem to be sharing any original content — it merely retweets news and announcements from other accounts in the field, so writers and editors who are serious about building their careers may want to go straight to the source instead.
---
From our look into IAPWE, it's unclear whether this is an organization that will be able to offer their members any valuable and professional insights into writing and editing that freelancers won't be able to find elsewhere for free, or from other professional associations with a better reputation in the industry. IAPWE's selection and vetting process, lack of transparency, and overall bang-for-your-undetermined-buck does little for their credibility and — scam or not — professional writers and editors might be better served spending their time and money elsewhere.