What is the Cost of a Professional Author Website?
If you've spent any amount of time on Reedsy, you will have hopefully heard us talk about the importance of having an author website. And, ideally, you will already know how self-publishing authors need a site that's more sophisticated than a Tumblr page — which is why many of them will, at some point, work with professional web designers. But the big question is: how much does this cost?
Since the summer of 2017, Reedsy has connected hundreds of authors with professional website designers — many of whom have worked for the world's largest publishers (and some of their biggest authors) to create awesome-looking sites. Based on the data we've pulled from all those collaborations, we can now reveal the average cost of working with a professional web designer on your author site.
How much does web design cost on Reedsy?
The following represents the cost of web design projects on the Reedsy marketplace since mid-2017. The values are given in US dollars.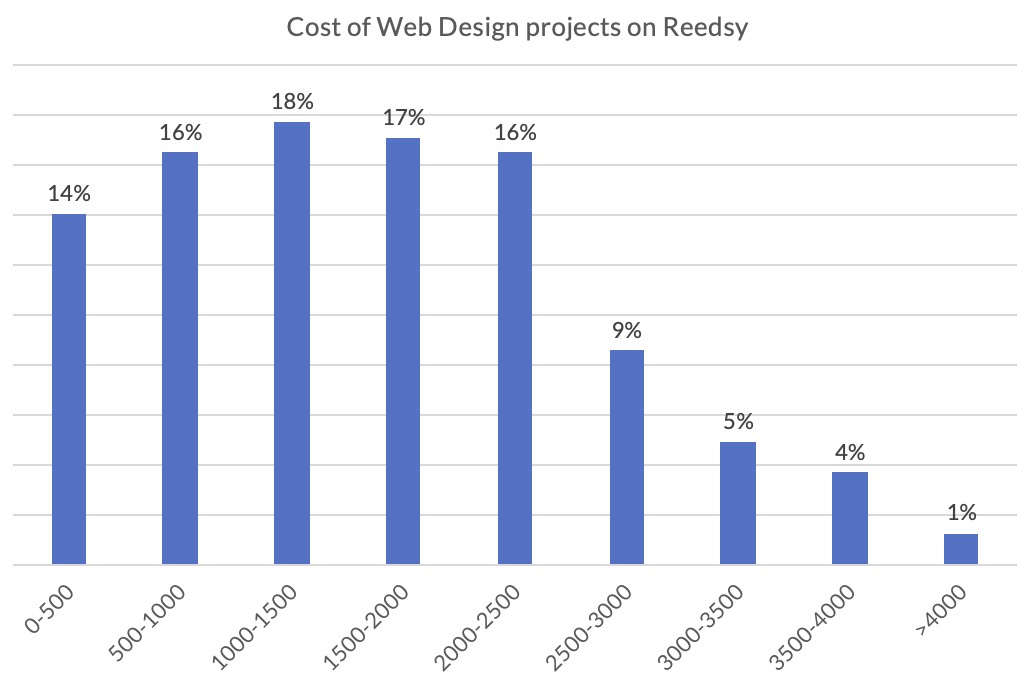 Here are a few of our observations:
The average (mean) value of an author web design project is $1,600
Less than 14% of collaborations cost under $500
Only 10% of collaborations cost over $3,000.
At first glance, it might look like some freelancers on the Reedsy marketplace are charging a lot more than the others. But from looking deeper into each collaboration, this wide range says less about the rates charged by professional designers (which we've found to be fairly similar) and more about the varying requirements of each project.
So with that in mind, we also need to ask...
What does "professional web design" normally include?
Every designer will tailor their quote to what an author needs. If you already have a functioning author website that just needs a few tweaks, you obviously don't want to pay the same as someone who needs a website built from scratch. In the chart above, the projects under $500 only involved small updates and improvements on existing websites; you are unlikely to find a suitably experienced designer on Reedsy who offer 'the whole enchilada' at that price.
Perhaps the best way to make sense of the "web design costs" graph above is to look at what services these collaborations include.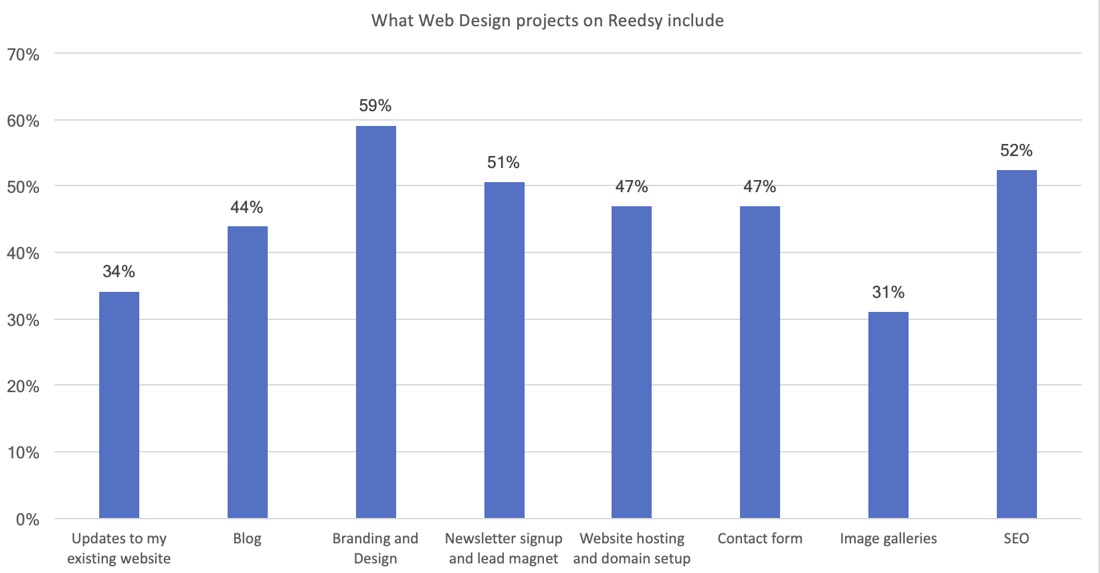 The first thing to notice is that no option appears in more than 59% of collaborations which reinforces that every web design project is tailored to what the author/client needs. There are also a few interesting takeaways to note:
59% included some degree of branding or design. This means adapting visual assets from the author's press materials (usually the cover design, etc) and working to create a cohesive author brand across the site.
51% included a newsletter sign-up and lead magnet. We would perhaps expect this to be higher. In our opinion, this is the most important feature of an author website.
52% involved Search Engine Optimization (SEO) work. The trouble with a lot of DIY website services is that they often let the site owner make rudimentary mistakes which will affect people's ability to find them online.
34% involved updating an existing website. In most of these cases, the author has drafted in a pro to help them add features (such as the lead magnet), optimize the SEO, and/or provide a more polished design.
Don't know how to begin imagining your website? To get matched with a website style of your own, we recommend taking this quick 30-second quiz: 
💻
Tell us about your book and we'll match you with a website style!
It'll only take a minute!
So what can you learn from this? If we were to leave you with one piece of advice it would be to consider what you want from your site before you send a request to designers. Take inspiration from other authors' sites and if you're still not sure, simply ask the web designers for their advice. They'd much rather help you meet your needs than oversell you on something you don't need. With their help, you can create a site that's not only beautiful and easy-to-use but will help you grow your writing career.
---
To connect with the best freelance author site designers, head to the Reedsy Marketplace and sign up for a free account.