BookFunnel Review: Should You Use It to Deliver Your Ebooks?
BookFunnel is an all-in-one tool for indie authors who want to distribute their own ebooks and audiobooks — whether in the form of ARCs, reader magnets, or even direct sales. BookFunnel allows authors to control their ebook downloads from a single hub, but also customize their approach to different types of readers.
Whether or not you should use BookFunnel depends on your goals as an author. Are you happy to distribute your ebook only through third-party retailers like Amazon, or would you prefer a more independent approach — perhaps one that helps grow your mailing list in the process? With BookFunnel, you have the option to provide professionally formatted free ebooks on your own terms, without involving Bezos & Co.
Sound intriguing? Read on to find out exactly what BookFunnel has to offer, our thoughts on its various features, and ratings to help you decide.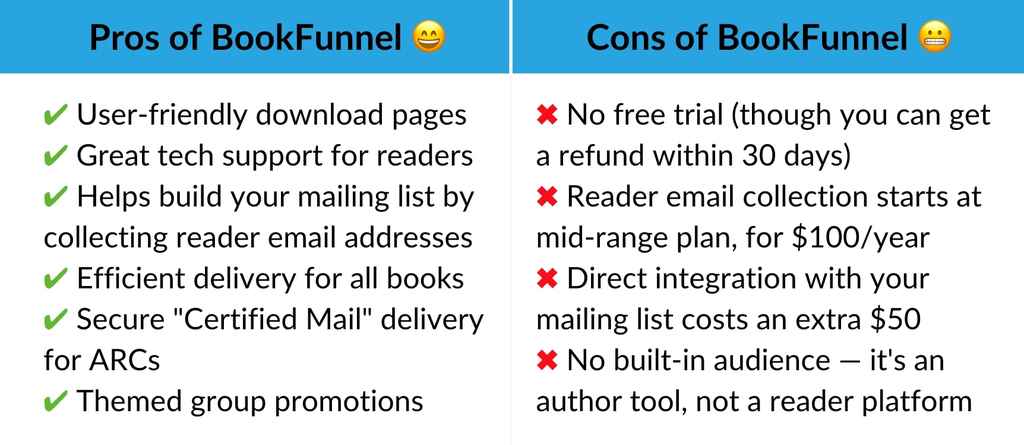 3 pricing plans for different author levels
Let's first address a crucial question for authors — how much does BookFunnel cost? As listed on their pricing page, there are three plans available:
The "First-Time Author" plan costs $20/year and includes 500 ebook downloads/month, custom landing pages, direct sales delivery, and group promos, though all without email address collection.
The "Mid-List Author" plan costs $100/year and includes 5,000 ebook downloads/month, MP3 distribution, secure ARC delivery, and group promos, with email address collection.
The "Bestseller" plan costs $250/year and includes everything on the Mid-List plan, plus unlimited ebook downloads and priority support.
If all you want is to provide easy downloads, or to try your luck with a group promotion (more on this later), you can start with the First-Time Author plan. Even if you exceed the 500-download limit — a good problem to have, at any rate! — BookFunnel won't cut you off, you'll just be charged a $5 overage fee for every additional 1,000 downloads.
The most notable drawback of the basic plan isn't the download limit, but the fact that you can't collect email addresses. For this, you'll need the Mid-List plan, which offers a landing page to record each reader's email and deliver your book straight to them. However, you'll need to pay extra for direct integration with your author mailing list (again, more on this in a bit).
Finally, there's the Bestseller plan, which may be worth the $250 price tag if you're getting 7,500+ downloads/month (the threshold where the Mid-List plan + overage fees become more expensive than simply getting the Bestseller plan). This plan also offers priority support for authors, but since BookFunnel is so easy to use, you probably won't need it.
In summary: the First-Time Author plan is a good jumping-off point, but serious authors will require the Mid-List plan to grow their mailing lists, plus the Integration feature once they're getting a steady stream of new subscribers. As for the Bestseller plan, you should only pay up once you need those unlimited downloads — again, a good problem to have.
And now that you know what BookFunnel costs, let's take a closer look at its features! The rest of this review will cover what's available through the Mid-List plan, as it's the best choice for the majority of authors.
User-friendly landing pages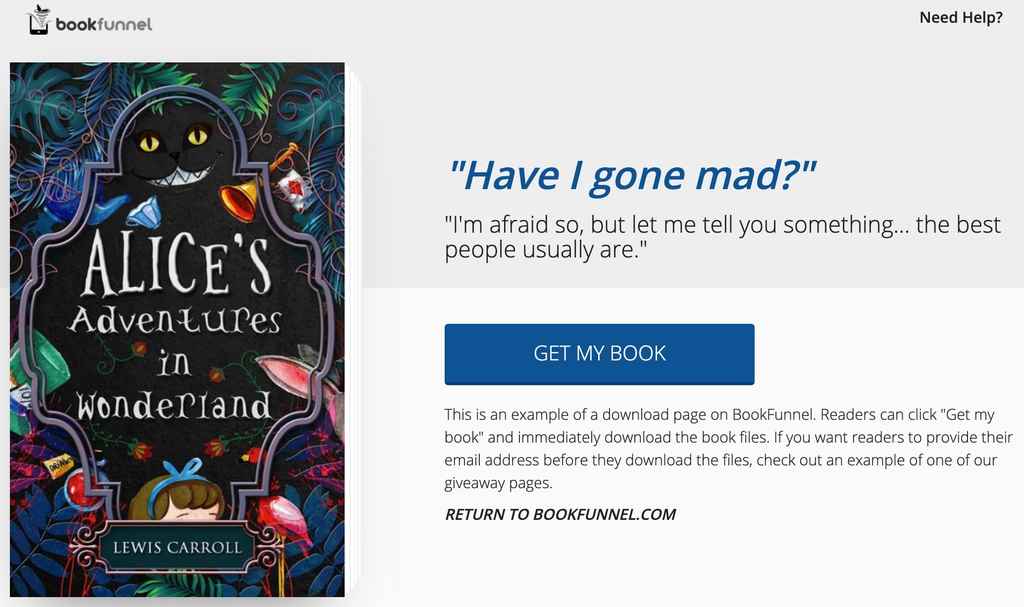 If you want to give your ebook away without involving a retailer, you'll send readers to a BookFunnel landing page. These pages come in two flavors (click each link to view a sample):
The download page, where readers simply click "Get My Book" and select whichever device they want to download it on. If your main goal is to maximize downloads rather than collect readers' emails — or if you're looking to share your book with people already on your mailing list  — this is the way to go.
The giveaway page, perfect for reader magnets, asks each reader to enter their email address in order to receive your book. If you're using BookFunnel primarily to gain mailing list subscribers, this is the landing page you'll want! Again, the giveaway page is the jewel of this Mid-List plan, as it allows you to gather subscribers without having to build your own signup form.
You can change the colors and text on these pages, but there's a reason BookFunnel doesn't let you do much beyond minor aesthetic edits: they're meant to be clean and user-friendly. The "Get My Book" button is smack in the middle of the page, and if anything goes awry, readers can click "Need Help?" in the upper right corner to troubleshoot with the BookFunnel team. When it comes to giveaways and reader magnets, it doesn't get much smoother than this.
🌟 Landing pages rating: 5/5
Optional mailing list integration
On BookFunnel, readers' email addresses are saved as a CSV file that you can export and upload to your mailing list provider of choice. However, this process can get pretty tedious — and risky, as you may lose momentum with readers who download your book, then don't hear from you for weeks because you've forgotten to add them to your weekly email blasts.
The good news is that BookFunnel's direct integration feature automatically adds every new email address to your mailing list, so you'll never have to wrestle with a CSV again! This feature allows you to connect with new readers ASAP, so that you can start sending them interesting, valuable content that will ensure they stick around.
The not-so-good news is that direct integration does not come with the standard Mid-List plan — it costs an extra $50. So for BookFunnel's "most popular" Mid-List + Integration package, you'll pay a total of $150/year. Of course, if you're gathering hundreds of readers' emails per week, this feature is worth the price. But if your subscribers are trickling in at a manageable rate, there's probably no need to fork out the extra cash.
Note: BookFunnel has integrations with all the main email marketing providers, but if you use a service not listed at the link above, drop the support team a line and they'll probably be able to add it for you.
🌟 Mailing list integration: 4/5
Efficient ebook delivery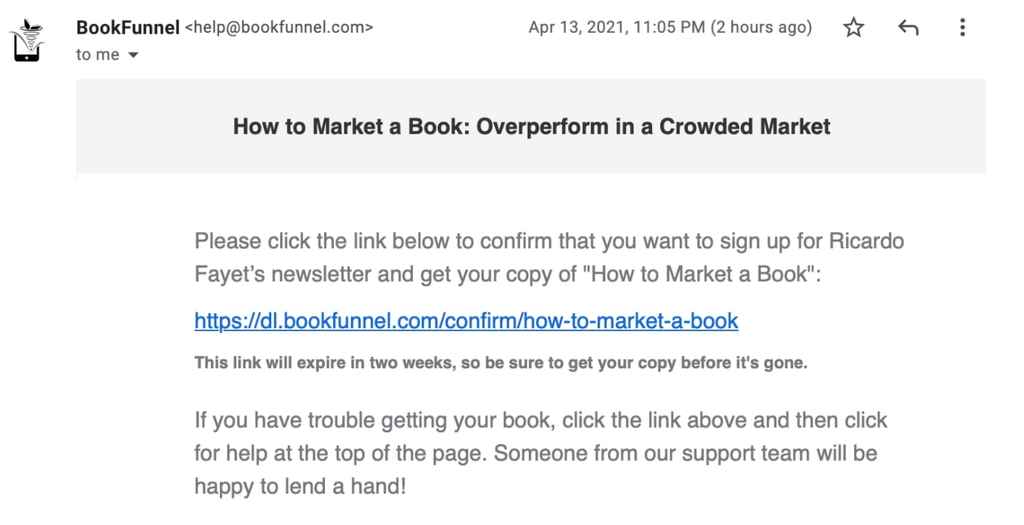 Lightning-fast ebook delivery is one of BookFunnel's key promises, and it doesn't disappoint. Whether a reader picks up your free ebook or buys it from your store, they'll receive an email like the one above almost instantly. From there, it's only a few clicks to acquire the actual book.
Not only is this ebook delivery fast, it's also tailored to each reader — as you'll see if you click "Get My Book" on the sample download page. Once each person selects their e-reading device, BookFunnel will generate a code for a file that works specifically with that type of device. And if they don't have an e-reader and just want to read on their phone or computer, no problem; all they have to do is download the free BookFunnel app to access your book immediately.
Certified Mail delivery for ARCs
BookFunnel doesn't offer a full mailing list service, but its Certified Mail feature — accessible through your author dashboard — works very well for distributing your ARCs. You can use Certified Mail to send one-time (i.e. not shareable) download links to up to 500 people per month. What's more, the pages of each ARC will be watermarked with each individual person's email address, Scarlet Letter-style, to discourage piracy.
Certified Mail also allows authors to send reminder emails to readers who haven't yet downloaded your book. If they have, you can hit them with a follow-up email asking them to review it. Additionally, when the campaign finishes, you'll receive stats to help you for next time.
The only snag to BookFunnel's ARC delivery system is that the site has no existing database of ARC readers and reviewers for you to contact — again, it's an author tool, not a reader platform. If you're looking for a site where you can find new ARC readers, you might try Booksprout or BookSweeps, or Reedsy Discovery for a guaranteed review on your launch day.
But if you already have a solid list of people to help you launch with reviews, go ahead and use Certified Mail to deliver your ARCs.
🌟 Standard ebook delivery: 5/5
🌟 Certified Mail delivery for ARCs: 4/5
Group promos worth trying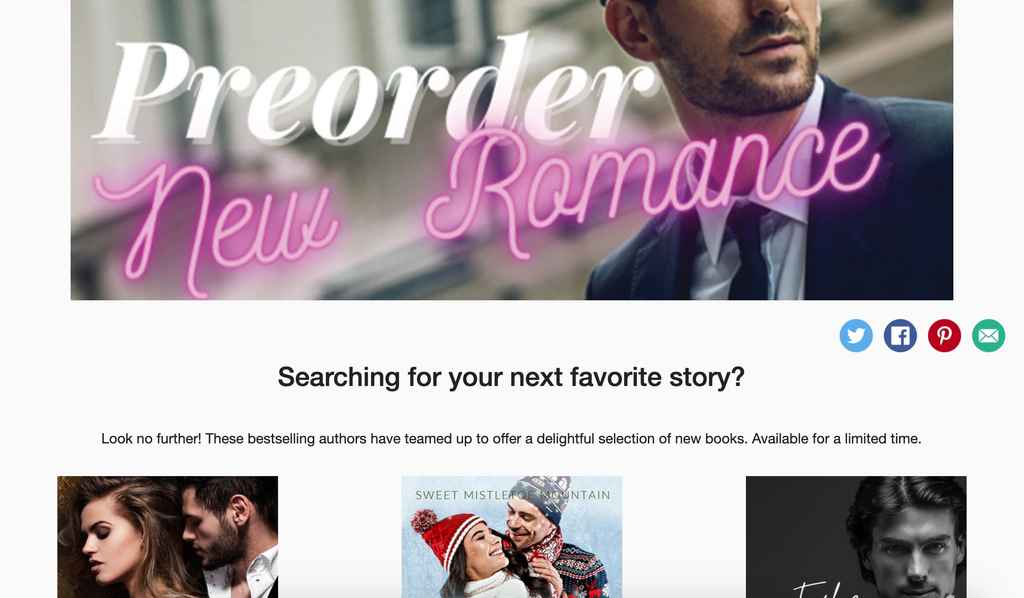 In addition to promoting your book in a singular fashion, you can also use BookFunnel to join group promotions and run your own. BookFunnel supports two types of group promos:
Newsletter promos for free ebooks, which require readers' emails for downloads and are geared toward growing your mailing list.
Sales promos for purchasable ebooks, which do not require readers' emails. These promo pages simply link out to each ebook wherever it's available for purchase (including mainstream retailers like Amazon).
Every group promo gets a BookFunnel landing page like the one above. Each participating author then shares the page with their own readers, so that all participants gain exposure by the end of the promotion. And because each group promo must fall into a certain genre, and is often themed even more specifically around a subject — for example, "domestic thrillers" or "alien books" — it's easy for readers to discover books that are right up their alley, and increases the chances of them downloading your book.
That said, it's not a perfect system. BookFunnel doesn't advertise books to its own audience like, say, Reedsy Discovery, so you're relying heavily on the other authors in your promotion, which can lead to inconsistent results. But at least it's easy to create or join a group promo from your author dashboard… and unlike mailing list integration, this feature doesn't cost any extra money (it's even available through the basic First-Time Author plan!).
So while you probably wouldn't get BookFunnel exclusively for the group promotions, they're a nice bonus, and fun to try out if you're already using BookFunnel for ebook distribution anyway. Just keep in mind you'll have to hustle a bit — and if you're the one spearheading the promo, be prepared to chase up your fellow authors if they aren't pulling their weight.
🌟 Group promotions: 3.5/5


Learn more about promoting your book through Reedsy Discovery, where you'll receive exposure to thousands of readers!
Awesome tech support
BookFunnel's talented, responsive tech support team is arguably its greatest asset. Whether readers need help getting your ebook on their device or locating the correct download link in the first place, BookFunnel support will take care of them. (To quote from the ever-diplomatic BookFunnel homepage: "We are especially skilled with older readers and we know more about sideloading ebooks than we are comfortable sharing.")
As an author, all you need to do is get out of their way — and make their support super-accessible to readers. Most will have no trouble finding the "Need Help?" option on your landing pages, but adding a quick line below the "Get My Book" button could set your mind at ease: "If you have any trouble downloading this ebook, just click 'Need Help?' in the upper right corner." And if you ever get an email from a confused reader, simply direct them to the BookFunnel help page or the support email address instead.
Other than that, once you've set up your landing pages, you should be able to sit back and enjoy the ride! BookFunnel support will corral the passengers as needed.
🌟 Tech support: 5/5
The verdict: Should you use BookFunnel?
BookFunnel is an excellent, efficient tool for sharing your ebooks and building your mailing list. The only real drawback is the pricing; again, if you want to use BookFunnel in the long term, you'll need to invest in the Mid-List + Integration package for $150/year. For many authors, this is a small sacrifice for attractive, easy-to-use landing pages, speedy ebook delivery, secure ARCs, and the ability to gather and instantly import readers' emails into your mailing list.
Those seeking a less expensive alternative might want to check out StoryOrigin, which offers a "Standard Plan" similar to BookFunnel's Mid-List + Integration option. Or you can submit your book to Reedsy Discovery for a professional landing page with universal links to all retailers, on top of exposure to thousands of readers and reviewers — all for just $50!
Still, if you're happy to pay for an advanced, reliable book distribution tool, especially if mailing list growth and reader support are important to you, BookFunnel could very well be your perfect match.
🌟 Overall rating: 4.5/5