Vellum Review: Read This Guide Before Using It!
From Google Docs to Scrivener to our very own Reedsy Book Editor, there are countless tools out there for writers to create, edit, and ultimately format and export their books to publish. Vellum is another one that you probably recognize, though you might not be completely familiar with its mechanics. That's why we wanted to comprehensively review the latest Vellum software! In this post, we'll evaluate key features, overall pros and cons, and how to know if it's the right software for you.
First off, let's cover what Vellum is, as well as the different packages and pricing available.
What is Vellum?
Vellum is a book creation tool for Mac that allows you to professionally format books for publication. The Vellum software is free to download and use, but you'll need to purchase a package to actually export your files to publish.
The Vellum package options are:
1. Vellum Ebooks — allows you to create and export unlimited ebooks.
💰Cost: $199.99
2. Vellum Press — allows you to create and export unlimited ebooks and paperbacks.
💰Cost: $249.99
If you purchase Vellum Ebooks first, you can upgrade to Vellum Press for an additional $99.99. However, the mathematically-minded user will realize that this is $50 more than you'd pay for Vellum Press alone. So if there's even a chance that you'll end up printing your books, you might want to invest in Vellum Press outright.
These prices might seem pretty steep for publishing software, but keep in mind that you're not just going to be using Vellum as a replacement for Microsoft Word. Indeed, its primary function is formatting, not writing, and its features allow for fairly sophisticated book design. Its strengths include great import and export abilities, style templates, and a multi-platform previewing tool — all of which we'll cover below.
Did you know? The material "vellum" is parchment made from stretched calfskin, used by writers for centuries in lieu of paper. Though it's much rarer nowadays, vellum is still used for certain religious and archival purposes, such as printing scrolls of the Torah and the British Acts of Parliament.
Key features of Vellum 2.5.3
📥 Import capabilities
Though just about every book formatting tool allows you to import other documents, Vellum's import capabilities are quite impressive. You can only import Word .docx files (which makes sense, given that this software is only available for Mac), but the conversion is instantaneous and pretty seamless. Your entire book appears in the app right away, with chapter breaks inserted automatically, as long as you've denoted them with headings in the original document.
You can then edit directly in the app, though your bold, italics, and other basic formatting will carry over. Finally, you can do special formatting, such as ornamental breaks (which you can customize yourself!).
The only hiccup we found with Vellum's importer was that it occasionally messes up the spacing in the first chapter. However, this can be fixed in-app by simply deleting the extra spaces. Some users have also reported chapters being clumped together or out of order.  To fix this, just select the configuration icon next to the heading and then choose "Convert To."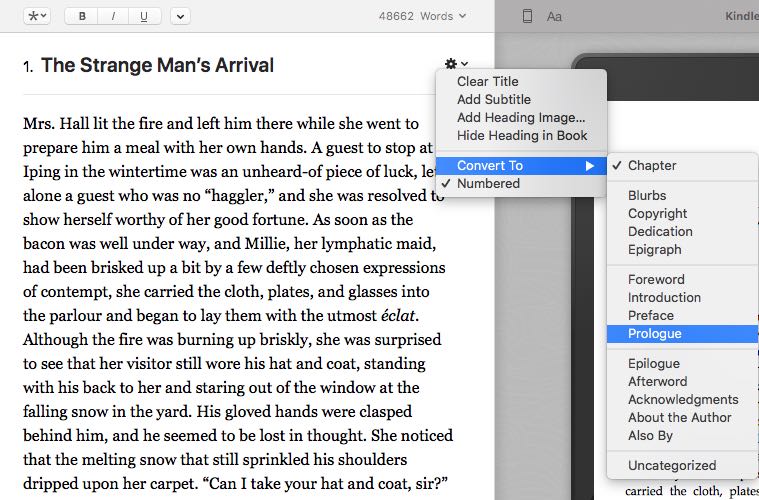 If you'd like to test out the importer (or any of the following features) yourself, you can do so using the sample documents provided on the Vellum Tutorial page.
📖 Book Styles
If any one feature makes Vellum worth its hefty price tag, it's Book Styles. Once you've arranged your chapters to your heart's content, you can navigate to this panel (under "Styles" on the left) to tailor just about every other aspect of your formatting and interior design. Start by selecting the overall aesthetic of your book under the main Book Style heading (with stylishly named options such as "Meridian," "Artisanal," and "Oxford"). Then go on to customize just about everything else!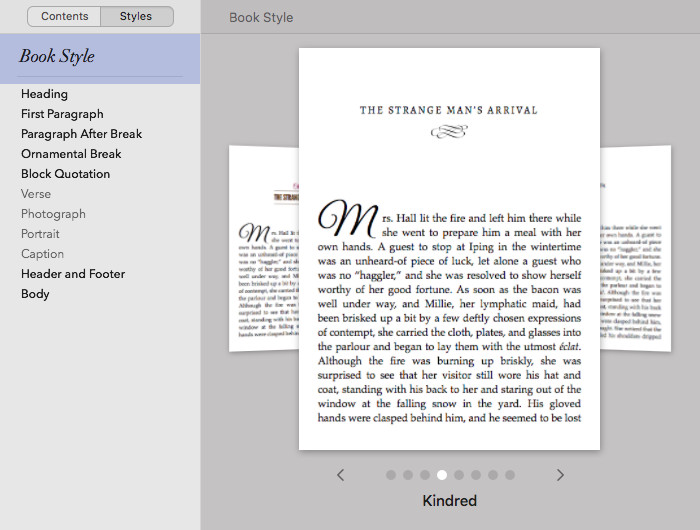 For example, remember how we said you can cherry-pick those ornamental line breaks between sections? Vellum provides no less than seven built-in designs, plus the option to upload your own image to use as the "ornament." The Book Style panel also supplies multiple options for chapter titles and first paragraphs (including various fonts and drop caps), as well as block quotes, verses, and even images.
Past versions of the Vellum software have struggled to incorporate images into the text, but the newest version has more or less cracked the formula. There's still no viable option for a full spread of custom-placed images (as you might see with photos in the middle of a biography, for example), but you can easily insert in-line images, or a single image that takes up a whole page.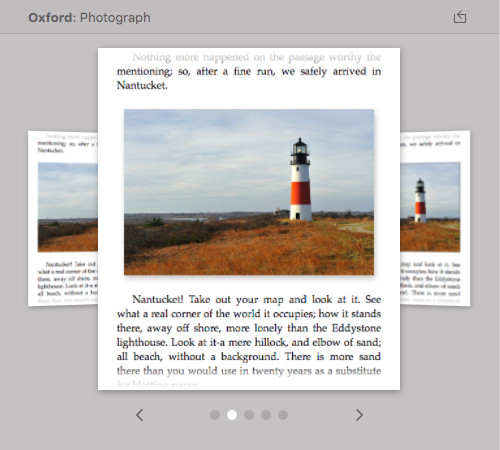 As you switch back and forth among the different styles, Vellum will also display each option in an e-reader preview on the right, so you can get a sneak peek at the final product. Speaking of which, those previews aren't just for experimenting with Book Styles…
👀 Preview mode
Another helpful feature of Vellum is its Preview mode. Most formatting tools have a preview mode of sorts, but Vellum's is particularly thorough. It allows you to see how your book layout will look on a wide variety of e-readers: Kindle Fire and Paperwhite, Apple iPad and iPhone, Nook SimpleTouch, Kobo Glo, and Android tablet. Simply click on the tablet icon in the toolbar to select your mode of choice.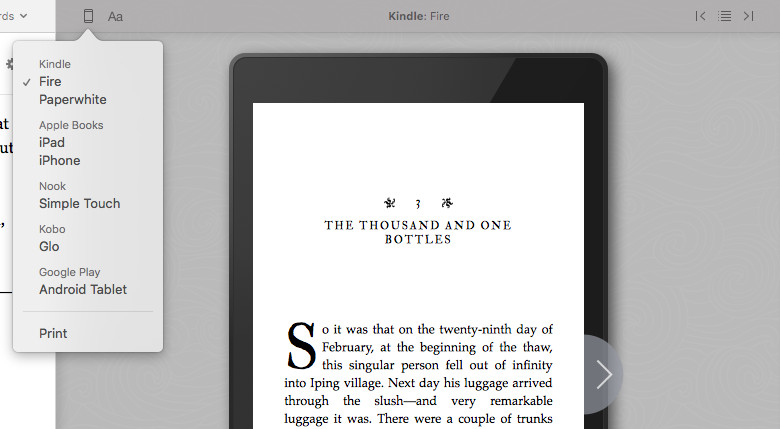 You can also preview how your pages would appear in a print book. Vellum definitely shines here, as it has both Draft mode (for looking at the overall text) and Proof mode (for scrutinizing the layout and design). The only downside is that Proof mode can be a bit slow to run. So if you're using Vellum to preview a print book, you should probably save the "Proof" preview until your very last once-over.
📤 Export capabilities
Finally, we have Vellum's export capabilities, which match its trusty import capabilities: the app exports smoothly and true to preview. As long as you've checked over your book on every kind of e-reader, you should have no trouble. Naturally, it also exports in various file types for ebooks, and different trim sizes for print books.
However, it's easy to forget that you won't be able to export files from Vellum without paying for a full package — and you don't want to frustrate yourself by designing the perfect book, only to realize you don't actually have the budget for it. So be honest with yourself about what you're willing (and able) to spend, and weigh your formatting options carefully before you begin this process. Luckily, our next section should help you with that!
Overall pros and cons of Vellum
👍 Pros
Various professional, aesthetically pleasing formatting options with Book Styles.
Can include links to external sources and your other books.
Preview function helps clearly envision the final product, whether it's an ebook or print book.
No limit to the number of books you can export after you've purchased a package — great for authors self-publishing long series, and even has built-in box set capabilities.
👎 Cons
Much more expensive to use than comparable book formatting tools, such as Apple Pages (free), Kindle Create (free), the Reedsy Book Editor (free), and Scrivener ($45).
Not available for PC — though you can still use Vellum on a PC, if you're willing to pay for access to a "virtual" Mac.
Doesn't lend itself well to substantial textual edits. For example, if you write a new sentence to replace an old one, but then want to undo the typing (Ctrl+Z), Vellum will undo each individual letter rather than the whole sentence at once. (This is why, though it can be used as a word processor, we recommend waiting to import your book into Vellum until you have a final draft.)
The bottom line
Vellum software is a solid investment if you're planning on self-publishing multiple books, especially if you've been dissatisfied with other DIY formatting options in the past. However, if this is only your first book, and/or you're not sure whether you'll go the self-publishing or traditional publishing route, it's best to hold off for now — especially if you're on a budget, since $199.99 (at minimum) is nothing to sneeze at.
In the meantime, why not check out some free book formatting tools, just to get a feel for the process? (We hear that RBE is pretty cool.) Or if you're on the hunt for premium writing apps, but don't quite have Vellum-deep pockets, there are many great pieces of novel writing software that are less taxing on the wallet. Don't be afraid to try out lots of different options: that's the only way to find out what's right for you!
---
Have you used Vellum to format your books? If so, tell us about it in the comments — and if not, leave a question for someone who has!