4 Things That Surprised me About Self-Publishing an Academic Book
Joshua Gans is a Professor of Strategic Management at the University of Toronto. He has been published in the American Economic Review, Journal of Political Economy, RAND Journal of Economics, Journal of Economic Perspectives, and more. In this article, he talks about his recent book, Scholarly Publishing and its Discontents, which looks at the market power of journal publishers. The critical nature of this subject led him to explore self-publishing for the first time — an experience which surprised him in more ways than one.
Last year, I wrote a book about scholarly publishing that I knew would not fit well into traditional publishing models. It wasn't one of those books that claimed the whole traditional publishing system was broken and advocated dumping publishers altogether. Instead, my book was motivated by a distinct, albeit related, concern: that in the scholarly world, journal publishers had too much market power and that academics, despite the best of their intentions, had been mostly unable to do anything about it. Academics had tried boycotts, forming their own journals, and lobbying governments, but the power and profits of the big publishers were undaunted.
The traditional publishing path has worked for me.
Up until this year, when it came to publishing books, my path had always been the traditional one. It was the default path. No one questioned your decision to go with traditional publishing, and if things went awry, you wouldn't have to question yourself. Moreover, self-publishing felt like a chore: finding editors, thinking about cover design, comparing distribution options — it all seemed beyond the scope of my abilities.
However, when I finished my recent book about scholarly publishing, I was forced to consider going the self-publishing route. You see, traditional publishers aren't exactly chomping at the bit to sign a book that questions market power. This is not to say that they aren't open to critical ideas, but my book dipped into issues that may not bode well in a future antitrust law case.
Eventually, it didn't, and I looked to self-publishing.
Still, I tried anyway. I sent the manuscript to some university presses but the feedback was that it wasn't a good fit with research in library science. To be clear, I had deliberately ignored library science in my book altogether, because I felt that much of library science research was unreliable compared to research done by economists.
Just when I felt I was running out of alternative options, I came across Reedsy. I liked the vision of the company and that it could put me in touch with the people I needed to get my book ready to self-publish. Years of blogging had taught me that I was a terrible copy editor, so I searched the platform for someone who could do it right and ended up hiring expert copy editor Dan Foster. A month later, my book was edited. A week after that, I published it.
Here are a few ways self-publishing surprised me.
Self-publishing is fast
Really, really fast. With traditional publishing, I had become accustomed to waiting a year before I got to see my book published — longer than it usually took to write the book itself! With self-publishing, from the moment I was happy with my finished manuscript to the point it arrived on my desk as a physical copy — only ten days had passed. I even referenced a source in my book that was published during the exact same month that my book was published. That's what I call timely output. 
Self-publishing is relatively simple
It was easy to go from editing to distribution on my own. I went with Amazon, which was a one-stop shop that was easy to use.
Self-publishing doesn't HAVE to be expensive
Getting physical copies is cheap. As an academic, I am more interested in disseminating my work than earning money. It was always frustrating how much I had to pay for copies of my own book, even with an author discount. This time around, I bought copies from Amazon wholesale, which worked out to just above $2 per book copy. At that rate, I could order a couple hundred! Being able to secure cost-friendly copies enabled me to conduct giveaways that helped maximize the impact of my book. 
Self-publishing lets you innovate
I could innovate. Traditional publishers expect authors to create an index for their book — which can be a bit of a chore. For my self-published book, I didn't do an index. I replaced what would have been the index with this: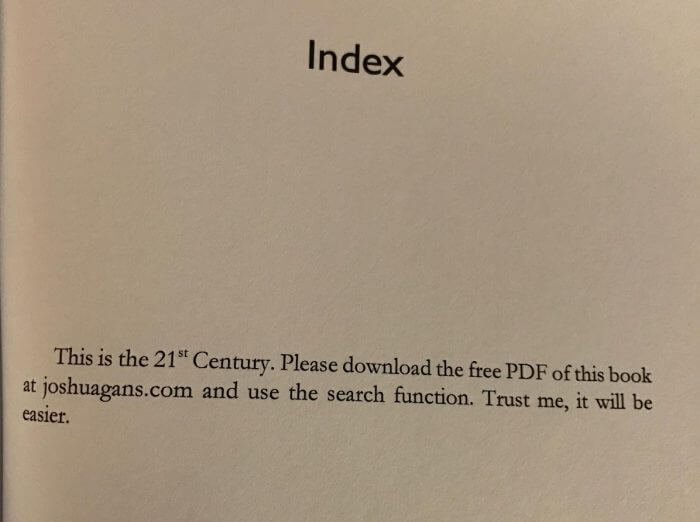 And that was that!
Self-publishing has offered me unparalleled freedom, and allowed me to disseminate my work as never before. That being said, my sales are not as high as I have achieved before with traditional publishing. Then again, I haven't commenced any marketing initiatives other than handing out copies and have broken a few "rules" — like designing my own book cover. But that's part of the beauty of self-publishing, doing things your way. This time around I'm going to work at my leisure, update the book with new editions when I want, and do things by one set of rules: my own.
---
Scholarly Publishing and its Discontents is available in paperback from Amazon!
Head to Joshua's website for more.
Joshua published his recent book because he had an idea he wanted to get out there — not necessarily because he was looking to build a fan base of readers. Can you relate? Leave any thoughts, experiences, or any questions for Joshua in the comments below.