Two Types of Writers: Plotters and Pantsers
Writing has always been a passion for the UK-based former journalist Amanda Wills, who now works part-time as a police press officer. Her latest book, Flick Henderson and the Deadly Game, was published in December last year, with a cover design courtesy of Reedsy artist Rachel Lawston. In this article, she talks about two types of writers, Plotters and Pantsers, and the pros and cons of both.
Plotter or Pantser
Do you plan your novel to the nth degree before you type a single word, or do you sit at your computer, take a deep breath and fly by the seat of your pants? If the former, you're a Plotter; if the latter, you're a Pantser. 
We all know there are pros and cons to both. Knowing exactly what's coming next means that Plotters are less likely to suffer from writer's block. They also tend to write faster and more efficiently. Pantsers, on the other hand, have the freedom to let their characters take control, which can be both terrifying and exciting at the same time.
I should say now that I am your typical Pantser. Don't get me wrong, I am in awe of writers who spend months plotting scenes on timelines and building detailed biographies for their characters. When I start a book, I know how it begins, and I normally know how it's going to end. It's just the bit in the middle that's, shall we say, fluid.
Pantsers let characters take on a life of their own
Take my latest novel, Flick Henderson and the Deadly Game, for example. I first had the germ of an idea back in April 2014. After writing a series of pony adventure books, this was my first venture into mainstream middle-grade fiction, and I knew it had to be pacey and compelling.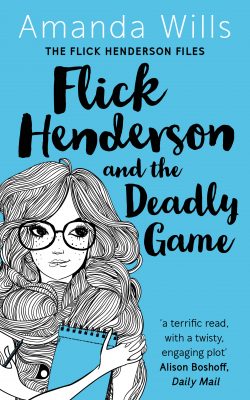 In the early days of writing, I called this novel Write Club and my fourteen-year-old heroine (let's call her Flick Henderson because that's her name) was the leader of a group of misfits who started an underground newspaper at their school.
But, as all you Pantsers out there will know, characters dictate their own destinies, thank you very much, and it quickly became apparent that Flick wasn't interested in a tinpot school rag — she had much loftier ambitions.
She wanted to be a crime reporter for a national newspaper, like her mum's glamorous best friend, Lexie Collins.
I've long been a fan of Alexander McCall Smith's The No. 1 Ladies' Detective Agency series. You feel a sense of satisfaction when you complete one of his books because the main plot has been resolved, but the underpinning subplot keeps you reading and motivates you to continue his series. In each book, the reader has the opportunity to move between both plots, giving the separate stories time to breath and lightening the tone between light and heavy.
Inspired by McCall's mysteries, I did do one little bit of plotting before sitting down to write. I gave Flick two mysteries to solve: who was behind the theft of the town's population of pedigree pets, and the disappearance of her sister, Kate.
The writing process of a Pantser
I launched into the book with the optimistic, devil-may-care attitude of the seasoned Pantser. Things were going well. The kidnapping of the pets was my main plot line. What happened to Kate when she disappeared four years earlier was just another conundrum for my feisty heroine to solve along the way.
The story changed and evolved. Occasionally, I lost my bearings, had to backpedal and try something else. Sometimes the story meandered aimlessly. Some days I sat in front of a blank page with absolutely no idea what was going to happen next.
But Flick had such a big personality that she drove the story on, and finally, after seven long months, I had finished the first draft.
The downside of being a Pantser
I let the manuscript marinate for a couple of weeks, then re-read it. And realization dawned. By not plotting, I'd got it all wrong. Flick had obsessed for four years about what happened to her sister; discovering how Kate died had to be the main plotline. It was a complete no-brainer. She cared about the pets — of course she did — but they had to play second fiddle to the main storyline.
I can fix that, I thought. Both stories were there, after all. But the timeline was completely skewed. I had issues with continuity and scenes that needed switching. Basically, I had 50,000 words in the wrong order.
I also had a little voice in my head saying over and over, "That's why you should have planned it."
How to go from Pantser to Plotter
The thought of doing a major re-write on a Word document seemed impossible, so I summed up each scene in a single sentence which I scribbled on a slip of paper. I numbered each one in chronological order and laid them out on the dining room table.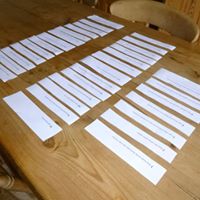 I then spent about a week playing a kind of story jigsaw, rearranging the scenes until Kate's disappearance became the main plot and the disappearing pets became the sub-plot.
This kind of low-tech approach might not be for everyone, but it worked for me. It helped me spot continuity problems and holes in the story. It became blindingly obvious where I needed more action, and where I needed to slow the pace down.
And once I had the scenes in the right order it was a pretty straightforward task to reassemble them on my Word document.
Flick Henderson and the Deadly Game was released both as a paperback and ebook this past December, nearly three years after I had that first seed of an idea.
Do I regret not plotting the book properly in the first place? Probably. I'm sure it would have saved a lot of time. I'll definitely use the giant word jigsaw approach again. Being able to play with scenes in such a tangible way was immensely useful.
Will I spend weeks planning every scene, every plot point, every nuance, every character arc, before I start writing my next book? Probably not. I'm a Pantser by nature. But one thing I have learned is that a little planning goes a long way.
So that is exactly what I plan to do.
---
Flick Henderson and the Deadly Game is available on Amazon in paperback and on Amazon Kindle!
Are you a Plotter or a Pantser? Or, like Amanda, have you found a way to straddle both styles of writing? Let us know, and leave any thoughts, experiences, or any questions for Amanda in the comments below.