How Many Pages is 1,000 Words? A Thorough Account
Whether you're writing an essay or assignment with a set word count, or you're simply wondering how many blank sheets of paper to prepare for when you press 'print' on your document, determining how many pages 1,000 words is can be a helpful first step. 
Usually, essays or manuscripts you're preparing for submission should be double-spaced and written in a serif font like Times New Roman or Georgia, with a font size of 12 points. This means that 1,000 words is about 4 pages (A4) of typed text. Assuming the text is single-spaced, as it tends to be in other contexts, 1,000 words is usually just 2 pages (A4).
Of course, there are a few more factors that go into determining how many pages 1,000 words are, and the answer will change depending on how you format your text. In this article, we'll break down standard formatting for different types of writing, and the things you should pay attention to when it comes to increasing or decreasing your page count — without affecting your final word count.
Many factors affect page count
Assuming that you're just putting words together on paper without including other things that significantly increase the page count — like images, graphs, or tables — 1,000 words can still result in quite different page lengths, depending on how you format your text. 
Here are a few things that will affect how many pages it takes to write 1,000 words:
Typing vs writing by hand
Though most writing these days is done digitally, there will still be times when you're asked to submit a handwritten piece of text. And while typed words always follow specific metrics, handwritten ones come in all shapes and sizes, depending on your individual handwriting style, the pen's nib size, how tightly spaced the text is, and whether you're writing on ruled, blank, or graph paper.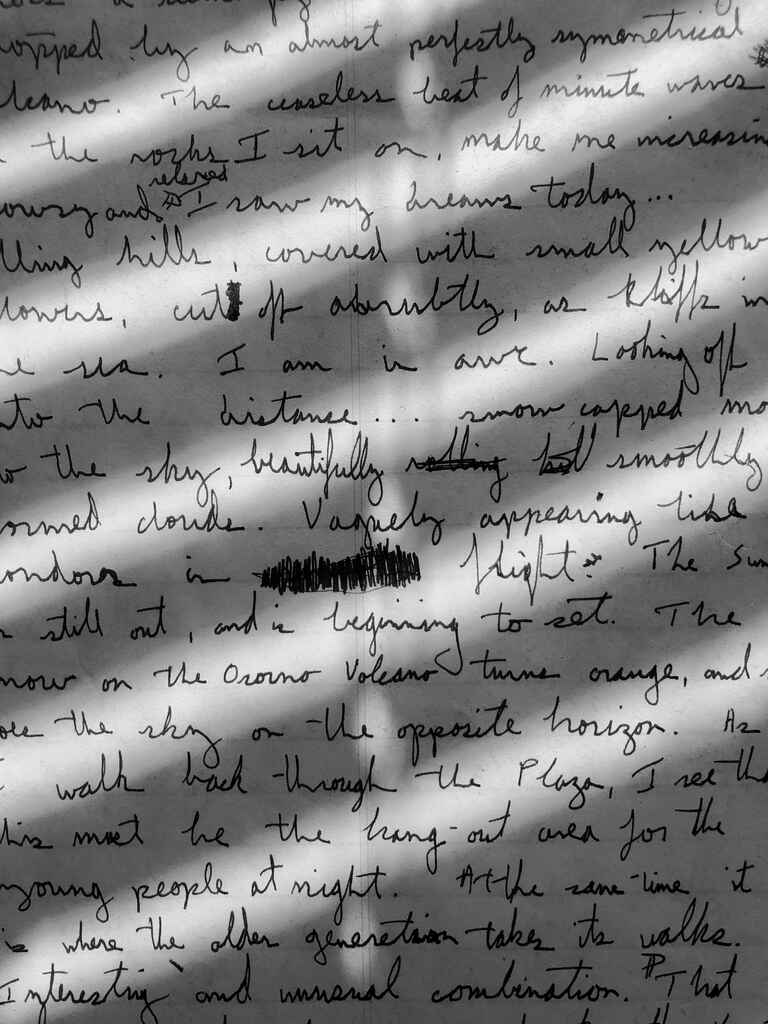 With that said, handwritten words are typically about two times as big as words typed in a 12 pt. font on a computer. If the paper is single-spaced (as it usually is), that means you end up with 4 pages (A4) of handwritten text per 1,000 words, or 8 pages double-spaced.
An additional factor if you're writing by hand is, of course, your personal tendency to cross things out. If you stop and start over a lot, smudging out your previous attempt, you'll inevitably have to adjust the numbers above. With this in mind, the best way to estimate your word count will be to rely on the assumption of 4 single- or 8 double-spaced pages, then add the approximate number of words you've deleted.
🧮 Curious to know how many words you delete as you type? If you do your writing on the Reedsy Book Editor, you'll see a live update of your word count and the number of words you've removed as you type.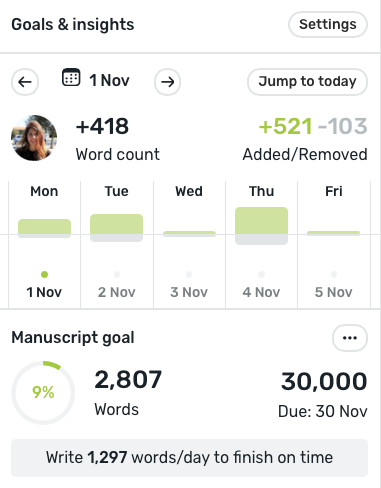 But enough about handwriting. After all, we're living in a modern era, so, let's take a closer look at what might affect your typed page count.
Font size
It goes without saying that font size affects how many words you can fit onto one page. Font size is measured in points (pt.) and a text written in small 8 point font versus a text written in humongous 42 point font will inevitably result in vastly different page counts.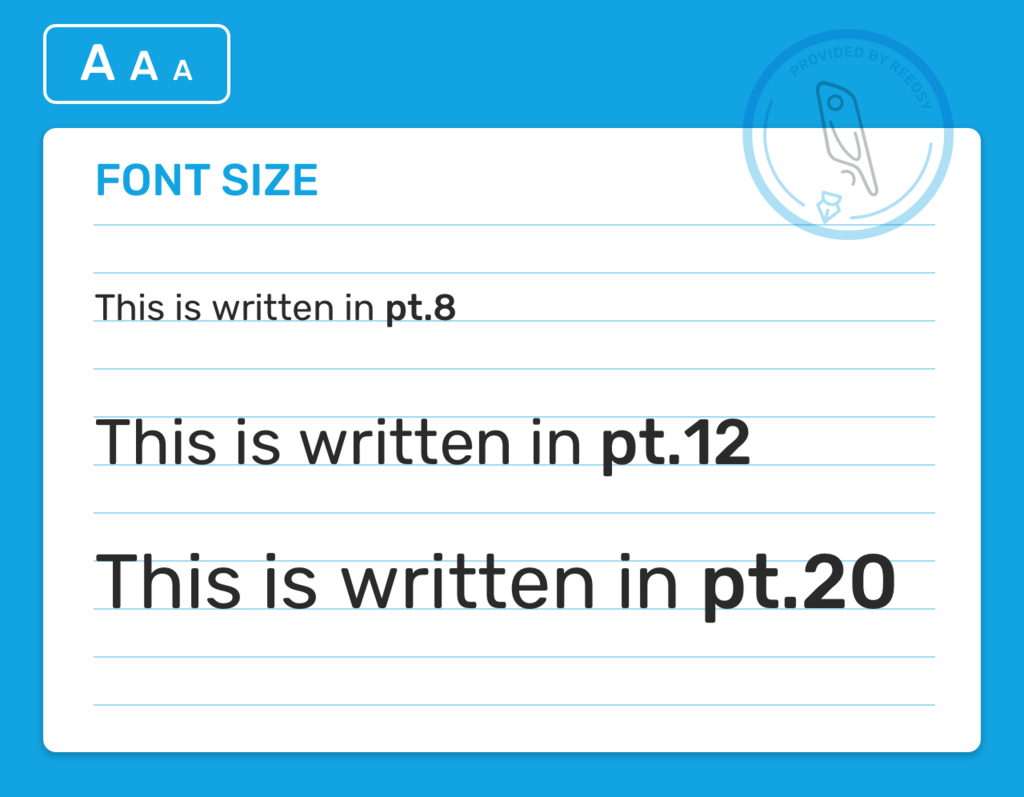 Longer texts normally stay within the range of 10 to 14 points, according to most typography conventions, with 12 being the standard for most essays and manuscripts. This is a comfortable reading size for the general reader, with no squinting or excessive paper wastage necessary. If you aren't sure what to use, 12 is your go-to — and then you'll also know you just need 4 single-spaced pages to reach 1,000 words.
Font type
A second consideration when you're adjusting your document settings is what type of font to use. Not all font types are made equal, and two different fonts can expand or shrink your text even when they're set to the same font size. Here's an example to illustrate different font widths: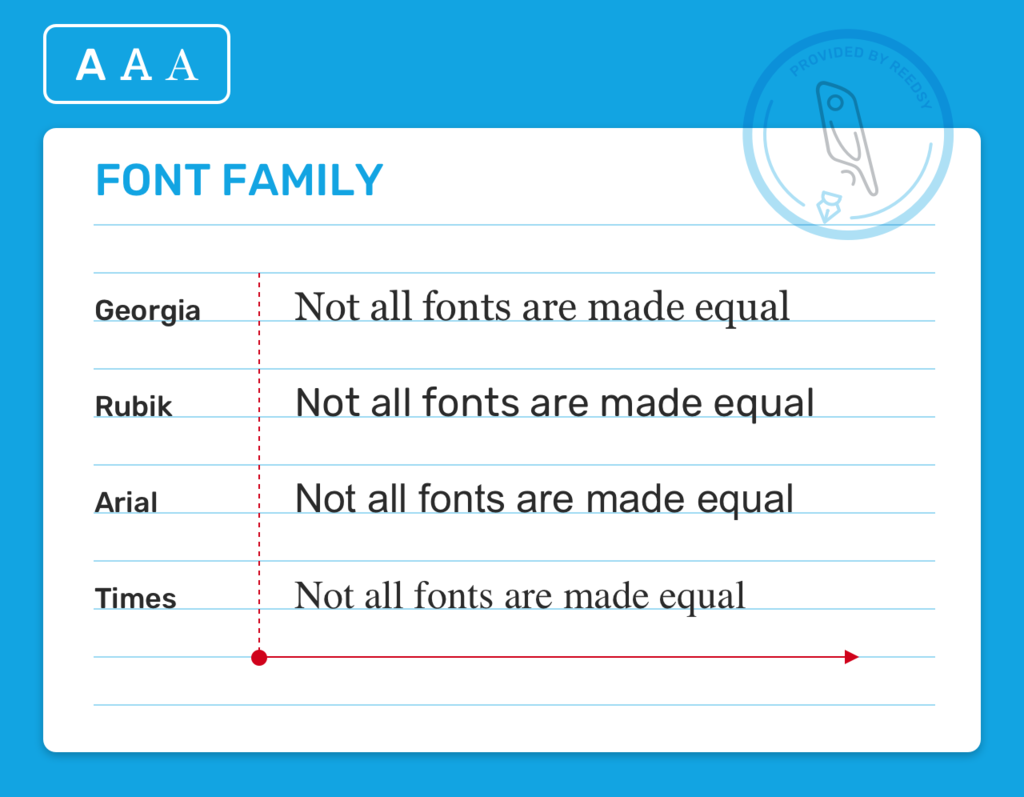 These four lines were written in the same font size but with different fonts, taking up different amounts of space on the page. Rubik — a sans serif font — takes up the most space, while Garamond — a serif font — takes up the least.
Taking a brief detour into the world of typography, a serif font is a font which includes so called 'serifs,' which are decorative strokes that finish off the end of the letter stem. These are also known as 'feet.' Sans serif fonts are those fonts without 'feet' or 'serifs.' Normally, longer pieces of text should be typeset with a serif font that makes it easier to read, like Times New Roman, Georgia, Garamond, or Merriweather. Some common sans serif fonts are Arial, Verdana, Roboto, and Rubik. Each type of font will have a different width, so make sure you account for this.
And even if you write the same line in the same font, it can take up slightly different space when you apply regular, cursive, bold, or bold + cursive style. Take Times New Roman, for example: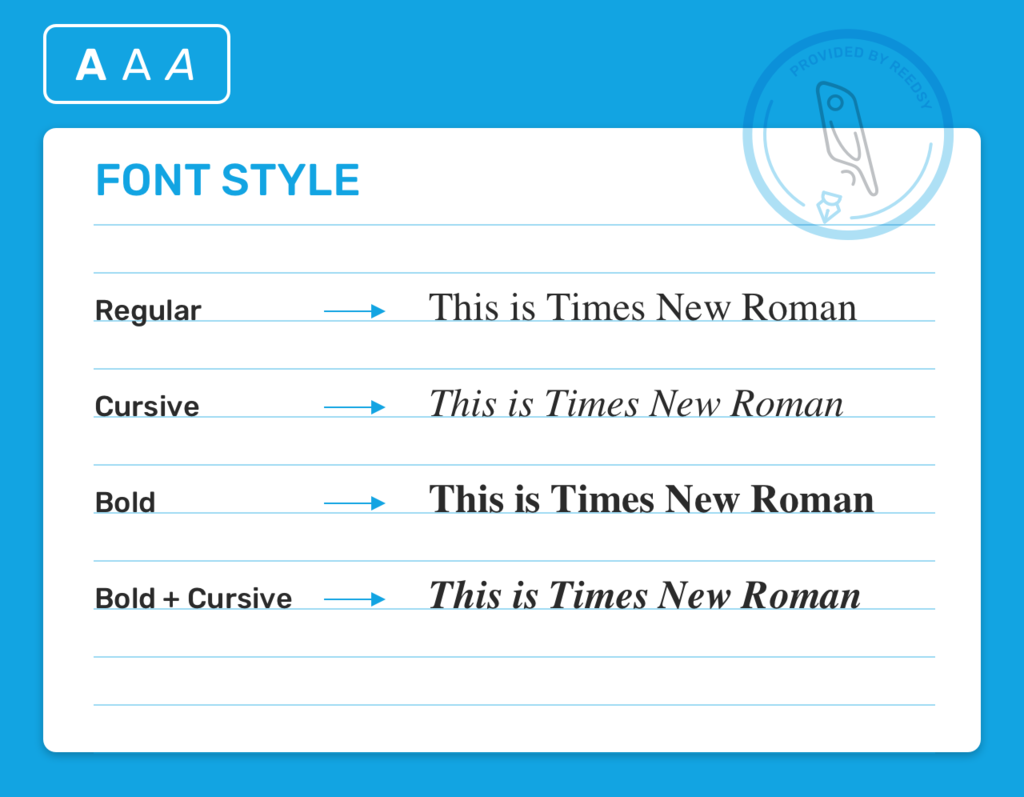 This might not seem like that big of a difference at first glance, but if you write a whole paper in one of these fonts, the accumulated effect will add up and result in slightly different page lengths.
We know, we know. It's quite unlikely for a longer piece of writing to be written in anything but regular font. Still, we don't know everyone's circumstances, and we're trying to give a thorough account here, so bear with us.
Next, let's take a look at the distribution of blank space in your text.
Line spacing
Authors and AP English teachers are all fond of asking readers to "read between the lines," analyzing what is implied, but not explicitly written on the page. For typographers, the space between the lines on the page — line spacing — is equally important, and will have a marked effect on the final page count.
With most writing software, you can choose between single, 1.15, 1.5, and double spacing. What this does is shrink or expand the space above and beneath a line of text.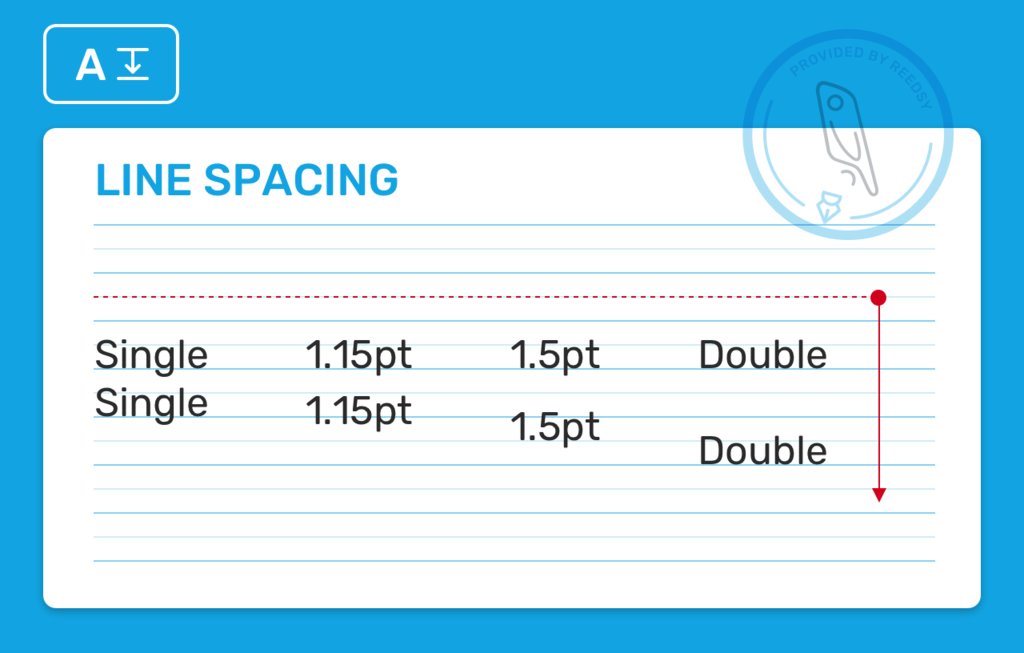 Essays and manuscripts are commonly written with double spacing to leave space for teachers or book editors to add their comments and corrections.
Character spacing
Line spacing is also known as "leading" in typography, but if you want to adjust the space between individual letters or characters, this is known as "kerning." This is not really a concern when you're writing an essay or submitting a manuscript, but rather something that comes at a later stage of typesetting, usually done by professional book designers.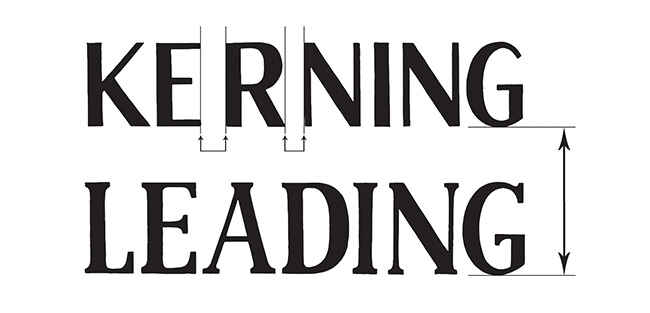 If you're using more refined typesetting programs like InDesign, you have more options to adjust and play around with the leading and kerning, which can help you condense or expand your text to avoid awkward-looking things like "runts," "widows," and "orphans" before you go to print.

Of course, you can also opt for an easy-to-use typesetting program like the Reedsy Book Editor, which typesets your manuscript to industry standards, if you want to minimize the hassle. Or why not hire a professional typographer or typesetter?
Indents and paragraph breaks
Much like line spacing, adding more space at the start of every paragraph with large indents or having a lot of paragraph breaks is also something that can make your text longer. The estimate of 4 pages per 1,000 words assumes that you're putting one word after the other consistently, without line breaks or added spaces, so unless you're planning on handing in a solid block of text, take it more as a guideline than as a hard fact.
First line indents are typically about half an inch, which is also the pre-setting of the tab-key on most writing software. 
Paragraph breaks (in other words, hitting the enter bar once to start a new paragraph on the next line, or twice to leave a blank row), should be set to follow the line spacing. So if you're using double spacing for the bulk of your text, make sure to also apply that to paragraph breaks.
Using paragraph breaks is definitely a good thing since it makes your text easier to read and follow. If you're writing an argumentative essay, you want to make sure that each paragraph contains one main argument, and that you start a new one when you're moving on to the next. With that said, frequent paragraph breaks is bound to bring your page count beyond the 4-page mark, so make sure to account for that.
Margins
Understandably, increasing or decreasing the size of the margins (and thus increasing or decreasing the space in which your text can spread) also affects how many words you can fit on one page. 
Standard measurements for margins are 1 inch (or 2.5 cm) on each side of the paper. Unless you change them on your word processor, you can assume that the 4 single, 8 double-spaced rule still applies.
1,000 words in essays
If you're writing an essay for your studies, chances are you'll have to follow pretty strict formatting rules. These may vary from institution to institution and teacher to teacher, so it's always a good idea to check the specified submission guidelines before you put all your eggs in one basket.
That said, Times New Roman in a pt. 12 font size with double spacing and 1-inch margins is recognized as standard formatting in most situations and is usually a safe bet. With these settings, here are a few checkpoints you can use to refer to when estimating how many pages you'll end up with: 
| Word count | Single-spaced  | Double-spaced  |
| --- | --- | --- |
| 500 words | 1 page | 2 pages |
| 1,000 words | 2.2 pages | 4 pages |
| 1,500 words | 3 pages | 6 pages |
| 2,000 words | 4 pages | 8 pages |
1,000 words in books
So far, the page counts we have discussed have all referred to standard measurements for documents in the A4 paper size, but books are rarely published in this format. There's a wide range of standard book sizes out on the market, depending on genre and whether you're publishing a hardback or a paperback, for example, but how many pages is 1,000 words in books?
Manuscripts
For authors who are getting ready to submit their manuscripts to publishers or literary agents, the same measurements will usually apply to manuscripts as for an essay written on MS Word or any other word processor: 4 pages per every 1,000 words. 
📐Getting ready to send your manuscript out into the world? Check out this article for more insights on how to format your manuscript and a handy template.
The average word count of a novel is somewhere between 70,000 and 100,000 words (though plenty of novels fall outside of this range, like most fantasy novels, for instance), so to find out how many pages your final manuscript will be, you can use the 1,000 word calculation and simply multiply.
Print books
Of course, print books are a different matter.
Print books will usually come in standard trim sizes, but beyond that, it's up to each publisher, typesetter, or author to decide on the interior design of the book. Many things will affect this decision-making process, like what feeling you want to communicate through the layout, or the overall economy of the project. Spacious typesetting with fewer words per page can create a sense of luxury or encourage page-turning, whereas publishers may choose a tightly typeset text with small margins to save on paper and printing costs. 
According to some estimates, one page in a book contains roughly 300 words, but one page in Bridget Jones's Diary will probably contain a lot fewer words than one page in an affordable Wordsworth Editions publication of Anna Karenina. Assuming that one page contains 300 words, however, 1,000 words would be roughly 3.5 pages. But then again, that won't always be the case: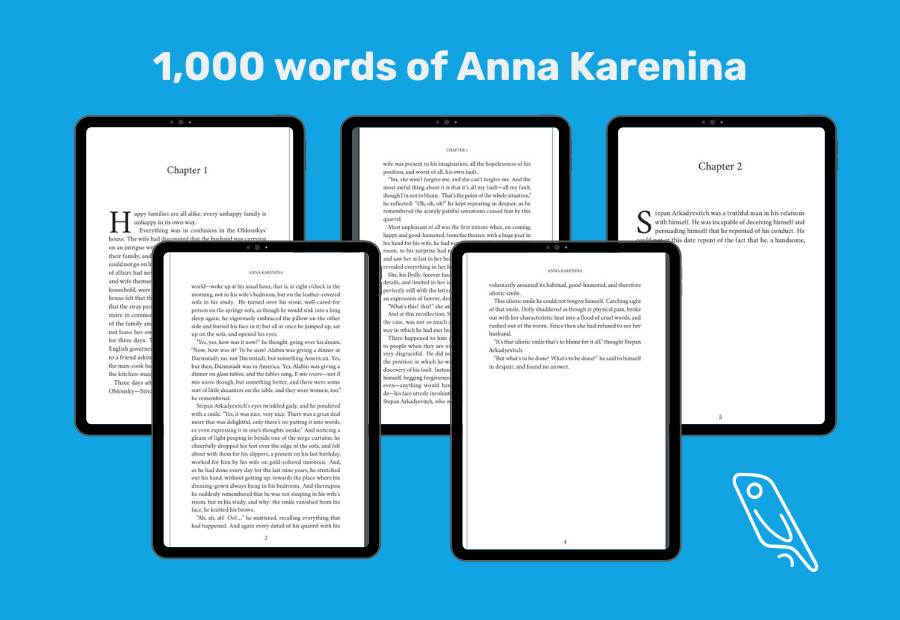 Remember that the 300 words per page estimate only applies to the actual body of the text, and does not include other parts of the book, like front and back matter. You also have to consider the first page of a chapter, which usually starts two thirds down the page and will thus fit less words, not to mention the last page of the previous chapter which may just be a few lines.
How long does it take to write 1,000 words?
Now, if you're crunching numbers and are trying to figure out whether you can meet your impending deadline, you may be wondering how long it actually takes to write 1,000 words. For the people suffering from writer's block out there, the answer may seem like "forever," but the comforting truth is that, with a steady pace of typing on a topic you know a reasonable amount about and a clear plan of attack, you should be able to produce a high-quality 1,000 piece in 4 hours or so. 
Of course, what makes writing beautiful is that it is a creative process undertaken by humans, and humans need time to think and search for the right phrases, might occasionally get distracted by other things, or struggle to come up with what comes next. And then, every once in a while, inspiration strikes, and 1,000 words fly by. So take these numbers with a pinch of salt and remember to enjoy the process.
---
There you have it: a very long answer to a question that, at first glance, seems pretty straightforward. In the end, 1,000 words can look very different in a university essay versus in a book of poetry. Hopefully, this has given you a better understanding of why that is so you can apply this logic to your own writing.