How to Create Killer BookBub Ads in 5 Simple Steps
Getting a Featured Deal on BookBub can be tough. Luckily, there's another way to tap into BookBub's base of highly engaged readers that isn't quite so competitive. BookBub Ads allows authors to buy ad space in the very same newsletters that house their Featured Deals.
Here's how to set up a BookBub ad that will get readers flocking to your retail page.
1. Set up your author account
Getting ads on BookBub is pretty painless. Just set up your account on BookBub's Partners page to create your free author profile and claim your books. 
Once your profile is set up, hit "Create an ad" on the sidebar to uncover the whole ad creation interface. If you've ever set up a Facebook or Amazon ad, you'll be pleasantly surprised to find that on BookBub this all on one page.
Next, you'll want to choose which book to advertise, and where.
Learn more about creating profitable ads on BookBub and other advertising platforms, in How to Market a Book: Overperform in a Crowded Market, the FREE book marketing bible by Reedsy's Ricardo Fayet.
2. Select your product and store
One thing to bear in mind is that the #1 reason readers sign up for BookBub's newsletters is to find free or cheap books. So while BookBub ads are a great book promotion service for a free or 99-cent ebook, they'll perform terribly if you use them to advertise your $9.99 masterpiece. 
Once you've selected an appropriate title to push — if your books are already added to your profile — you can select it from a dropdown menu, which will automatically fill in the retailer links you'll need. You can also enter these manually.
Pro tip: Most people only enter simple retailer links, not knowing that you can enter any link you like. You can include links to your own website, affiliate links, or links with embedded tracking (like ReaderLinks or Booklinker links). The only links BookBub won't allow are those to a reader magnet page: you can't use BookBub ads for list building.
For each link, you will be asked to specify who you're targeting, in terms of country and store. If you want to, you can focus your ads toward, say, Apple Books users in the US, or Kobo users in the UK. If you're a wide author who wants to grow sales on non-Amazon retailers, this kind of targeting is super useful (and far easier on BookBub than on other platforms) — so make the most of it!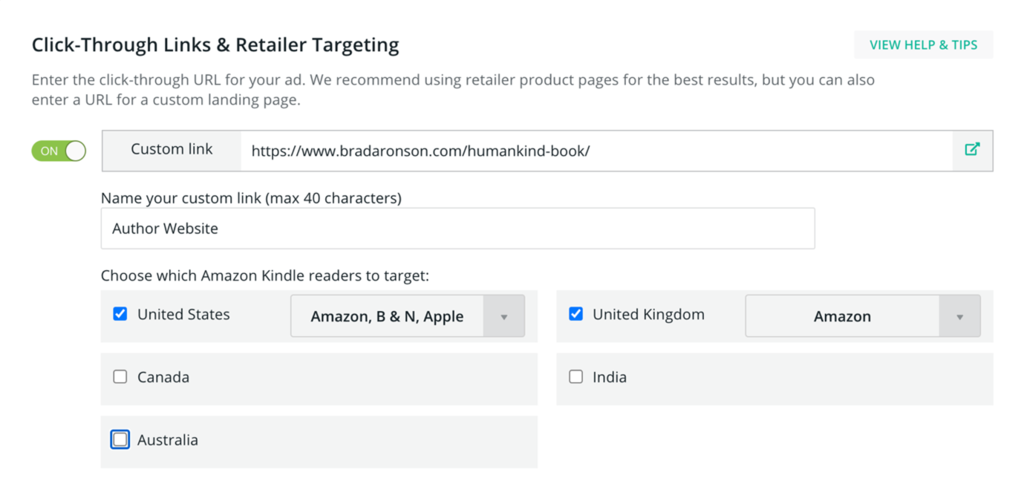 Having said that, if you want to really figure out what works for your ads, it's best to start with US Amazon as your target. If you can get an ad that works for the most competitive market, you'll probably find it's even more effective when you turn your attention elsewhere.
Note: The #1 reason readers sign up for BookBub's newsletters is to find free or cheap books. So while BookBub ads are a great book promotion service for a free or 99-cent ebook, they'll perform terribly if you use them to advertise your $9.99 masterpiece.
Don't forget about audio

BookBub also allows you to target audiobook readers with their audiobook promotion service Chirp. You can include links to other audiobook retailers, but using a Chirp link will make your book eligible to appear on Chirp's own newsletters. Seeing as this newsletter is specifically for audiobook lovers, it's a good idea to secure yourself a spot.
3. Choose the perfect genre and comp author
Once you've chosen what book you're advertising, and on what store, you'll need to fill in some information for targeting. At this stage, you'll be asked to provide comp authors and genres.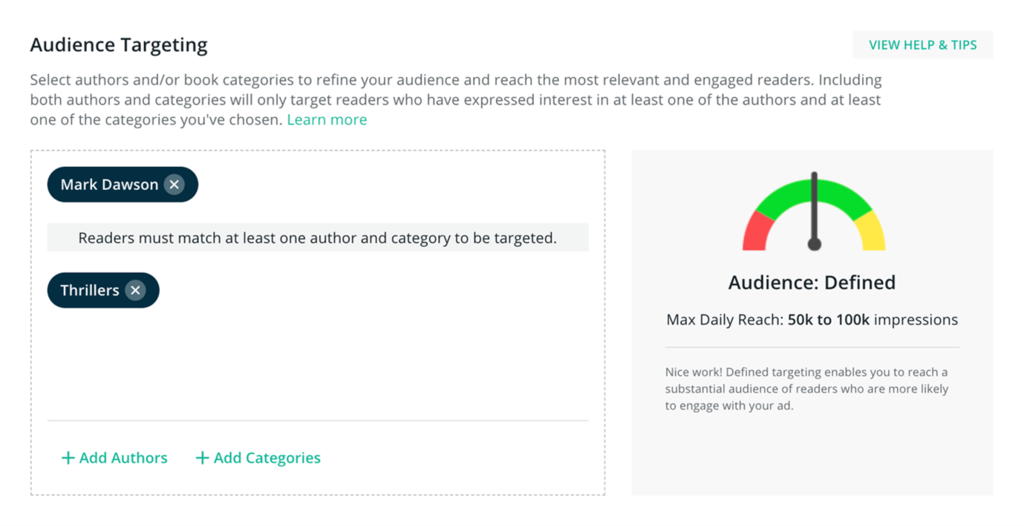 To test effectively, we recommend you target one comp author at a time. If the targeting needle shows red, however, this means your target audience is too small, and you should add another author to your test. 
Use indie authors as comps
On BookBub, super mainstream authors don't make for the best comps — your author targets should be famous or semi-famous indie authors. This is because the targeting for BookBub works in a very specific way. If you select "Author A" as your comp target, BookBub will show your ad to:
All of Author A's followers on BookBub; and
All the readers who have clicked on a Featured Deal title by this author in the past.
Users are more likely to follow an author from outside of their preferred genres if they're very well known. This means that your ad will be shown to less relevant users, whereas readers who seek out indie titles within a genre are more likely to pick up your indie title in that genre.
4. Get creative with your image
Next, you'll want to set up your ad image. Let the decisions you've just made inform your choice of image. For example, you could mention your comp author in the image copy, include indicators that you're advertising an audiobook, or add a store-specific "Buy on Amazon" button to your image. 
BookBub does have its own image creation tool, which will create a standard ad image with your cover, some text, and a Buy button. However, to make your ad stand out, it's better to use something like Canva or BookBrush to create a more personalized image.

If you're stuck on what to include, fear not! We've got a checklist for just that:
Your cover, as an e-reader image, a 3-D print book image, or both;
Some short hook copy: a tagline, review excerpt, or reference to a comp author;
Whether the book is free or discounted, and the price; and
A call-to-action button
Now that you've set up your ad, and decided who to show it to, it's just a matter of putting money behind it.
5. Start with a $10 budget
You'll want to set up a budget for the campaign. Since you're looking to test images, you'll want to produce statistically significant results, which means you'll need enough of a budget to make that happen - you probably want to start with ten to fifteen dollars.
You'll also have to set a "bid". This just means the maximum rate you're willing to pay to reach readers in your audience. When a reader opens their BookBub newsletter, BookBub will compare every ad campaign that that reader is being targeted by, and serve the ad with the highest bid. Therefore, the higher your bid is, the more likely it is to be shown.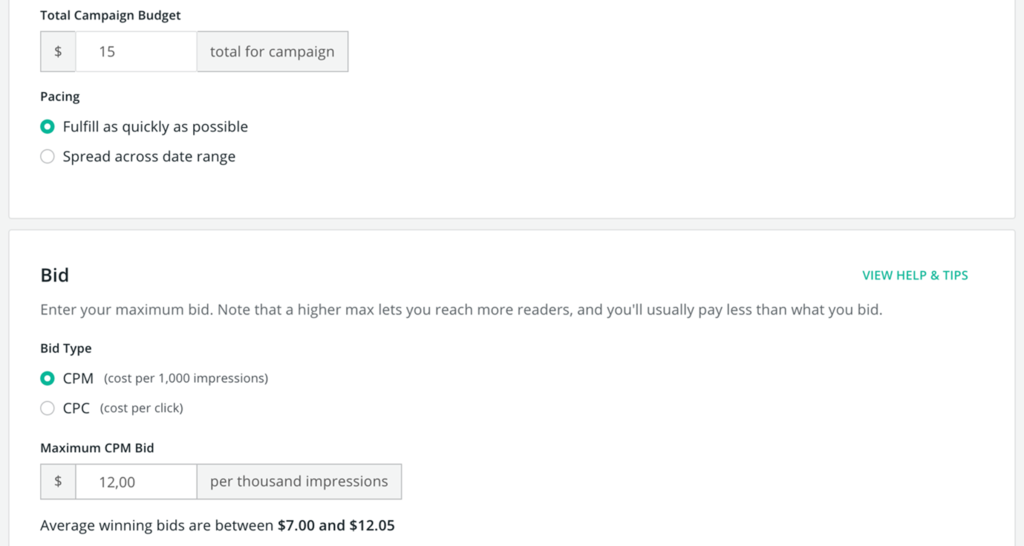 For your first ad campaign, you should keep your bid at the higher end of the range shown by BookBub to make sure your ad is served quickly and you can start analyzing your results ASAP.
Set your bid to CPM
When you set your bid, you'll have to choose between CPC (cost per click) and CPM (cost per one thousand impressions). While CPC means you only pay for readers who actually click on your ad, CPM doesn't differentiate between people who just open an email the ad is served on, and those who click. 
CPC is appealing to many authors because it means you can tell BookBub exactly what you're willing to spend to generate a click on your ad. While this can be helpful for budgeting purposes, the issue is that if you set your CPC target too low, your ad may not get shown at all, because of the competitive bidding system we discussed earlier.
While you may eventually get your CPC as low as $0.20 with great targeting and images, your CPC will probably be much higher than this for initial testing. It's, therefore, best to use CPM bidding initially, as this will ensure your ad is getting shown to readers, and that you're getting data on how it performs. 
Once you've nailed the targeting and the creative (your image and copy), you can switch to CPC to get a little more control over what you're spending.
Bonus tip: Get testing
To figure out the perfect combo of targeting and creative, you'll need to go through various stages of testing. Essentially, you'll be switching out your images and targets one at a time to find what performs best. If this technical stuff sounds daunting, you can check out the section on BookBub ad testing in Ricardo's book for more detail.
And there you have it! Your shiny new BookBub ad is ready to go out to newsletter subscribers. Now that you've mastered the BookBub ad ecosystem, you may wish to advertise on other platforms too, so check out our free courses on Facebook and Amazon ads to get a headstart!
---
In the final part of this guide, we'll look at a relatively minor — yet important — feature of the BookBub platform: reviews. Find out how you can use this often-ignored corner of BookBub to maximize your chances of converting your new readers.