5 Freelance Time Trackers to Up Your Productivity
Using freelance time trackers is a great way to keep a record of your billable hours. Whether you charge with an hourly rate as some ghostwriters do, or you just want to improve your productivity, having a report of how much time you've spent on what is very helpful. 
With that in mind, we've got a list of five freelance time trackers that can help you become a more successful freelancer. These were chosen for their suitability to solo freelancers, first and foremost, rather than for those who usually work in a team. As such, the functions aren't primarily about coordination or project management, but personal time management and productivity. We also considered the prices for which these are offered (and some are free!), so there's something to suit every budget.
1. RescueTime 
💲 Fee: free for lite version, $12/month for premium (14-day trial) 
RescueTime has been around since 2007, and the company has had plenty of time to hone their app into a practical and easy-to-use tool. All you do is download this program as a desktop app, and it will start tracking your usage in the background. In other words, RescueTime will record what websites and apps you're using, and the time you spend on them, while you're doing it. You may get the harsh truth, but it can be used for the better! You'll get this information summarized in daily reports, and even weekly/monthly/annually reports if you pay for the premium rate. 
💡 Pro-tip: If you're going for Premium deals, consider paying annually — you can usually save anywhere from 10% to 40% for most apps!
On top of that, to keep you accountable, this app also does some AI wizardry and identifies sites that they deem productive or not (we're sorry to say it, but Twitter would probably belong to the latter group). If you're someone who uses social media for work, and Twitter happens to be a productive platform, then you can customize and change which sites are on your "naughty" and "nice" list. Based on this data, RescueTime also offers a tool to block distracting apps and sites, keeping temptation at bay.
If you want something automatic that can accurately trace your steps throughout the day and remove you from sites that's taking more from you than it's making, RescueTime is your new best (efficient) friend.
2. TopTracker 
💲 Fee: it's free, forever! 
Built by the engineers behind the freelance platform Toptal, TopTracker is probably the best free time tracking software you can find. Available both as an onsite platform and a desktop app, TopTracker provides a space to input your project and start tracking your activity. The program also has a feature to detect idleness, should you forget to stop tracking for a coffee break, so you don't have to worry about excessive timestamps. You can also choose for the software to take screenshots of your laptop or computer as you go, keeping a visual record of what you've been up to. 
Then, TopTracker puts together reports on your time usage, as well as a tool for payment. The reports are helpful for tracking your billable hours — which, even if you don't charge by the hour, could still help you determine per project rates. These hours reflect effort you put in, which is a fair way of quantifying your projects. As for the payment tool, TopTracker partners with a third-party transaction service (like how Reedsy handles transactions for freelancers) so that you can better focus your time on more productive tasks. 
Work with new clients in a secure environment
Thousands of editors, designers, and marketers are working through Reedsy
3. TogglTrack 
💲 Fee: free for light version, $10/month for Starter, $20/month for Premium (30-day trial)
Toggl is one of the best-known trackers out there for freelancers, and this is because of its many functionalities. While they haven't developed anything for distraction blocking (yet),  Toggl offers everything else that a productive freelancer might need — from automatic time-tracking and idle detection, to the Pomodoro timer and customized reports. There's even space for collaboration and project management for a whole team, if your work calls for it. 
You can use this app online or offline, and the interface is super user friendly. Toggl color codes all your different projects, each of which can be split into various tasks, so you can get the full picture of all your gigs simultaneously. This is also a good way to keep tabs on your non-billable hours (when you do complete paperwork and housekeeping tasks), so that you can factor these extra tasks into your overall pricing. 

The free version only provides standard reports with no insights into the applications or websites you spent your time on. You'll also miss out on reminders from your browser extension in case you forget to start tracking, which come with the paid option. That said, if you're just looking for a way to keep yourself accountable, or to have something to show your client when you send your freelance invoice, then the free package should do. 
4. HourStack 
💲 Fee: $7/month for a personal plan, $15/month for professional (14-day trial) 
For those who love to plan, HourStack might be the software for you. Unlike the other time trackers on this list, this app was designed first and foremost to be a timetable. You'll have the full view of your week, where you can set out expected work periods. Once you get to work, the app will track you, send reminders when the time limit approaches, and record overtime so that you can reconsider your strategy. On the professional plan, you'll get custom reports sent to you regularly breaking down all of this.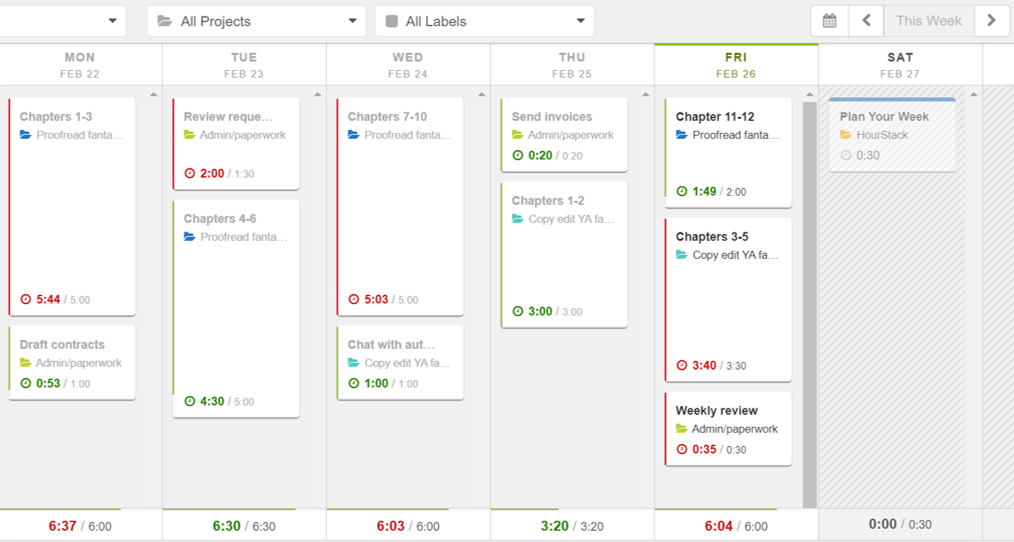 This insight can be a great help in improving your time management and your overall welfare. You might emerge realizing that you're in the habit of hopping between several things at once, even when you planned to focus on just one. Or you may find that you tend to go overtime, just a little everyday — though the aggregated amount often leaves you fatigued by the end of the week. Reassessing your work pattern and paying attention to how you spend your time when you have to juggle several projects at once requires objective self-awareness, which a time tracking system like HourStack can help you gain. 
5. Harvest 
💲Fee: free for two projects, beyond which it's $12/month (30-day trial)
Harvest is another great productivity tool for freelancers. Its time tracking feature is available on- and offline, so it's perfect for editors, ghostwriters, and illustrators who don't always do their work online. On the other hand, Harvest doesn't have background tracking like some of the other apps on the market. If you're interested in the breakdown of your web usage, this might not be the best option.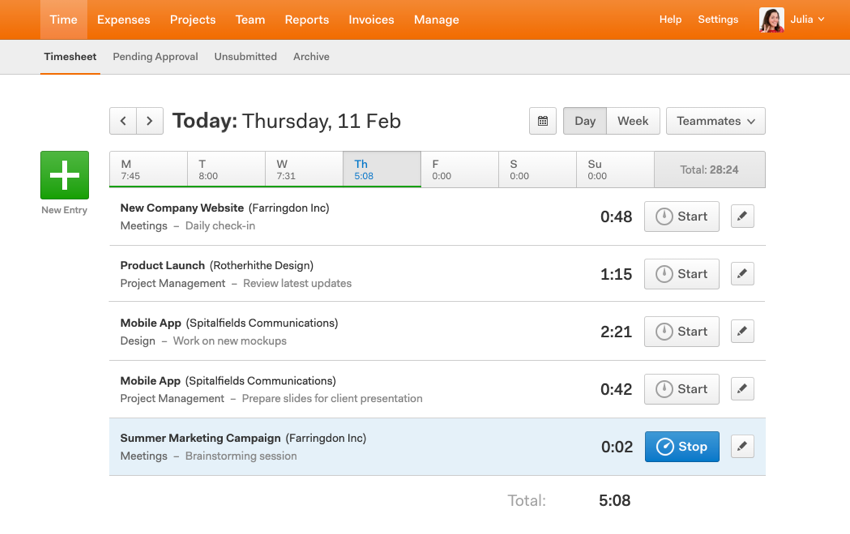 Still, it's got enough functionality for solo freelancers who are interested, and those working in teams may also find this useful as a collaborative platform. Harvest can be integrated with Trello, Basecamp, and other useful project-management apps, so you can be flexible when new collaborations come along. There are also tools for sending and keeping a record of your invoices, which could be a lifesaver when the time comes for you to do your taxes. 
And with that, we cap off our list of the best five freelance time tracking apps for those who want to kick inefficiency to the curb! Though being a freelancer means you are your own boss, it also means that you're taking on the extra responsibilities of deciding your pay, giving yourself a break, and reviewing your productivity. These web and desktop time trackers are all great tools, and we hope you've your perfect fit somewhere on this list.