Should You Join Freelancers Union? Pros and Cons
Freelancing comes with both freedom and responsibility: you are your own boss but you also have to consider things that regular employees usually don't — like taxes, pension savings, and insurance. As a lone-wolf, you may feel like you have less bargaining power when it comes to labor rights, and no colleagues to ask for advice or support.
Fortunately, these days there are plenty of organizations where freelancers can join hands with like-minded individuals. In this article, we'll be taking a closer look at one such organization, Freelancers Union, to see what they offer their members, and help you decide whether it's worth joining.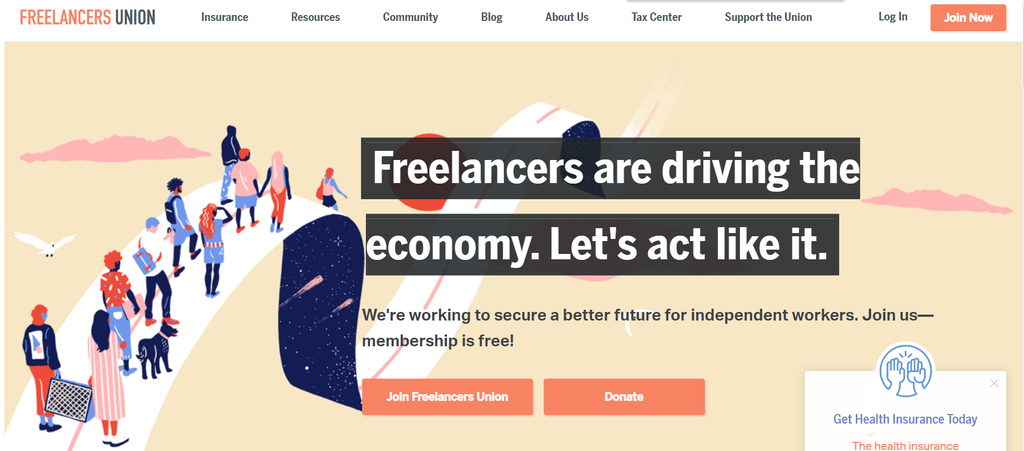 A low-risk, no-cost membership
One of the main arguments for why you might want to consider joining the Freelancers Union is that it is completely free of charge and open to all US-based freelancers — from contractors to designers and moonlighters — regardless of background or experience level. The application process is really nothing more than registering an account and providing a US zip-code. You'll have access to a variety of educational, practical, and informative resources, such as:
Invitations to join local meetups
Educational opportunities through the Freelancers Hub
Networking and coworking options
Access to insurance plans and support
Resources on how to file your taxes correctly
Discounts on freelancing tools and services
Freelancers Union also runs an active blog with tips and insights on the varied aspects of being a freelancer, from lists of online learning opportunities, to tax advice, to how to best schedule your time, which you can access with or without membership. There's seemingly no major drawback to becoming a member, except perhaps if the information is redundant to you and you prefer to keep your inbox clean. 
Still, with no cost to join, you're not really risking anything, so let's take a closer look at what you might gain. 
A portable benefits system
The main driving force behind Freelancers Union is the concept of a 'portable benefits system'. Unlike traditional contracts where benefits are linked to employers before they are passed on to workers, in this case the benefits are tied and passed on directly to the individual. In essence, this is no different from signing up for private reward systems or getting private health insurance instead of health insurance from your employer. Consequently, you can feel more secure when pursuing your independent endeavors because you can move freely between clients and projects without losing or having to renegotiate your benefits. Besides, FU negotiates affordable and accessible alternatives for their members, so you can get a better deal on your plan of choice.
So how do their insurance plans work and why should you go through FU to get coverage if you can just do it yourself?
Insurance plans and support
Freelancers Union's core mission is to provide affordable and accessible health insurance alternatives for self-employed people. Though freelancers could arguably arrange benefits and insurances on their own, when you get your freelance insurance via Freelancers Union, you also support the union's advocacy work (more on this later) at no cost to you. In return, their dedicated insurance team offers help when navigating the jungle of available insurances on the market. 
On their website, you can navigate to the 'Insurance' tab and select what type of insurance you're looking to get, from health, to dental, life, and small business insurances, and so on.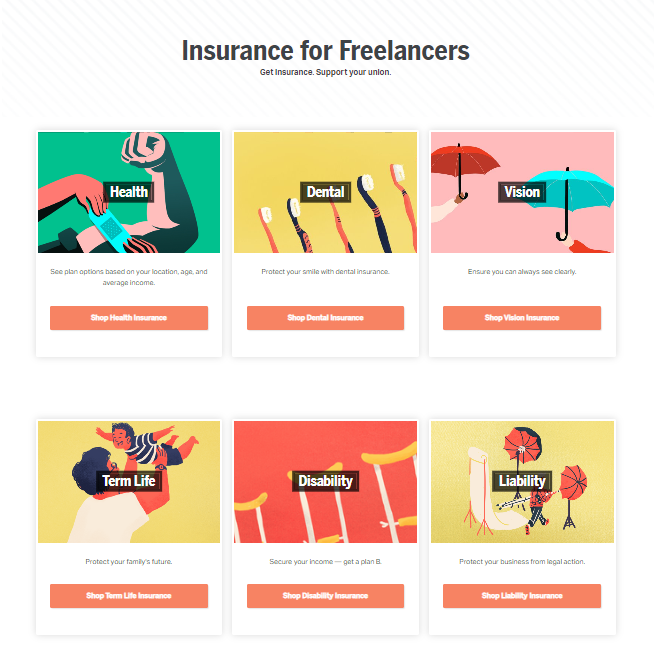 When you click through to the insurance type you're interested in, you'll have additional information and advice on how to proceed to help you settle on the right choice for you. For example, if you're looking for health insurance, they explain how enrollment generally works in a video tutorial and you can browse available plans in your region by entering your zip code.
Here's an overview of categories available in the New York City 10001 zip code area: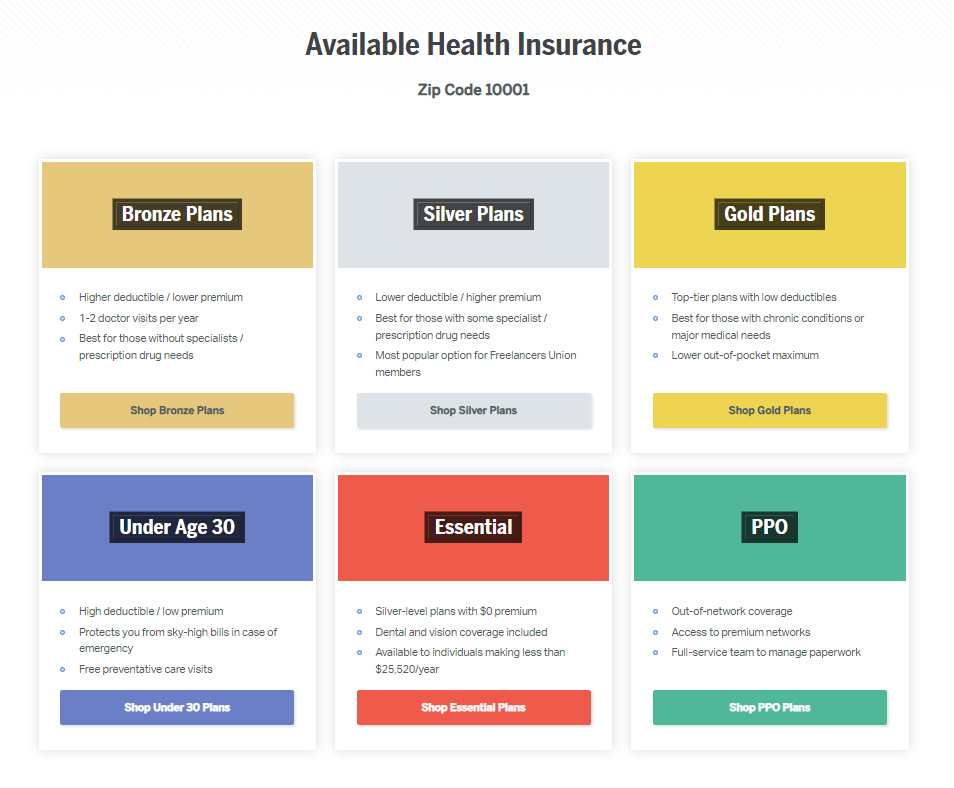 For each of the above categories, you can click through for specific plans and information on who's eligible and how it works, with links to where you can find even more information and who to contact with your queries. All plans in the 10001 zip code area are limited to two insurance companies: MetroPlusHealth or EmblemHealth, limiting your options somewhat. 
⚠️ Do keep in mind that Freelancers Union Inc. (FU) is not a licensed insurance agent, whereas Freelancers Insurance Agency (FIA) — a subsidiary of FU — is a licensed insurance producer in some states only, so they may be restricted in how they are able to help you depending on where you're located. For other regions, FU works with an agent called Hiscox Inc, a nationally licensed insurance producer who will act as the agent. To find out how this might affect you, it's worth reading the fine print at the bottom of the page and getting in touch with FU for more information.
In addition to insurances, this portable benefits system also includes a range of other benefits and discounts which FU seeks out and negotiates for its members, designed with affordability and accessibility in mind.
A holistic range of resources
FU argues that they provide freelancers with a holistic package of resources and information that covers all of the major aspects of freelancing — from setting up your business correctly, to upskilling. 
Templates and support
For instance, they offer a contract creator which helps you customize your freelancing contracts, a payment claim template to invoice or remind clients of their due payments, and, should trouble call, support and resources for how to proceed and take legal action if a client withholds payment. This is part of their "Freelancing isn't free" initiative, but it's worth noting that Freelancers Union will not directly represent you in these matters; they will simply point you in the right direction and to helpful resources.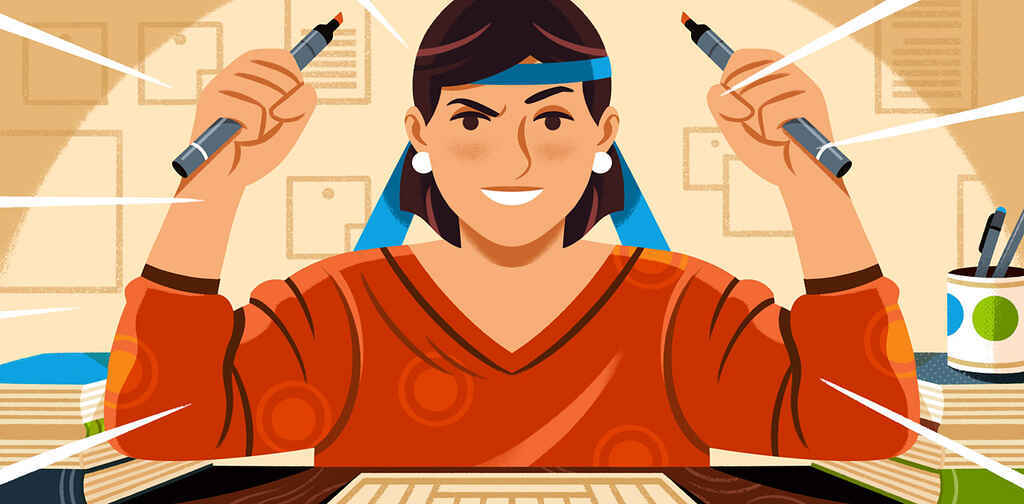 Invoice Template
Provide billing and payment details with this professional template.
Tax center and financial tools
Arguably one of the trickiest parts of being a freelancer is the burden of having to sort out your taxes. To help you with this, FU offers a 'Freelance Tax Center' with "everything you need to know to file freelance taxes with confidence." There, they have information on how to choose a suitable tax preparer and accountant, or, if you're DIY:ing your taxes, a 25% discount off federal and state taxes via TaxAct. If you get TaxAct via FU, you also get their XpertAssist service for no extra charge, which includes free, live expert advice. 
For other aspects of freelancer finances, FU has tools for student loans management, retirement plans, and a health savings account via Lively HSA. 
Discounts
Besides a discount on TaxAct, FU members also get access to a range of discounts, arranged by type: business, conferencing, coworking, education, financial, health, insurance, and life. 
The selection is at times a bit random, such as 50% off your first HelloFresh box or 10% off pet insurance, but you can often find quite a few beneficial deals that can aid you in both your personal and professional life, such as 2 months free and 40% off on a Skillshare premium membership, so it might be worth getting a free membership for this reason only.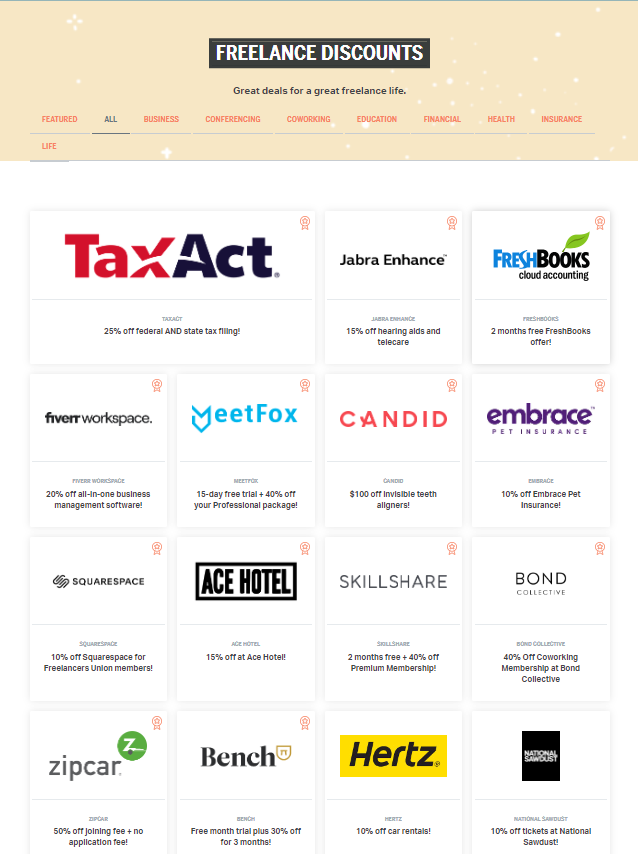 Networking and upskilling
Another difficulty that many freelancers encounter is the feeling of being an island of their own, with limited opportunities to exchange ideas with coworkers and peers. To help FU members overcome this obstacle, the organization offers ample opportunity to meet and greet others in the same situation, for instance through their monthly SPARK meetups, or their Freelancers Hub, where you can access coworking spaces, workshops, legal help, and learning opportunities.
There are also live events that you can sign up to, such as Freelancing 101 sessions, where they cover topics like dispute resolution or how to draw up contracts with all the right clauses. Or, if you're stuck in a rut and looking for encouragement, round-table events on topics such as imposter syndrome or people pleaser syndrome. 
Advocacy
As we've briefly touched on already, in addition to their insurance program, benefits, and resources, another cornerstone of what FU does is advocate for policy and legislation change in the areas that concern freelancers. According to their own website, they represent both the 500,000+ members that have signed up to their services, and all other independent workers across the United States by demanding change in legislation that affects freelancers negatively. So when you create a free account or purchase insurance via their website, you not only strengthen their numbers, but also help to financially support them in this endeavor without extra cost to you.
For example, in 2009, they led a campaign to address double taxation in New York City and in 2017 they led another campaign to enact 'Freelance Isn't Free', giving freelancers protections from nonpayment, among other things.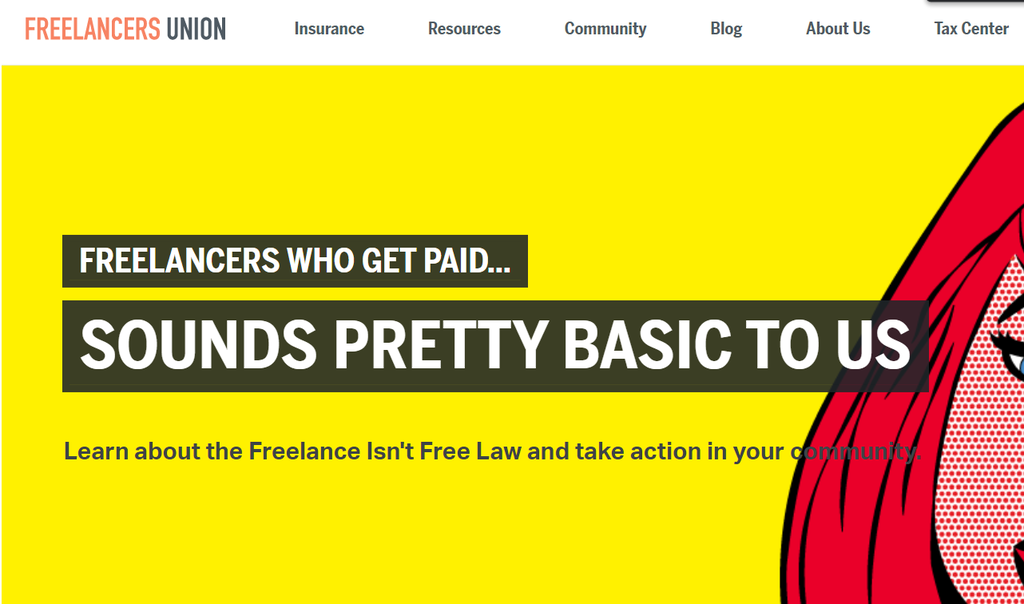 A collective of freelancers, not a labor union
One important distinction to make before you create an account, however, is that though Freelancers Union call themselves a 'union', this nomenclature is slightly misleading. The Freelancers Union is in fact not a certified union, which means that under federal labor laws they cannot engage in collective bargaining over wages or working conditions on behance of its members. 
Instead, it is more of a "collective" platform which advocates for policy change and a place where self-employed individuals can find and gather the support, resources, and information necessary to empower themselves and make their voices heard. And though it is not an official labor union, a choir of voices is still more likely to be heard than a lone speaker.
Limited benefits for international freelancers
Besides not being an official union, if you're not based in the US, the benefits to joining Freelancers Union are considerably lower. Because each country (and indeed region) often have their own insurance policies and legal frameworks for taxation and freelance work, what you can get out of a Freelancers Union membership will depend on your location. Freelancers outside of New York will see fewer benefits than their NYC counterparts, for instance, and freelancers outside of the US almost none.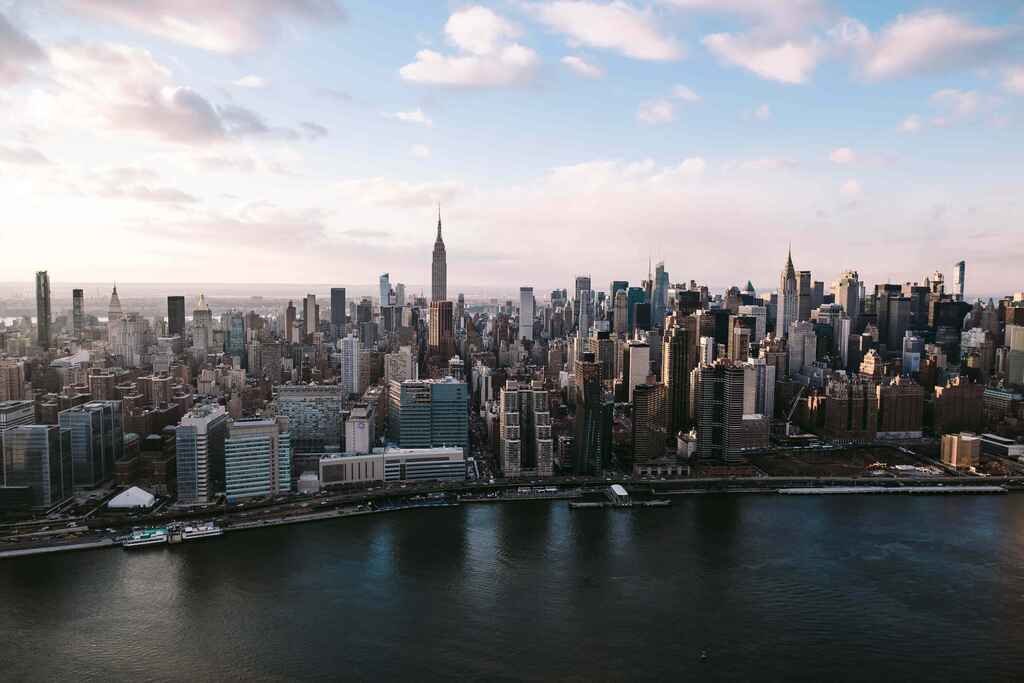 However, Freelancers Union do offer some location-independent benefits, such as discounts to sites and tools like Squarespace, Skillshare, and FreshBooks. Further, they have a newsletter through which they disseminate helpful resources and information, and much of the information on the blog is available to read for free. 
Other drawbacks
While most drawbacks of joining Freelancers Union will apply to international freelancers only, there are some more general drawbacks everyone might want to be aware of before they sign up:
General resources
The resources that Freelancers Union offer could arguably be found elsewhere with some basic sleuthing and they are most often made for general freelancing, not specific professions. It's likely that you'll be able to find material for drawing up contracts, etc. more specifically adapted to your profession if you look at more niched societies like CIEP and ACES (copy editors), EFA (editors), SCBWI (children's book writers and illustrators), or the ATA (translators), to name just a few.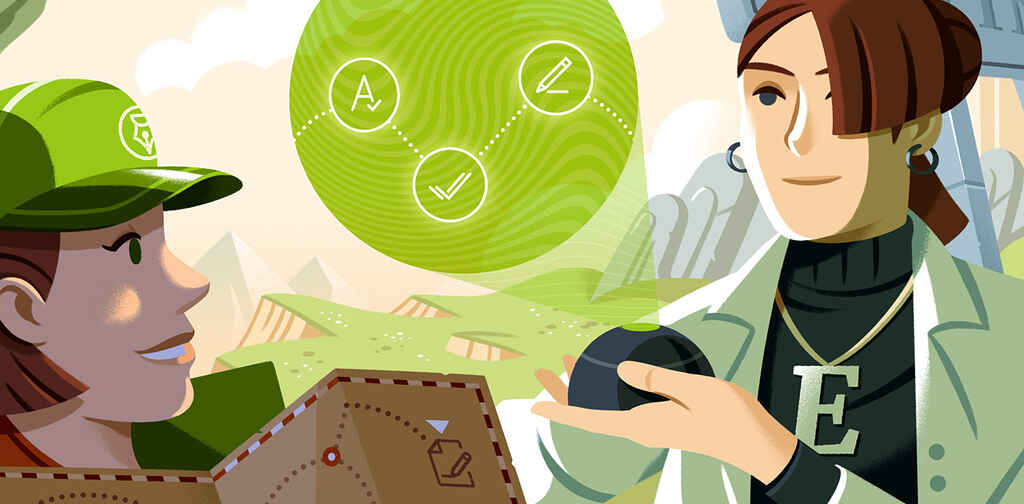 Offer Letter Checklist + Template
Follow our tips to successfully sell clients on your services while setting clear expectations.
With that said, there's much to be said for having everything you need in one place, and the expertise and insights that the Freelancers Union have into labor laws often means that their resources are reliable and of high quality, and generally applicable across industries. 
No job board
Depending on what you're looking for, another potential drawback of Freelancers Union — compared to other similar societies and organizations — is that they do not offer a job board or place where freelancers can look for new work. Of course, networking is an important aspect of this, which the Union does provide ample opportunity for, but job seekers actively looking for their next clients will have to turn their sights elsewhere.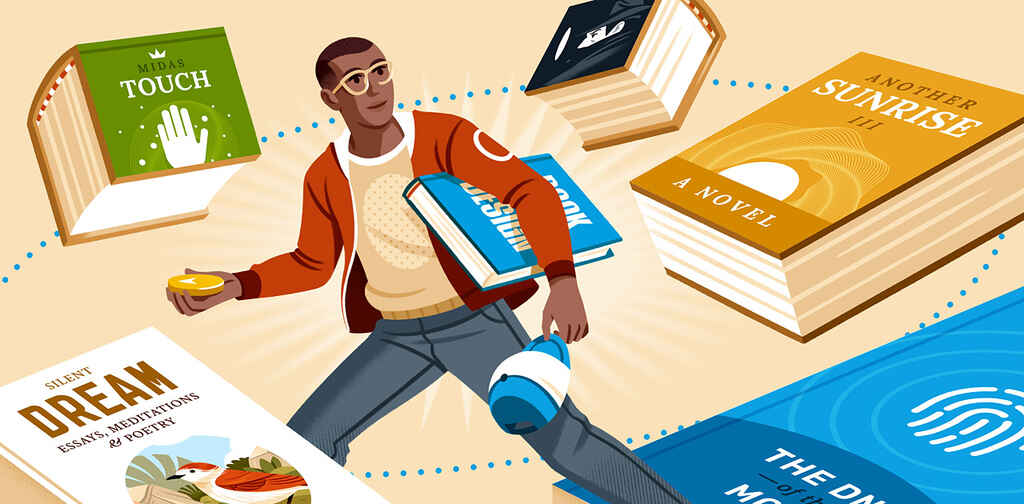 Find exciting new projects
We connect publishing professionals with our community of 1,500,000 authors.
---
All in all, Freelancers Union may not be a union as such, but by gathering a large group of independent workers under one organization, they can use their collective voice to pressure policy makers to protect and promote freelancers' interests everywhere. You can access a lot of the information they have available with or without a membership, and it's a great place to start if you want to meet like minded individuals, grow your network, and pick up new skills. 
Depending on your personal circumstances and your location, the resources and support they offer are solid and freely available, so there's really not much to lose by signing up. If anything, even if the potential gains may be limited to you personally, it's another tool to add to your freelancer belt that won't set you back a cent.