Writing a Book when English is not your First Language by author Dom Cutrupi
Dom Cutrupi is the author of The Abyss of Lumberwitch, the first volume of his Abyss series. A storyteller by day, and a video editor by night, he chose to write a novel in English even though it was a foreign language for him. In an intimate conversation with the Reedsy team, Dom reveals what it was like for him to write and publish his first book.
Hi Dom, thanks for chatting with us. To start things off, why don't you tell us a little about yourself and the book you've written?
Born and raised in Italy for most of my life, I ended up in Vancouver, Canada, because of the growing filming industry. I used to work for the Vatican City TV Channel (yes, they have a TV Channel!) in Rome, but as soon as the economy in Italy started to crumble after the financial crisis of 2008, I decided to move and took a shot in becoming a video editor, producer and writer in Canada's biggest west coast city. I'm quite confident to say that the tough immigration process I had to go through was the fire starter to what would become The Abyss of Lumberwitch.
It was July 5th, 2012. I was standing outside of my immigration lawyer's office. He had just told me that, after two years living and working in Canada, my stay in the country was not guaranteed. I could still work for the time being but I needed to wait for the final approval from Immigration that would decide my future in Canada. At the same time, my financial situation was touching rock bottom. The cherry on top of the cake was that my girlfriend had just left Vancouver and gone back to Rome, ending a four-year-long relationship.
The next day, I had reached the lowest point of my depression, when my mother asked me a question that changed everything: "How long has it been since the last time you wrote something?" I'm always been a writer, since I was 12. I had written several movie scripts and four novels by then. I had also published a book in Italy when I was 22 and won a couple of awards with it. But nothing really lasted. Since I moved to Vancouver, my focus on becoming video editor, producer and screenwriter had swallowed up every drop of my energy. My mother's question really raised a valid point. I needed to escape a reality that I couldn't run away from. My passion in writing could help by bringing me far away to the land of imagination, where immigration lawyers, relationship break-ups and emaciated bank accounts were not allowed.
So on July 7th, 2012 I started to put words on paper. I didn't have any idea of what I was going to write, but I needed to. As soon as my fingers started to type, the story formed before my eyes, as if it had been hidden inside me for a long time. And for three months, four hours a day, I was in Klondike, along with Jonathan and Melody, watching the darkness of Lumberwitch unfold.
Four years later, I'm publishing The Abyss of Lumberwitch on July 7th, 2016, to celebrate the day the first words shaped on the blank page.
This is one of the first instances at Reedsy of a book originally written in another language (Italian). Could you tell us what the process of getting the book translated was like? Do we get to see the Italian version?
I wrote the novel in Italian because at that time I wasn't so confident writing in English, at least not to the extent of writing an entire book. But after the first draft was completed, two dear friends of mine read it and gave me the same feedback. They all said that the novel was better for a North American audience rather than an Italian one. Since I was already living in Canada, I found that this suggestion matched perfectly with my intention to build a career as a writer in North America, rather than in Italy.
So I searched for a translator who could keep my style intact through the translation, and I ended up using a pool of multiple professionals over three years. In the meantime, while working on the first and second draft of the English version, I fell in love with the language, so much so that one of my last translators suggested I go through the entire book and reformulate the language to make sure the translation reflected my style. And so I did. When I felt that the English version was finally ready, I had two beta readers (who also acted as proofreaders) give me suggestions. Their feedback was the final test for me to see if my story could work in a different language too. Their reviews of the novel was enthusiastic, so I knew the next step was to hire a professional editor to make my novel the best it could be, and that's how I found Reedsy.
Regarding the Italian version, it will be published by the end of the year. I need now to polish and update the Italian language written four years ago.
Were you worried about losing out on readers at home because you were marketing the book to an English-speaking audience? 
When I think about my book, I think about it in English. The story, the characters, even certain dialogues reflect the English culture I knew from growing up, from movies to books, along with my travels across Canada and USA (and yes, Yukon and the Klondike area as well). Publishing in Italian is not part of a marketing strategy per se. I see it as an opportunity to use my first language to give more readers the possibility to access my story, and maybe see something different in it, something that comes from a different culture, the culture I belong to the most. After Italian, my plan is to translate the novel in Chinese, German and Japanese. I'm sure it will be another incredible adventure.
What was the process of looking for an editor as a self-published author like?
The process took one month. I had spent three and a half years in the translation. I didn't want to go for the first person popping up in my Google search. Also, due to the story, I needed someone located in North America, even better on the west coast. For one entire month, almost every day I found myself searching in blogs about editing, personal pages, lists of hidden and obscure documents in some remote domains that no one had touched for years. To be honest, it was really frustrating. At some point, I felt that my entire day would pass by just reading bios and portfolios of people I wasn't sure about.
I don't know how that happened but it was during one of my search that I ended up on Reedsy. I didn't know anything about the website but it looked really professional and well-made. I liked the layout as well as the details in the search tab. I loved the fact that I could trust the website thanks to a policy that involved LinkedIn, personal websites and a rigid identity verification process that guaranteed me that I was dealing with real professionals and not amateurs or scam artists. Once I found Reedsy, the search for an editor became very enjoyable and exciting. Everything I needed was under one big umbrella. 
You worked with Angela Brown, an editor from the Reedsy marketplace. What was that like?
I sent five requests to five editors that I thought could be a match with my novel. Four of them came back with a quote and the first three pages edited as a sample. Interestingly, Angela didn't send me a sample, but she was the first editor to reply after reading my sample. The long message she sent me touched on a few points of my work I really cared about. I had the impression that she wasn't just one of many editors who wrote nice things to get a gig, but someone who'd actually found a piece of writing she really wanted to work on. She sounded as if she connected to the story in a special way. Those words convinced me that she was the right person for The Abyss of Lumberwitch. In addition, Angela's extensive and very impressive portfolio spoke for itself, with more than 400 books edited under her belt, many of which are high-profile titles.
Reading my novel after Angela put her hands on it was like reading the version of my story I'd always had in mind. Everything flowed so smoothly, yet the story was still intact, as was my style. I was particularly impressed by her detailed level of research, making sure that all the historical facts and elements in the story matched the setting. She often pointed out certain things that only a second eye like hers could catch. She went beyond simple editing, beyond grammar and syntax. She has the ability to look at the story and its style as a whole and make them function at their best. I don't know how she did it, but I know that we're soon going to set up a date for her to edit the sequel!
What advice do you have to share for aspiring authors reading this blog?
First, discipline. That's the main force behind the wheels of someone who wants to finish and publish a book. Without it, I'm confident enough to say that it's almost impossible to complete a novel (and I'm not the first writer to say it but one out of thousands). If you write once in a while, whether because you wait for inspiration or the right time, you likely won't get there. Write every day, even for one hour.  Five hundred, one thousand, two thousand words a day (in Stephen King fashion), doesn't matter. Make sure that you're always creating content, whether it's good, Flaubert-perfect, or the worst thing ever written, just keep writing, especially when it comes to first drafts. You'll have plenty of time to make it as great as you want through a second and third draft and then through editing. But first you need to get to the last page of that damn book! 
Second, be honest with your story. I know, it sounds like one of those inspirational memes on Facebook, but it's actually a tough task to accomplish. I would explain that with the best example I have. I grew up watching an endless amount of movies. Stanley Kubrick, Quentin Tarantino, Martin Scorsese, Woody Allen, Ingmar Bergman were all my favourites. In literature, Fedor Dostojevski, Stephen King, Philip K. Dick, and Gabriel Garcia Marquez were my mentors. When I was a kid, I used to write a lot in the style that resembled these people: maybe long scenes of dialogue full of swearing, comedy, or sci-fi scripts set in the next future. But when I let my mind release the real story I wanted to write, I ended up with The Abyss of Lumberwitch, an historical fantasy for all ages that has none of those features and doesn't seem to match with any styles of my favorite authors.
This taught me that we tend to follow the artists we love, but most of the time we do nothing but follow them; we recreate their style through the love we have for them and we forget about us, what we're really interested in, our obsessions, our passions, our deepest desires, which is what drove these artists to be unique in their own way. They were not copying, they were inspired by others, but created their own stories. Once you let yourself go and write what you really love on paper, you'll see a different story, the real one you want to tell, and you'll enjoy the process like you never have before.
---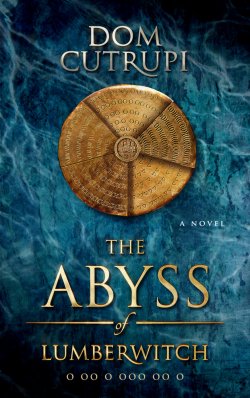 The Abyss of Lumberwitch is available on Amazon. Get your copy here.
Did you relate to Dom's journey as an author? Have you considered writing a book in multiple languages? Share your thoughts in the comments section below.