How to Write a Cookbook in 9 Bite-Sized Steps
Food and Drink is one of non-fiction's hottest genres: as award-winning food stylist and editor Ashley Strickland Freeman says, "People will always want to buy a cookbook — even when the market is down." As a result, it's a crowded and highly competitive market — to really put your best whisk forward, you'll need to know how to write a cookbook the right way.
Whether you've been struck by culinary genius or simply have an idea for a cookbook simmering away: preheat your oven, assemble your ingredients, and grab a pen. Let's get the (dough) ball rolling by preparing and presenting your cookbook to the public.
Note: If you're hoping to get a traditional book deal, head over to our post on how to publish a cookbook the traditional way.
Step 1: Define your cookbook's audience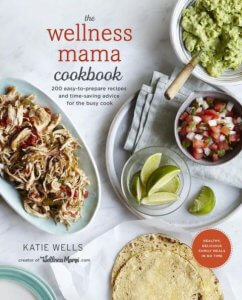 You need to know who your readers are, so you can figure out how to write a cookbook to market to them. But how do you determine your target audience?
Ideal reader profiles are integral to knowing how to write a cookbook
Food and Drink editor Laura Gladwin says, "Just as fiction authors will create a profile of their 'ideal reader,' you will want to answer some key questions about the kind of person who will enjoy your book most — your typical reader." In creating your typical reader profile, Laura suggests starting with a few choice questions:
How good of a cook are they?
Where do they buy their food? (An out-of-town supermarket? Whole Foods? Local butchers and greengrocers?)
What kind of dishes do they like?
What might they be put off by?
How willing are they to take risks?
Are they more interested in eating healthily, or impressing people, or getting food on the table as quickly as possible?
Once you figure out the what, why, and who of your cookbook, you'll be ready to start filling in the pages with your mouth-watering recipes.
Free course: How to write a cookbook
Unleash your inner Julia Child or Jamie Oliver with this free 10-day course. Get started now.
Step 2: Set a budget
Self-publishing requires you to be an entrepreneur and the work of making sure your book looks professional falls squarely on you. So the first thing you should do is figure out what the cost of self-publishing your book will be. This should include estimated costs of photography, design and editorial help.
Most authors spend between $1,000 - $2,500 to self-publish their cookbooks (including professional editing, a book cover design, and sometimes indexing. Not including typesetting). Of course, you can always manage to make a cookbook cheaper than that, but the quality would be lacking. Note that this price doesn't include photography costs.
Step 3: Put your recipes in an appetizing order
Let your concept and purpose inform your book's flow. If you're publishing a comprehensive cookbook, it might make the most sense to organize chapters by the types of dishes, such as appetizers, entrees, desserts, etc. Maybe your book is about Greek food, and recipes are organized by different regional cuisines. Perhaps you're going for the personal touch, and sectioning your book into chapters like "soups for a rainy day," or "healthy variations on your junk food cravings." It never hurts to put a fresh, interesting spin on your chapters — just make sure that the structure is intuitive and accessible based on its content.
Step 4: Decide on the format of your cookbook
A significant part of your budget will include the production and printing costs — which can be quite high, according to Marcy Goldman.
"First of all, color cookbooks are what the readers expect, but producing a print-on-demand model for a color cookbook is far more expensive in terms of production.
"You have to make the food for photo-shoots, hire photographers (unless you're photographing it yourself), all of which requires more time and money than typical book design and formatting. You have to make a decision between a black and white cookbook — which is affordable but lacks sales appeal — or do what I did for my last book and opt for a color eBook."
Step 5: Make your layout and font choices as delectable as your recipes
With tables, instructions, glossaries, and plenty of images, cookbook design can prove difficult for novices. One way to achieve a positive reader experience is by working with a professional book layout designer. A great bonus is that they produce all the files you'll need to distribute your book, so you don't have to worry about all the various book formats.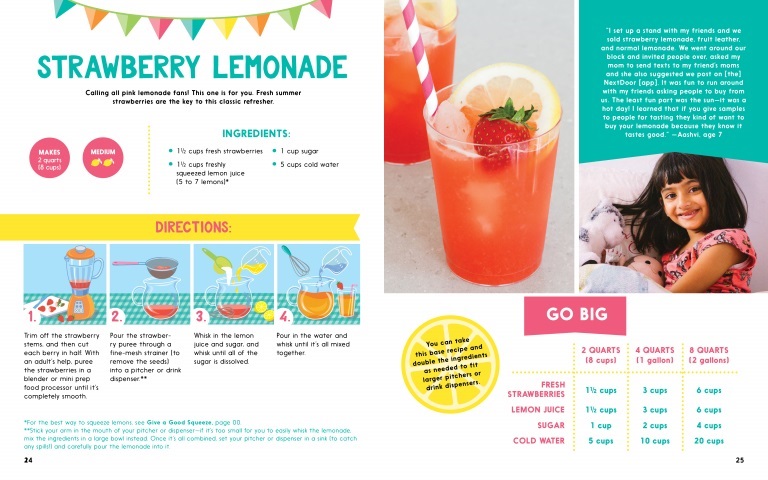 That being said, we understand the desire for independent chefs and authors to keep publishing costs low. A great alternative for designing your book is to use Blurb: a software that allows you to create beautifully formatted picture books — or cookbooks. Like this one! Here are Blurb's five steps for how to make a cookbook:
Select the size of the book, the type of cover, and the type of paper.
Use their customizable layouts to design each page.
Drag and drop your photos from your computer, Flickr, Instagram, and more.
Add text — including your introductions and recipes!
Add a book cover.
Step 6: Show off your food with mouthwatering photos
Not all cookbooks include pictures of the food. However, it bears mentioning that according to a survey conducted by popular food blogger Matt Bites, 57% of people only buy cookbooks that include photos, and 33% said they are nice to have but not a requirement. While the survey's sample size is small, its results feel reasonable: losing almost 60% of a small-ish market is a notable loss.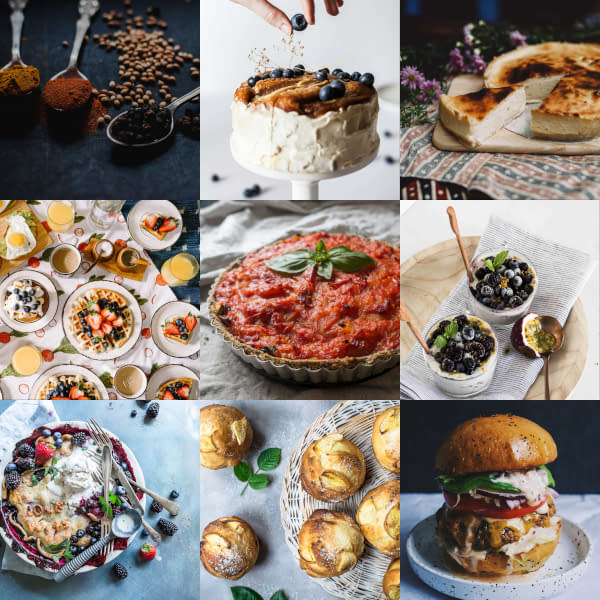 As Ashley Strickland Freeman says, "Unless you are a professional photographer and food stylist, I really recommend spending the extra money to hire a team to provide the images for your book. It really makes a huge difference (and prevents you from looking like an amateur). Leave the photographing dishes by yourself for your social media accounts."
Step 7: Design a scrumptious cover
We've said it once, and we'll say it again: your book's cover design is its #1 marketing tool. If you were publishing your book traditionally, your cookbook's publisher would have you covered (pun intended). As you're looking to self-publish, ensure your cookbook can stand its own amongst traditionally published books, since Amazon doesn't distinguish between the two. As lifestyle editor Jackie Bates says, "Probably more than any other book, cookbooks are sold by their covers." This generally means hiring a professional book cover designer.
Give your cookbook the help it deserves
The best food editors, cover designers, and cookbook marketers are on Reedsy. Sign up for free and meet them.
Learn how Reedsy can help you craft a beautiful book.
Step 8: Publish your cookbook
Once you've gotten both the cover and interior files back from your designers, there's nothing stopping you from planning a book launch and putting your cookbook up for sale!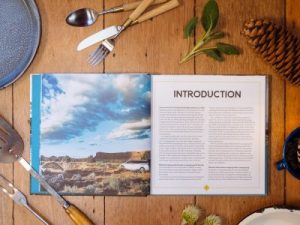 This is the most exciting and terrifying part of the process. The first thing you'll want to do is familiarize yourself with Amazon self-publishing. Even if you work with other self-publishing companies, it's safe to say you'll be doing the bulk of your sales through Amazon.
Study the Amazon pages of other cookbooks in your niche so you know what kind of metadata and keywords to use. And don't neglect the importance of crafting a mouth-watering Amazon book description to help drive sales.
Step 9: Market your cookbook
Perhaps the most challenging part of self-publishing is getting people to buy your books. Thankfully, there is a wealth of knowledge authors can tap into when formulating their book marketing plan.
Remember you'll have a lot of opportunities for creating content. Unique recipes paired with professional-grade photography should help you pitch guest posts to other sites — and keep your mailing list subscribers engaged.
Food made with love always tastes better. Now you know how to write a cookbook, go ahead and share your recipes with the world. Happy cooking and writing!