What is BookBub: The Ultimate Guide for Authors
BookBub is a free service focused on helping readers discover new books. Best known for their daily newsletters promoting a handpicked selection of "deals" (i.e., books that are discounted or free for a limited time), they can generate hundreds or even thousands of sales for featured titles — and tens of thousands of downloads for free titles.
In the past few years, BookBub's reputation for helping to 'break' new writers has made them an indispensable part of any self-publishing author's promotional plan. However, their deals aren't the only things that BookBub has to offer to authors.
If you want to know how best you can leverage BookBub's different tools to propel your own books in the rankings, then this series of posts will help you do just that! 
BookBub Featured Deals
Featured Deals are the crown jewel in BookBub's offerings for authors. 
For each of their 42 genre categories, BookBub sends a daily newsletter to readers featuring discounted and/or free book deals. Securing a spot among these Featured Deals has, in recent years, become somewhat of a holy grail for independent authors.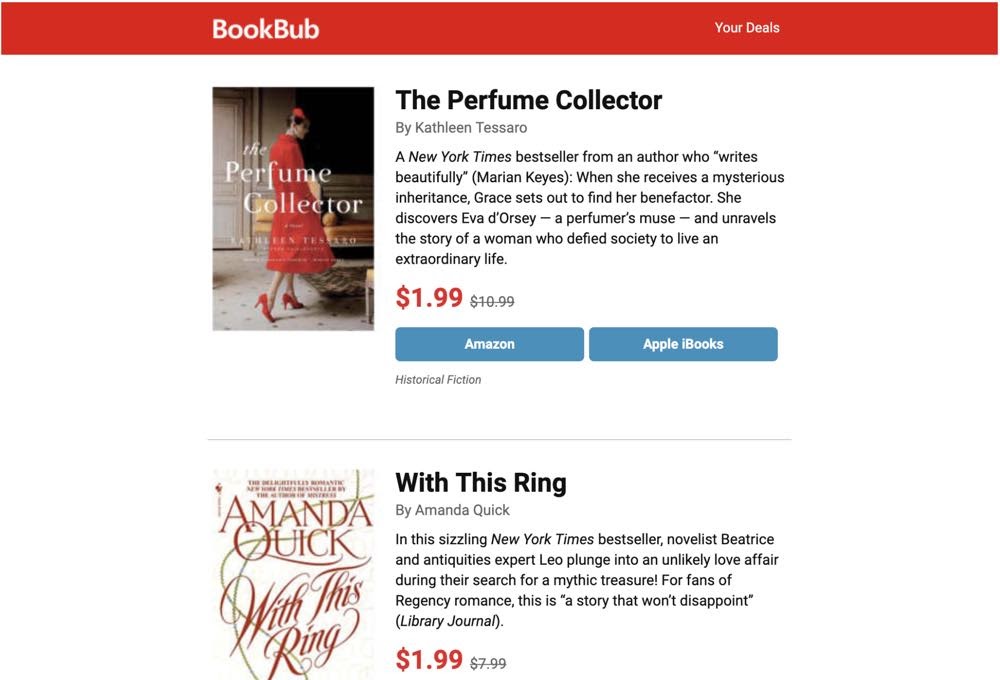 Although it doesn't cost a penny to submit your book for a Featured Deal, if it's accepted, you'll have to pay BookBub for the feature (and fork out for a bottle of champagne to celebrate🍾). Prices will vary depending on the genre and your discount rate: the more popular a genre is, the pricier the featured deal. Similarly, a 99c book deal is cheaper to feature than a lucrative $2.49 deal. You can view a full table of prices here.
BookBub is highly selective about the books they promote to their mailing list, so it's important that your submission meets their official criteria. However, meeting these requirements certainly doesn't guarantee your title a spot in a newsletter — far from it.
For top tips on nabbing those elusive spots, jump straight to our next article on getting a BookBub Featured Deal.
BookBub self-serve CPM/CPC ads
While it's getting more and more difficult for indie authors to get a Featured Deal, it's very easy to get your book in a newsletter. How? Through BookBub's self-serve ads
A few years ago, the company launched "BookBub Ads," an advertising platform that lets authors and publishers place image ads in their newsletters (and on their website). While each newsletter generally contains three to five Featured Deals, each of them will have an ad at the bottom, targeted at that newsletter's audience.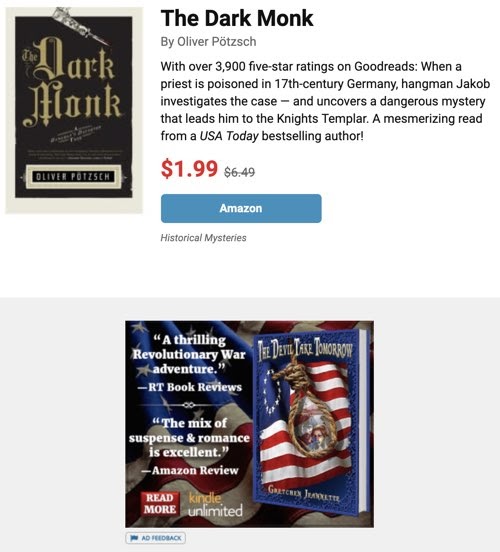 This star-spangled image is not a Featured Deal — it's an ad placed by an author or their publisher. Considering the reach of BookBub's newsletters (which can drive thousands of buys and downloads), these ads have incredible potential.
How do you secure such an ad? To find out, skip straight to our section on creating a killer BookBub ad.
BookBub author accounts and follow features
BookBub allows readers to "follow" the authors they like, and view all of their works on their author profiles. How do I create an author profile on BookBub? we hear you ask.
It's easy (and completely free). Just head here, search for your name, and claim your author profile. You'll then be able to customize it and add all your books. Here's what a typical BookBub profile looks like.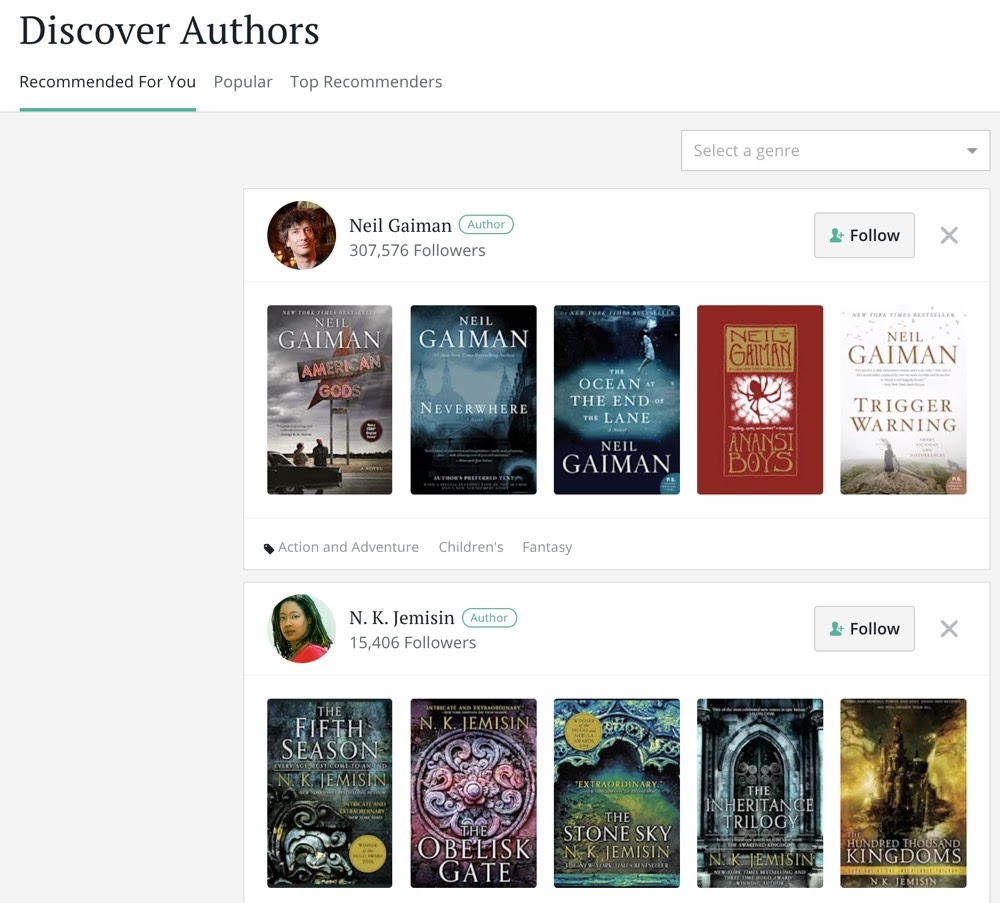 Notice that "follow" button? Readers who come across your books are prompted by BookBub to "follow" your profile. They'll also be able to find you in their "Discover" section.
Followers are valuable because BookBub sends an automatic "New Release Alert" to all your followers when you release a new book. So if you have 5,000 followers on there, that's 5,000 marketing emails that BookBub sends for you — for free!
BookBub reviews
Once you've claimed your author profile and books on BookBub, you'll soon notice that readers can rate and review your book on the platform. In many ways, this is similar to reader reviews on Goodreads and Amazon. With a handful of positive reviews and five-star ratings under its belt, your book will be in a much better position to convince any readers who arrive on your 'deal' page.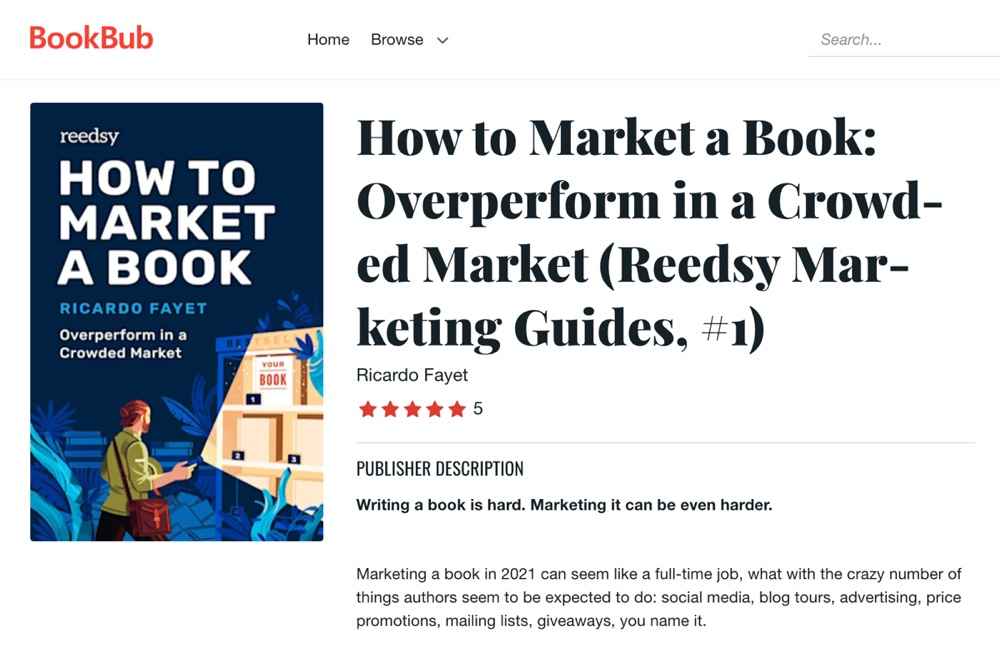 BookBub's review platform also allows fellow BookBub authors to recommend you to their readers, which gives you yet another route to accrue new readers. If anything, it's another great incentive for you to network with other writers!
For a closer look at this platform (and whether developing your profile there is worth your time) check, head straight to our section on BookBub reviews.
---
And that's pretty much the long-and-short of what BookBub can do for authors. If you're ready, check out the next post in this series where we'll show you how to maximize your chances of securing a coveted BookBub Featured Deal.