7 Ways to Grow Your Freelance Business
At Reedsy we have the privilege of working with hundreds of editors with successful freelance businesses. In this post we decided to share their best practices for winning high-quality projects and growing revenue. We will discuss three ways in which you can grow your business, giving you 7 best practices to action for your own freelance editing business.
What are the ways you can grow your freelance editing business?
Expand your client base through specialization, utilize your broader network and leverage marketplaces for freelancers
Optimize your rates and know your worth
Delight your clients by taking care of finer details
Of course, each of those suggestions sounds pretty vague — so let's get a lot more specific.
1. Don't be a Jack of all genres
When you start out as a freelance editor, it might be tempting to accept any project that comes your way. This might be useful for someone who has no prior experience editing books, but if you already built your expertise, there is no need to waste it! Narrowing down the areas you work in will help funnel more considered requests your way and, most of the time, ensure that the projects will actually be of interest to you.
Below you can see two outlines of Reedsy editor profiles. They clearly state expertise in a specific area, which helps them receive more relevant projects and focus on their strengths. At Reedsy, we've seen this consistently: editors who specialize the most are the ones who have the highest conversion of briefs into actual projects.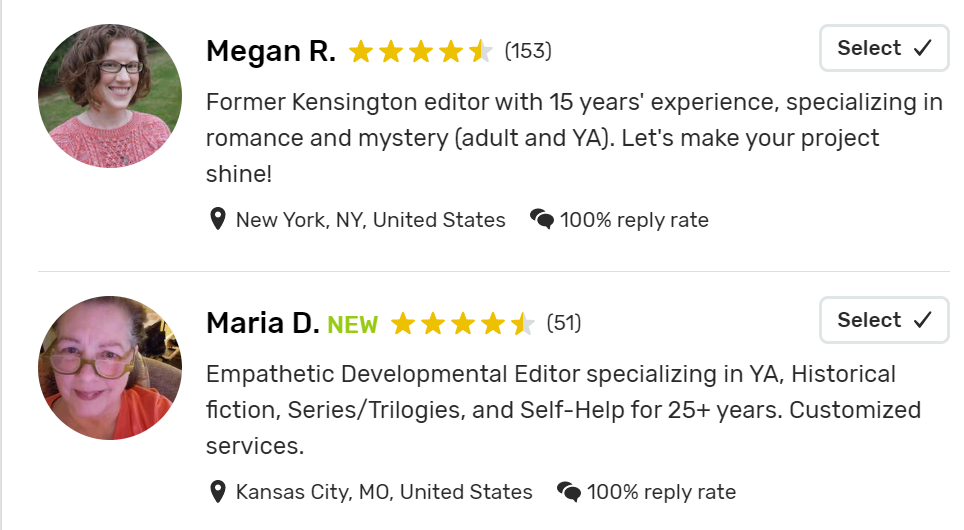 2. Be proactive in expanding and using your network
Don't passively wait for referrals to show up in your inbox. Build a network and make use of it. People you meet at events, engage with online, as well as former colleagues are a great source for getting new clients. Make sure you keep their contact details organized and update them on your work from time to time.
LinkedIn has a powerful and underestimated search tool that lets you find and connect with people who are relevant to your business. Once you've built up a solid network, it's a good idea to post regular updates to keep them in the know about your work. Mention that you're looking to get more clients in a specific niche, share your latest client testimonials or just ask questions to stay fresh in their mind.
3. Join marketplaces for freelancers
To take your business to the next level you need to have access to a larger client base. You can achieve this by joining a marketplace. They take care of sourcing clients and ensuring you receive the most relevant jobs for your skillset (at least the good ones do!).
Marketplaces not only save you time that you would have spent marketing yourself and finding the right clients, it will also save you time doing admin! For example, at Reedsy we have integrated quoting, messaging, and contracting all in one place. It's really easy to set up a payment schedule and you can change it at any point during the project. The payments are processed automatically so you don't have to worry about chasing clients for payments!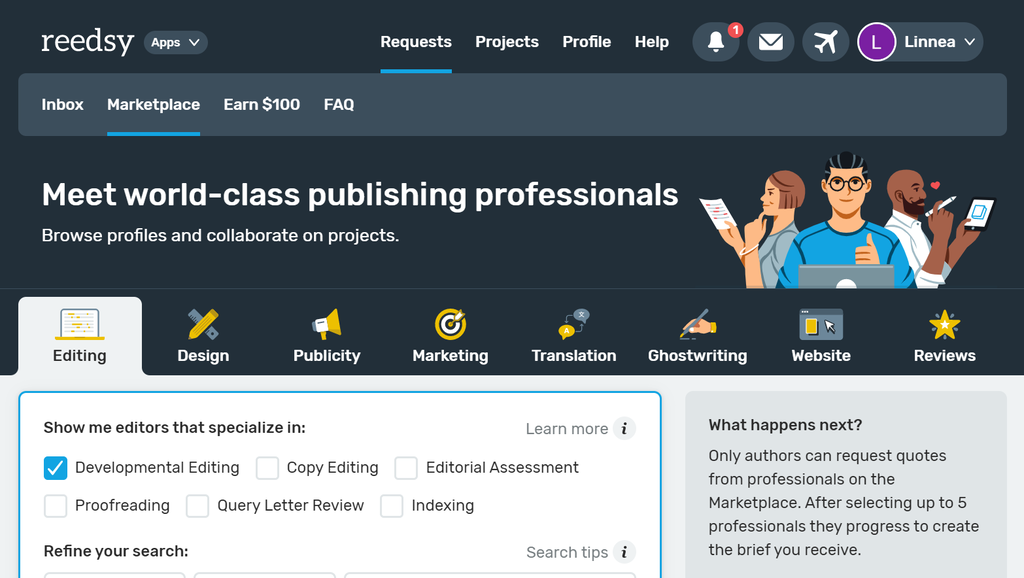 To evaluate and pick the right marketplace, ask yourself the following questions:
How many freelancers are listed on the Marketplace? Can anyone join or is the marketplace selective?
How can new clients find you? Is it based on experience, price, reviews? What's the process for winning projects?
Does the marketplace offer tools to help you manage and receive payments?
What level of support will you receive? If things don't go according to plan, does the platform have an in-house community or customer support team to help resolve the issue?
Once you join a marketplace, make the most of it. Create an attractive profile, understand and use the tools, and ask clients to leave reviews.
P.S. Don't forget to ride off the marketplace commission fee as a tax-deductible marketing expense!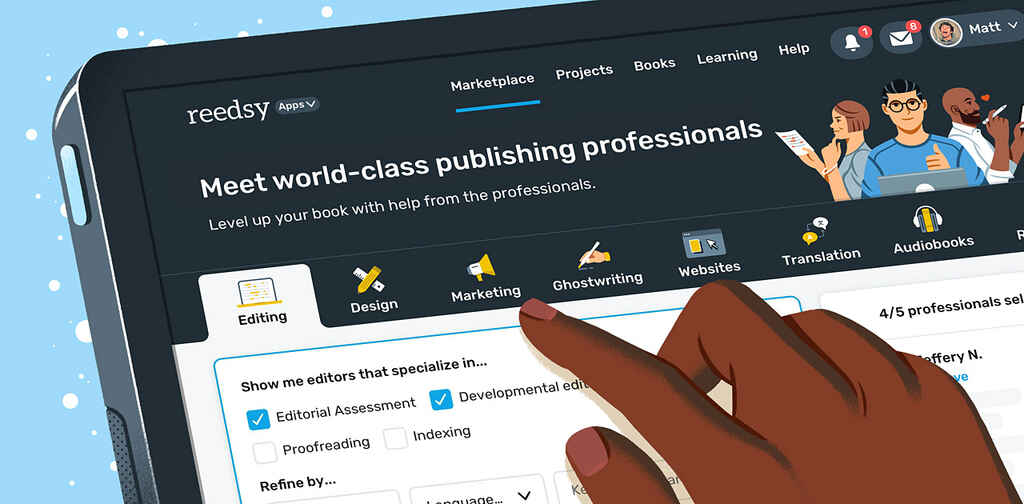 Grow your business on Reedsy
Submit your application to join our curated network and connect with clients.
4. Cheapest doesn't always win
The data from the Reedsy marketplace shows that 50% of our clients do not go for the cheapest quotes. Authors increasingly understand the need for professional help with their book and understand that it comes at a price. If you engage with the client and show the value you bring to the table, you can make your prices work.
Remember — it's okay to charge above market averages. Don't be tempted to lower the rates you established, when a potential client says it's too expensive. Rates reflect your experience and if a client cannot accept that, then they're not the right client for you.
5. Delight your clients!
You must know how to manage clients pretty well by now, but do you delight every single one of them? The difference between a happy client and a delighted one comes from the finer details.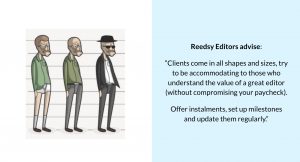 It's good to be flexible at the start of a project. Do not feel you need to lower your rates, but consider the client's constraints. From the beginning, set out milestones and deadlines within the project. Have a staged approach if the author needs reassurance on the work. This will not only keep them in the loop, but will give them an opportunity to share feedback before all of the work is completed. Also consider offering to split the payment into instalments for larger projects; this will not only ensure you get a recurring payment in your bank account, but will help the client disperse a large spend over the course of the project.
6. Set clear expectations
Always make sure your offers and service agreements are crystal clear. This is extremely important in helping you to deal with clients once the work begins.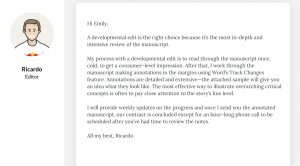 Here is an example of a real Reedsy offer sent by one of our editors. He highlights what's included in the scope and what isn't and the level of communication the client can expect. The editor even included a sample of what the finished edit will look like, to avoid any surprises when the client receives the finished work. Our editors recommend creating a template of the offer to go together with your standard contract. Make it concise and simple to summarize the scope and milestones of the project.
7. Communicate!
Our last tip is to communicate as much as you can and be proactive in updating clients throughout the project. It's best not to assume clients only want to hear from you when the work is finished. Remind them about the status of the project, especially before the next payment is due. They will appreciate the knowledge that their project is in good, responsible hands.
You will find more tips in our post on how to win more freelance work: "7 insider tips from the Reedsy Marketplace".
---
You're not a Reedsy professional yet? We're always looking for more talented freelancers, go ahead and join our community.