CEO and Novelist: An Entrepreneur's Experience of the Self-Publishing Industry
In 2004, Leonora Meriel founded and managed Ukraine's largest Internet company. In 2008, after becoming CEO of the company, Leonora decided to return to her dream of being a writer, and went on to self-publish her first novel, "The Woman Behind the Waterfall". In this guest post, she discusses how her entrepreneurial background inspired her to follow her dream, and what it means to take on the publishing industry.
---
Ever since I can remember, I have wanted to be a writer. As a child, I wrote stories; as a teenager, I wrote rambling, barely comprehensible novels; as an adult, I studied English literature in two countries. The only thing I ever saw ahead of me was books, words, and more books.
At the end of university, life suddenly appeared in a big, exciting way for me. I had the opportunity to live and work in New York City, and I immediately fell in love with the drive, and the world of action and success. I got swept away with the intense experience of living on another side of the world — and, in time, I forgot entirely about books and writing. A decade later, I found myself as CEO of a company, and 30 years old.
I've always been an entrepreneur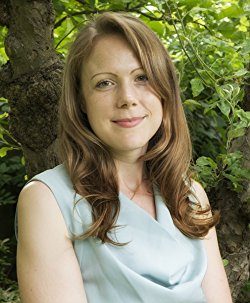 The first time I set up a business was in Ukraine in 2004. I had recently returned from New York where I had been an avid participant in the new Netflix craze, (in the 2000s, Netflix was a DVD rental site). Upon my return, my business partners and I decided to take on the black market, pirated DVD industry and start the Ukrainian Netflix.
We succeeded — to much applause from locals and the business community. We even had Russian companies copy our idea (and our website, including our text and images!). But we weren't making any money.
So we tweaked the business model and started selling licensed DVDs. That took off like wildfire. Next, we started selling video games and computer software. Then music. And then… books. By that time, we had changed from the Ukrainian Netflix into the Ukrainian Amazon. Yakaboo.ua is now the largest online company in Ukraine.
Returning to writing
On my 30th birthday, I was on top of the world. I was CEO of one of the coolest companies, in one of the fastest growing markets. I had just finished an MBA and had returned from a business tour of China. I had two trilingual children and a beautiful home. There was only one problem. This wasn't my dream.
I think we all get reflective when we turn 30. What have we done so far? What were our dreams? What are we meant to have achieved? What has everyone around us achieved? I was happy with the answers to all of these questions — except for the fact that I was nowhere near the path to achieving my real dream.
So I made a really hard decision.
I decided to change the course of my life and to dedicate my best career years to learning how to write books. Not the last ten years of my career when I would have already made a pile of money and be close to retirement. The best years. The years right now.
From CEO to "soon to be published writer"

There was a surprised reaction when I told people I was leaving the company. My MBA friends couldn't understand it, but respected my decision nonetheless. My argument was this: "I'm a good CEO. But lots of people can be a good CEO. The books I want to write — no one in the world can write them except for me."
A few years later, no longer a CEO but with the optimistic title of "unpublished writer" (or "soon to be published writer" if I was in a confident mood), my debut novel was ready. The Woman Behind the Waterfall is the story of a mother and her daughter living in a village in western Ukraine. It is full of magic, and Jungian psychology and archetypes. It has flying villagers like in a Chagall painting. It describes Ukrainian village life and is full of the beautiful Ukrainian language.
Self-publishing involves taking a risk on yourself
When my novel was picked up by a London agent, I was thrilled. She loved it and said that publishers would love it too.
A year later, we had a string of rejections from the top publishing companies. "Beautiful." "Lovely." "One of the most wonderful submissions I have ever read." But the message was clear: get someone else to publish it.
The quality wasn't the problem. The risk factor was the problem.
Themes of Magic + Ukrainian Setting + Debut Novel = Risk.
It takes an investment of several thousand pounds for a publisher to launch a new title, and I understood that they weren't willing to take that risk on my work.
Well, as I previously mentioned, I am an entrepreneur. I decided to take that risk on myself, and that's when I found Reedsy.
My newest business partner: Reedsy
Reedsy is the entrepreneur's dream. It is the writing equivalent of a business incubator — with all the top level services provided in a safe, supportive environment. Everything you need to launch your business is there.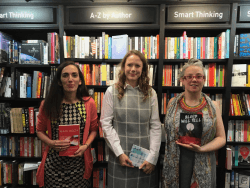 Through Reedsy, I found the wonderful cover designer Anna Green, who had designed Murakami covers and Vintage Classics (as a Murakami fan this was beyond awesome to me). I found Nicola Lovick who provided a structural assessment that helped me rework my novel and make it more commercial-friendly. I found Andrew Lowe, who line-edited my novel and gave me hours and hours of invaluable advice. He started off our collaboration with the warning, "you can't be friends with your editor". However, since he recently attended my book launch party and is about to edit my second novel, I think we can now call it friendship. Lastly, I found Anna Hogarty, who proofread my book.
Through Reedsy, I have been able to set up my new writing business at the highest professional level, and know that I am learning from the top professionals in the world.
I have made plenty of mistakes but that's part of being an entrepreneur. It's a part of the fun in doing something different, brave, and new — and gaining knowledge that has traditionally been kept tightly within the publishing industry has been just that. 
From a two-time entrepreneur, to all the entrepreneurs of the indie publishing industry — and especially Reedsy — thank you!
---
The Woman Behind the Waterfall is available on Amazon for Kindle, and in hardcover and paperback.
How have your past experiences prepared you to publish a novel? Leave your thoughts, experiences, or any questions for Leonora in the comments below.