Amazon Publishing: What Is It Like to Get Signed By Them?
Most book sales happen on Amazon these days, so there's something incredibly appealing about having the same company publish your book. Luckily, while Amazon's algorithms can seem mysterious, the workings of Amazon Publishing (one of the biggest publishers today) are less vague — thanks to feedback from authors who have worked with them.
This post will dive into the workings of Amazon Publishing (or APub), giving you a sneak peek of what it's like to work with them from Natalie Barelli (whose crime novel Until I Met Her was picked up by APub's thriller imprint), and Eliot Peper, (whose Analog series was signed by their sci-fi and fantasy imprint).
And on that note, let's learn a little more about APub and it's various imprints.
What is Amazon Publishing?
Amazon Publishing is Amazon's book publishing unit. Established in 2009, it comprises 16 imprints that publish trade fiction, non-fiction, and children's fiction around the world.
A quick note: when most people think about "Amazon Publishing," they think about self-publishing on Kindle Direct Publishing (KDP) — Amazon's self-publishing platform. But APub has nothing to do with self-publishing. To the contrary, APub imprints operate under the same principles as traditional publishers (think Penguin Random House, Hachette, etc.). They acquire the rights to the books they publish (sometimes paying an advance), and then pay authors royalties on the sales of their books.
Amazon Publishing Imprints
Each of Amazon Publishing's imprints specializes in a specific genre or type of book. Let's take a closer look at them.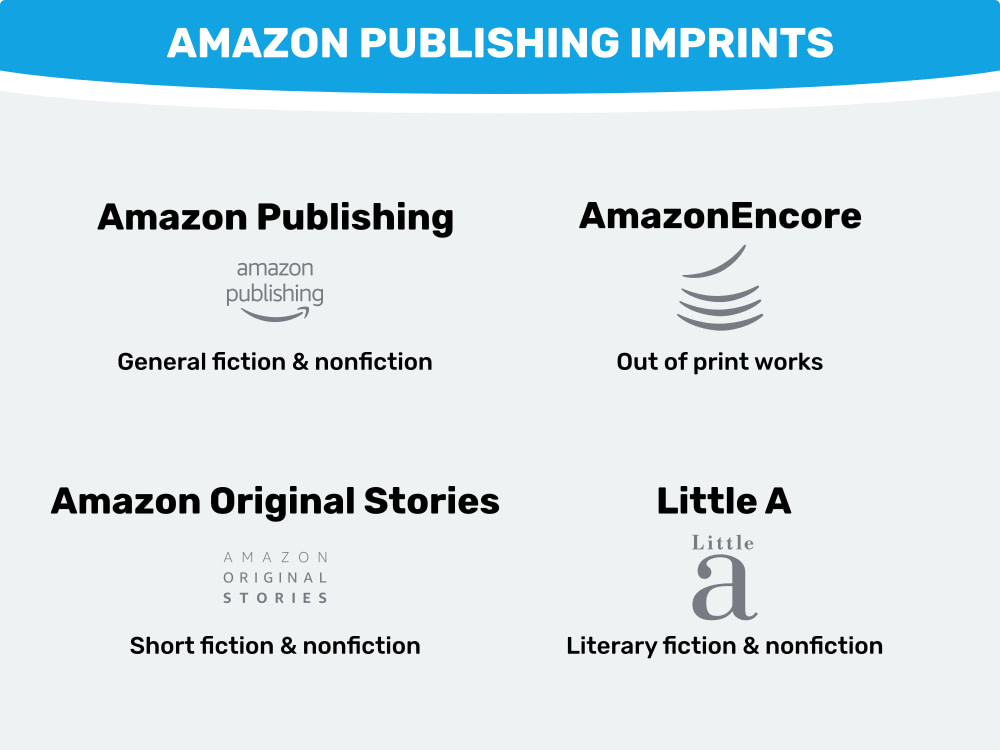 Amazon Publishing— General fiction and nonfiction, encompassing a number of genres
Stand out title: One Indian Girl by Chetan Bhagat
AmazonEncore —Publishes out-of-print works
Stand out title: The Emerald Scepter by Paul Kemprecos
Amazon Original Stories — Short fiction and nonfiction
Stand out title: Ricochet Joe by Dean Koontz
Little A — Literary fiction and nonfiction
Stand out title: After Disasters by Viet Dinh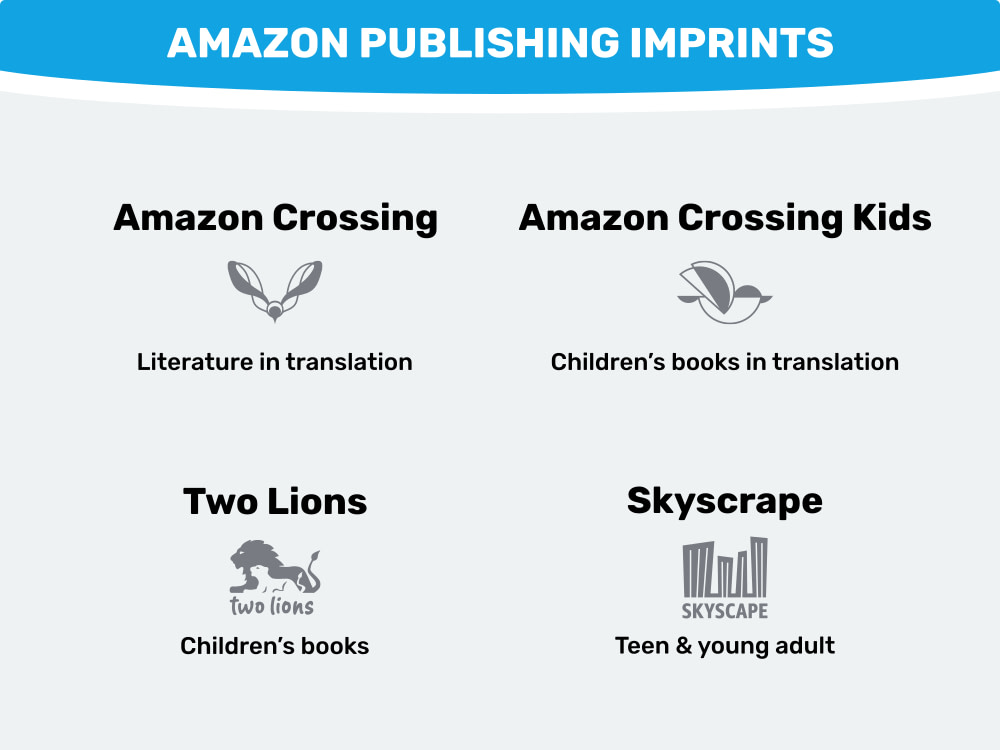 Amazon Crossing — Publishes bestselling and award-winning books in translation in the United States
Stand out title: A River in Darkness: One Man's Escape from North Korea by Masaji Ishikawa
Amazon Crossing Kids — A sister of Amazon Crossing, it specializes in translating children's books into English
Stand out title: A Tiger Like Me by Michael Engler
Two Lions — Children's books for readers up to 12 years old
Stand out title: You Are (Not) Small by Anna Kang
Skyscape — Teen and young adult
Stand out title: The Hundredth Queen by Emily R. King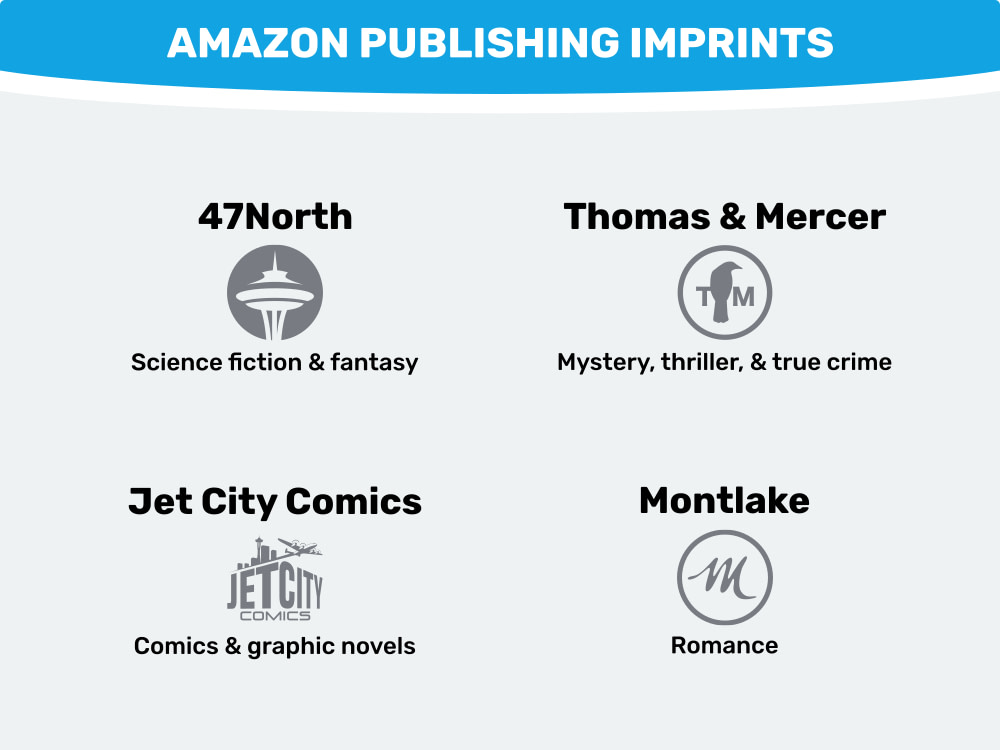 47North — Science fiction and fantasy
Stand out title: Secondborn by Amy A. Bartol
Thomas & Mercer — Mysteries, thrillers, and true crime novels
Stand out title: My Sister's Grave by Robert Dugoni
Jet City Comics — Comics and graphic novels
Stand out titles: The Hedge Knight by George R.R. Martin and Ben Avery
Montlake — Romance
Stand out title: Crazy Little Thing by Tracy Brogan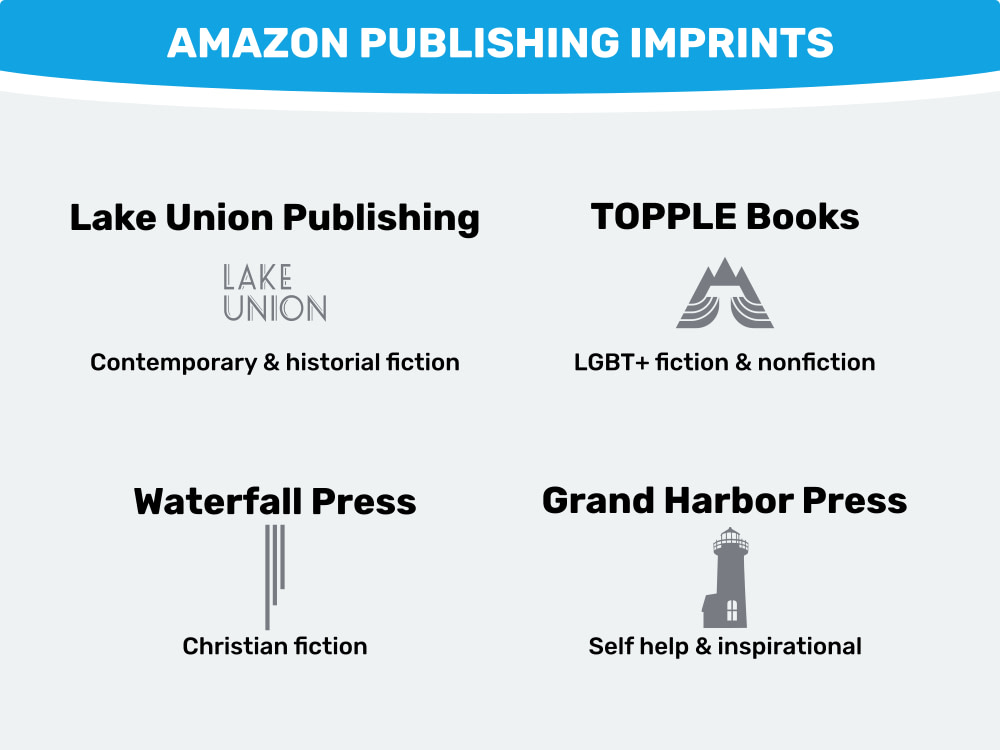 Lake Union Publishing — Contemporary fiction, historical fiction, memoirs, and popular non-fiction
Stand out title: In Farleigh Field by Rhys Bowen
TOPPLE Books — Spotlights the voices of woman of color, gender non-conforming, lesbian, bisexual, transgender, and queer writers
Stand out title: Tomboyland by Melissa Faliveno
Waterfall Press — Christian fiction
Stand out title: Since You've Been Gone by Christa Allan
Grand Harbor Press — Self-help and inspirational
Stand out title: A Beautiful Work in Progress: A Memoir by Mirna Valerio
How to get a book deal with Amazon Publishing
In this section, we'll be getting an insight into the APub experiences of indie authors Natalie Barelli (signed by Thomas and Mercer) and Eliot Pepper (signed by 47North).
But first, let's start by taking a quick look at the difference between scoring a traditional book deal vs. an Amazon Publishing deal.
Traditional publishing book deals vs. APub book deals
Getting signed by a traditional publisher requires an author to have an original, unpublished manuscript that's represented by an agent. It's extremely rare for an indie book that's already been published to be picked up and republished by a traditional publisher. (The Martian and the Fifty Shades series are examples of the exception, not the rule).
APub does also publish original material sometimes. Most (reputable) agents nowadays will pitch their clients' books to APub imprints — and APub is generally interested in and open to agented submissions.
That being said, the large majority of books acquired by APub are self-published titles that did well enough in terms of sales to catch the attention of APub's editorial team.
Getting signed by Amazon Publishing
The secret to scoring an Amazon Publishing deal is ultimately quite simple: publish a quality book + market, market, market that book = sales = APub deal.
But this is simplified equation leaves out one very key detail that complicates matter: luck. Unfortunately, not all authors who publish quality books and invest in marketing get offered a deal by APub. However, you are guaranteed to not pique the interest of APub with a half-decent title that's not been marketed. That's because you won't gather positive reader reviews or sales with just an okay book — and even if you did, it wouldn't pass the human test of APub's editorial team.
While an APub imprint will have their production team work on your title if it's signed (more on that later), they only approach authors whose books have already proven to be at least semi-popular. If APub notices one of yours, they might want to acquire the rights to it and re-release it. Or they might offer you a contract to publish future manuscripts (this is more typical in the case of a series that's already doing well). But in either scenario, what will lead them your way is an existing, quality title that's already been able to trend on the Amazon charts. If it spends enough time there, you'll be a perfect candidate for APub's "we're interested in your book" email.
What all of this means is you need to invest in your product before you come to market — so working with editors, hiring a designer to create a professional-looking cover, learning the ins and outs of book marketing, and so on. Here are a number of resources to help you get your book to the best level possible:
Now let's take a look at Natalie Barelli andEliot Peper's experiences.
Natalie worked with two Reedsy editors to ready her manuscript for publishing: Katrina Diaz on a structural edit and Aja Pollock on a copy edit. She also hired a professional cover designer.

 

After gathering ten positive reader reviews on Amazon (the minimum threshold for many book promoters), Natalie scheduled a Kindle countdown deal ($0.99 for one week) and booked with as many book promoters as she could. At the same time, she created AMS ads which allow authors to advertise their book below the "Also Bought" section of other books. During her Kindle countdown deal, she started seeing significant sales (peaking at 200 sales in one day). Knowing her sales would dwindle when the promotion ended, she ensured she had AMS ads ready to run every day after her Kindle countdown deal, which allowed her to sustain a positive ranking. It was at this point Thomas & Mercer reached out to her about signing her novel.

 
Eliot's novel had started receiving some significant attention because: it was a bestseller in Amazon's Technothriller category, a post about his novel had started trending in the r/books subreddit, and "Cumulus" had also received media coverage, attracting attention from cyberpunk pioneer William Gibson.

 

One day, an editor from 47North sent Eliot an email saying she'd read his self-published novel, "Cumulus," and asked if he was working on anything new. As it happened, he had just finished editing a new manuscript, so he sent it over. She read it over the weekend and made an offer the following week. Three weeks later, they finished the contracting process on a three-book deal and the first novel, "Bandwidth," entered production.
Does Amazon Publishing accept unsolicited manuscripts?
They don't. They do, however, accept submissions from agents and literary scouts. We know from our contacts there that APub imprints are actively looking to acquire original content as long as it's first vetted and represented by an agent or scout.
What are Amazon Publishing's submission guidelines?
Because Amazon Publishing acquires books through agents and literary scouts, there are no submission guidelines for most of their imprints. However, Amazon Crossing and Amazon Crossing Kids do invite authors to submit books written in 14 select foreign languages for English translation. Learn more here.
What happens after you're signed by Amazon Publishing
Again, APub functions like most other publishers in this respect. Even if you've already worked with professional editors on your manuscript and commissioned a great cover from a professional designer, APub will still want their own team of publishing professionals to work on your title. But this doesn't make working with professionals prior to publishing pointless — without their help APub likely wouldn't have picked up your book in the first place.
Typically, APub will keep the author in the loop throughout this process. Let's turn back to Natalie and Eliot.
Thomas & Mercer gave "Until I Met Her" a new cover and further rounds of editing.

 

Natalie has said that Thomas & Mercer kept her thoroughly involved throughout the entire process, asking for feedback and approval every step of the way. In her words, "When a small army of professionals wants to improve your novel, you're hardly going to stop them."
According to Eliot, his editorial process was also efficient and straightforward. They did three rounds with a developmental editor before moving into copyediting and proofreading.

 

In addition, Eliot's input was requested, and his approval required, for the title and cover design. In Eliot's words: "I have strong opinions on branding and design, and was impressed by how the design team worked to incorporate my creative direction, even when it required significant additional effort."
Pros and Cons of Amazon Publishing
At one point, self-publishing might have presented itself as an opportunity to authors who couldn't obtain a traditional publishing contract. But now, many authors see the beauty in independently publishing their books — and the total control that comes with that.
Still, a book deal is nothing to brush off lightly. We have a very handy (and free!) course on traditional publishing vs. self-pub, if it's something you've puzzled over. An APub deal isn't the exact same as a traditional publishing deal, but many of their benefits overlap. In this section, we'll cover the pros and cons of working Amazon Publishing — as opposed to self-publishing or seeking out a traditional deal.
Pros
The real pro when it comes to being signed by an APub imprint is the people you get in your corner. We've already mentioned this point a couple of times, but it's a huge pro, so we'll repeat it once more here: if APub acquires your book, they want it to sell. To help it earn revenue, they'll have their production team go to town on it, ensuring the book is thoroughly edited and splashed with an appealing cover. The people who work at APub know what works in publishing. They'll have the data to back up their creative choices.
Furthermore, APub imprints have special insider knowledge of Amazon marketing, and access to promotions and visibility spots that are otherwise hard (or impossible) for an indie author to land on their own. Mark Dawson, whose Isabella Rose thriller series was signed by Thomas & Mercer, notes that Thomas & Mercer still regularly promotes titles of his that are three or four years old — promotions which continue to lead to significant royalties. As he puts it, "When Amazon promotes, they do it well."
Cons
Fewer royalties than if you self-publish.
It's tough to find information about the royalties APub authors make because they generally sign non-disclosure agreements. However, a quick search gives the impression that APub authors earn royalties consistent with industry standards. (With traditional publishing, authors typically make 7% of sales for printed books and under 25% of ebook sales — after their advance is paid off.)
In other words, you might see more sales of your title through APub, but the royalties you'll make off of those sales will be a lot less than if you self-publish. On Amazon, indie authors can make between 35-75% royalties on ebooks and 40-60% on print books.
You likely won't see your book in bookstores.
This can be a bit of a catch-22 for authors. Self-published books are very, very rarely considered by the buyers who stock the shelves of physical bookstores. But this is also true for books published by Amazon. (The heated feud between physical bookstores and Amazon was sparked by Amazon pushing for exclusivity with publishers, agents, and the authors they represent.) Of course, there are always exceptions to the rule. For instance, sometimes big box stores like Wal-Mart are open to APub titles. And, let's not forget that Amazon is one of the largest digital book retailers in the world. Not to mention the physical Amazon bookstores opening all over the world — stores that naturally provide extra visibility to APub titles. However, if one of your top publishing priorities is seeing your title in brick-and-mortar bookstores (other than the Amazon ones), you will likely want to pursue traditional publishing.
Your book won't be on the New York Times bestsellers lists.
It's a stretch to call this a "con" of APub, because snagging a spot on this prestigious list can be something of a pipe dream even for accomplished authors. This fact is more just… "something to be aware of." The NYT bestsellers list, as well as the USA Today list, don't count books that only sell in one channel, which is the case for Amazon Publishing's titles. That being said, if your title sells well it will appear in Amazon's bestsellers list, which is not a shabby place for it to be!
You won't have total creative control.
The feedback from Natalie, Eliot, Mark, and many of the other authors who've written about their APub experiences suggests that authors' input is requested throughout the publishing process. But, at the end of the day, when a publisher buys your manuscript, they ultimately have the final say on what happens to it. You can rest assured that they will want what's best for your manuscript from a sales perspective. But if you're looking for 100% complete control over your title, self-publishing is the only route for you.
Another option is hybrid publishing, which is a good possibility for authors who want to experiment and get a taste of both worlds. In a nutshell, hybrid publishers offer a traditional-style publishing option to authors who cannot (or prefer not to) work with a traditional publisher. Learn more about hybrid publishing here!
As the name hints, a hybrid publisher combines elements of traditional publishing and self-publishing. In most aspects, they function just like a traditional publisher, with the key exception that their authors will subsidize the cost of publishing and will not be given an advance on royalties.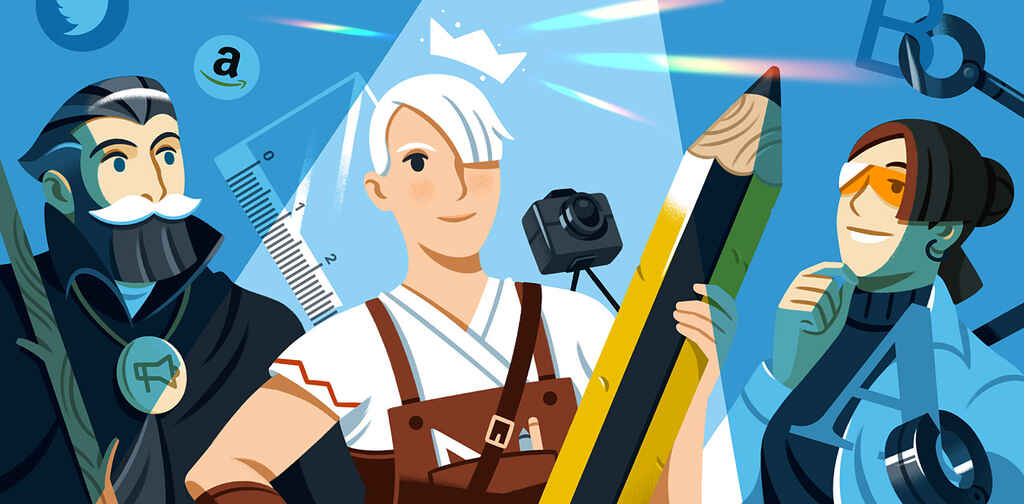 Polish your book with expert help
Sign up to browse 2000+ experienced editors, designers, and marketers.
Amazon Publishing seems to be highly regarded by the authors who are signed by their imprints. Scoring a contract with them will not guarantee sales of your book, and some authors do report a flatline in purchases of their titles.
Eliot Pepper puts it very well when he says: "No matter what publication path you choose or who you publish with, you are in charge of your career. Always put your readers' interests before anyone else's. Start from first principles and never accept 'this is just how things are done' when something doesn't make sense. Build your own audience on your own terms. Be kind. Be generous. Be patient. Every artist is an entrepreneur, so embrace, understand, and grow the business of your creativity."
---
Have you been published by an Amazon Publishing imprint? Share your experiences with us! Or feel free to leave any questions, thoughts, or remarks in the comments below.
Last updated 2020-07-14