Plottr Review: Features, Strengths, and Weaknesses
Plottr is a simple and flexible plotting software designed with authors in mind. Starting at $25 for a yearly subscription (or $99 for a lifetime subscription), it offers a variety of features that can help you organize your story before you put pen to paper. 
For this article, we put Plottr to the test to find out how this app can help writers plan and execute their stories. But, before we get into the juicy details, here's a quick summary:
What we love
What's missing

Easy to use
Intuitive layout
Customizable and flexible
Dozens of free templates to choose from

No writing area
Not great for plotting shorter pieces
Real-time collaboration limited to premium subscribers
Let's take a closer look at the ideal Plottr user and some key features.
A useful tool for 'plotters' (and some 'pantsers')
Like its name suggests, Plottr is a tool for writers to plot and plan their stories — from entire narrative arcs to individual scenes. While it is a useful tool for plotters and pantsers alike, it is primarily intended for hardcore planners who need to know exactly when and how everything will happen.  
In a nutshell, Plottr gives you a place to collect all your planning notes in one place and easily turn them into a workable outline. Whether you're a verbal or visual thinker, some tools will streamline the process and allow you to arrange your plans in a way that makes sense. With everything from character organizers to structure templates, Plottr lets you create a dedicated story bible and keep all of your notes organized. 
Sounds interesting? Let's take a closer look at how Plottr can help you map your narrative.
Pick a timeline or outline overview
The main tool, the place where it all happens, is Plottr's 'outline' or 'timeline' function, which allows you to choose how you want to organize your story. If you prefer a visual representation of your plot, you can pick 'timeline,' which divides scenes in a chapter into columns to give you a quick overview. You can even add subplots by adding additional rows to track specific character arcs or additional events that might not be part of your main plot. Every scene card can be color-coded for maximum organization. However, any additional information you include about the scene can't be seen here. 

If, instead, you prefer to have all the details at your fingertips, you can switch to the 'outline' view. This looks more like the traditional outline we're used to seeing in writing classes and workshops: a written breakdown of each scene, including detailed descriptions, characters involved, setting, and any additional tags you want to add (we'll talk more about this feature later in the post). You can still add subplots, but 一 unlike in the timeline mode 一 they aren't as easy to visualize as they are interspersed with the rest of the scenes rather than separated out.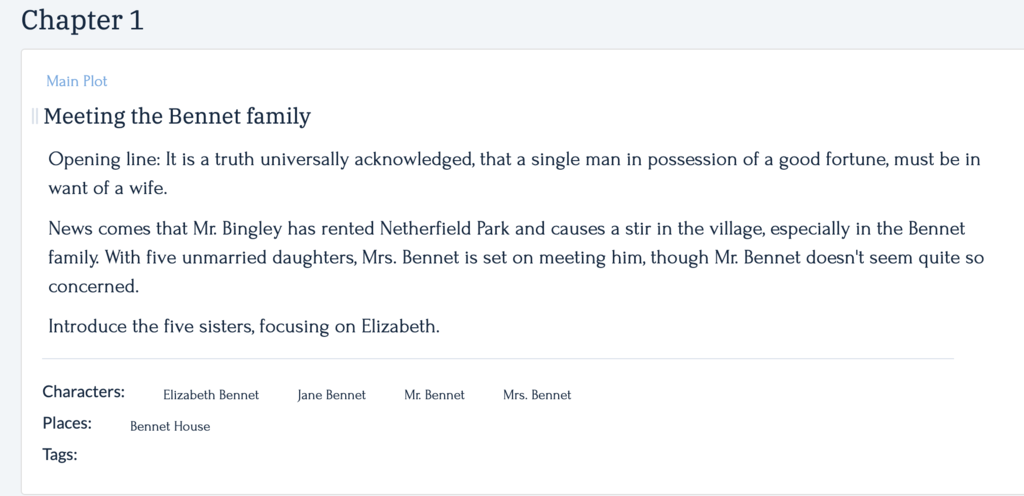 As you get to know your story better, each scene can easily be moved around and rearranged, whichever approach you choose. If you're unsure which format you prefer, the coolest thing is that you can use the two interchangeably. Any additions you make in the timeline are automatically added to the outline, and vice versa. 
Get started with templates
Not sure how to organize your story beats and fill out the 'timeline' or 'outline'? Plottr has you covered with dozens of free story structure templates. You can choose from classics like the Hero's Journey, the Three Act Structure, or more recent ones like Dan Harmon's Story Circle.
You can filter templates by genre, from romance to horror and everything in between. Just pick a template and start filling it out. 
Break down your scenes with scene templates
Plottr has even more templates for scene building if a grand-scale overview isn't detailed enough. For extra guidance, you can try their goal/motivation/conflict template, or their scene essentials template, among others. Each asks questions that allow you to dig deeper into what's happening in your story, looking at the why and how of your plot.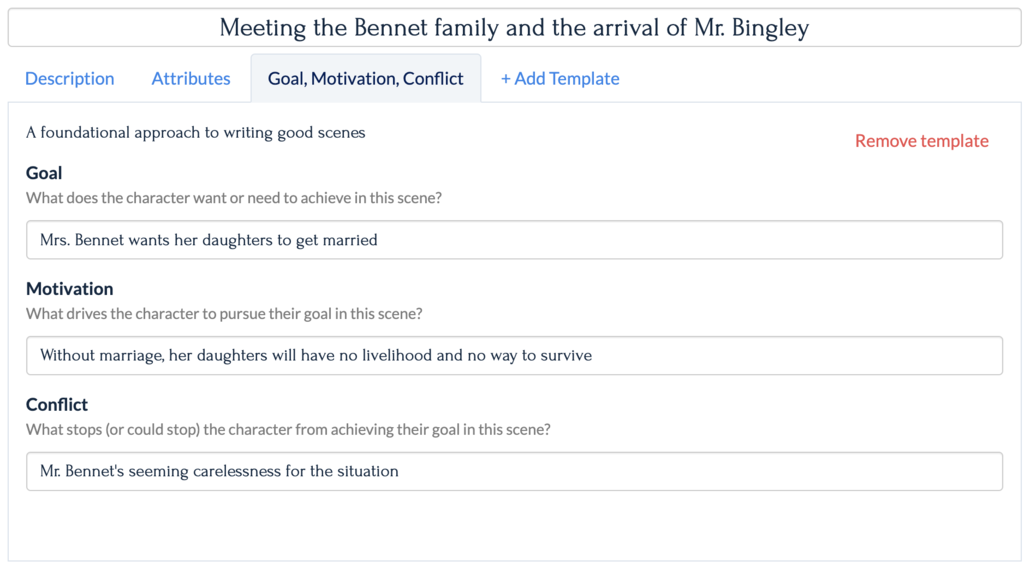 And if you can't find something that works within the official selection, you can browse dozens of user-made templates from fellow authors in the Plottr community. 
Define where your story happens 
The "Places" tab is where you can get started with setting and worldbuilding. You can add relevant details in the notes section of each place you create, describing what it looks like, why it's important to your characters or anything else you don't want to forget. 

You can also attach an image representing the place for additional inspiration. Once you've included everything you can think of, the place can be added to any scenes in the outline to indicate that it happens there. 
One great feature of Plottr is that it allows you to customize your outlines, whether you're using a template or making it up as you go. You can do this by adding your own categories or attributes. For example, in places, you might want to remind yourself whether the place you're talking about belongs to one civilization or another. 
And who are the main characters
In the 'Character' section, you can keep track of your entire cast of protagonists. It has the same features as the Places tab, giving you space to write a description and notes, as well as add specific attributes.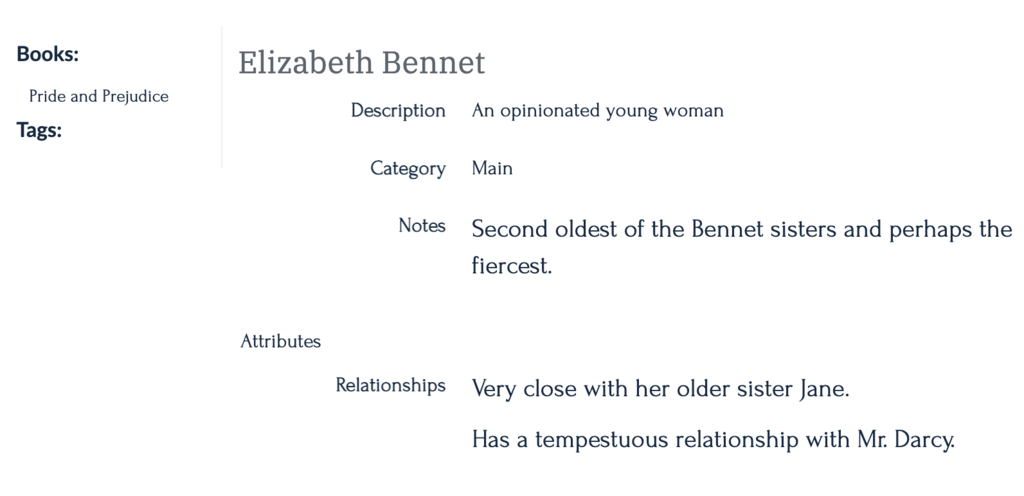 With Plottr's character-building templates, you can build a D&D character, examine the big five personality traits that influence your protagonists, or ask hard-hitting questions with the Marcel Proust questionnaire. You can use several exercises to create your characters or just get to know them a little better. 
If you're craving a tool to better shape your characters right now, download our free character profile template below.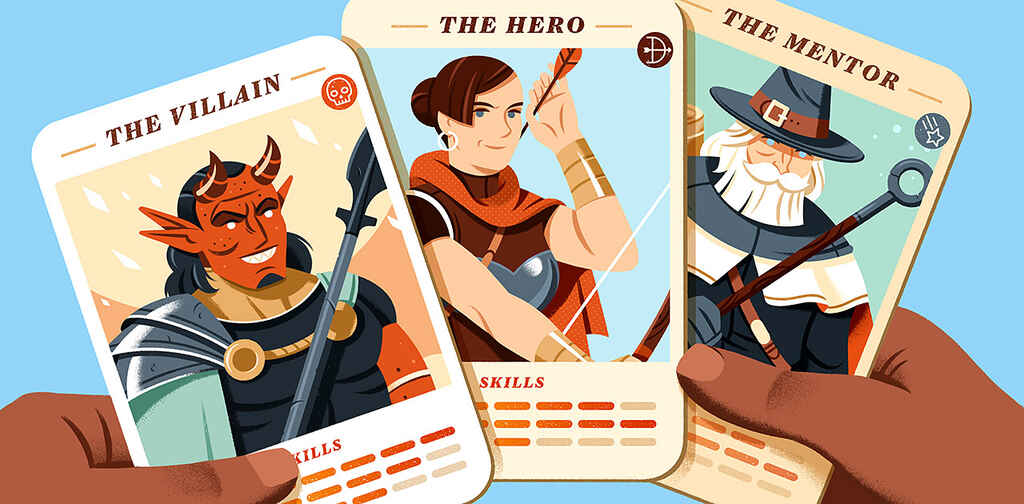 Reedsy's Character Profile Template
A story is only as strong as its characters. Fill this out to develop yours.
Find what you're looking for with tags
Tags allow you to label your scenes, characters, or places in a way that makes them easily searchable. For example, you could tag scenes as 'flashback' to make it easier to find them and isolate them from your outline 一 a handy feature for the hardcore plotters out there. 
Plottr is affordable, but not the cheapest option
Now that you know a bit about how Plottr works and what it offers, it's time to consider another important factor: cost. You can choose to subscribe to an annual plan, or go directly for a lifetime subscription 一 either way, the price will depend on which features you want. 
The basic plan lets you use Plottr from one device for $24 a year or $99 for a lifetime deal. If you want to use it from multiple devices and access pro features like cloud storage, auto-syncing, and real-time collaboration, be ready to invest $46一$79 a year or $149一$249 for a lifetime deal.
Here's a table to summarize the different plans:
Subscription type

Annual/lifetime cost

Features

1 Device

$24/99

Access on Desktop or Mobile (1 Device) 
Use Offline 
Save Files Locally 
Local Backups 
All Offline Features

3 Devices

$45/149

Access on Desktop and Mobile (3 Devices) 
Use Offline 
Save Files Locally 
Local Backups 
All Offline Features

Pro

$79/249

Access on Desktop, Mobile, and Web (All Devices) 
Use Online 
Save Files to the Cloud 
Cloud + Local Backups 
Auto-Syncing Across Devices 
Real Time Collaboration
Regardless of which option you choose, Plottr offers a 30-day money-back guarantee. So if you're unhappy with it, you won't have to worry about losing money. 
Plottr is not a one-stop solution for writers
While Plottr is an innovative writing software, it's not a perfect fit for every writer, as it is solely an outlining tool. Unlike software like Scrivener or the Reedsy Book Editor, it doesn't have a writing area where you can directly work on your text so you'd have to export your outline into a separate word processor if you want to have everything together. That means that if you're looking to do all your work from plotting to drafting in one place, Plottr is not the best option for you. 
Looking for a professional formatting tool?
Sign up for free to start using the Reedsy Book Editor within seconds.
Learn how Reedsy can help you craft a beautiful book.
Plottr may be worth the investment if you're writing long-form content, such as books with complex plots or larger series, but if you're working on shorter pieces like short stories or a children's book, you likely don't need the kind of extensive planning it provides. 
Note: If you're simply interested in the templates that Plottr offers but don't want to pay for the subscription, you can download Reedsy's complete collection of book templates for free!
Lastly, though Plottr does offer real-time collaboration, you have to pay for the premium plan to access it. So if you're working with a co-author or want an editor's help fleshing out your outline, consider other plotting software that offers real-time collaboration as a base option, such as Scrivener.
Learn about them and others in our post on the best book writing software.