Worldbuilding Resources for Historical Fiction Writers
Amy Arden is a history enthusiast. She holds a graduate degree from the University of Kent at Canterbury where some of her happiest moments involved unfurling parchment at Canterbury Cathedral Archives. In this article, she talks about the challenge of worldbuilding in historical fiction — and how attention to detail can make or break a reader's experience and the authenticity of a story. Luckily, she has also provided a list of resources where authors can go to research such details.
Why worldbuilding is important to the reader
If we are lucky, we find books that don't just tell a story — they open a universe. We feel the protagonist's fear as they stare into the dark, we hear the wind as it blows around the house, we catch the scent of saltwater and snow as a winter storm rages at the seaside. We imagine the creak of carriage wheels, the lights of candles against a windowpane, the rustling of a woman's skirt.
For readers and writers of historical fiction, these details don't just lend flavor to a novel. They can make or break the authenticity of a time and place — years or perhaps even centuries removed from our own. Misplaced or inaccurate details may pose at best a distraction and at worst a reason for a reader to abandon a book. If your reader is getting caught up wondering what year cars first appeared in Britain, chances are they aren't paying attention to what's really important in the story. A distracted reader may quickly become a frustrated reader. Frustrated readers stop reading. As a novelist, my job is to build a world that immerses the reader in a way that feels rich, deep, and most of all, true.
BONUS: To read 10 of the best historical romances like, go here.
Investigations into history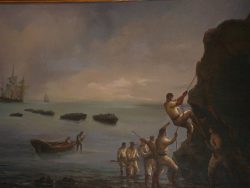 Researching my current novel, Admiral's Wife, offered me the chance to play detective. The book is inspired by the incredible — and true! — adventures of Katherine, Lady Cochrane, wife of Admiral Lord Cochrane. The "real" Kate was a penniless teenage orphan who captured the heart of one of the most notorious naval commanders in Regency England. She also navigated political intrigues, fought off an assassin, raised five children, and trekked through the Andes. The novel follows Kate's story across three continents, including a formative sojourn in South America, and time living in Italy and France.
While there are several biographies and autobiographies associated with Thomas Cochrane, none exist for Kate. My digging began where these sources left off. Fortunately, Kate left a paper trail to follow.
Attention to historical details
A great deal of correspondence between Kate and Thomas has survived: the house that Thomas grew up in as a boy still stands in Fife, and newspapers from the 1800s make numerous mentions of the Cochrane family. All of these were a gold mine for me. I read every letter I could get my hands on — some in person at the National Records of Scotland, and some digital copies ordered from other repositories. I took a bus from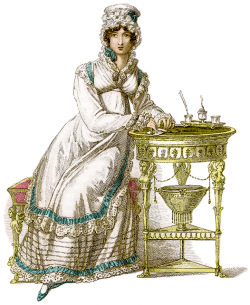 Edinburgh to Culross village to get a look at Thomas' boyhood home, and I scanned historical newspapers for stories of the Cochrane family's doings.
My research didn't stop there. I found out about key events that Kate would have known about (my favorite: a dancing Cossack performing in St. Paul's Cathedral) to get a sense of what made the news in Regency England. I read a c. 1816 housekeeping manual for information on what was served at dinner parties like those that Jane Austen would have attended. I looked at fashion plates as inspiration for Kate's wardrobe. And since "The Admiral's Wife" is also a story about ships and sailors, I made many online visits to the National Maritime Museum.
Accurate details are important in fiction, too
These efforts paid off by saving me, more than once, from having to grope for a detail mid-scene. If I needed a scandal to reference in a tête-à-tête between characters, I had one at the ready. If Kate was planning a luncheon, I had only to reference my notes to find an appropriate menu. And when Kate needed a truly fabulous pair of earrings to wear for a soirée, my saved Pinterest images offered inspiration for what those stunners could have looked like.
While the genre is aptly titled historical fiction, getting the details right can immensely strengthen your book. It builds your credibility as an author and creates a space with depth and dimension for your characters to move in. For me, the more I immerse myself in the period that I'm writing about — by understanding as much as I can about its tastes, sights, sounds, smells, and worldview — the better I'm able to get inside my characters.
Resources that can help with historical worldbuilding
For Character Names:
Parish registers are truly your best friend! Find authentic period names with ease through sites like FreeReg or your local County Records Office. If the book takes place in the United States, you may look at census.gov — the 1940 census is the most recent to be released and there is a fascinating series of infographics on life in America at that time.
For Clothing:
Many museums have extensive collections of period clothing. The V & A and Met Museum are two great resources, and images from their collections can be browsed online. Pinterest also has many excellent images of period dress (as well as sailing ships, tea time recipes, and loads of other goodies).
For Dates:
Wikipedia is handy as a quick reference for notable events. If checking the reigns of British kings and queens, the official monarchy website can be very useful; the White House website also has biographies of U.S. presidents and first ladies.
Don't ignore modern sources!
I chanced across a newspaper article on how combat-related PTSD impacts children of veterans, and since combat directly or indirectly affects every character in The Admiral's Wife, the article gave me exciting new ideas to explore.
Beta readers with some knowledge of the period you are writing about can be a tremendous help.
Lastly, Goodreads and Quora are also useful for finding someone with the expertise to answer your questions. In fact, Goodreads gave me the answer to when and how a Regency hostess would "turn the table" — which is a signal to guests that they should talk with the person on their opposite side. Understanding this old custom allowed me to create opportunities for Kate to have pivotal conversations.
These resources are only a few of the many available to historical novelists. As with any research, use discretion when assessing the credibility of your sources. With a little luck and a little searching, you can make amazing discoveries that will bring your story, and the world that it takes place in, to life.
---
Amy is actively seeking representation for The Admiral's Wife. Visit her website to read an excerpt!
Worldbuilding can be a fine line of imagination and accuracy. As Amy says, the world you write about needs to make sense so that the reader can become immersed without distraction. Do you have any thoughts or questions for Amy? Leave them in the comments below!