BookBub Reviews: Are They Worth It?
BookBub is a remarkably powerful tool in the world of book marketing. The conversation around it mostly revolves around what BookBub is and what its most popular services do. But a less discussed aspect of this notable website is its reviews function, which gives authors another way to get testimonials and promote their book. In this post, we'll see what BookBub's reviews actually look like, how they're different to other review platforms, and whether we think they're worth it. 
Pros: 
Free to use
Prominently displayed
Recommendations by other authors can attract the attention of their readers
Cons:
If your book has no reviews, it can look dodgy in comparison
Not particularly revolutionary
The team at Reedsy has taken a close look at BookBub reviews, with an aim to provide transparency and context. As a network of over 1,500 professional editors and book designers, we've helped thousands of self-published authors take their book to market. This puts us in a unique position to compare the quality and value of publishing services in relation to industry standards.
What are BookBub reviews?
BookBub reviews are, simply, a collection of user-generated book reviews hosted on BookBub's platform. This includes individual star ratings as well as written reviews explaining each reader's take on the book.The average star rating is prominently displayed by the title of your book, similar to most online retailers.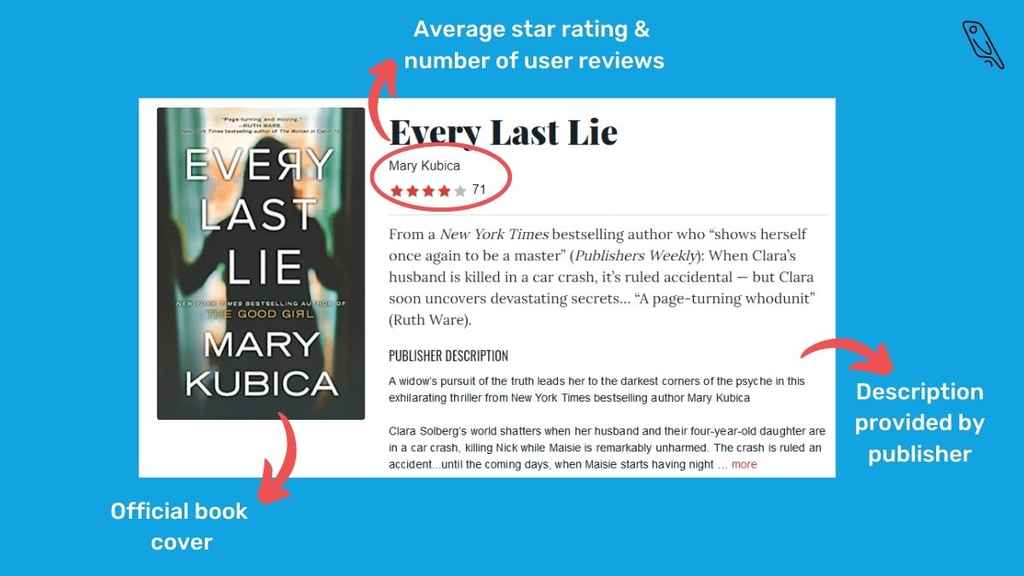 On top of write-ups and ratings, BookBub encourages reviewers to tag books with a choice of adjectives. The most popular tags appear on the side of the reviews list, giving users a quick glimpse into what other readers think about the book.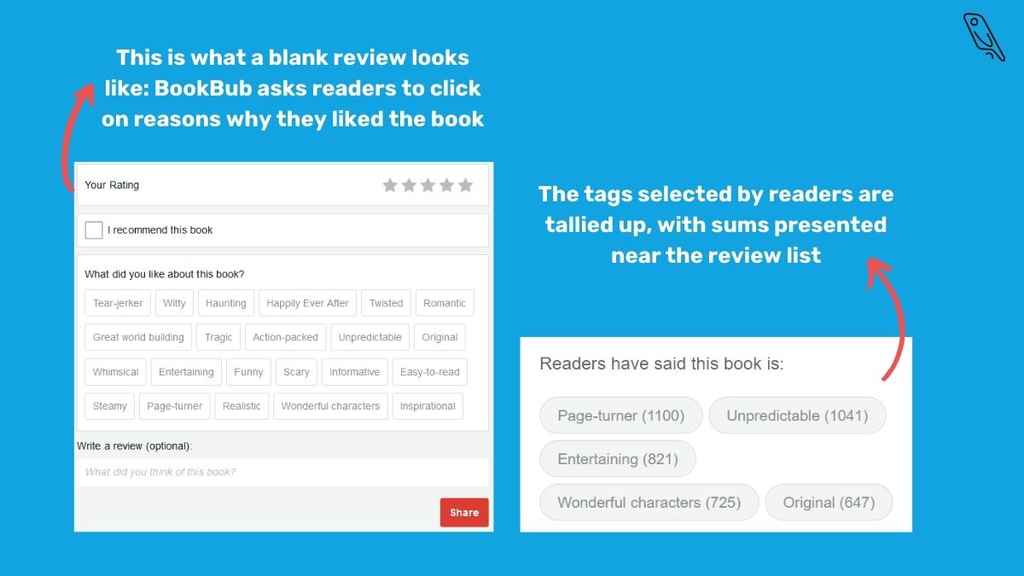 Finally, reviewers can choose to check a box that confirms that they recommend a book — which means that authors can also publicly recommend books to their fans!
How are BookBub's reviews different from Goodreads or Amazon reviews?
While reader reviews and star ratings are not unique to BookBub it does have one feature that makes it stand out: it allows authors to publicly recommend books they enjoyed.
That means that if a reader navigates to an author's profile, they can click on the 'Reviews' tab to see if they've reviewed or recommended any books… which can earn authors powerful testimonials from fellow writers!
For example, Neil Gaiman, whose BookBub following is 350,000+ readers strong, has a 'Reviews' section on his profile where he has recommended 10 books. A reader browsing his profile would come across these reviews and check the books out because Gaiman has given them his stamp of approval.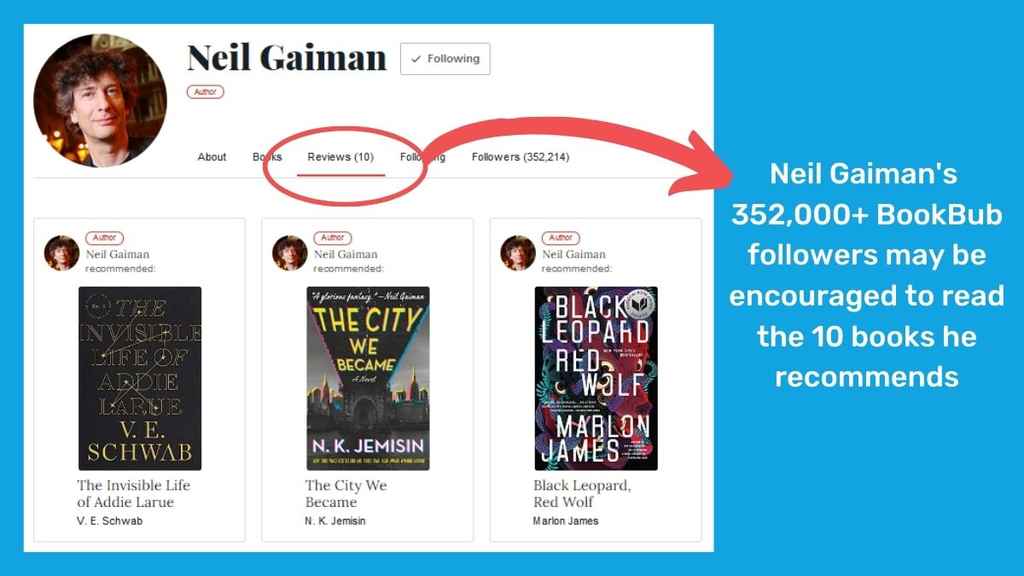 Where can people find my reviews from other authors?
But let's say a potential reader has landed on your book's page on BookBub — maybe because it's discounted, maybe because they heard about it and looked it up. How can they see if other authors have recommended it?
Well, at the bottom of your book's landing page, you'll find recommendations from authors in amongst your reader reviews — and they look like this: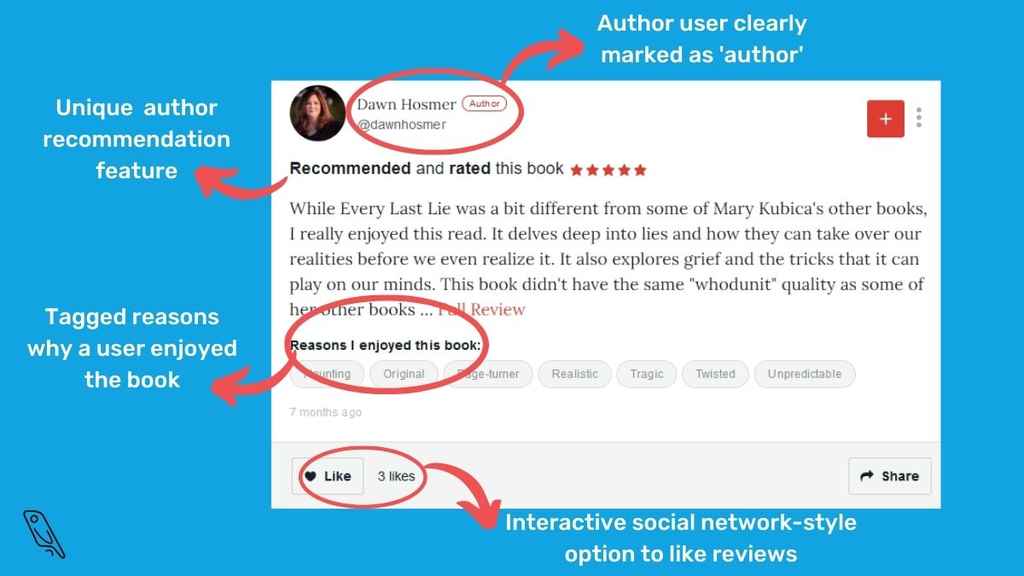 As you can see, they're clearly marked as author reviews, and there's a social media-style option to 'like' reviews, which elevates popular reviews (or reviews by popular authors) to the top of the reviews section.
Without a doubt, featuring endorsements by other authors is the most exciting aspect of BookBub reviews — and the feature that stands out from other platforms the most.
Other platforms aside, how good are BookBub reviews?
Let's take a closer look at the positives and negatives of these reviews.
✅ The positives
Gathering reviews for your books is a free and automatic service. You don't even need to make an account on BookBub to accrue reviews.
If you're able to attract readers through BookBub's Featured Deals or by advertising your book could get a lot of traffic and boost your number of reviews.
Validation from other authors is a really sweet bonus — this is especially useful if your book is recommended by authors writing in the same genre.
This last feature encourages authors to lift each other up, which we think is commendable. 🙌
❌ The negatives
If your book has no reviews, it might look unreliable or unattractive by comparison.
Plenty of retailers offer product reviews, so with the exception of the author recommendation feature, BookBub's reviews aren't that unique.
The verdict?
We like BookBub's reviews. In many ways, they're not particularly revolutionary — but they give you an opportunity to gain reviews from some of the most ravenous readers in the world. BookBub's large audience and author recommendation features are added bonuses to a reviews service you should be making the most of as an author.
We recommend BookBub's reviews in general, but we believe that these authors in particular should really lean into this service:
Authors who already have a strong or growing following on BookBub;
Authors who manage to secure a BookBub Featured Deal;
Authors writing series, trilogies, or many books within universes.
We think it's particularly important that you not only accept reviews as they happen, but actively seek them out — especially if you belong to one of these groups!
Is your book suffering from a lack of reviews? We can't really fault BookBub's services for that, but the good news is that you can take action to remedy this. Head to our post on how to get book reviews for your book to find out the best ways to source those oh-so-sweet testimonials. One way would be Reedsy Discovery, a platform we launched to help indie authors give their books the exposure they deserve.
If you're hoping to increase your book's visibility by getting it reviewed, submit your book to Reedsy Discovery's reviewers today!
Book reviews are the thing that get readers going from "maybe" to eagerly smashing the "buy now" button, so you should really factor them into your plan for marketing your book. They're also an integral part of any book launch, so the lead-up to a book release is also a good time to do a little bit of soliciting, rather than sit and wait for reviews to trickle in organically. In all this, BookBub's reviews are your friends — good luck!