Last updated on Dec 07, 2022
How to Set Up and Manage Your Amazon Book Ads
The previous post in this guide has given you a breakdown of Amazon Advertising's pros and cons and how it can fit into your book marketing strategy. But how exactly do you run book ads on Amazon? 
In this post, we'll go over the best practices for managing your campaigns on the world's largest online retailer. Here's how to set up an Amazon ads campaign for your book in six steps: 
We also recommend pairing this post with Reedsy's Amazon Ads for Authors. Written by Reedsy co-founder Ricardo Fayet, it'll walk you through everything you need to know about Amazon Advertising step by step — from how to determine the type of ad campaign that will best suit your book to how to optimize your campaigns for profit.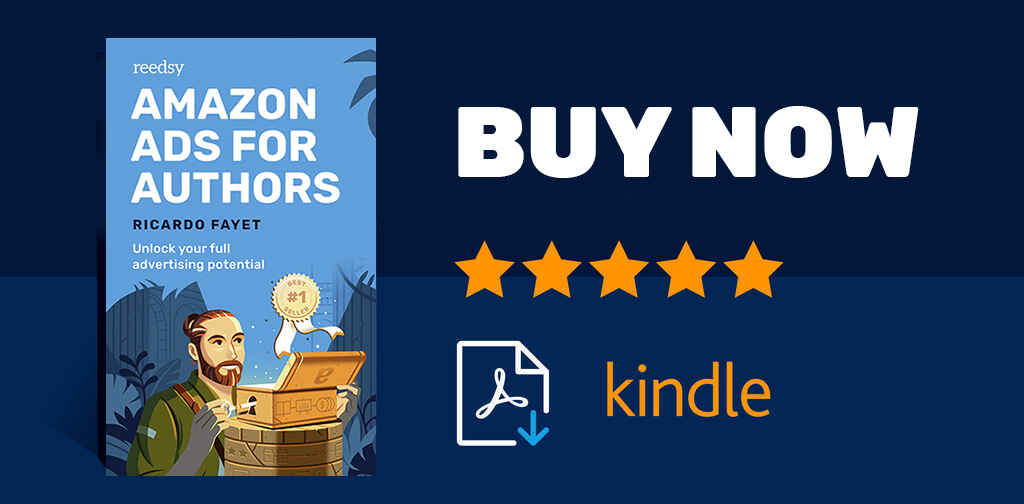 1. Start a new campaign
The first step is, naturally, to create a campaign. This is when you choose what type of advertisement (Sponsored Product, Sponsored Brand, or Lockscreen Ads) you will be running, and name your campaign. You can read more about Sponsored ads in the previous post; as for Lockscreen Ads, those are presented on the lock screens of users' Kindles. 
As a first-time author, Sponsored Product ads will make the most sense — you need at least three books to run Sponsored Brand ads, and Lockscreen ones are a bit far-removed from the shopping environment. In any case, most authors and professional book marketers find Sponsored Product ads the most effective. 
Another thing to note is how you name your campaigns. This is quite important, especially if you want to develop long-term advertising strategies for multiple books. You want to include some key details in your campaign name. Here's our suggestion: 
[Type of Ad] - [Advertised Book Title] - [Type of Targeting]
In doing this, you can see a summary of what strategies you have tested and how they each perform at a glance from your dashboard. The more your author career grows, the more campaigns you'll have, so it's best to prepare yourself and stay organized from the get-go. 
2. Allocate a budget
Next, you'll want to set a budget for your campaign. How you do this depends on what type of ad you're running. 
Sponsored ads: daily budget
For Sponsored Products and Sponsored Brands ads, you'll have to set up a daily budget. This can be as small as $2 or $5 a day — chances are that you'll only spend a fraction of this budget anyway. 
You can set an end date, or you can run the campaign continuously and adjust the daily budget as you go. We recommend the latter — in fact, it's good practice to check, review, and adjust your campaigns on a regular basis. 
Lockscreen Ads: fixed budget
Lockscreen Ads require that you set up an overall budget for the campaign, which cannot go below $100. You will also have to set start and end dates along with a cost-per-click bid right away. 
While all of this budget might not be spent (since the bidding system we outlined in the previous post still applies here), it will still cost more than Sponsored ads. Generally, you can expect to spend a minimum of $50 with a $100 budget. 
And that's another reason to start your Amazon advertising adventures with Sponsored Products ads rather than Lockscreen: you can experiment at a much lower cost. 
3. Target titles, categories, or keywords
Once the budget has been allocated, you have to let Amazon know where you want your ads to show up — which search results? Which product's "Also Bought" sections? 
Broadly speaking, you can dictate this by using category, keyword, and product targeting; there are slight differences in your targeting options depending on the type of ad you use. For more nitty-gritty details about targeting options, sign up for our free course on Amazon ads for authors:
Free course: Amazon Advertising for Authors
Advertise directly on Amazon and reach your target readers where they buy most of their books. Start this 10-day online course today!
For the purpose of this post, let's focus on Sponsored Products targeting options since it is what most authors will use. 
Home in on niches with product targeting
Using what is called product targeting, you can point to exactly which book's product page you want your ad to show up on. All you have to do is search up the name of that book when choosing your targets, or you can directly enter its ASIN (Amazon Standard Identification Number). 
This is a highly specific kind of targeting: your book will only show up in the "Also Bought" section of the book you selected. For instance, if you're writing a Pride and Prejudice modern retelling, you may want your book to appear on the classic book's product page.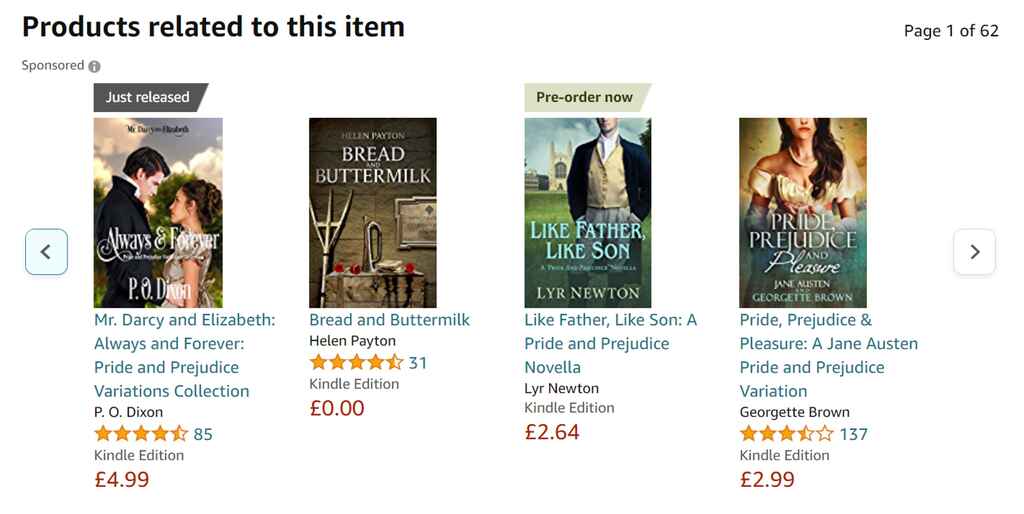 As you can see in the above screenshot of sponsored products in Pride and Prejudice's page, many authors share the same thought. 
Reimaginings of Pride and Prejudice make up a very popular niche — your book might not have as obvious of a comp title for your ads to target. If you've yet to find your product target, and you don't want to waste this hyper-focused book advertisement on a comp title that doesn't deliver clicks or sales, try broader keyword targeting strategies first. 
Vary your precision with keyword targeting
If you don't want to restrict your targets to specific books yet, then keyword targeting is a strong option to consider. Firstly, this option serves your ads on search results as well as product pages, so by default, you're working with a bit more flexibility. 
Secondly, you also get to decide whether Amazon targets keywords with an exact match, phrase match, or broad match. Let's go back to our Jane Austen retelling example, for which we'll pick the keyword "pride and prejudice variations." Below are the eligible keywords for each match type:
Exact match (exact words and order):
pride and prejudice variations, pride and prejudice variation

Phrase match (exact words and order, plus other words before or after):
pride and prejudice variations kindle, pride and prejudice variations modern 

Broad match (exact words in various orders, plus other words):
variations of pride and prejudice, pride and prejudice modern variation
This gives you a lot more control over your ad placement, so you can test out specific strategies. However, it does require knowledge about your subgenre and how the audience for those behave on Amazon. If you're not confident enough to carry out such a campaign, you can work with a book marketer with experience in your genre, who has a good lay of the land and can suggest some promising titles, keywords, or categories to target. 
Nail your Amazon ad campaigns with professional help
Connect with top book marketers in the industry to optimize your marketing strategies.
Learn how Reedsy can help you craft a beautiful book.
Alternatively, Amazon Advertising also offers automatic targeting, in which it picks targets it deems relevant to your book based on your metadata, so you don't have to research anything. You can start with this kind of campaign and review it after a while to narrow down strong keywords.  
But reviewing your campaign is a topic for a later step. For now, once you've chosen your type of targeting, let's busy ourselves with bids. 
4. Use relatively high bids
In a nutshell, your bid is the maximum amount you're ready to pay for each click. The higher you bid, the more impressions you'll get, and the more prominently your ad will be placed. If you want your book to come first on a search result page, or be the first in the "Also Bought" carousel, expect to pay more. More competitive keywords will also require higher bids.
Starting out, it may be hard to know which bid works best for a particular target. Amazon does suggest a range, which is based on a group of winning bids for that target. However, we don't recommend following Amazon's suggestions, as what worked for previous authors might not work for you. 
Generally, going for a bid between $0.50 and $1 for the US (and slightly lower than that for the UK market) is a good start. Keep in mind that:
Your cost-per-click is likely going to be less than your actual bid; and
If your bid is too low, your ads just won't show up.
You can always lower your bid later — in fact, you should review and adjust your strategy regularly. But for you to make a well-informed decision, you have to have enough understanding of what works and what doesn't first. So start with a high bid to get a good amount of impressions, then you can analyze the results and revise your strategies. 
5. Monitor the advertising cost of each sale
Once your ad has been up and running for a while, collecting those sweet impressions, you should be ready to examine the results. And luckily, Amazon makes it quite easy for you to do with its advertising cost of sale (ACoS) metric, which is available right on your dashboard.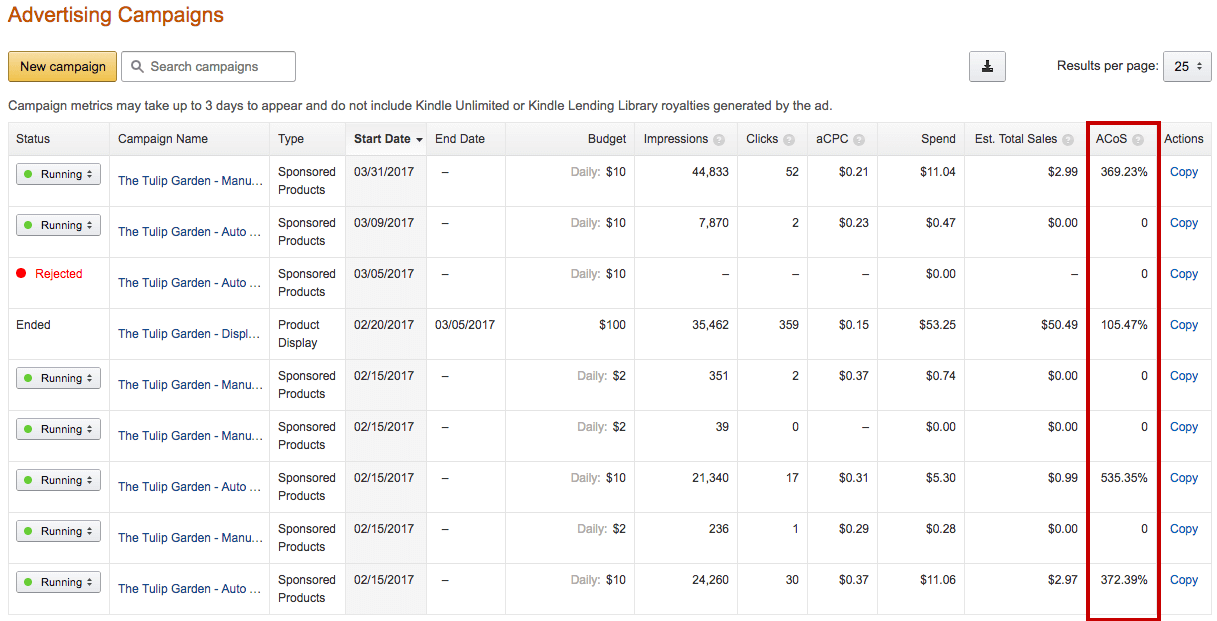 This is a ratio that measures the amount you spent on the campaign relative to the sales revenue you earned directly related to that campaign.
ACoS = Spend / Sales.
Put simply, it's a wonderful little metric that tells you, at a glance, whether your campaign is making or losing you money.
Now, the Sales number is based on the retail price of your book and not your royalty. So, effectively:
If your book is priced between $2.99 and $9.99, you're making 70% off of each Amazon sale, so your ad is making you money if ACoS < 70%;
If your book is priced below $2.99 or above $9.99, you're earning 35% royalties, so you're only making money if ACoS < 35%.
Keep in mind, however, that the ACoS metric doesn't account for royalties from the pages read by readers who borrow your book via Kindle Unlimited. Kindle pages read royalties are reported on separately, so if your book is enrolled in KDP Select, make sure to factor those results into your analysis. 
In any case, the ACoS metric sets Amazon aparts from other book advertising platforms — you can get an idea of whether your campaigns are cost effective or not. If a campaign is not breaking even and you're losing money, see if you can lower the bid for some keywords to lower the cost. Don't go too low though, or you might lose out on impressions. And if that doesn't help you break even, you might have to stop the campaign. It's really a balancing act, managing your costs, which takes us to the next step… 
6. Test and optimize your targets and bids
The key to successful advertising is testing. No two books are the same — a targeting and bidding strategy that works for one might not be useful for another. The best way to find out what's best for you is to regularly test and adjust your targets and bids. Here are some things you can do to find the best actions for your campaign: 
Check your "search term" reports
Amazon provides reports on all the search terms that lead to clicks on your ads, which can come in handy when you've run automatic targeting campaigns or keyword campaigns with broad or phrase match targeting. 
You get data on the number of impressions, the clickthrough rate (CTR), and the spending for each target that was used. Reviewing this data is a great way to discover new keywords and comp titles that you haven't thought about yourself, but which suit your book. 
Remove keywords with a low CTR
The clickthrough rate is a metric that measures how often shoppers click on your ad, and each keyword gets its own CTR. It is an important metric because Amazon is more inclined to serve your ads when people actually click on them. After all, Amazon is a shop that wants to get things sold — it wants to boost ads that actually lead to clicks and sales. 
That's why you should keep a close eye on your campaign's CTRs. Go through and filter for keywords that have CTRs below 0.2% — those may not be the best targets for your book and can be removed from the campaign. 
As for campaigns that have overall low CTRs but costs are high, consider pausing them altogether. 
And that concludes our guide on Amazon ads for authors. While Amazon Advertising could change some of its features in the future, if you have a good grasp on the fundamental aspects we discussed here, you should be able to advertise your book on this platform for a long time. Remember that running ads are all about trying out strategies and learning from them, so go ahead and set up that campaign!