When engineer and mother of two Niyati Tamaskar was diagnosed with an aggressive form of breast cancer at age 34, writing became her creative outlet. To give back to everyone who helped in her battle, she wrote a memoir to raise funds for the American Cancer Society — a book that would eventually see her onstage at a TEDx talk. But before she could get there, Niyati had to find the right editor and cover designer.
Could a man edit my breast cancer memoir?
Finding collaborators for my memoir was a very personal process. Not only because the book is about my life, but because it shows me at my most vulnerable. I was looking for a professional editor as well as a designer but I felt most apprehensive about the former. Whichever editor I ended up working with would be the first stranger to read my story!
I started my search on Reedsy, which came to me highly recommended by self-published authors. Out the five editors I contacted on their marketplace, only one was a man. While former HarperCollins editor Adam Rosen came with an impressive wealth of experience I was hesitant of a man editing such a distinctly female story.
Adam's encouraging replies to my messages and an initial phone call completely changed my mind. I felt an instant connection! He openly admitted that a female editor might better relate to some of my struggles, but his enthusiasm and a common ground of parenthood soon won me over. So, unexpectedly, the right fit for my memoir turned out to be a man.
Distilling the essence of my work with my editor
After deciding on a developmental edit, Adam came back to me with a document full of comments and suggestions. The main point of improvement was pacing and tension. Adam was brutally honest when parts of the narrative were irrelevant. He suggested many cuts for sections where I basically repeated myself or provided background that didn't add any value.
We also worked on sign-posting my transitions, so that the reader had an idea of where we were headed next. He helped me weave seemingly random dialogue or unimportant paragraphs into the overall story and drive the narrative forward. His feedback was the best advice I could have received. Many of my readers have told me they finished the book in one sitting or stayed up late because they couldn't put it down. For that, I credit Adam's help in making my story more impactful.
Finding the visuals to represent my story and culture
While Adam was stripping away my manuscript's excesses, I set out to find a designer who could make my story stand out on the shelf. Through Reedsy, I contacted Asya Blue, whose bold and unique style was perfect for what I had in mind.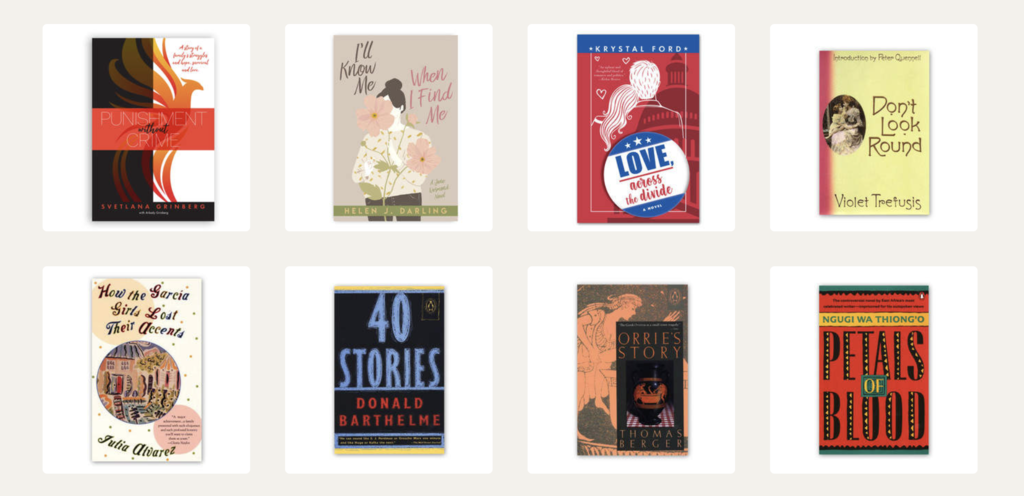 I especially loved her Punishment Without Crime cover and wanted something similar for my memoir. I liked the idea of a peacock feather as the main image (don't ask me why!) and felt strongly about using orange — an important color in Hinduism — as the primary motif. Since Unafraid deals with the taboos I faced as an Indian woman with cancer, I wanted my culture reflected on the cover.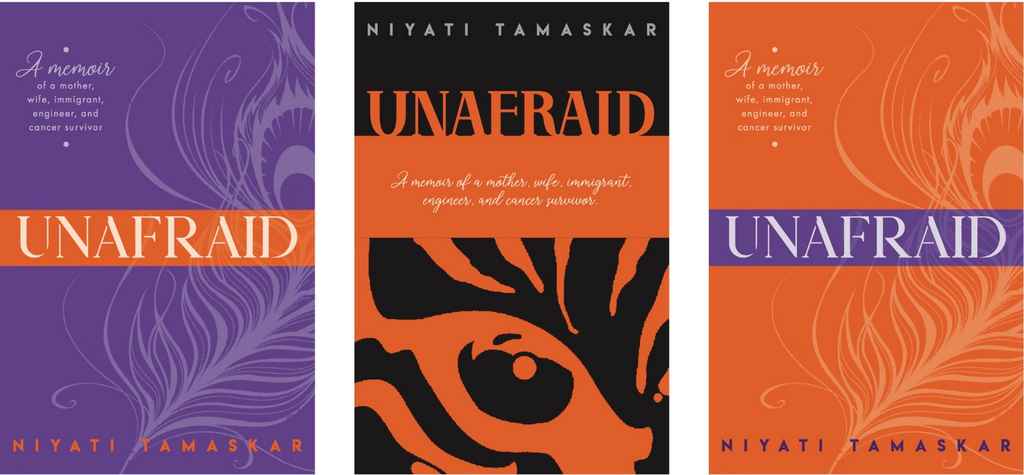 When Asya got back to me with the first round of mock-ups, the colors were great — but something wasn't right. The feather wasn't the image the book needed. Searching for new inspiration, I looked through Asya's portfolio. She pointed out that those covers had been uniquely tailored to those books and, instead, she asked me to describe an image of myself. Since I was breastfeeding at the time of my diagnosis, that's what I replied with: a mother with long, wavy black hair and her baby. She quickly returned with a new design.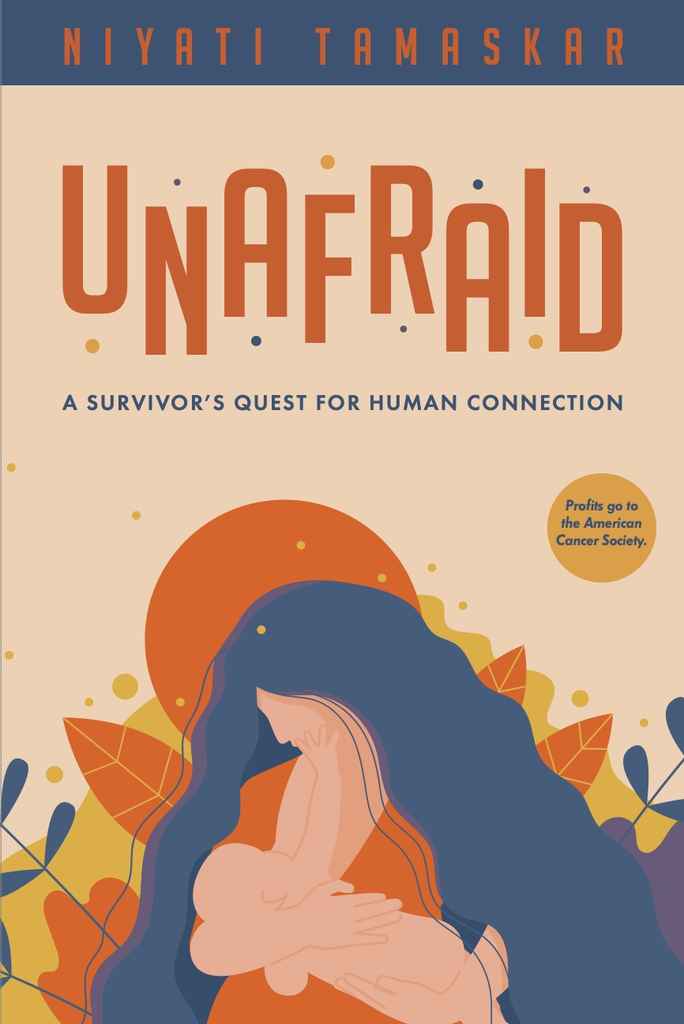 Her new cover made my heart skip a beat. It perfectly captures my story and the colors were even better than I'd hoped for. She did an excellent job of finding the right shades: the orange isn't a bright, in-your-face kind of orange, and it weaves in beautifully with the blue and yellow. It's stunning! They say don't judge a book by its cover, but I say, judge away. In trusting Asya — her expertise and experience — I got a unique cover that perfectly captures my story.
TEDx Bloomington invited me to share my story
Since the book launched at a Relay for Life event in 2019, I've been lucky in the exposure I received. Unafraid was listed on Forbes as one of the 8 Books That Will Help You Spark Human Connections in 2020, describing my memoir as showing "the difficulty — and necessity — of connecting with others with a great sense of humor and unforgettable moments of emotion."
The highlight of my journey was hands down speaking as the opening act for TEDx Bloomington about Cultural Bias and Stigma associated with Cancer.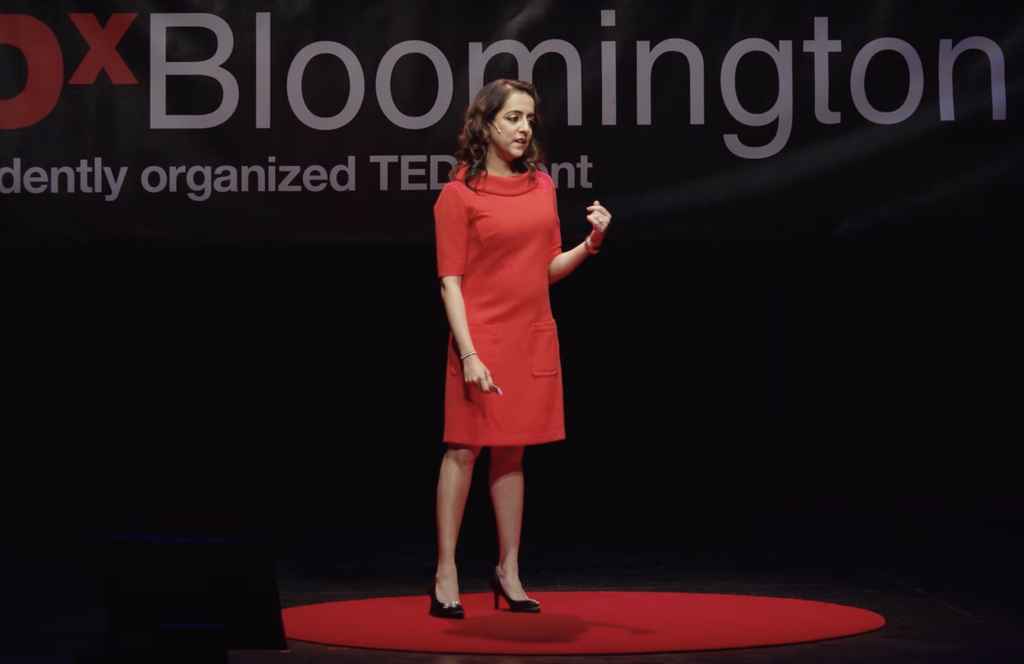 The feedback I received was both humbling and gratifying. On the back of my talk, minority women, Indian families and people of color spoke to me about their experiences, which further confirmed the value in spreading my message.
Hearing from my readership also made me realise there was more to be said. What happens after you battle cancer and win? So not long after, I started working on book two about survivorship. I'm happy to say that it launched just recently under the title Unabashed: Self-Advocacy and the Quest to Foster Empathy and I can't wait to continue the conversation with my readers.
---
Get your copy of Unafraid to support the American Cancer Society! I'm donating my author royalties.