Angela van Liempt wanted to release a well-written and heartfelt YA paranormal mystery. Little did she know that working with a Reedsy copy editor would kick off a publishing journey that would lead to 10,000 downloads of her debut novel.
It takes a village to polish writing
As a lifelong reader, I knew that good writing keeps you turning the pages, but it wasn't until I finished the first draft of my debut novel, Wandering Souls, that I was confronted with it on a personal level. I'd daydreamed about writing a book for years, and the decision to take a novel writing course through my local university pushed me to take action. There's nothing like writing alongside aspiring authors to keep you motivated!
This workshop was the first time I saw my writing through someone else's eyes, and extremely useful for sound-boarding my story, but I quickly realized that polishing my manuscript wouldn't be a one-person job. I worked with the course instructor, hiring him as my developmental editor. Our sessions during rewriting focused on advancing my writing skills, helping me see my book to completion. Once the second draft was finished, I reached a point where I needed more: firstly, feedback that narrowed in on my writing, and secondly, feedback that specifically prioritized the readers' experience. I soon realized I needed a professional copy editor.
I began my search for a copy editor on Reedsy and considered several candidates — all of whom were lovely and helpful — but my messages with Kayla Ramoutar stuck with me the most. Talking to her was easy, and she offered something unique: a separate editor's note reacting to scenes, characters, and plot. I really liked the idea, so I followed my instincts and accepted her offer.
Grounding readers by fixing my 'white room syndrome'
Going into the collaboration with Kayla, I expected her to have some feedback on my dialogue. I knew it looked wrong, simply because it was purely dialogue, but I didn't know how to change that. Kayla couldn't have pinpointed the issue better when she said to me:
When you write dialogue, you mostly write just dialogue. But people and their surroundings don't stop existing when they speak to each other.
This exactly was the issue. I love using setting and atmosphere to draw readers in, and I couldn't help but feel like some of the worldbuilding disappeared when my characters took center stage.
Kayla helped me flesh out the sections that read like they were set in a white room (a phenomenon that some people call white room syndrome). With insightful questions and thought-provoking impulses in the margins, she poked at setting or characterisation as a tool to support what my characters were saying.
For example, when my characters were arguing, she suggested using the weather to intensify the atmosphere and body language to give more nuance to characters' feelings. These were small changes on the page, but required me to really hone in on my characters and think about how those scenes developed them.
Internal monologue that fully immerses the reader
A simpler fix, but no less impactful, was editing my main character's inner thoughts. Kayla opened my eyes to how much I was relying on questions to relay the inner life of my protagonist — which completely pulled the reader out of the story by sheer repetition. For example, asking several successive questions would create an unintended urgency in the narrative.
Kayla assisted me in turning these questions into statements and varying the rhythm of the sentence structure to reflect my protagonist's mood. Reading those passages after our edits, I also felt like we were much closer to the character in those scenes, rather than counting how many questions were on a page.
The cherry on top was Kayla's editor's note — and I'm so grateful she included those in her copy editing service. I'd been through my manuscript countless times, but she gave me a fresh perspective on my main character. I actually went back and added in some layers and depth, which I truly believe allowed readers to resonate more with my protagonist.
A lot of the edits I did with Kayla worked on bringing the reader closer to my characters, and I really learned how good writing can intensify the relationship between protagonist and reader. Good writing is a central pillar for building that connection with the reader and much more than just a vessel for a story. Whether it was description in dialogue or internal thoughts, Kayla gave me constructive tools to pull readers in and bring out my best storytelling ability.
Readers love my book's ever-present atmosphere!
Since publishing Wandering Souls, the response from readers has been amazing! You can't imagine how gratifying it was to see all their positive reviews. I value the reader's experience very much, and to hear how they were completely immersed in my story never gets old. A review by Augusta W. from Reedsy Discovery captured what I hoped to be the heart of the story:
The haunting atmosphere [...] remains present through every aspect of the story as Drew struggles internally with grief and heartache, setting the tone for the beautiful gothic tale that follows. Rather than a story that twists and turns, Wandering Souls is one that gains momentum throughout as each chapter builds upon the last.
It was especially satisfying to hear Augusta mention the ever-present atmosphere, since that was exactly what I worked on with Kayla in the dialogue.
A surprise BookBub deal
What I didn't expect, however, was this: the day after I published on Amazon, I submitted my novel to BookBub for a featured deal — and they accepted! I was ecstatic. If you don't know about BookBub, they promote limited-time book deals to their many subscribers, and getting a featured deal is as rare as finding a four-leaf clover.
During the five days I offered my book free of charge for the BookBub deal, I had over 10,000 downloads globally! While I'm not sure by which stroke of luck my book was chosen, I know that without Kayla's thoughtful edit all these downloads wouldn't have translated into the positive reviews I received after, or the 4.5 out of 5 star score my book currently has on Amazon.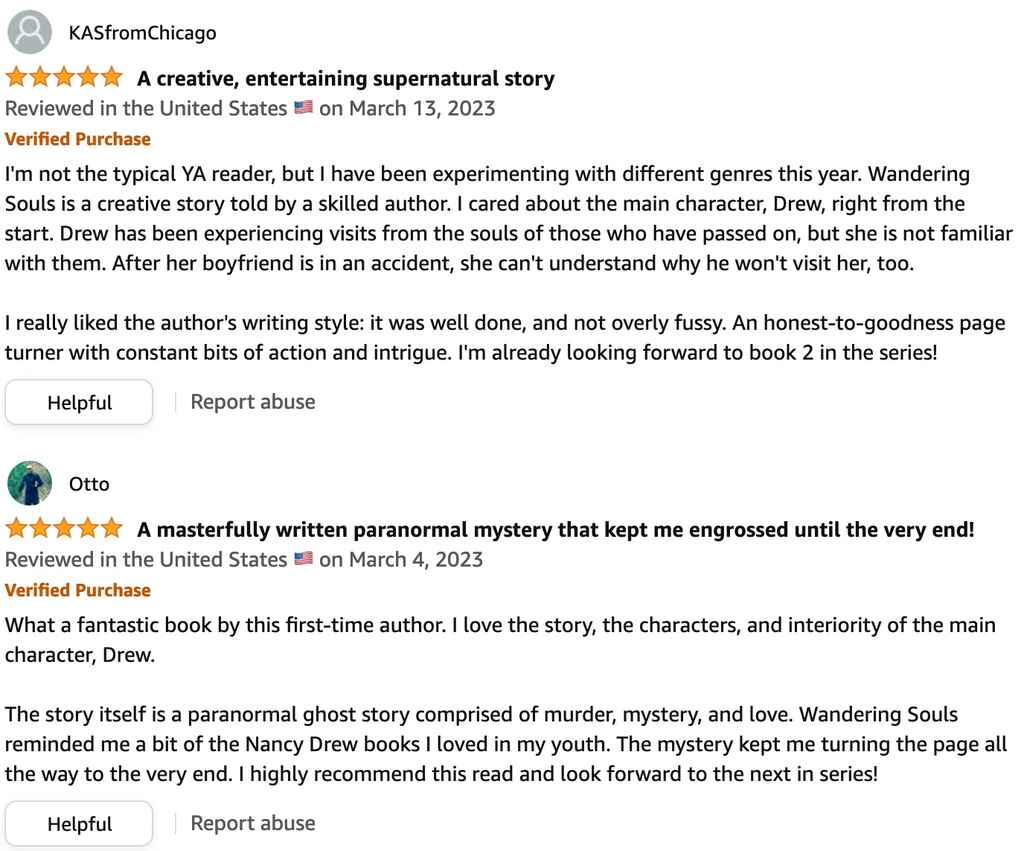 From the day I started writing this book, my goal was to sweep readers up into an intriguing ghost story with well developed characters and offer a fun escape from reality in my modern gothic world. And thanks to Kayla's sharp eye, I was able to accomplish my dream. What every new author needs to remember, you will find your readers, and not only will they hang on until the last page, they'll come back for more!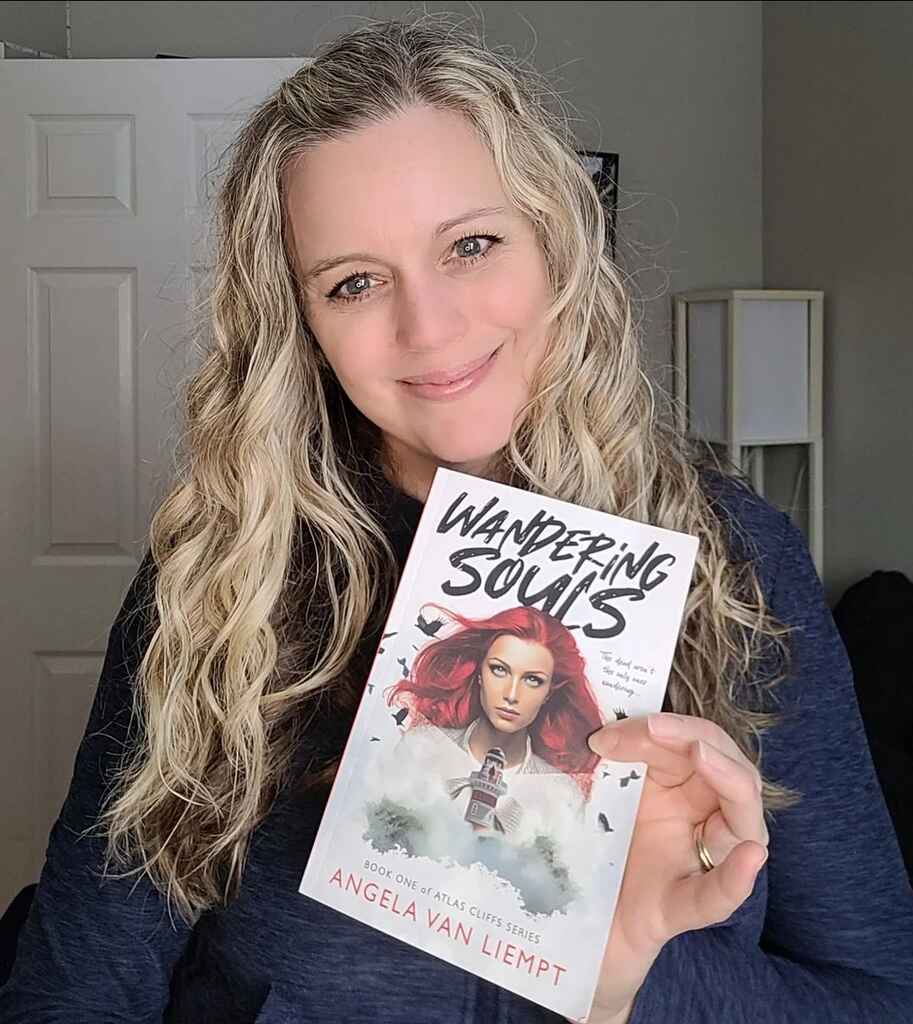 Next up, I'm working on the second book in the series (those who have been following will know my title decision dilemma), and this time, I'll be hiring Kayla for an editorial review, copy edit, and proofread. I've found my perfect-match editor with Kayla, and I can't wait to collaborate with her again. Keep your eyes peeled for book two, coming this fall!