Reedsy's Marketplace Update: A Freelancer's Tour
If you've been a long-time member of the Reedsy community, you may notice something a little different when you log in now. That's right: we've updated our platform based on suggestions from freelancers and authors.
The best way to find out what's new is to sign in to your account and poke around, but there are a few things we think are worth pointing out.
Watch our intro video:
A whistle-stop tour of our new platform
The first change you'll see is that the left-hand sidebar is gone. Bye bye! You can now navigate Reedsy through the bar at the top instead.

From here, you can access everything you need as a freelancer. Let's take a quick look at each of these sections.
Requests 
Under the Requests tab, you can check for anything related to incoming work.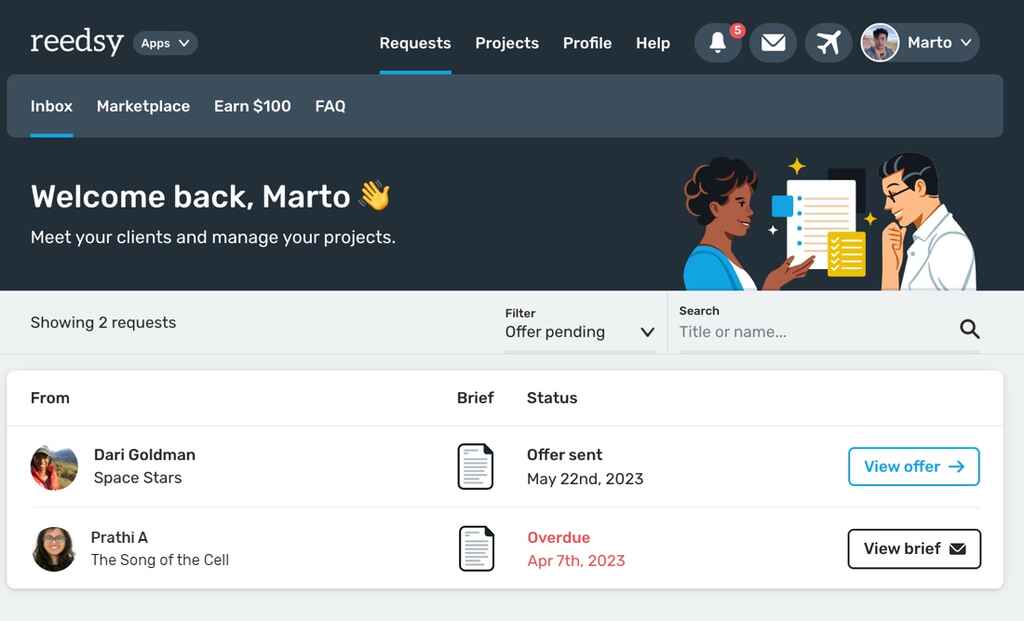 Inbox. This is where you can manage any new requests and pending offers. In this new version, navigating your requests will be less of a treasure hunt than before — now, you can filter your requests by status (pending/declined) and search by project title or author name.
Marketplace. Browse the Reedsy Marketplace the way that prospective clients will see it.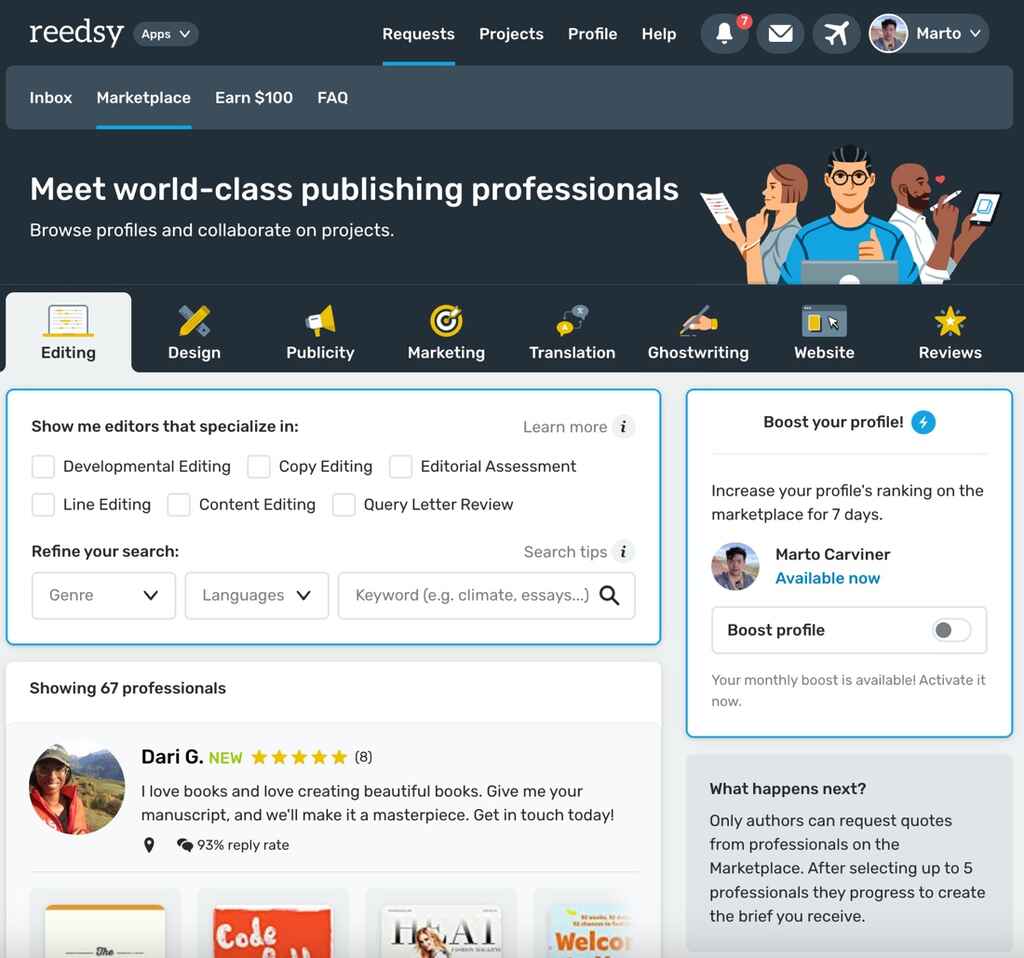 On this page, you can access the Boost your profile function and increase your profile's ranking for 7 days. You can only use the boost once a month, so choose your time wisely!
Earn $100. With our referral scheme, you're eligible for a USD100 reward when you invite fellow publishing professionals to join Reedsy.
FAQ. Everything you need to know about Reedsy (and more than you'll want to know). For details on anything from service definitions and our terms of use to advice on improving your profile and better communicating with clients, this is where you'll find it.
Projects
This is the business end of the platform, where you'll handle anything to do with existing collaborations and payments.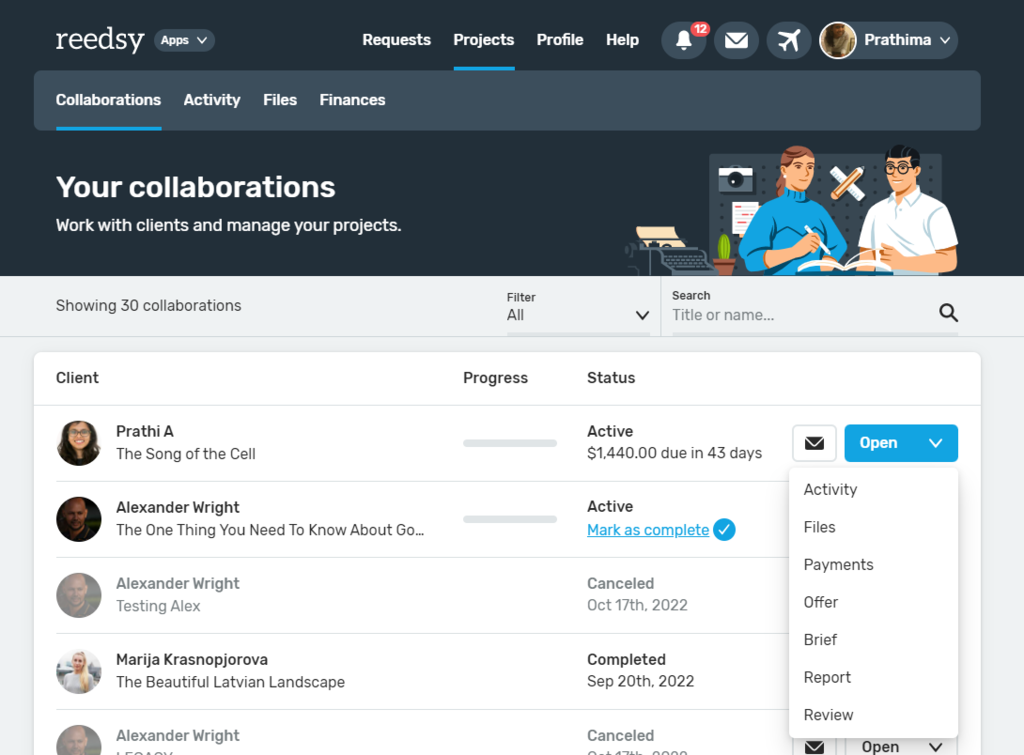 The sections here are:
Collaborations. As with the Requests inbox, you can filter your collaborations by status and search by project title and author (see above).
Activity. If you have trouble juggling multiple requests, collaborations, and clients, this timeline will help you keep track of all your activity on Reedsy. You can filter this view to only see comments, offers, or requests — and focus on specific books and clients.
Files. Where's that manuscript an author sent to you last month? Or that initial design concept you shared with your client? All your shared files can be found right here!
Finances. Keep an eye on the bottom line. Find a record of your previous payments and manage payments for any ongoing collaborations.
Profile
This last section is where you can manage your profile, choose your specialist genres, and add any new titles to your portfolio. Have you created a welcome video yet? It's a great way to introduce yourself to prospective clients!
Help
Access the Reedsy FAQ or live chat with someone from our international support team.
Out of office
Tap this 'flight-mode' button to set your out-of-office dates. You'll be hidden from users on the marketplace and won't have to worry about responding to new requests.
Okay… now that we know where everything is on the new Reedsy Marketplace, let's look at some new functions you may find helpful.
Managing your projects
When searching through your offers or projects in your inbox, you can now tap the down arrow on the Manage button to bring up a menu.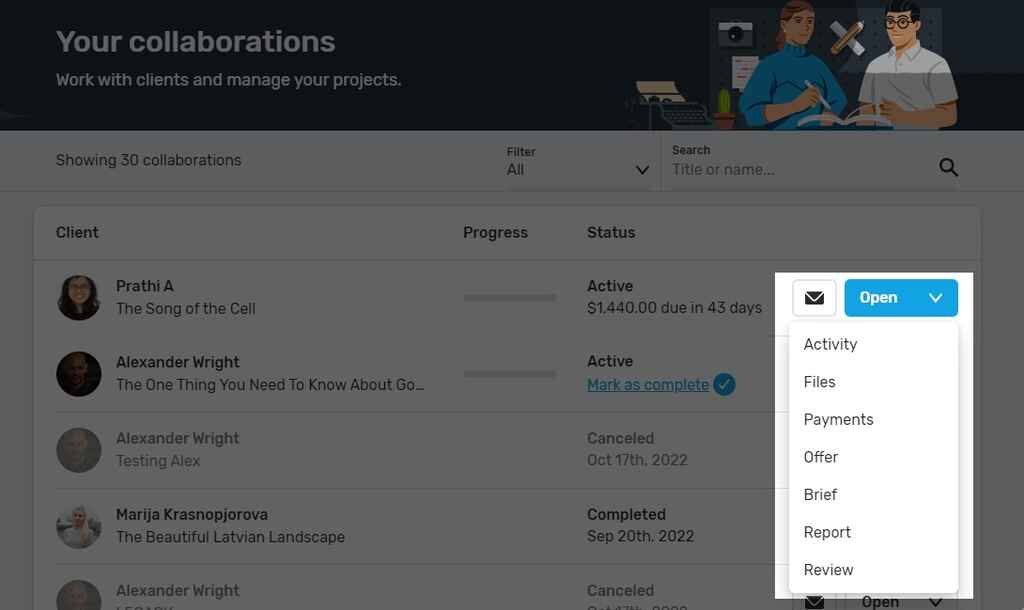 From this drop-down menu, you can quickly access anything related to that project, from your shared files and payments to your client's review at the end of the collaboration.
Sending offers
It's easier than ever to send offers to prospective clients. The offer interface on the Reedsy Marketplace now indicates how complete your offer is.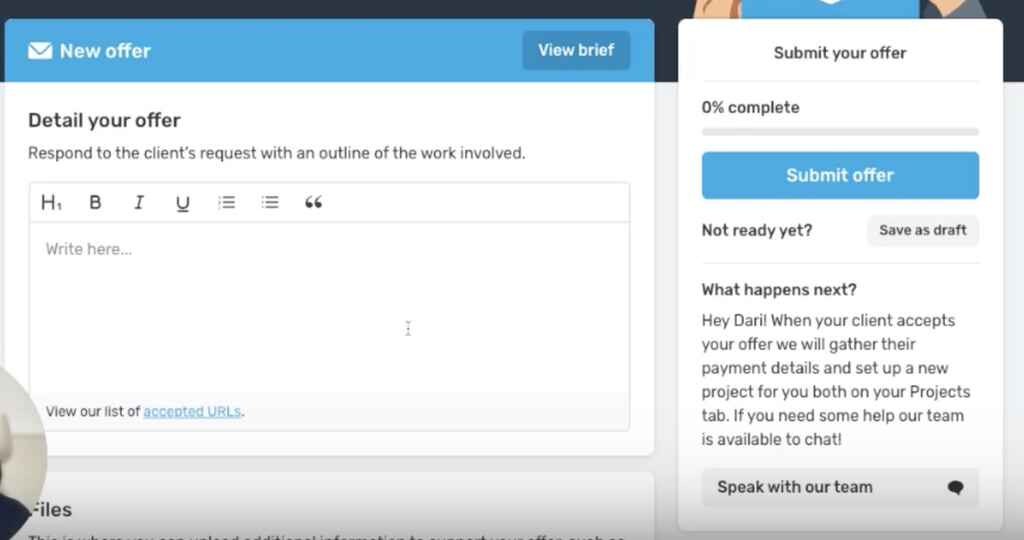 In this latest update, you can save your offers as a draft, so you won't lose any progress if you need to step away from the computer midway through writing them.
Keeping your inbox in order
Perhaps the biggest development with our update can be seen in your inbox. You'll notice that messages are now grouped by client. To find the right message thread, you can search by name, book title, or keyword.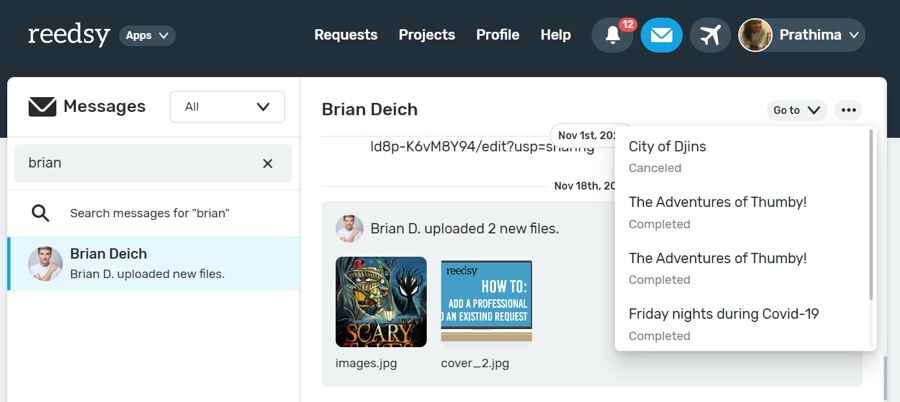 And if your inbox is starting to look chaotic, you can archive conversations and focus only on active collaborations: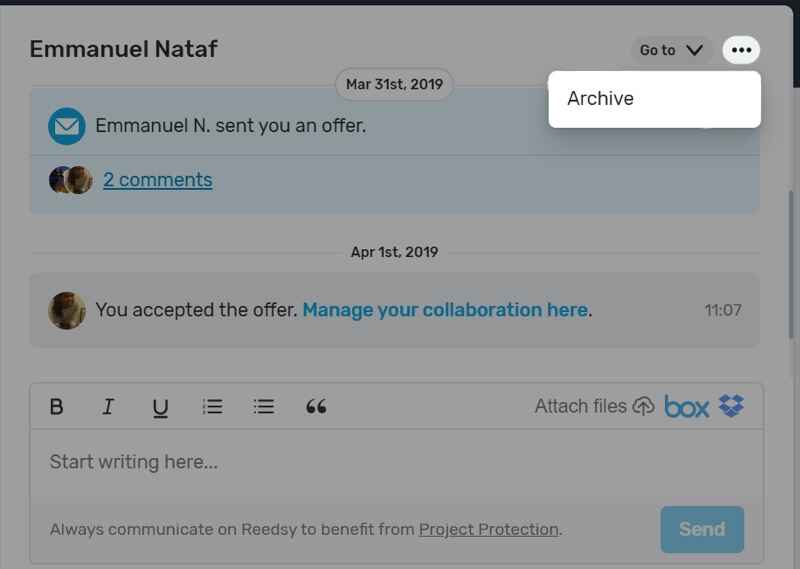 But don't worry: conversations are never lost. You can find all your archived messages with the inbox filter.
Sharing files
Sharing files is also more straightforward than before. Just drag and drop them directly into your messages: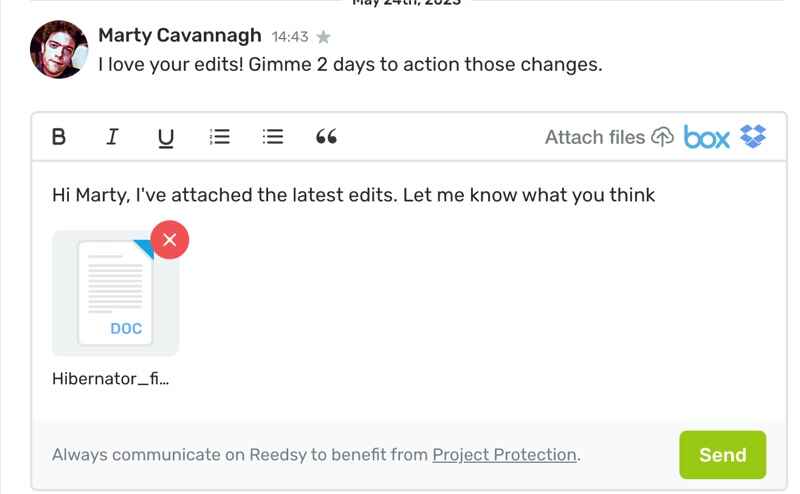 All the files shared in collaborations can now be found on your files page, where you can also search for them by client name, project title, or keyword.
We hope you find these changes useful — have a poke about the new platform and let us know what you think at support@reedsy.com. If you want to join Reedsy as a freelancer, you can apply by signign up below: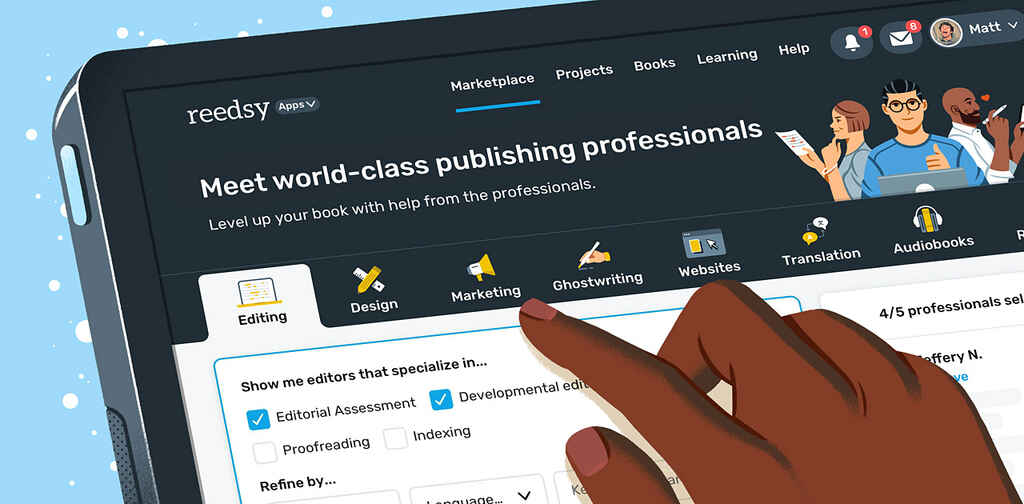 Supercharge your freelance career
Find projects, set your own rates, and get free resources for growing your business.
You can also watch this handy walkthough and live Q&A webinar for more insights: