(This is the Princess Kamalini. It will help you understand her personality more)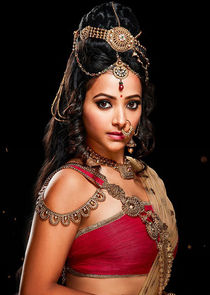 So, what is next for me?
I don't know the answer to it, nor does anyone. It's time that knows all the answers to my questions. The fireworks are glowing on my face with the sulfur rays falling on my delicate skin. Everybody is happy, my father is dancing with joy. The public and the courtesans are happy because soon they will get a queen, the empress they all had desired and prayed for.
But the questions, they don't go out of my head. What is life for me? Is wielding a sword on enemies neck my life? or finding love is the quest of my life? All I want are answers to my questions.
The dining hall is full of aroma and crowd. People are licking their fingers, thanking the Bawarchi, and father for a grand feast. I am sitting on my throne watching their ecstasy. Controlling my urge to smile; because Akka said that if a princess smiles too much then people will not take her seriously as a queen.
I don't have an appetite now. I want to go to the Ekaki river, gather lotuses and inhale their fragrance. I have to wait until midnight to make up my adventure.
Father glances towards me and smiles. He is proud of me and I love him dearly. His duties as a father are over now, he groomed and taught me skills about war, and life. For the past 16 years, he held me with his soft hands and was always there for me, when I needed him.
But still, I miss my mother. On this day when I turn 16, I wanted her presence, her words, her soft touch over my forehead. My memories with her remind me of the time when I was fully happy. Remembering her was always tough for me, tears escape my lotus-like eyes.
I rush to the balcony and close the door behind me. I want silence, from others and vibrations from my thoughts.
The whole city is illuminating, there is no street in Ekalki which is under the curse of darkness. People are dancing on the roads, singing their hearts loud, and chanting my names.
The only thing that matters to me is that the desires of my subjects get fulfilled.
I hear the door open; I immediately wipe my tears and gather myself. It's my father, who got concerned about my absence.
"Are you okay, Kamalini?" his worried eyes were telling me how troubled he gets over my sadness.
"Everything is okay, nothing to worry about." I place my hand over his shoulders to assure him about myself.
"You miss your mother?" A few teardrops slide over his cheek. I gently wipe it away. A king's achievement is war wounds, not tears, that's what mother taught me.
"No, I don't miss her. Because you never made me feel her absence with your love and kindness. I miss her actions, I recall her teachings but I don't feel her absence, because you never let me feel it."
"I am very proud of you, and I know that you will fulfill all your duties as a queen." He kisses softly on the backside of my palm and fills my heart with his warmth.
The night is still young but the fire within me is not extinguished. I want to take revenge, for my mother's death. Far from my kingdom is another kingdom Vaishak, our enemy. A decade ago he was a dear friend of ours, we used to trade together, our alliance was strong like the links of a metal chain.
But in their disguise of friendship, and enmity was hidden. Their sweet words and gestures masked their true agenda. The king of Vaishak, Raja Vrishab killed my mother when she war worshipping Lord Shiva in the temple.
To celebrate the friendship of both the kingdoms, they together constructed a temple on the borders of their land. The temple amidst the vast forest separated both the kingdoms. It was a day of the festival when both the kings had come together for the Pravesh puja of the temple. Everyone was happy, but our joy got eclipse by the diluted thoughts of King Vrishab. When everyone was busy with the festivities and music.
He attacked my mother from behind, showing his cowardly potential when she was worshipping the Pipal tree. Father immediately reached to her and my mother breathed her life out in his arms. But father did not spare him, he killed Vrishab their right on the spot by separating his head from his body.
From that day onwards strong hate grew in the hearts of the public for each other. There's a constant rift between us, small seizures, small attacks, but every time we defeat them on the point of our sword. Soon, I will be the Queen of Ekaki, and my next step will be to crush the Kingdom Vaishak under my foot.
"What are you thinking Nali?" a faint voice whispered in my ears. It was my friend Rekti, the soul of my body.
"Yes, I was thinking to cut you in pieces and feed you to my white tigress," I clasped her neck delicately with my fingers and glared my eyes into her.
"Now I won't succumb to your silly threats, Nali," her laughter slipped out from her delicate lips. I too joined her in unison.
"Rember how you used to get frightened when I used to threaten you in the same way," we are best friends since childhood. She is a royal servant and friend to me. But our bond developed into sisterhood and now we are inseparable.
"So, can we start our midnight adventure?" She raised her eyebrows and gave me a sly expression.
"Let's go."
We passed through the corridors with faint steps and controlled our giggle.
We opened the secret passage and paved our way with the light of masshal. We are going to the River Ekali, rafting on its water, and gathering the golden Lotuses in the cursed pond was my favorite midnight activity. Whenever my mind would be preoccupied with my thoughts, I would run away with Rekti and do this. We reached the river, which was still but underneath her calmness were those killer waves and some time the underwater bandits.
We took our weapons; I took my sword and Rekti her knives. We armed ourselves and stepped into the boat under the mild moonlight.
"Rekati, tonight I want to go somewhere else." My words were heavy, but my heart was pounding lightly.
"Where?" She questioned me with a concerned expression.
"I want to drink his blood."