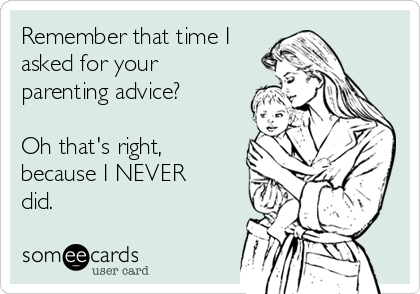 You must know the saying it takes a village to raise a child. That is not always true, and too many people involved can sometimes be problematic. Such was the case with Marlo moon face and Fraser foo. 
It all began when Marlo, the firstborn child of the couple who was together, was struck like deer in the headlights at her birth. That was the beginning of the end. The spoiling factor of the broth had begun. 
You see, the child was beautiful and had a moon face - her parents being new to parenting, didn't know the wily ways of parenting. Yet, they relied so heavily on the knowledge of the What To Expect When You're Expecting The First Three Years Series, his mother, and then their own devices as instinct would allow. That was all until the mother's mother arrived. 
The heavy expectations now resided with the actual mother of the baby, Marlo. She was catering to her baby's every whim; of course, that was a no-no as far as the mother-in-law's opinion mattered. That created a stress fracture between the couple themselves about their parenting ways. 
Her mother believed there was no wrong way to care for a newborn and that the book was good for the garbage as the whole experience should be instinctual. This created a lot of tears and tribulation for the couple and angst for the new mother. 
The newborn was no fuss; one grandmother said that keeping Marlo routine was best for all taking care of her - while the other said, no, no, you must keep her with you when she cries unless you put her to rest after she eats. Then let her call for a bit and pat her back so that she'll fall asleep. 
The couple actually began to look for what was correct and what was incorrect, expecting that there would be a definite answer. They never once dreamt that there would not be a single answer about the pressing issue with their newborn. 
They never dreamt that there was no rule book for parenting and that it came down to them and what they wanted to do and become as parents. So as they accommodate their mother and mother-in-law, the parenting becomes messy and not so defined. 
Absolutely went by the wayside now as the child; Marlo was not a performing bear in a cage who came out at 3:00 pm to give everyone a show and then quietly returned to her cell. No, this baby had chutzpah, where her liberties were to have the audacity to cry at night when she was wet and sleep during the day for a certain amount of time, much to her parent's chagrin.
But to show her annoyance was not part of what was considered a good parent, so she never complained while he never woke up to help her with anything. She was sleep-deprived and needed help; her mother had now gone back to Ontario, as they lived on the west coast and her mother-in-law was now out of the picture as he was pissed off at her for some frivolous reason,
And so it was that he randomly decided that she was supposed to do whatever he thought she was supposed to do, plus what his mother had said to do, and then what her mother said to do. He failed to realize that she was the one he should have been most concerned about and Marlo rather than what others told him about how they should have been raising Marlo and coping with her as new parents.
She tried to connect with her husband and work with him on how the moonfaced girl would be raised. His idea was to fly in float planes, take her into the sea when the tide was in, and hike alongside a bear with her in the backpack were acceptable parenting choices. These choices would make his wife freak out with worry, and the fights would ensue. She would work all day while pregnant with Fraser while he would take Marlo out on these dangerous adventures. Not the brightest moments of his life. His wife could barely concentrate on teaching since she was worried about what was happening with her daughter today. 
The insanity came to a climax when his wife came home with no lunch, no lights on, no welcome waves from Marlo from the front window and both her and her dad sleeping in the bed. Nobody could tell what went through his mind, but he was not precisely parenting. The separation continued, and they were almost entirely separated by the time Fraser was born. 
The mother and children would return to Ontario and leave their dad alone in the west. He would have to make his way on his own. The children were safe with their mother for now. She wondered if he would come around and how long it would take for him to arrive at her parent's farm for her and the kids. 
He came for her and them about two months later. He believed he could get back in stride with her and the kids, and she would all find a place to live together. That was sadly not the case any longer. She was on her way out of the marriage. 
The parenting issues were just too vast and too varying for any room for reconciliation. He was inconsiderate and reckless - two traits that she could not tolerate around her kids and in her life. She remained with her parents until she could find a place. The parenting style she found was all her own, and she was pleased with herself and the relationship she built with her kids.  
That's how it was that too many cooks spoiled the broth. The couple divorced shortly after that but not before she learned that she was already pregnant with their second child, Fraser. She would parent him and Marlo, for the most part, on her own, and they would turn into wonderful human beings and adults.