Press Release: Reedsy opens to authors on Monday October 13th 2014
"The best editors, designers, and marketers no longer work for big publishing companies. Instead, they are striking out on their own and working as freelancers," says trader, investor, writer and entrepreneur, James Altucher.
The richness of the freelancer landscape is no secret, but many don't understand the true impact of having so much talent, so easily accessible: authors can now achieve the same level of quality they would get with a traditional publisher, without sacrificing royalties or creative control. Navigating such a wealth of freelancer talent can be daunting; how can authors meet the quality demands of their audiences and bring their work to a level of professional polish previously unseen in the realm of independent publication?
Enter Reedsy. Or rather, enter the freelancers featured on the new platform, launching this month.
"Our freelancers define the difference between vanity publishing and being an independent author," says Reedsy co-found Ricardo Fayet. "They are the ones who have turned self-publishing into something serious, professional—a real alternative to finding a publisher."
Reedsy is based on the idea that great authors telling great stories must be joined by equally talented editors and designers in order to produce professional-caliber books. This is why the London-based (though global-minded) startup launched two weeks ago by privately inviting a select group of professional editors and designers to set up their profiles.
"On Monday October 13th, Reedsy will make these profiles public", Ricardo explains, "regrouping them on a marketplace. Authors will be able to browse Reedsy, filter their search according to their needs and genre, and instantly message the freelancers they want to reach out to."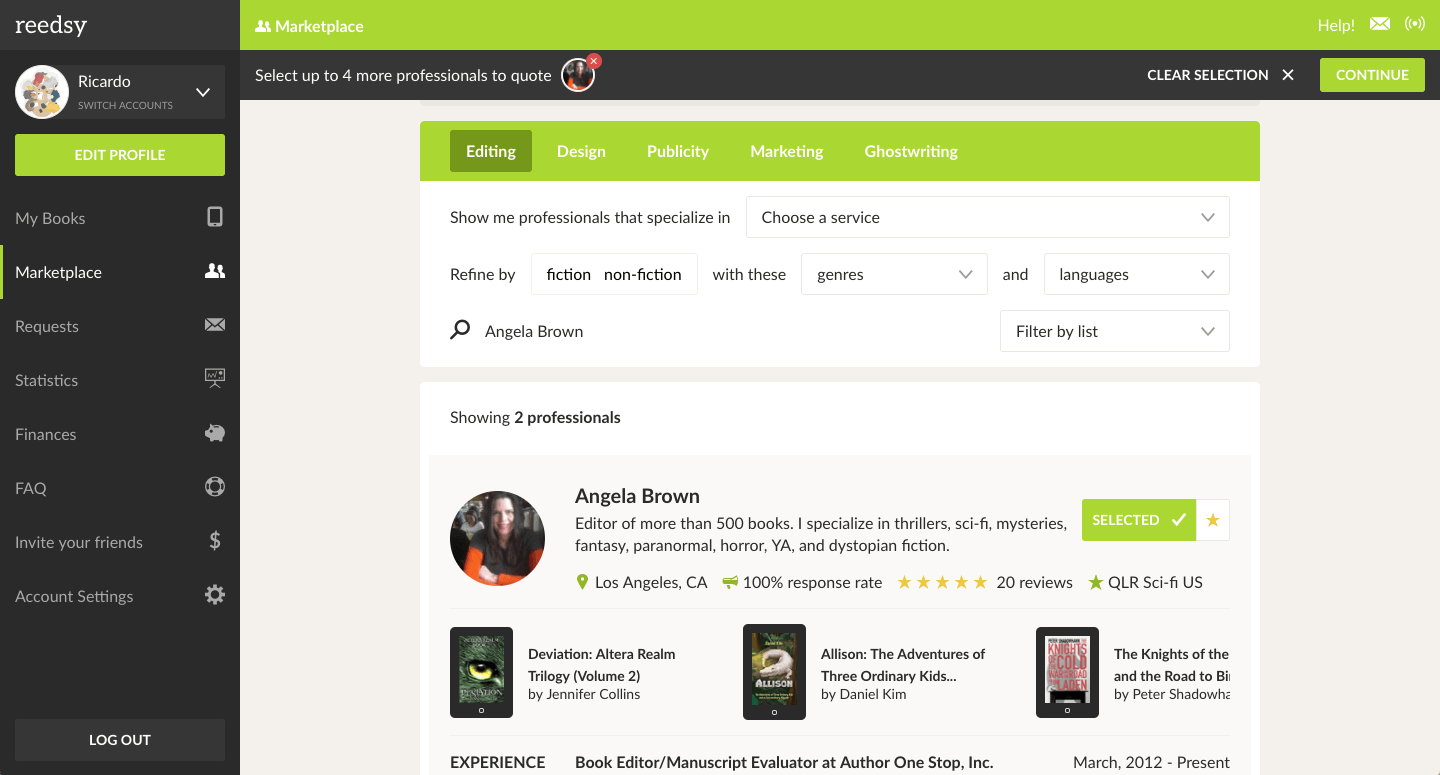 Reedsy has been vetting all the freelancers invited to the site, checking their profiles and displaying only those with experience, certifications, and good recommendations.
The "streamlined self-publishing solution" can proudly count on the support of the Alliance of Independent Authors, who recognises the work Reedsy has been doing and the value it will add to the publishing ecosystem. Reedsy's intentions have also been approved by the Society of Authors and The Literary Consultancy.
Reedsy will not stop there. CEO Emmanuel Nataf reveals that the company plans to release project management tools that aid collaboration between authors and freelancers. "Emailing manuscripts and chapter revisions is a thing of the past," Emmanuel says. "Reedsy will provide a place to gather these documents and allow for effortless collaboration."
In the meantime, Reedsy aims at becoming what Emmanuel describes as "the trusted network independent authors automatically turn to when looking for a quality editor or designer."
Reminder: Reedsy was founded in January 2014 by Emmanuel Nataf, Richard Fayet, Matthew Cobb and Vincent Durand, and has been financially backed by Seedcamp and DC Thomson. It has been featured in The Bookseller, Techcrunch and Words With JAM.